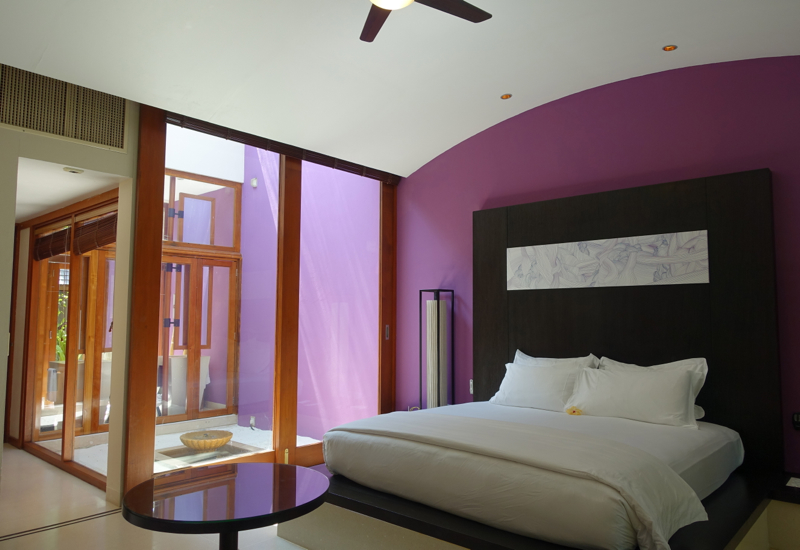 This Review of the Conrad Maldives Rangali Island in a Beach Villa is part of a trip report including luxury resorts in the Maldives, such as Four Seasons Landaa Giraavaru and Soneva Fushi, as well as Etihad First Class and Business Class.
For the prior posts, please see:
Review of Etihad's Lounge at Washington Dulles Airport (IAD)
Etihad First Class 787-9 Dreamliner Review
Review: Wingtips Lounge JFK for Etihad First Class Passengers
Review: Etihad First Class 777-300ER NYC to Abu Dhabi
Review: Etihad Business Class Lounge Abu Dhabi AUH Terminal 1
Four Seasons Maldives at Landaa Giraavaru Review
Four Seasons Maldives at Landaa Giraavaru Restaurant Reviews and Menus
Four Seasons Maldives at Landaa Giraavaru Activities: Top 10 Things to Do
Interview with Armando Kraenzlin, General Manager of Four Seasons Maldives at Landaa Giraavaru
Review: Four Seasons Maldives at Kuda Huraa
Surfing in the Maldives at Four Seasons Kuda Huraa
Review: Four Seasons Maldives at Kuda Huraa Sunset Water Bungalow
Four Seasons Maldives at Kuda Huraa Restaurant Reviews and Menus
Four Seasons Maldives at Kuda Huraa Activities and Top Things to Do
Soneva Fushi Maldives Activities and Things to Do
Soneva Fushi Breakfast, Ice Cream Room, Chocolate Room and Cheese Room
Fresh in the Garden, Soneva Fushi Restaurant Review
Trans Maldivian Airways Seaplane Review
Conrad Maldives Seaplane Lounge, Male Airport
We didn't spend a long time at the Conrad Maldives Seaplane Lounge, which was quite large, but also very crowded when I was there. All of the sofas by the window were occupied, plus much of the other seating, so I had to wait until everyone was leaving to get this photo: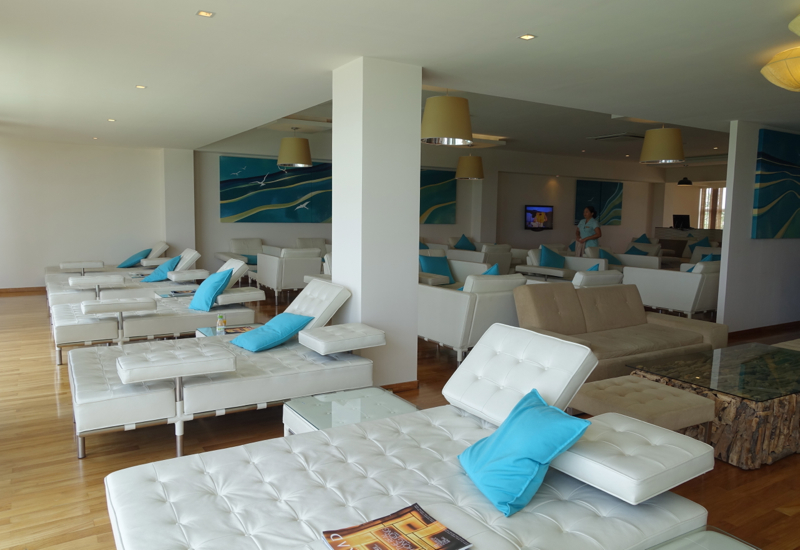 The juice welcome drink was a canned variety, in contrast to the fresh squeezed juice served at Soneva Fushi's lounge: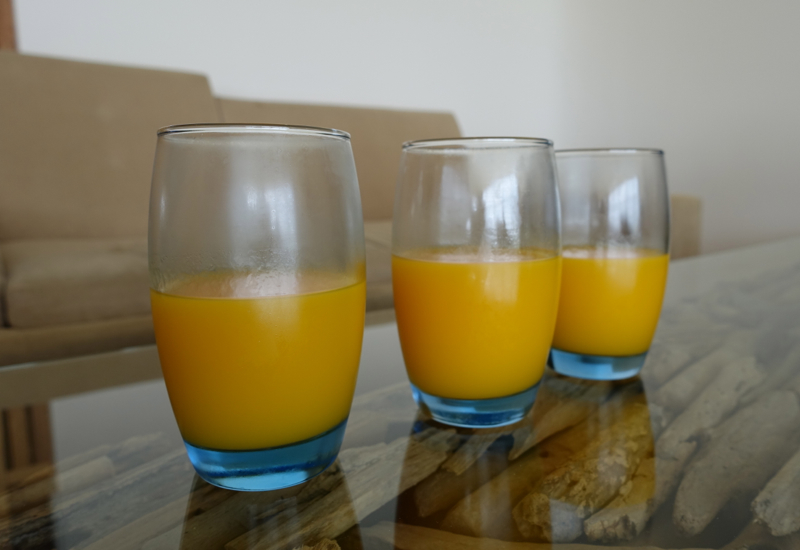 There were a good number of food choices on the buffet, although the only one that appealed to us was Chobani yogurt. It made sense that it would be a branded yogurt there at the lounge, in Male, though I figured there would be some kind of homemade yogurt once we got to Rangali–not so. It was Chobani there too, since the chefs seem to not be up to making their own yogurt.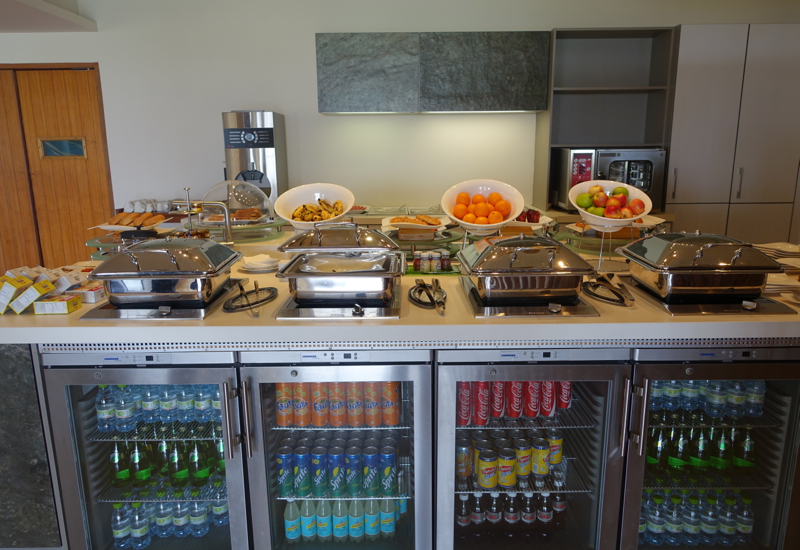 Conrad Maldives Lobby and Check-In
Since the Conrad Maldives actually has two islands for guests, Rangalifinolhu Island (the larger, main island) and Rangali Island (the smaller island where the water villas are located), connected by a long bridge, the seaplane actually lands and pulls up to the middle of the bridge.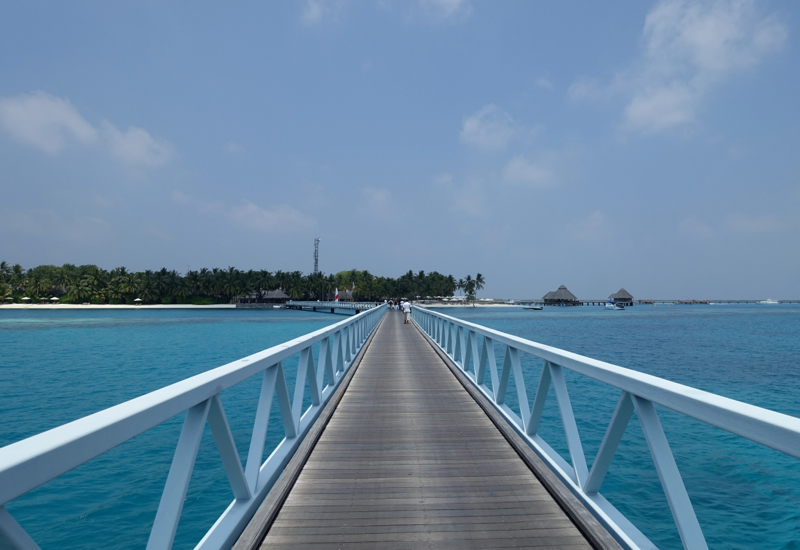 You are then taken to the lobby of the main island for check-in. While completing our paper work we were served a welcome drink. It was fairly perfunctory, and not quite as good as our welcome drink at the Four Seasons Kuda Huraa, let alone the young coconuts we were offered at Four Seasons Maldives at Landaa Giraavaru and Soneva Fushi.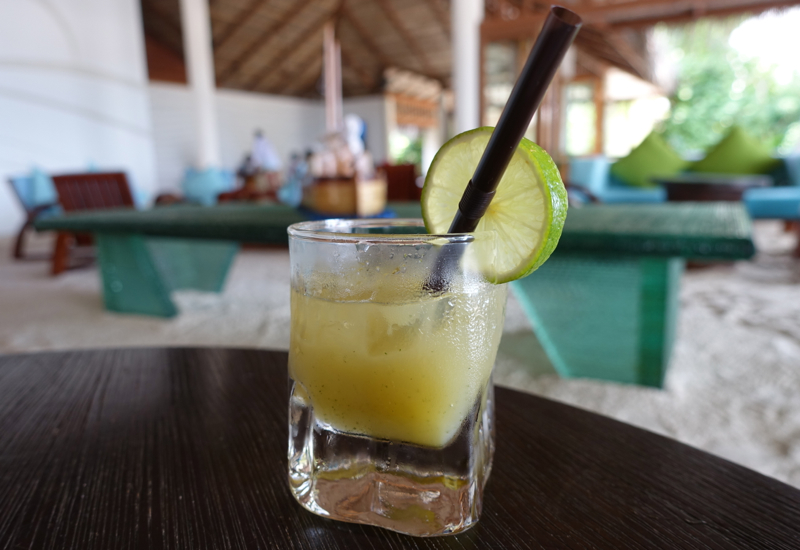 Conrad Maldives Beach Villa
Next we were taken to our Beach Villa, which turned out to be very near the Sub Aqua Dive Center. You enter into a small, hot area with the mini bar and Nespresso machine. It turned out the bottled water was here too, which I realize makes sense for the Nespresso machine, but also meant that the bottled water was very warm. I moved a bottle into the air conditioned area and even stuck it into the ice bucket, so we could have some cooler water to drink.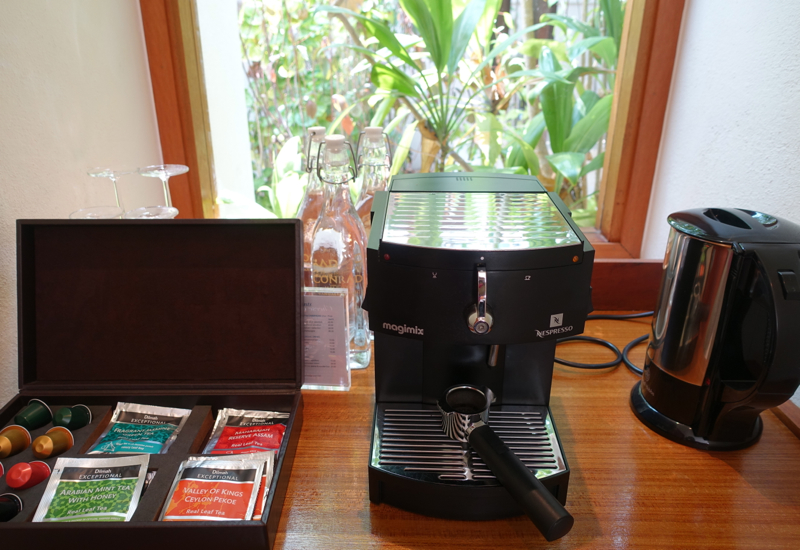 The corridor opened into the area with dual vanities and mirrors, although there was no air conditioning in this room. I hated this, since it meant that I was often sweating when trying to apply sunscreen to my face.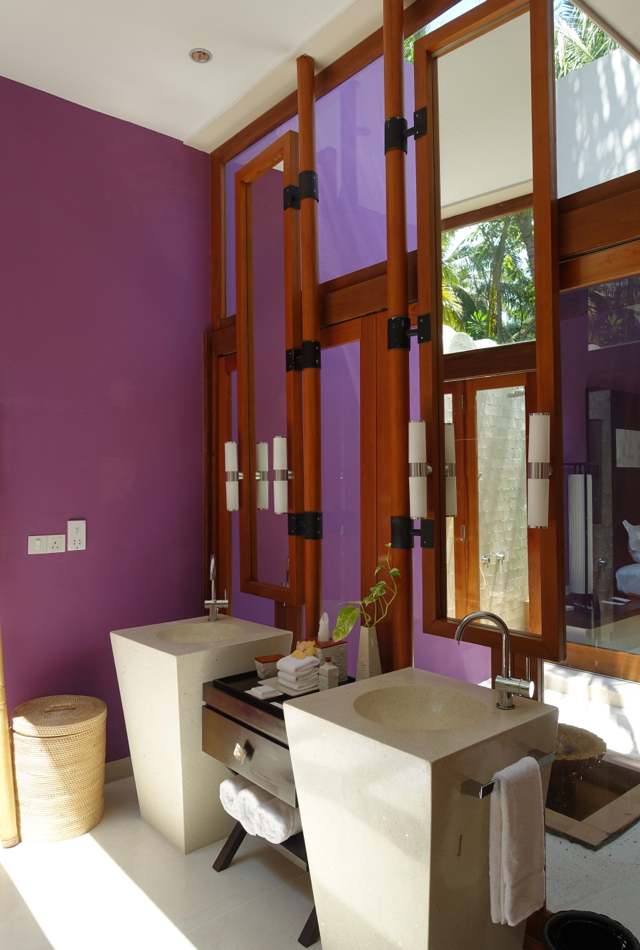 Across from this area was a closet that was air conditioned, but the air conditioning would go off if you left the doors ajar. Honestly, I would have preferred a smaller villa that could have had air conditioning throughout, rather than the weird way this space was carved up and having to constantly remember to lock the closet doors or risk air conditioning shutting off. The other thing to note is that the closet's window just has louvers, so if you have the light on there it seeps into the bedroom. Not sure why the closet couldn't have been wholly enclosed to prevent light going into the bedroom.
The door separating the sink area from the outdoor shower and outdoor tub was the most awkward and poorly designed door to the outside that I've ever experienced. We inadvertently banged it on the stone wall to the shower a few times, and from all of the dents it was clear that other guests had done this as well.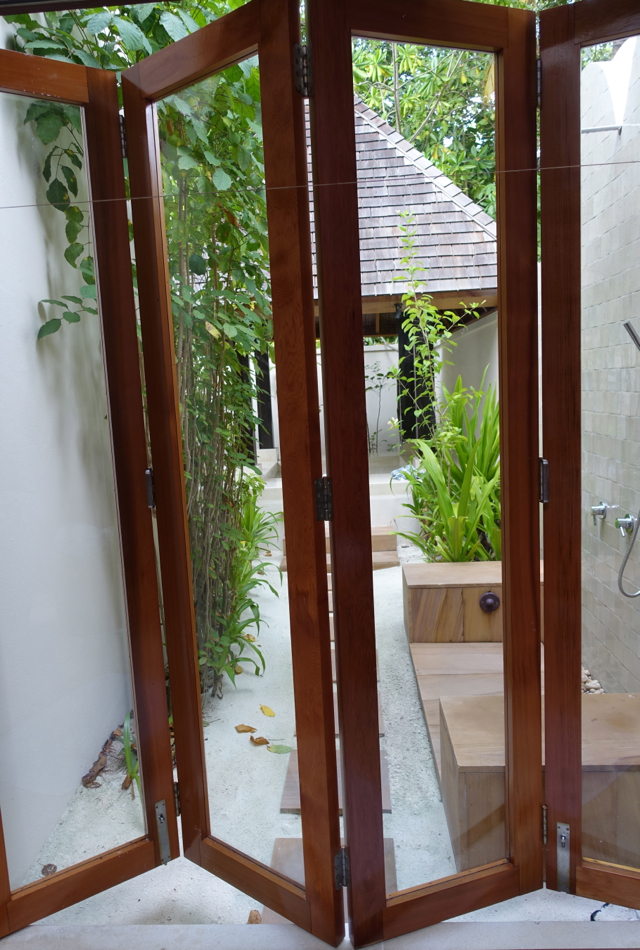 The outdoor soaking tub was huge, but about as form over function as they come: square, with squat square pillars inside it, making it spectacularly unsuited to any kind of relaxation, unless you just happen to have a cube shaped body.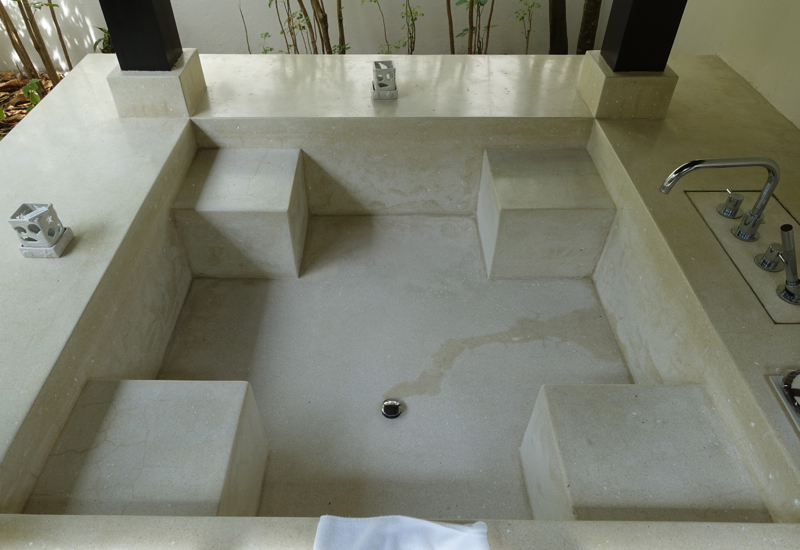 There was a separate door to go into the bedroom, which was thankfully air conditioned. The bedroom looked nice, with its high ceilings and modern decor, and the sofa had been made into a bed for our son. He seemed to sleep well (he usually sleeps well anywhere that he has a flat surface) but both my husband and I slept very poorly due to how hard the bed was. I don't remember the Conrad Koh Samui having such hard beds.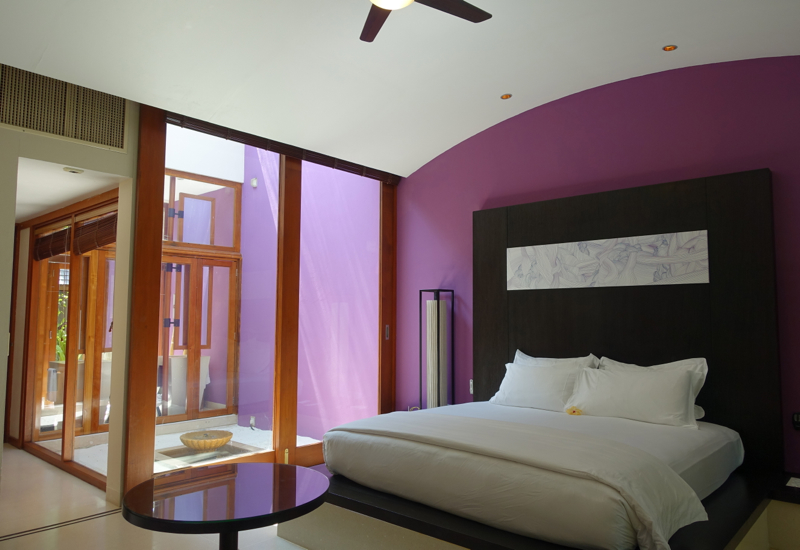 The door closest to the beach led to an outdoor terrace, with lounge chairs: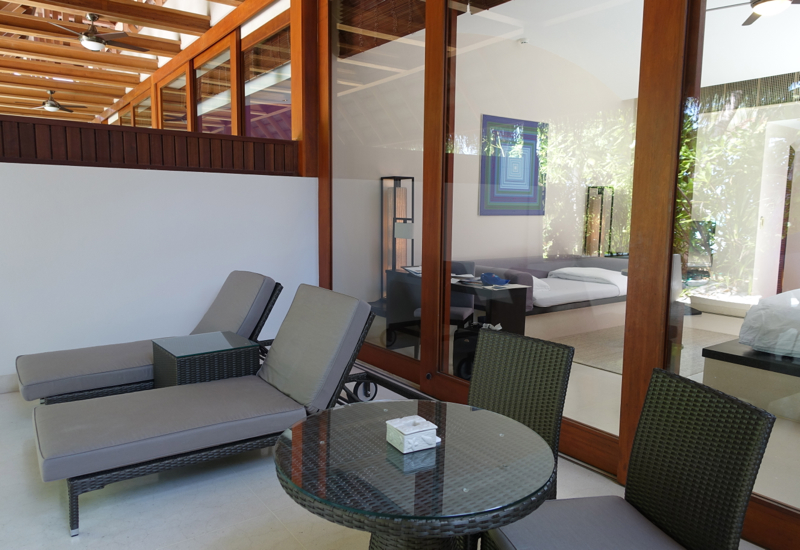 Beach and Main Swimming Pool
A few steps from our Beach Villa led us to the beach, with sun loungers under a thatched bale. The beach was lovely, although the sand wasn't as soft and fine as at Four Seasons Maldives at Landaa Giraavaru.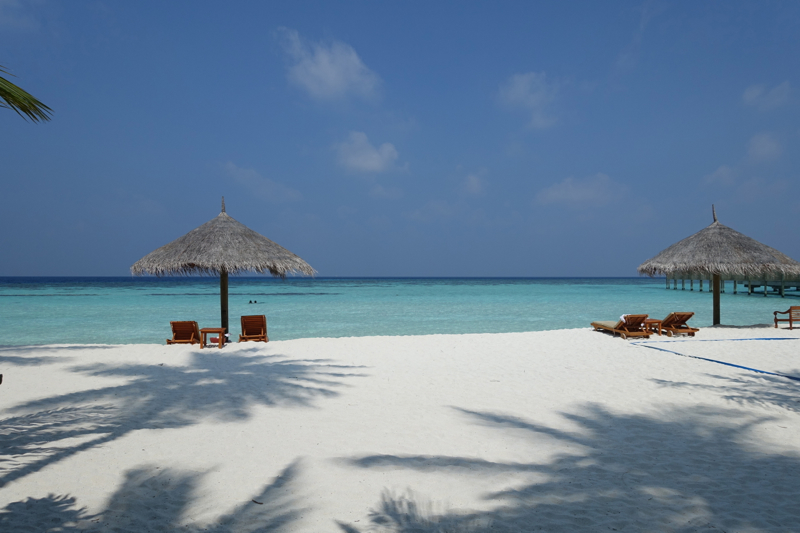 The ocean was often a bit rough when we were there, so the main pool was popular with kids. If you're looking for a more peaceful swim, go early or late in the day.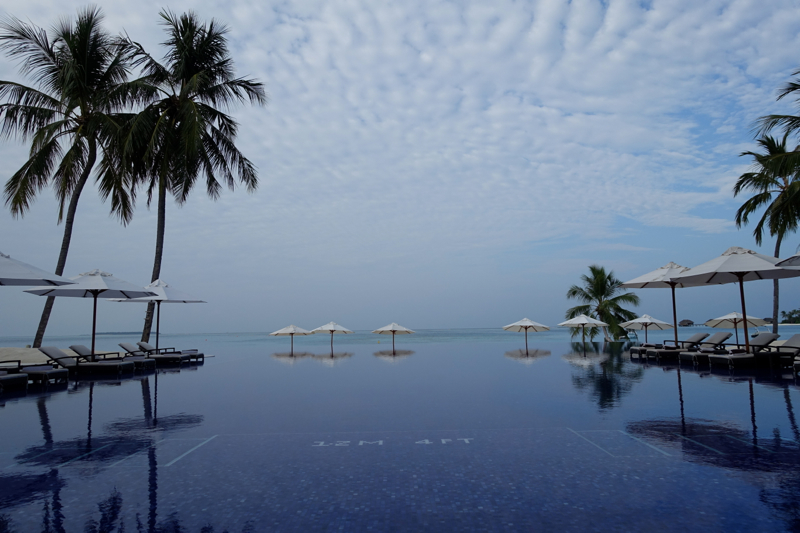 For young children, there's also a little wading pool, close to the main pool: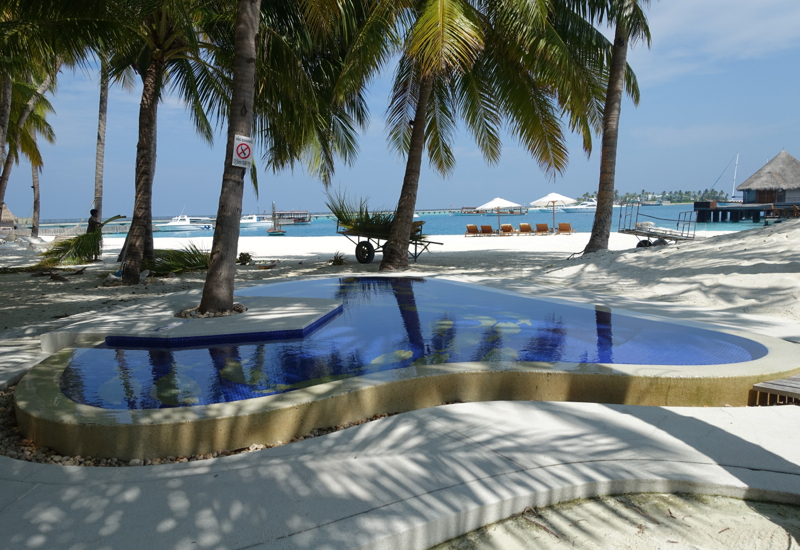 The fitness center is just to the left of reception, on the 2nd floor, and is a well air-conditioned space with plenty of equipment. So if the heat is getting to you when you're in the lobby area, it's a good place to cool down, even if you don't feel like lifting weights or running on a treadmill.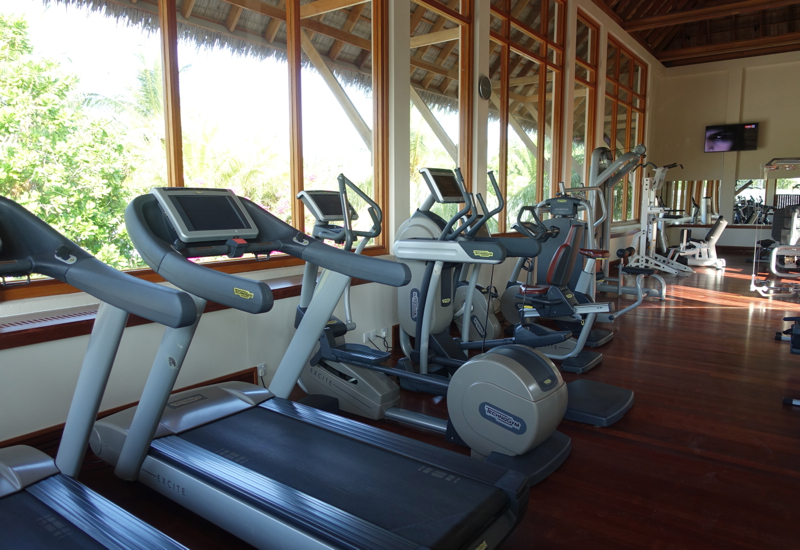 Conrad Maldives Rangali Restaurants and Dining
The Conrad is a large resort, with 150 rooms, so there are a number of dining options: Atoll Market, Ithaa Undersea Restaurant, Vilu Restaurant, Sunset Bar and Grill, Mandhoo Spa Restaurant, Ufaa Restaurant, The Wine Cellar, Kok Grill Restaurant, and of course private dining experiences and room service. I'll cover our breakfast and dining experiences in a separate post.
Conrad Maldives Rangali Activities
Conrad Maldives used to be the home of the Maldives Whale Shark Research Program, but the program is now based on Dhigurah island. Still, the Conrad Maldives dive center does offer whale shark snorkeling trips (whale shark sighting not guaranteed, of course) via Sub Aqua Dive Center, in addition to other diving and snorkeling trips. I'll cover this and other Conrad Maldives activities in a future post.
The Verdict
The Conrad Maldives is the largest resort in the Maldives that we visited, with the pros and cons that entails. We did enjoy some lovely views there, especially of Rangali Island, and there were a few service-oriented staff, although it was a stark contrast to the Four Seasons resorts and Soneva Fushi, where we were used to greeting and being greeted by each staff member we saw, or at least exchange smiles. At the Conrad, we felt pretty anonymous and many times staff would ignore us when we passed or seem surprised if we greeted them.
We found the Beach Villa very poorly designed, from the firm and uncomfortable bed to the outdoor bath that took forever to fill but wasn't even comfortable to relax in, to the sinks in a hot area with no air conditioning and the awkward door to the outside bathroom. Because of this, I would never recommend the entry level Beach Villa to anyone–in my view, an upgrade to a Superior Water Villa is a must just to get a better designed villa, as I'll describe in my forthcoming review.
If you've stayed at the Conrad Maldives in a Beach Villa, what was your experience?
Related Posts
8 Signs Hotel Design is Form Over Function
Four Seasons Maldives at Landaa Giraavaru Review
Review: Four Seasons Maldives at Kuda Huraa
Virtuoso Hotels: Bookings with Upgrades, Complimentary Breakfast and VIP Perks
Disclosure: We reserved the Conrad Maldives Rangali using 2 complimentary weekend nights from my husband's Citi Hilton HHonors Reserve card. The views expressed in this post are my own.
Need Award Booking Help? Our fee is as low as $75 per ticket if you book your hotel through us.
If you enjoyed this, join 180,000+ readers: please follow TravelSort on Twitter or like us on Facebook to be alerted to new posts.
Become a TravelSort Client and Reserve the Best Luxury Resorts in the Maldives with Virtuoso Benefits!