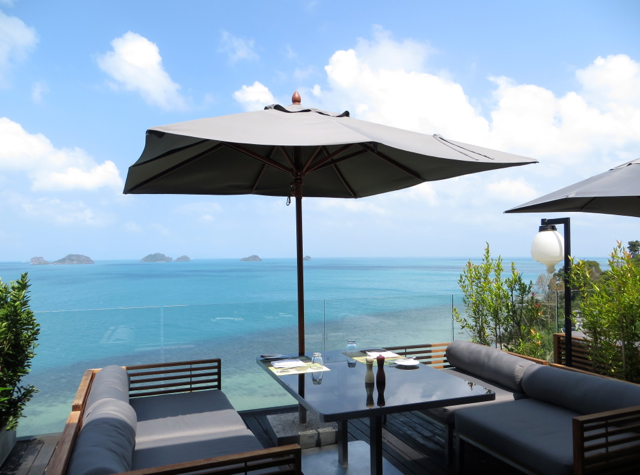 This Conrad Koh Samui Zest Restaurant Review, Menu and Prices post is part of a trip report including Singapore Suites, Cathay Pacific First Class, Emirates First Class, Asiana First Class and luxury resorts and dining in Southeast Asia. For the previous posts, please see:
Singapore Suites A380 Review: New York JFK to Frankfurt
Review: Lufthansa Senator Lounge Frankfurt
Singapore Suites A380 Review: Frankfurt to Singapore
Singapore Airlines Private Room Lounge Review
Cathay Pacific First Class Review NYC JFK to Hong Kong
Singapore Suites A380 Review: Singapore to Hong Kong
Review: Grand Hyatt Hong Kong Club Harbour View Room
Tin Lung Heen Hong Kong Dim Sum Review
Review: Grand Club Lounge, Grand Hyatt Hong Kong
Emirates First Class A380 Review: Hong Kong to Bangkok
Review: Novotel Bangkok Suvarnabhumi Airport Hotel
Please note: Future posts will cover menus and dining at Jahn Restaurant and Activities.
Zest Restaurant
Zest is the Conrad Koh Samui's all day dining restaurant, where breakfast is served buffet style in the mornings, and where both Thai and international dishes are served at lunch and dinner. During the morning or evening, it's nice to sit outside on the deck to enjoy the great view. The middle of the day is very hot, so you'll probably want to be indoors, where there's air conditioning.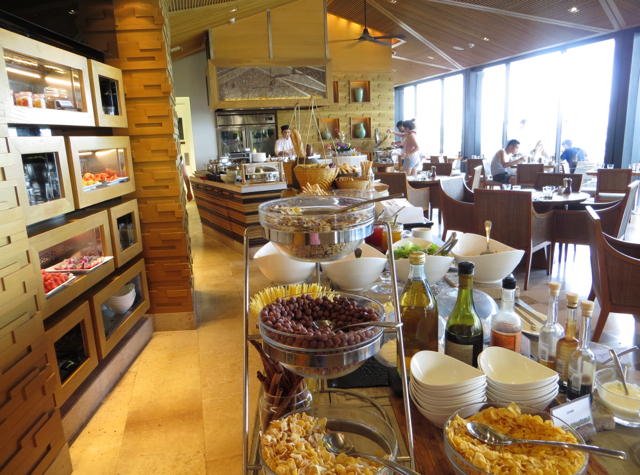 Breakfast at Zest Restaurant
Breakfast is complimentary if you have Hilton HHonors Gold status, and fortunately the munchkin's breakfast was also complimentary, even though he sometimes has an adult size appetite. There are several savory choices, such as Thai curries and the noodle soup bar, so it's ideal to have a late breakfast to serve as brunch and tide you over for most of the day, similar to what we did with the Park Hyatt Maldives breakfast.
There is a breakfast menu that you can choose from in addition the buffet, mostly with various varieties of eggs benedict: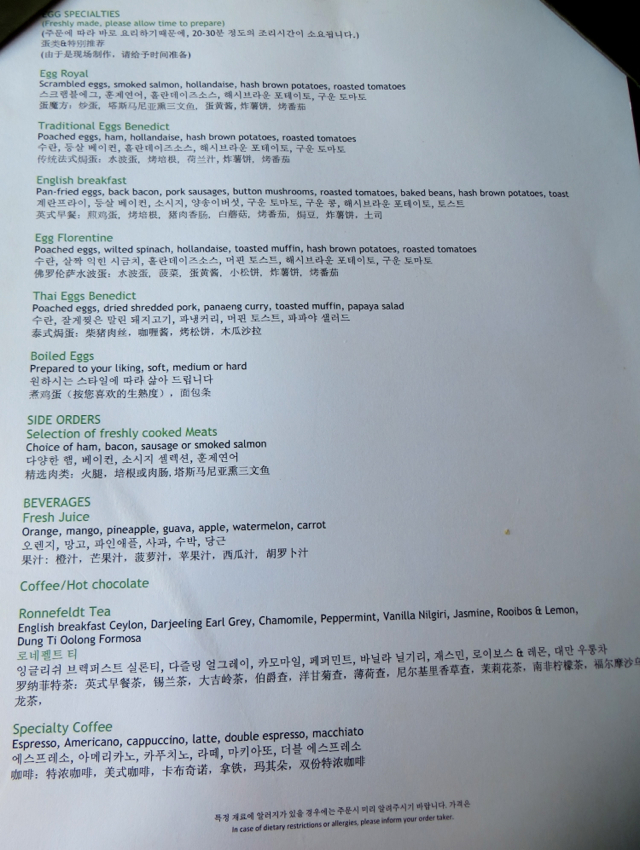 That said, after trying a couple of the eggs benedict our first breakfast, we opted to simply stick to the buffet. These were our favorite items:
1. Thai Curries
While neither my husband nor the munchkin wanted anything to do with the Thai curries on offer, I liked having this savory option, before having more traditional breakfast specialties. I particularly liked the green curry, even though we do get better versions of this at our favorite Thai places in NYC.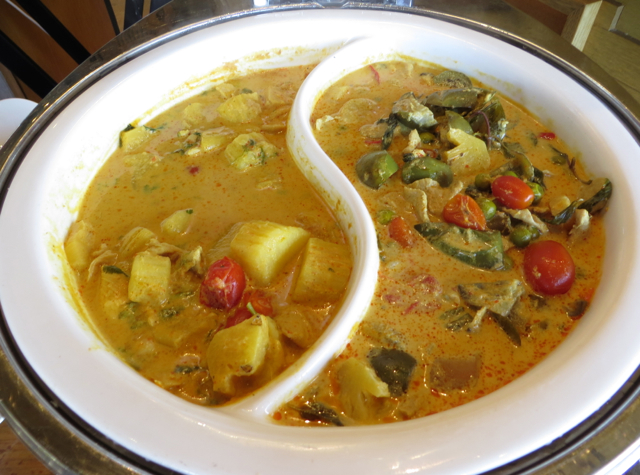 2. Strawberry Smoothie
There are smoothies on the kids' menu, but I only noticed them at breakfast when I spotted a server providing some to a neighboring table. I asked what they were, and was told they were strawberry smoothies. I immediately ordered a couple, and preferred them to the juices on offer, which, while ostensibly fresh squeezed, didn't taste as good as other fresh squeezed juices I've had elsewhere. The smoothies were better, by comparison.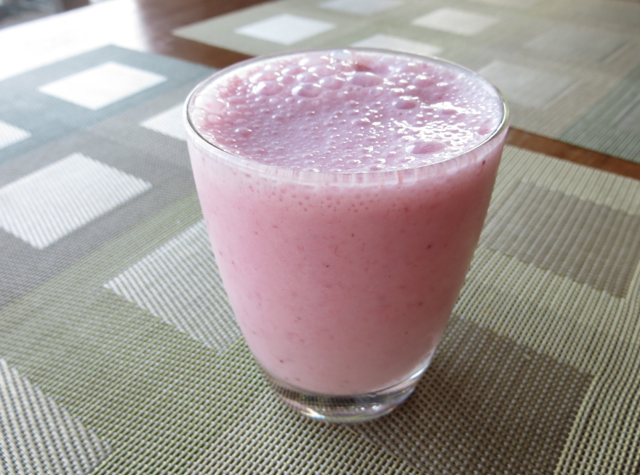 3. Fresh Coconut Water
It's nice that the Conrad Koh Samui allows you to order these at breakfast. We ordered it once just to try it, and it was very fresh tasting, so we're glad we tried it, even though we ended up preferring the strawberry smoothies. One of the couples we saw regularly at breakfast, however, made it their ritual to each get one, and the staff proactively offered "their regular" when the couple sat down.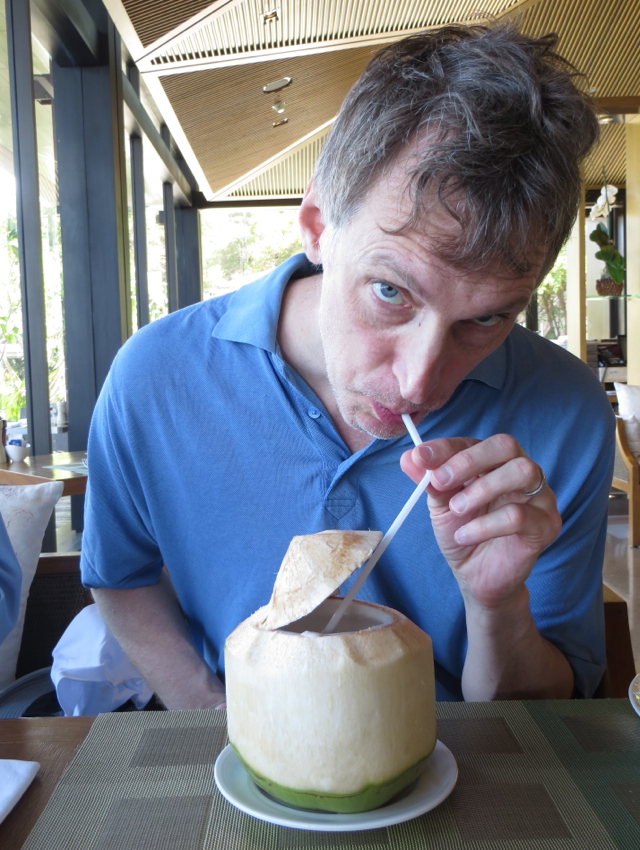 4. Yogurt
Yogurt is one of my favorite traditional breakfast foods, so even though there was always only a choice between housemade plain yogurt and plain yogurt with a fruit puree, this was my go to item after a Thai curry. If you eat something too spicy, yogurt is also helpful to cool down the heat. I just wished that there was some housemade granola, as the cereals on offer weren't that good.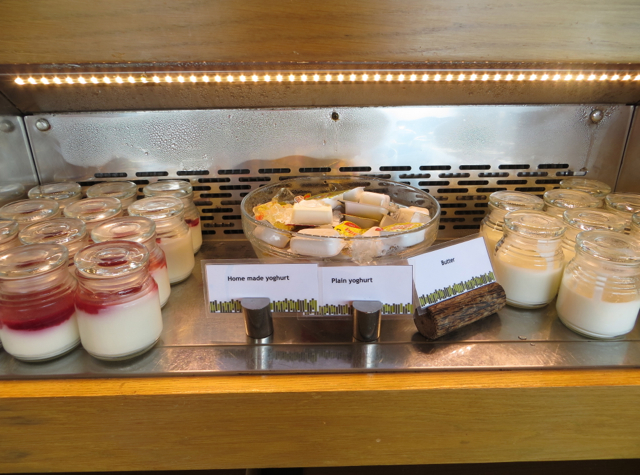 5. Omelet
My husband and the munchkin enjoyed getting a made to order omelet. I was even able to order one with cheese and spinach, even though spinach didn't appear in one of the bowls as something you could add. While we've had better omelets, these were tasty and freshly made, so a good item if you want an egg dish but not any of the eggs benedicts offered.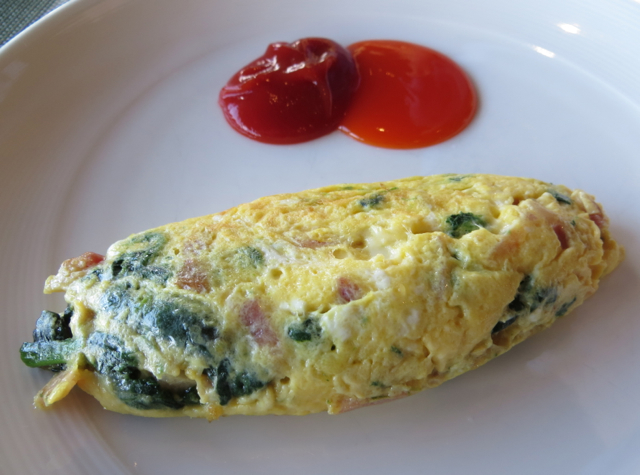 6. Spicy Chinese Sausage
Lap cheong, or spicy Chinese sausage, is a favorite ingredient in lotus leaf wrapped sticky rice for dim sum, so I was happy to see it offered a couple of mornings, near the Noodle Soup Bar.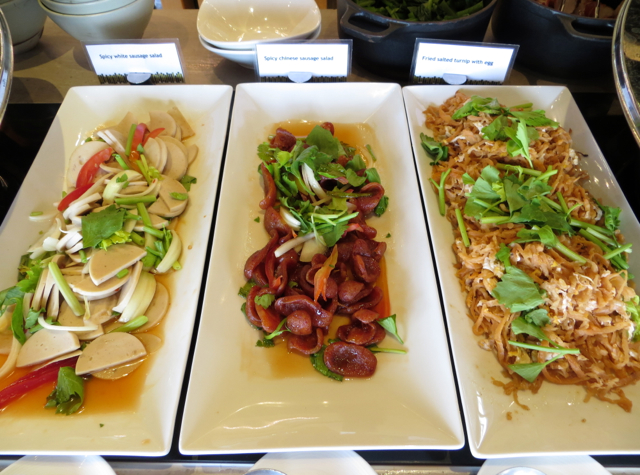 7. Noodle Soup Bar
Noodle soup is a favorite breakfast food throughout much of Asia, so it was nice to have that option here, even though I only tried it once. I liked the array of condiments provided, especially the chilis.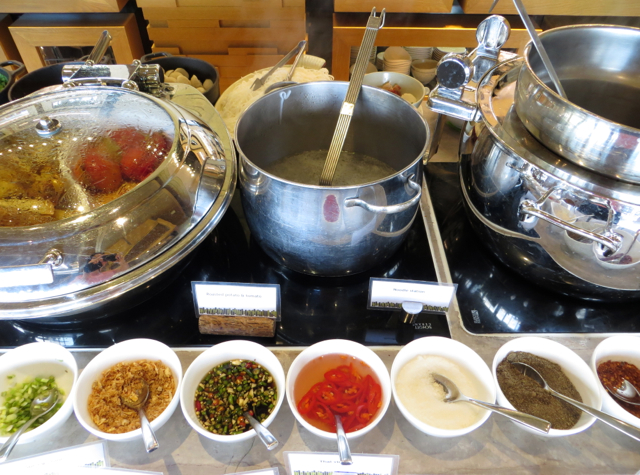 8. Thai Eggs Benedict
The Thai Eggs Benedict was certainly unique, so I give it points for that, and for the accompanying serving of som tam (green papaya salad).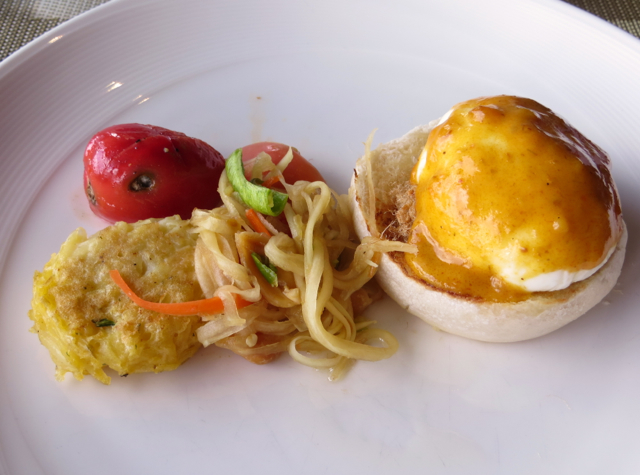 You'll notice that I didn't put breads and pastries on this list. While I'm assuming they are made at the resort, they just weren't that good, in my view, although I accept that there are no doubt considerable challenges making top notch pastries in Koh Samui given the humidity and availability of ingredients. Of course, if you're not picky about your pastries and just need some sweet carbs, you'll be fine. But for me, it wasn't worth the calories to eat any of them.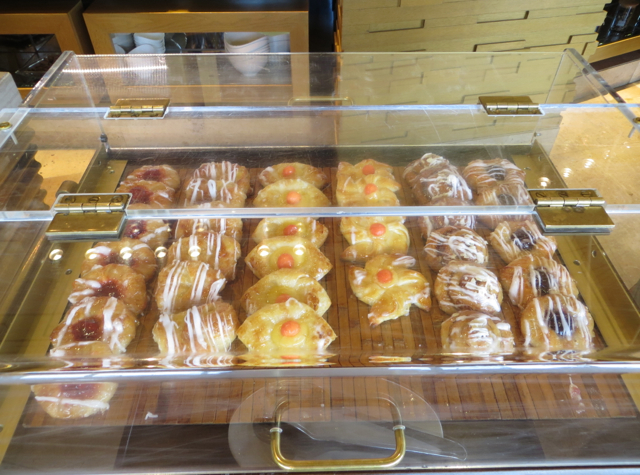 Lunch and Dinner at Zest Restaurant
We were handed the same menu for both lunch and dinner, and it includes Thai as well as Western dishes (which, apart from the cheeseburger on the kids' menu, we didn't try). Here are the Thai Starters:
And the Thai Curries: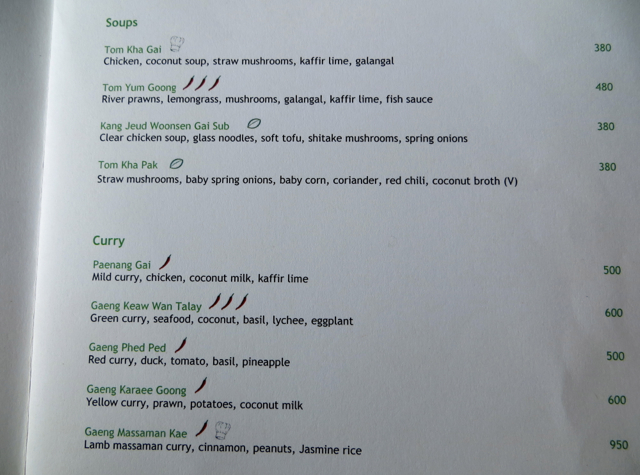 Here's the Kids' Menu: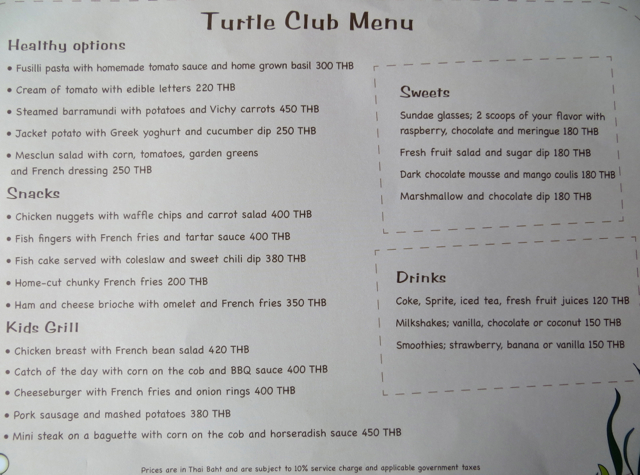 As I mentioned above in the breakfast section, I liked the curries, although none of them floored me. I did request mine to be prepared spicy, and they were spicier than my husband's, although not close to Thai spicy, which was fine. Here are our favorite dishes from those we tried:
1. Larb Tuna
My husband and I liked this preparation–very fresh, with all the characteristic larb spices and toasted rice powder. They even prepared sticky rice (the traditional accompaniment to larb) for us, although it's not always available. It is, after all, Koh Samui, and not Northern Thailand.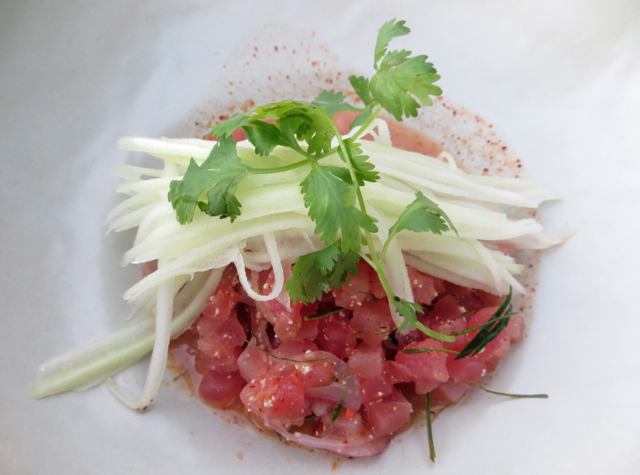 2. Red Curry with Duck
This was my favorite of the curries I tried, and the only thing that I ate that was actually spicy (I'd requested it very spicy, and it was moderately spicy).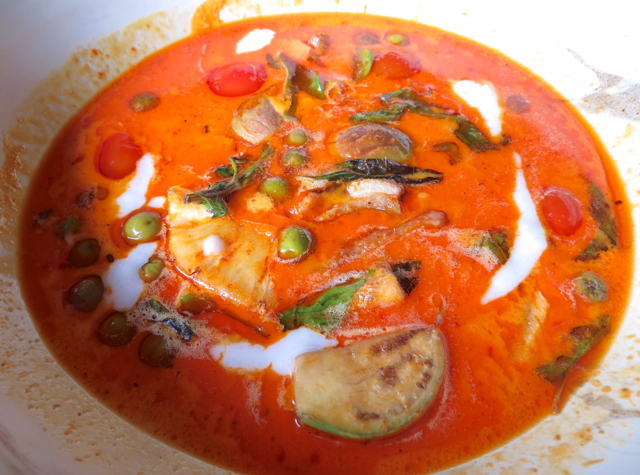 3. Green Curry with Seafood
This was a nice presentation, and fresh and flavorful, so it was our second favorite curry. I would have preferred more shrimp and less squid, however.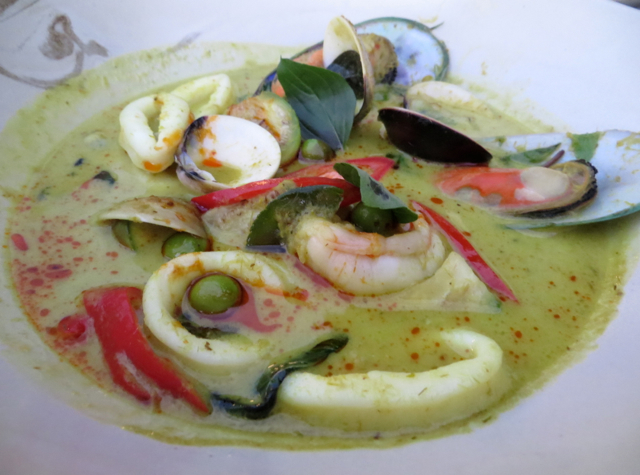 4. Cheeseburger
The munchkin's favorite item from the kids' menu was the cheeseburger. It was very generous in portion size, which was a good thing, given my son's appetite. My husband barely got a bite of it.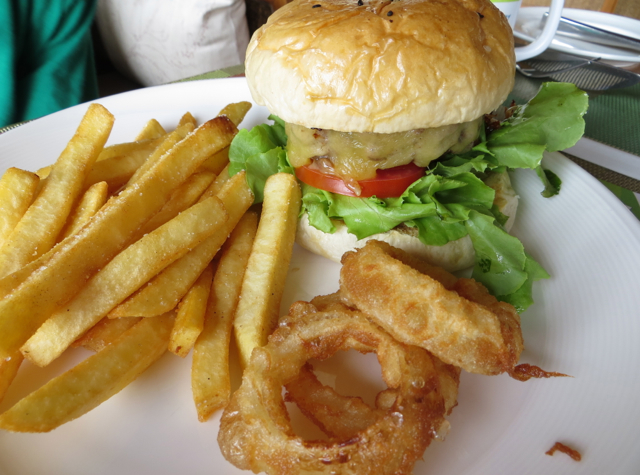 5. Som Tum (Green Papaya Salad)
While very fresh, the som tum could have been spicier and more flavorful. I prefer the version we get at Zabb Elee in NYC.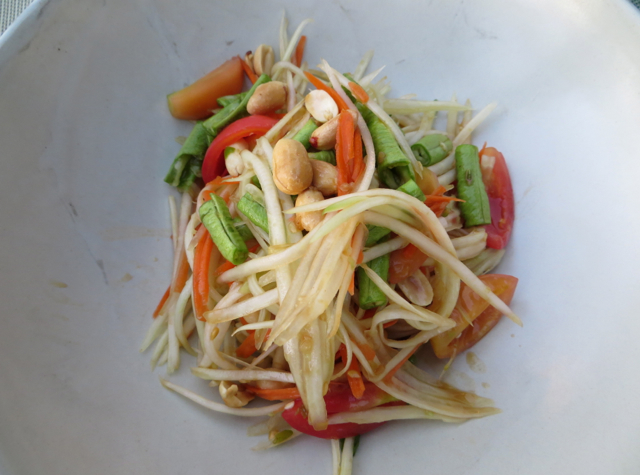 6. Panang Chicken Curry
The Panang chicken curry was fine, and had the Thai eggplants also found in the other curries we tried, but it needed more spice. I can appreciate that not everyone likes their curries as spicy as we do, but my husband did request it spicy and it came out far milder than mine. Maybe a "spicy" request from a Caucasian carries less weight, as I joked to my husband!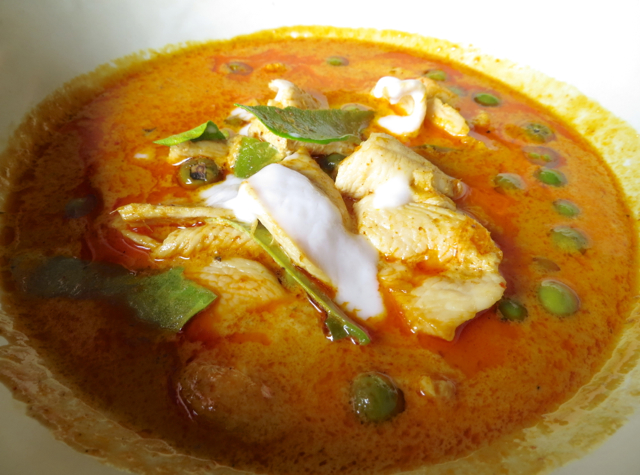 The Verdict: Overall we were happy with Zest Restaurant. The Thai dishes we had tasted fresh, even if they weren't as spicy as traditional versions, and we all found items we enjoyed at breakfast, particularly the smoothies and yogurt and for me, the curries. Service was friendly and accommodating (when they heard we were interested in sticky rice, they procured some the next day for us).
The main areas for improvement, in my view, were the pastries, which were lackluster; the jams, which were also poor quality even compared to French Bonne Maman, let alone top brands such as Austrian d'Arbo or Swiss Favorit; the limited variety of fresh fruits and cereals and lack of housemade granola; and the insufficient chilling for the yogurt display case.
If you've dined at the Conrad Koh Samui's Zest Restaurant, what were your favorites?
Related Posts
Hilton HHonors Massive Devaluation
Hilton HHonors: Use Citi and AMEX Cards to Maximize Points
Need Award Booking Help? Our fee is as low as $75 per ticket if you book your hotel or cruise through us.
If you enjoyed this, join 150,000+ readers: please follow TravelSort on Twitter or like us on Facebook to be alerted to new posts.
Become a TravelSort Client and Book 5-Star Hotels with Virtuoso or Four Seasons Preferred Partner Amenities!