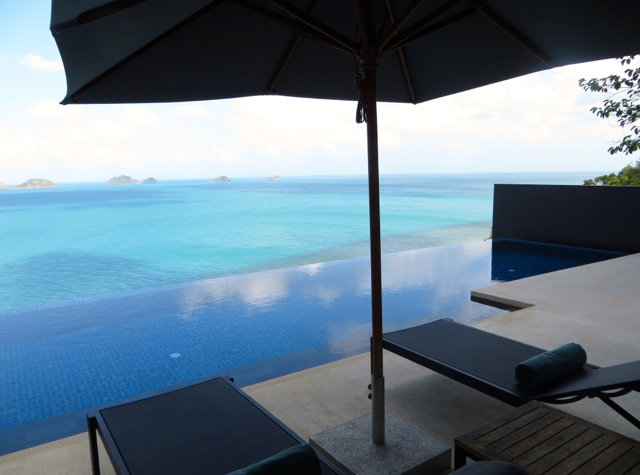 This Conrad Koh Samui review is part of a trip report, also to be posted on Flyertalk, including Singapore Suites, Cathay Pacific First Class, Emirates First Class, Asiana First Class and luxury resorts and dining in Southeast Asia. For the previous posts, please see:
Singapore Suites A380 Review: New York JFK to Frankfurt
Review: Lufthansa Senator Lounge Frankfurt
Singapore Suites A380 Review: Frankfurt to Singapore
Singapore Airlines Private Room Lounge Review
Cathay Pacific First Class Review NYC JFK to Hong Kong
Singapore Suites A380 Review: Singapore to Hong Kong
Review: Grand Hyatt Hong Kong Club Harbour View Room
Tin Lung Heen Hong Kong Dim Sum Review
Review: Grand Club Lounge, Grand Hyatt Hong Kong
Emirates First Class A380 Review: Hong Kong to Bangkok
Review: Novotel Bangkok Suvarnabhumi Airport Hotel
Please note: Future posts will cover menus and dining at Zest and Jahn Restaurants, and Activities.
Conrad Koh Samui Location, Lobby and Check-In
I originally booked The Conrad Koh Samui as part of a 4 night AXON Award, before the massive Hilton HHonors devaluation last year. As long ago as that seemed, our trip finally arrived, and I can report back on my impressions of this property.
The Conrad Koh Samui is about 45 minutes by car from the Koh Samui Airport. Since we planned to stay at the resort, I had called Mr. Samui to pick us up. Unfortunately, he wasn't there when we arrived, but someone at the airport let us borrow their phone so we could call him. He'd forgotten our date (I likely should have emailed him a reminder) but promised to send a driver quickly, which he did.
The van was air conditioned and comfortable for a van, but one thing I hadn't realized was just how bumpy Koh Samui roads are. The munchkin was pretty carsick by the time we got to the Conrad Koh Samui, even after stopping a couple times for fresh air.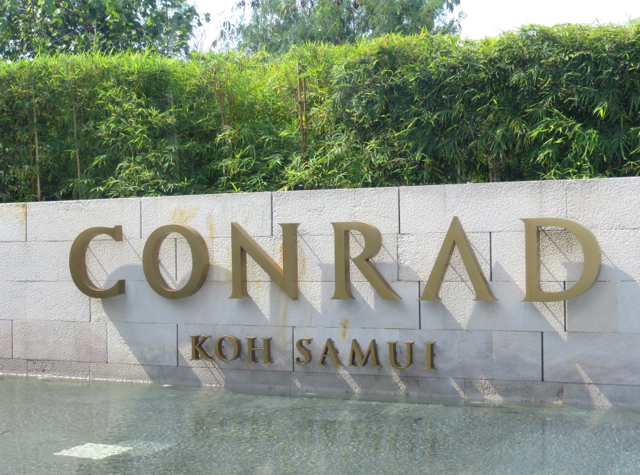 Finally we arrived, and were treated to a beautiful view from the upper reception: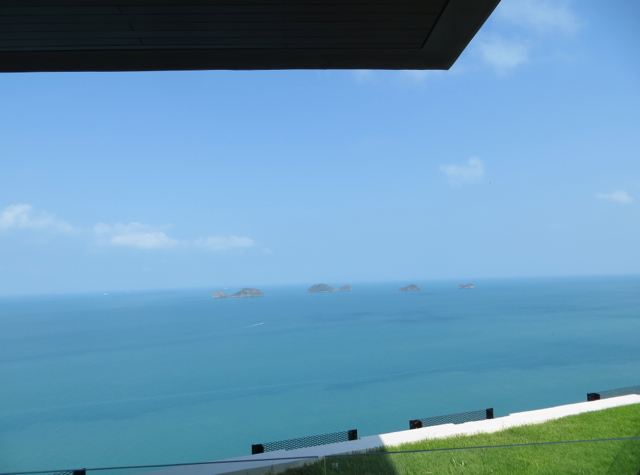 We also were given cool towels and welcome drinks, which we appreciated.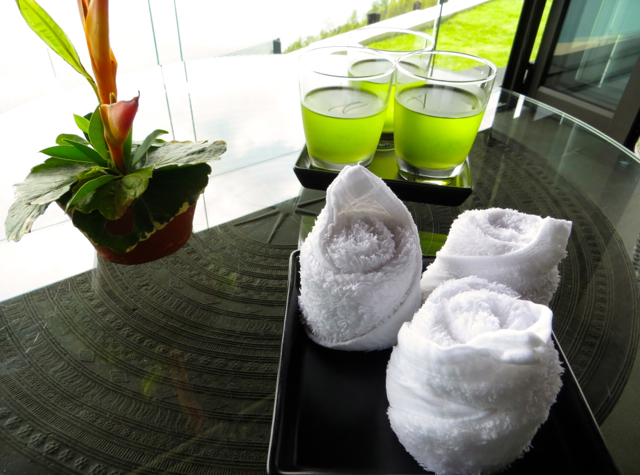 Our passports and credit card for incidentals were taken, then our host, Ivy, took us in a buggy to lunch at Zest (future review) since they were still preparing our villa. I'd requested one of the 300 series villas near Zest, and we would be given 306.
Conrad Koh Samui 1 Bedroom King Ocean View Pool Villa: Villa 306
After our lunch at Zest, we were taken to our villa, Villa 306. Virtually all the Conrad Koh Samui 1 bedroom villas are identical, with the main difference being their positioning and view. I'd specifically requested Villa 306, 307 or 308 for their unobstructed views and the ability to walk to and from Zest for breakfast and other meals, without having to call a buggy. Here's a map of the resort, including the villa numbers (click on it to enlarge slightly).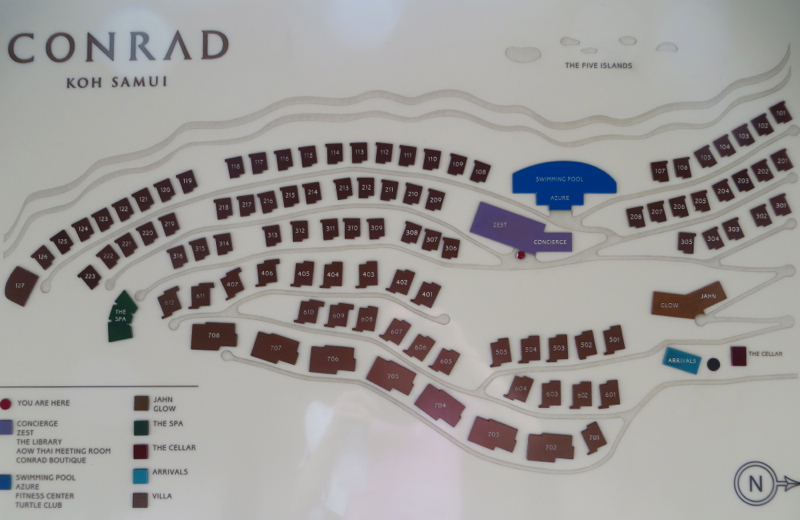 As you can see from this photo of the Conrad Koh Samui, taken from the beach, the resort is built on a very steep hillside, with pillars supporting the villas and their infinity pools. This is why we wanted a villa that we could walk to and from the main areas of the resort!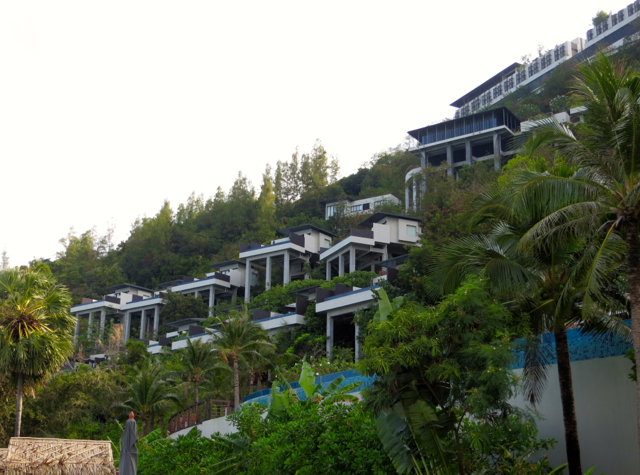 The villa itself is nicely laid out, with the right half the bedroom with King bed, sitting area and desk. This is the first Conrad I've stayed at, and the bed was quite comfortable, if not as plush as the Four Seasons.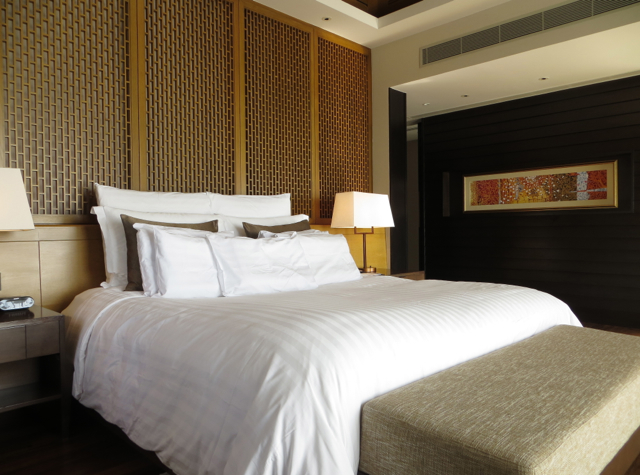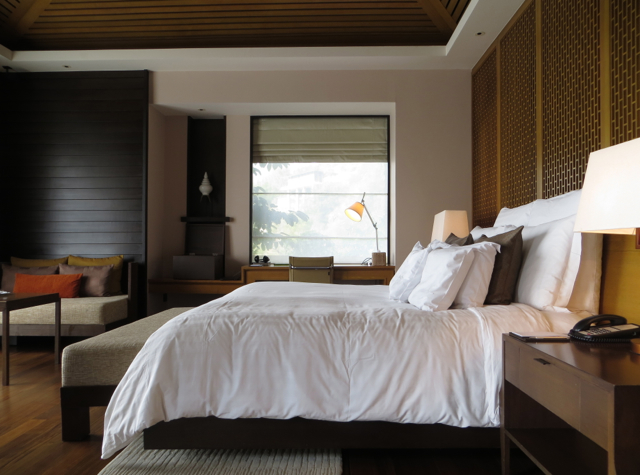 Welcome fruits included two perfectly ripe mangos, a dragonfruit (which I've always found nicer to look at than to eat), and even some surprisingly good macarons. No, it's not Pierre Herme Paris quality, but quite impressive given that these were made at the hotel itself, in Koh Samui. There were little housemade cookies left as part of turn down service each night, but none were as good as the initial macarons.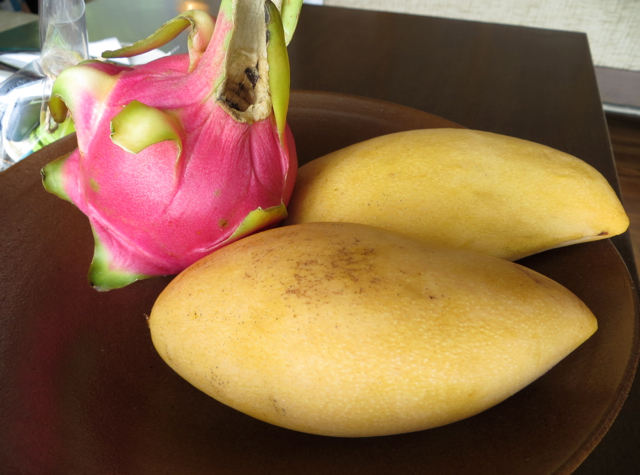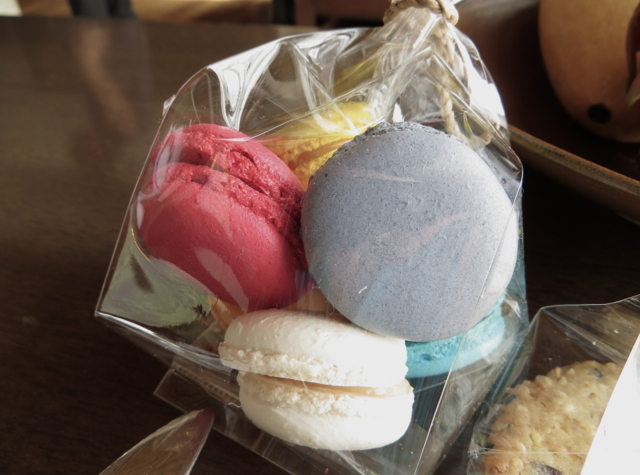 The left side of the villa is the bathroom, with the huge round soaking tub a focal point: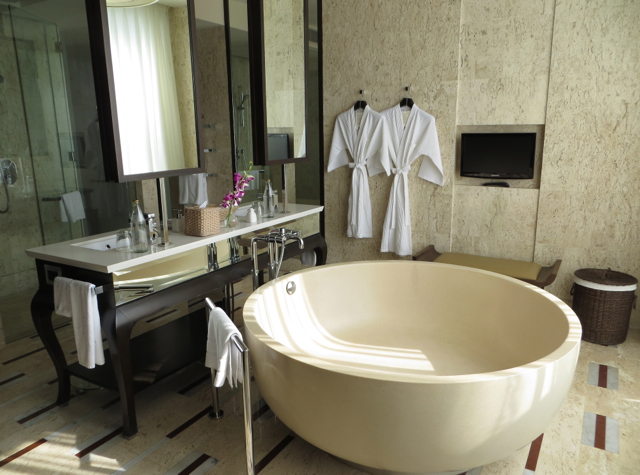 There were dual vanities with his and hers sinks, always convenient: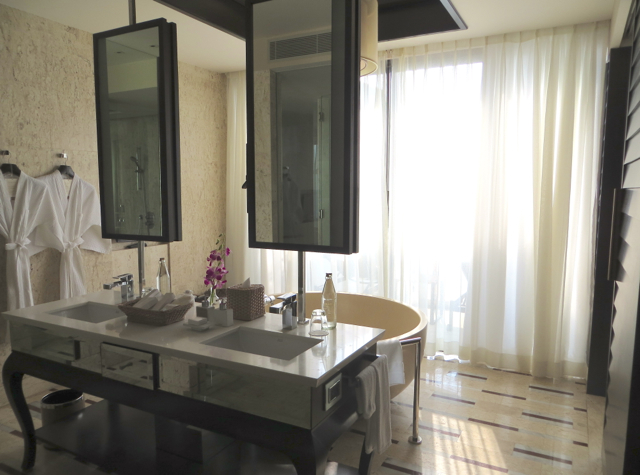 And the glass enclosed rain shower featured Aromatherapy Associates bath amenities. These used to be provided as part of the amenity kit on British Airways, some years back.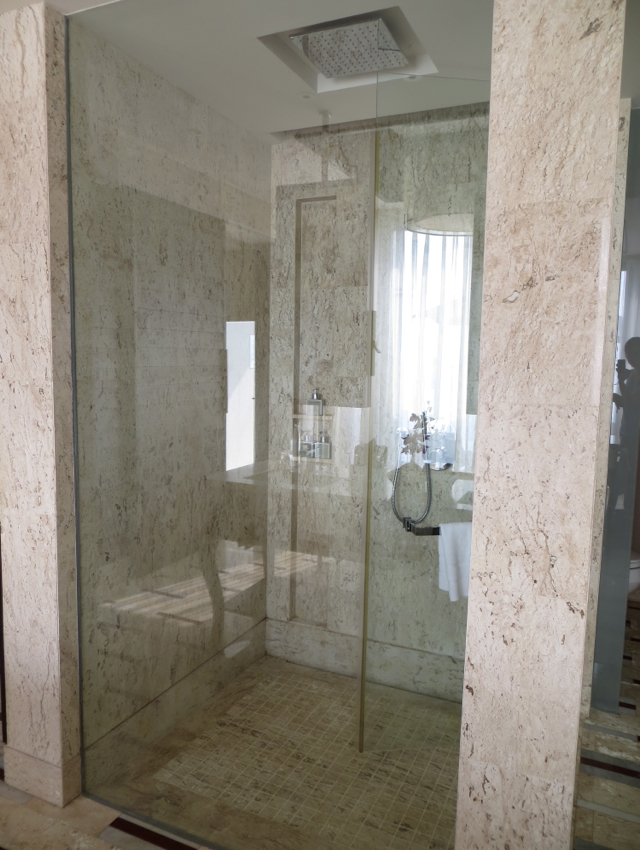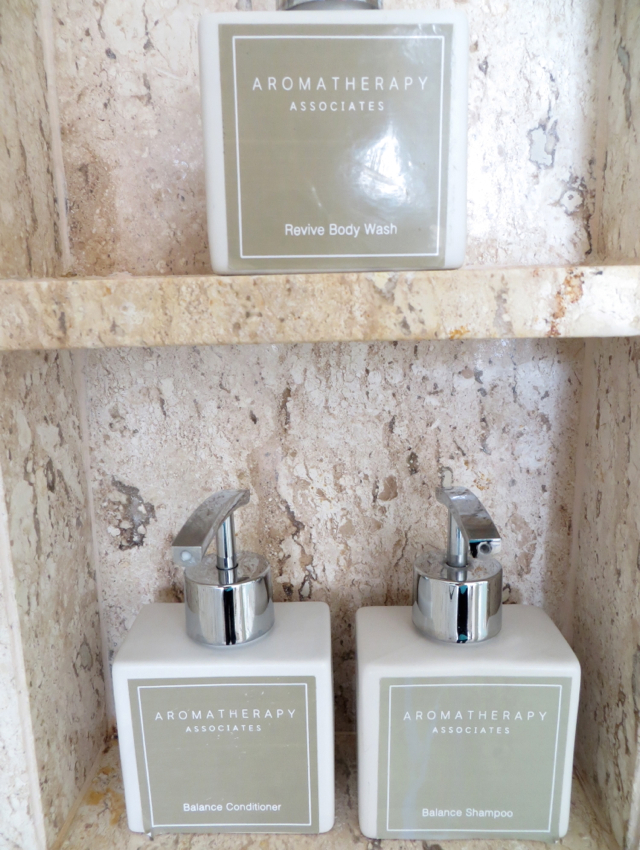 I liked that there was a box of games, since there really isn't a whole lot to do here if it rains. And even though it didn't rain during our stay, we still enjoyed playing Scrabble and Monopoly during the middle of the day (or simply taking a nap).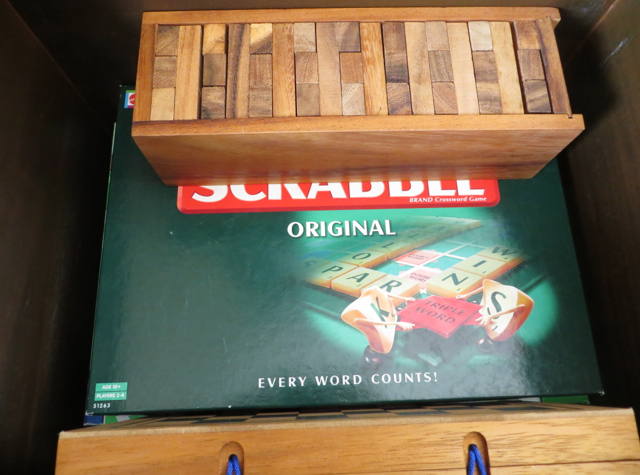 The real attraction, however, was the 10 meter private infinity pool. There were also a couple sun loungers, but let's just say that if you're parents of young kids, you probably won't be using them much (or at all).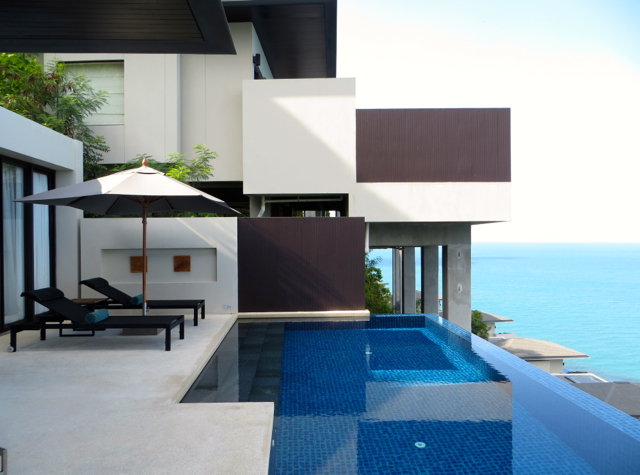 The pool provided even more room for water gun fights than the private pool at the Park Hyatt Maldives Park Pool Villa, so needless to say, the munchkin had a blast. I still can't believe that my husband managed to pack our largest water gun in his carry-on, but I digress…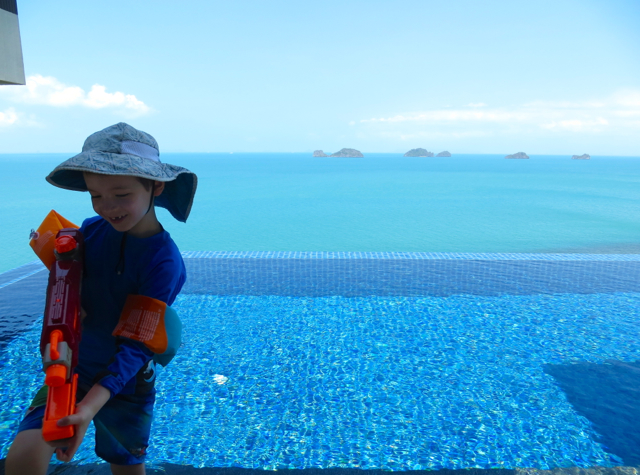 I will say that I was a little surprised that the coffee machine wasn't Nespresso, but since I normally only drink coffee in the morning, a breakfast cappuccino at Zest supplied my daily caffeine.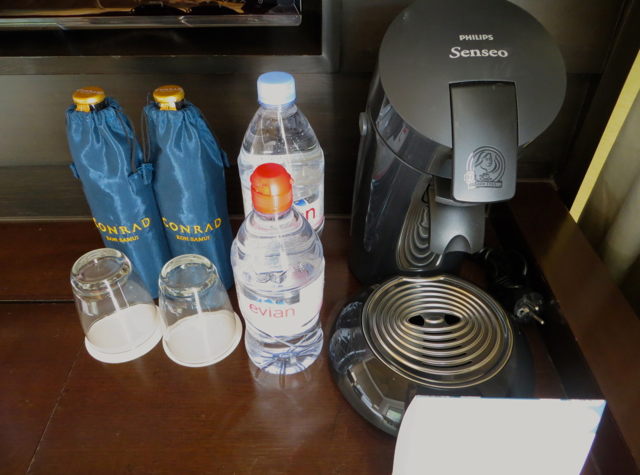 Conrad Koh Samui Main Swimming Pool and Beach
The Conrad Koh Samui's main swimming pool is practically superfluous, given that all guest have their own private infinity pool as part of their villa, but it is there if you feel like a bigger pool. Don't count on a social scene, however–the few times we were there, no one apart from resort staff was around.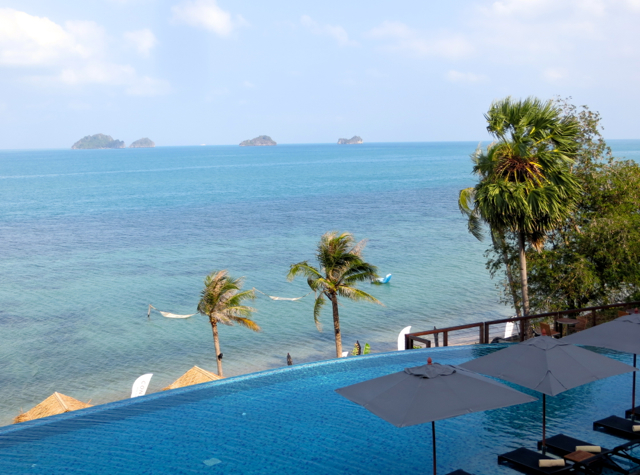 I'd heard rather poor reviews of the Conrad Koh Samui's beach, but it wasn't as bad as I expected. Of course it's tiny and it's not Hawaii or the Maldives, but the staff works very diligently each morning cleaning it, and it seems a nice place to relax if you want to hear the ocean. There are even a couple of hammocks the Conrad Koh Samui puts up over the ocean, and a big beach chair. But of course if you want a long beach of powdery white sand, this isn't it.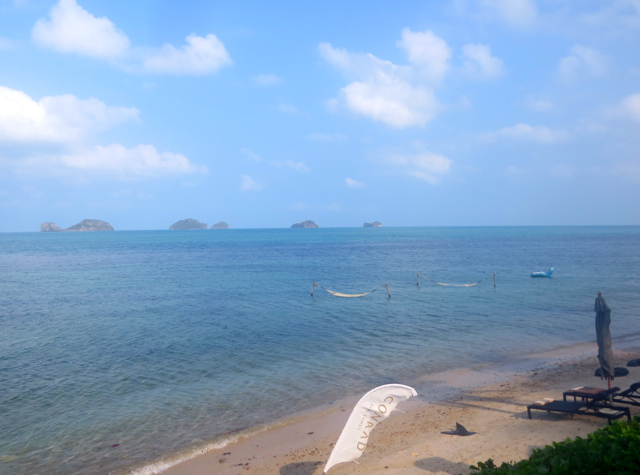 If you prefer a little shade, there's also a hammock on the beach, under a tree: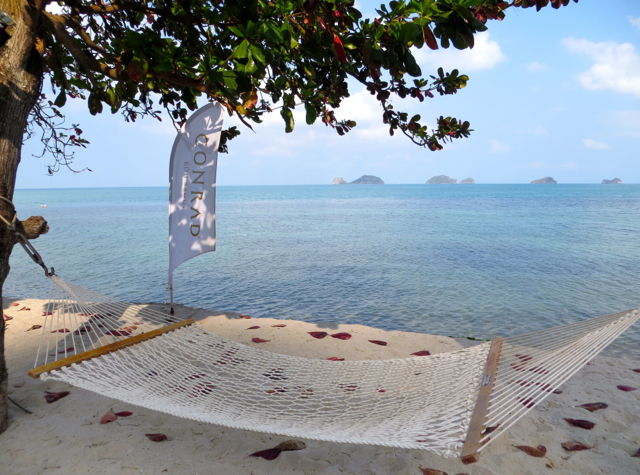 The Verdict
The Conrad Koh Samui was the perfect beginning to our two week trip. I loved the beautiful ocean views from our villa, the villa itself (which was fine for our small family of two adults and one child), and our own private infinity pool. It meant we had few qualms about letting the munchkin get out his energy with his water gun in the pool, or even inside the villa, given that we had no neighbors immediately adjoining us.
There's no question that this is a great spot for honeymooners and couples, without a lot to do in the immediate vicinity, but that was fine by us, since we wanted a few days simply to relax and do simple things such as, swim, read or play board games as a family.
Is the Conrad the most luxurious option in Koh Samui? No, as we would discover with our subsequent stay. But apart from perhaps the Conrad Rangali in the Maldives, it's one of the best redemptions for HHonors points, if you still have a ton of them and are willing to pay the much higher rates after the massive Hilton HHonors devaluation.
Disclosure: I booked my stay with a pre-devaluation AXON award using Hilton HHonors points.
Related Posts
Conrad Koh Samui Zest Restaurant Review, Menu and Prices
Koh Taen Snorkeling with Tours Koh Samui Review
Conrad Koh Samui Jahn Restaurant Review, Menu and Prices
Need Award Booking Help? Our fee is as low as $75 per ticket if you book your hotel or cruise through us.
If you enjoyed this, join 150,000+ readers: please follow TravelSort on Twitter or like us on Facebook to be alerted to new posts.
Become a TravelSort Client and Book 5-Star Hotels with Virtuoso or Four Seasons Preferred Partner Amenities!