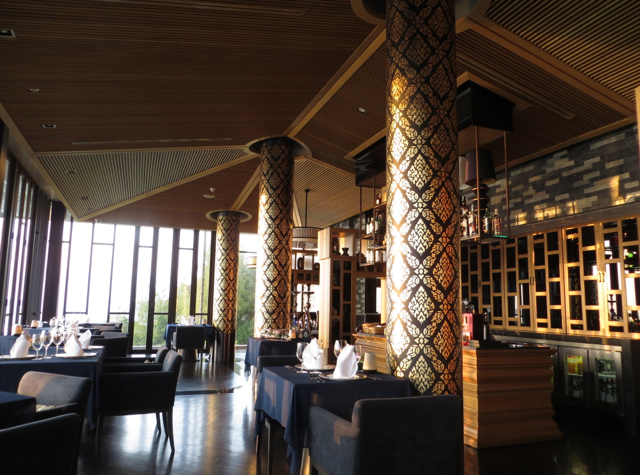 This Conrad Koh Samui Jahn Restaurant review and menu post is part of a trip report including Singapore Suites, Cathay Pacific First Class, Emirates First Class, Asiana First Class and luxury resorts and dining in Southeast Asia. For the previous posts, please see:
Singapore Suites A380 Review: New York JFK to Frankfurt
Review: Lufthansa Senator Lounge Frankfurt
Singapore Suites A380 Review: Frankfurt to Singapore
Singapore Airlines Private Room Lounge Review
Cathay Pacific First Class Review NYC JFK to Hong Kong
Singapore Suites A380 Review: Singapore to Hong Kong
Review: Grand Hyatt Hong Kong Club Harbour View Room
Tin Lung Heen Hong Kong Dim Sum Review
Review: Grand Club Lounge, Grand Hyatt Hong Kong
Emirates First Class A380 Review: Hong Kong to Bangkok
Review: Novotel Bangkok Suvarnabhumi Airport Hotel
Conrad Koh Samui Zest Restaurant Review, Menu and Prices
Koh Taen Snorkeling with Tours Koh Samui Review
Getting to Jahn Restaurant and Reservations
Jahn Restaurant is the Conrad Koh Samui's fine dining restaurant, featuring Thai fusion cuisine. It's near the top of the resort, so chances are you'll take one of the resort's buggies to Jahn. If you're not staying at the Conrad Koh Samui, I've heard that Jahn offers complimentary transfers to the restaurant from your resort. Note that Jahn is closed Mondays and Tuesdays, and only open for dinner.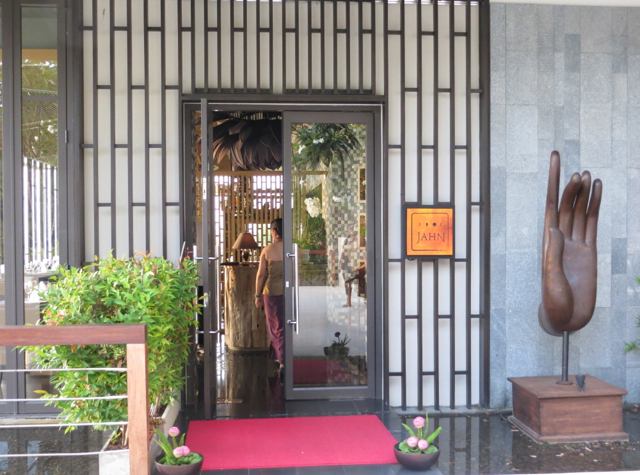 The Scene
We had an early reservation, both to enjoy the sunset and so that we could get the munchkin to bed at his usual time. Because of this, we were the very first guests there, and the associate who welcomed us even proactively offered to take our picture outside Jahn, which was a nice touch.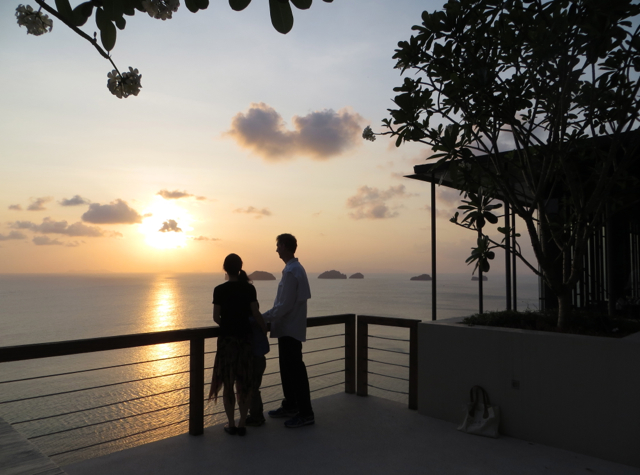 Even after we were seated, it was about 20 minutes until anyone else was seated, and there were enough tables (Jahn seats 28) that there was ample privacy for each of the tables. We were dining on a Wednesday, so perhaps Saturday and Sunday nights are busier. Dress is stated as "formal" although my husband hadn't brought any formal clothes for the trip and was fine in his white sunshirt.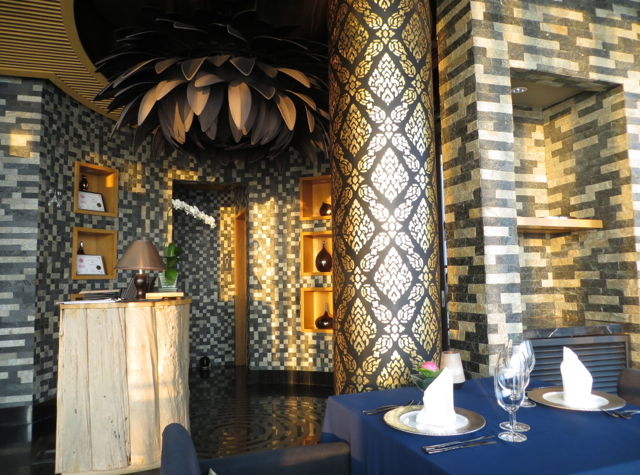 Jahn Menu and Food
Jahn offers a tasting menu for 2999 THB (4999 THB with wine pairing) but we didn't opt for that since we didn't want such lengthy meal when dining with the munchkin. Instead, we chose from the a la carte menu: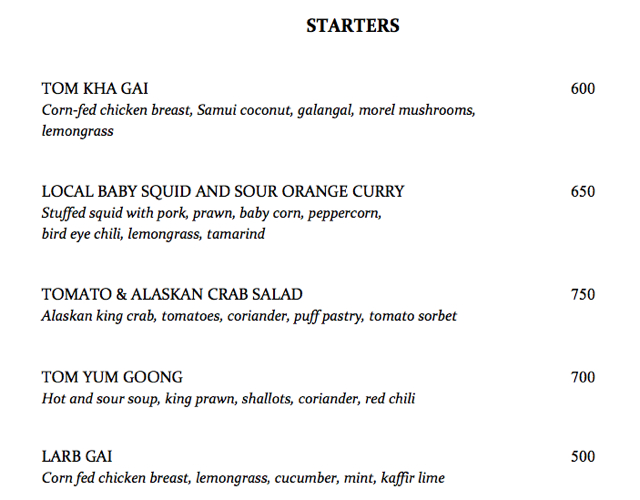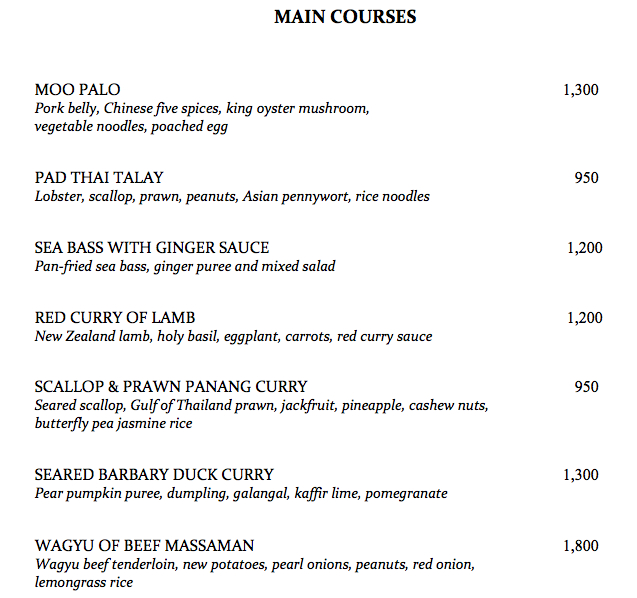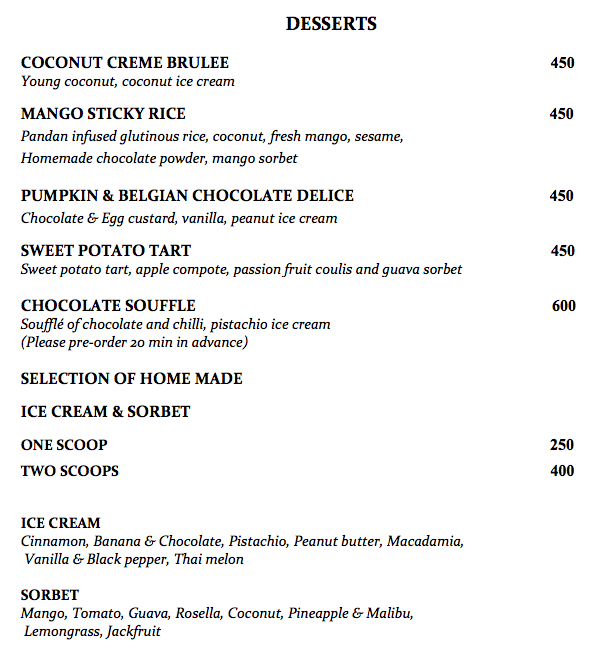 The munchkin was given a kids menu to choose from, the back side of which was a nice coloring activity: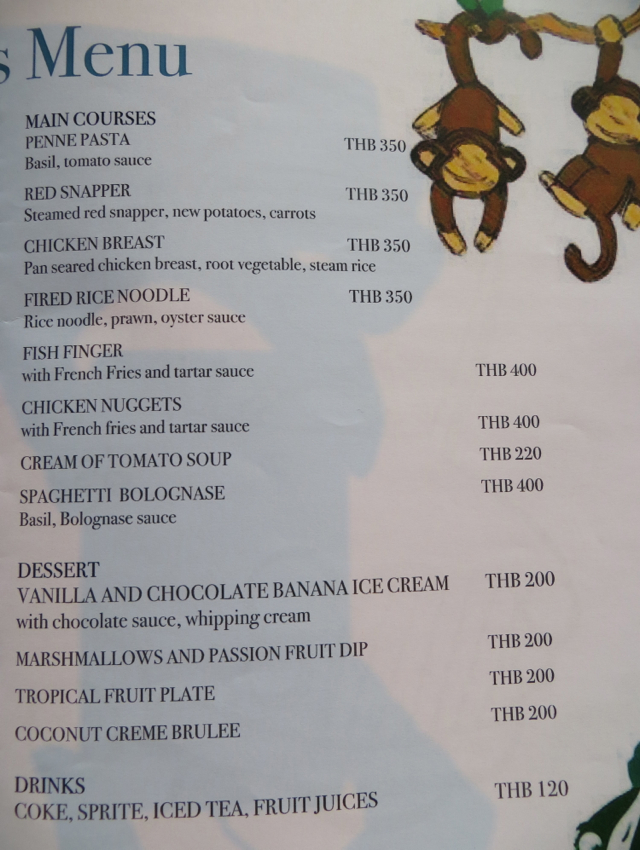 Our dinner at Jahn began with an amuse bouche of green papaya salad with fresh crab, which was delicious: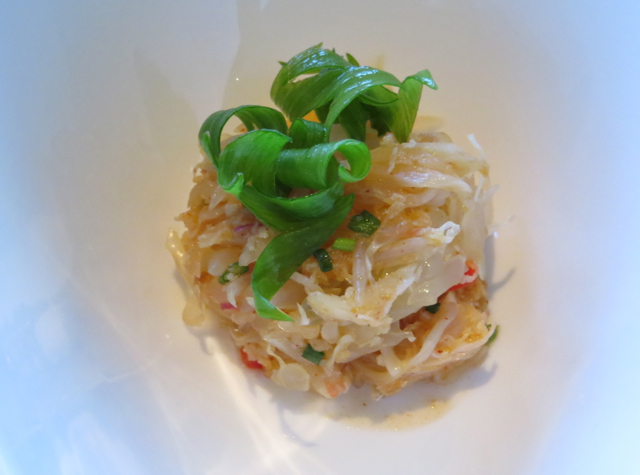 The kitchen was very thoughtful from the perspective of quickly preparing the munchkin's spaghetti bolognese and serving it to him soon after we'd enjoyed our amuse bouche. Clearly they know that a more peaceful dinner is enjoyed by all when the kid is fed first!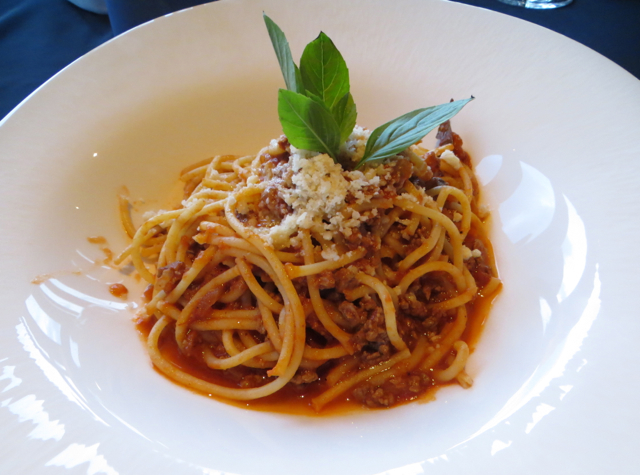 I didn't order a starter, but my husband's Tom Kha Gai was the most striking presentation I've seen of this dish, with its foam and edible flowers in a coconut. The soup itself was good, but not exceptional–we can easily enjoy better tom kha gai here in NYC, and I've even made better tom kha gai myself at home.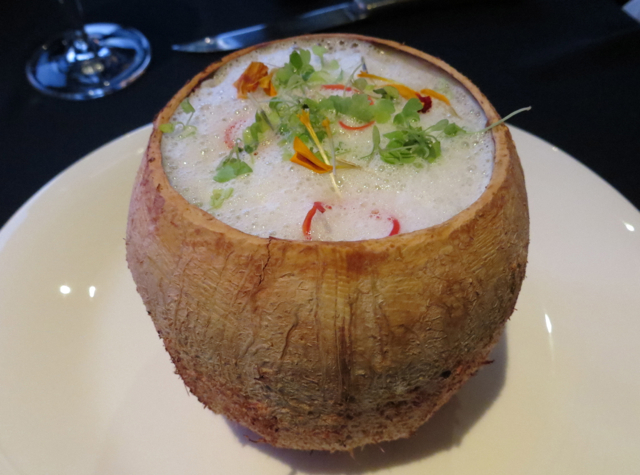 A refreshing Rosella Sorbet was presented as a palate cleanser, following my husband's starter: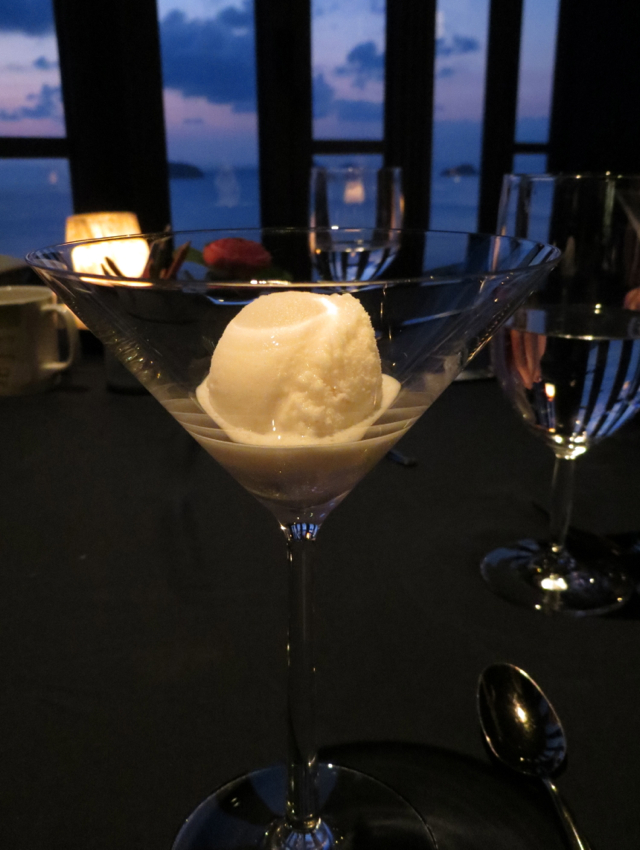 For his main course, my husband had chosen the Red Curry of Lamb, which again was beautifully presented, adorned with crisped holy basil, Thai eggplant, carrots, and just the right amount of red curry sauce. Delicious and my favorite dish of the evening.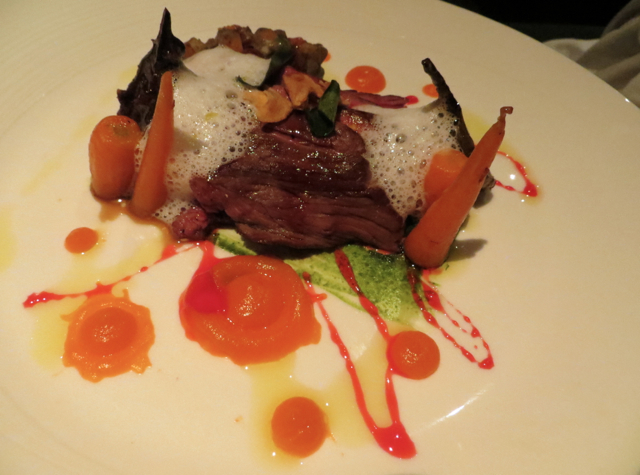 I'd heard good things about the Wagyu of Beef Massaman, so I ordered that. While not as beautiful a presentation, it was solidly executed, and I did appreciate that the sauce was served separately, so you could decide how much to pour on. After all, with such a great cut of meat, you don't necessarily want to smother it with sauce, as good as massman curry sauce is.
While the lemongrass rice was striking in color–green–it was artificially dyed that way, which I wasn't keen on. I much prefer fine dining that doesn't rely on food coloring or preservatives.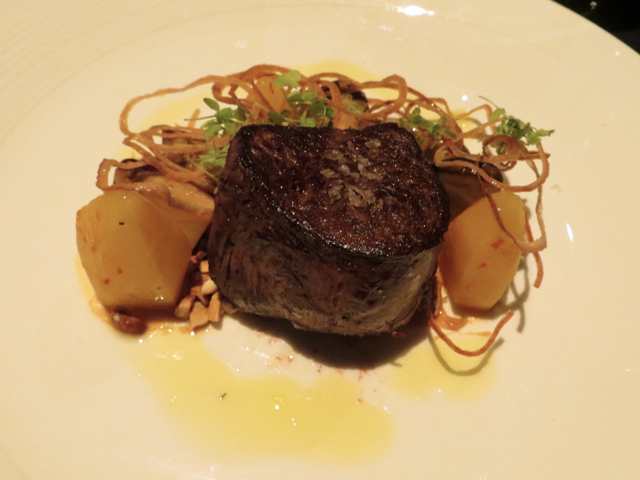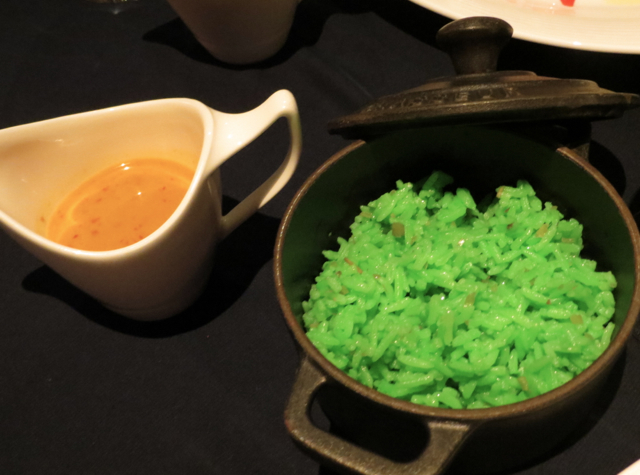 Between our main courses and dessert, we were offered a pre dessert of chocolate ice cream in cones. While a nice idea, the ice cream was icy, as if it had thawed slightly and refrozen.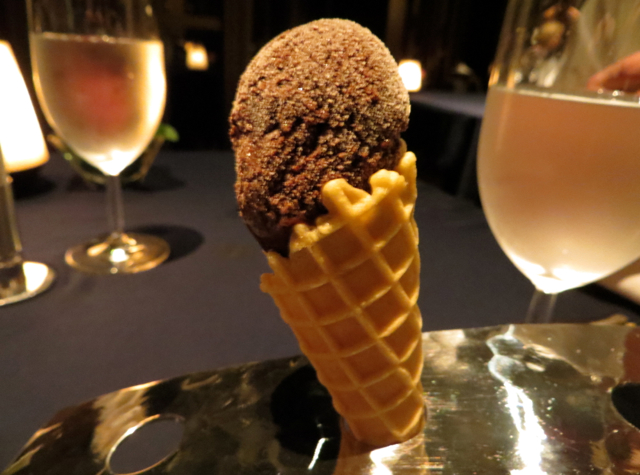 For dessert, I chose the chocolate souffle with pistachio ice cream, and my husband chose the coconut creme brulee. Once again, presentation was beautiful, but the taste was unimpressive.
My husband liked the coconut creme brulee, but although there was textural contrast in terms of silky coconut cream, shavings of young coconut and the coconut ice cream, the flavor was rather one-dimensional. And calling this dessert a creme brulee is just plain misleading, when nothing about it is bruleed–there is no caramelized crunchy layer to this dessert, so it would more aptly be described as coconut pudding.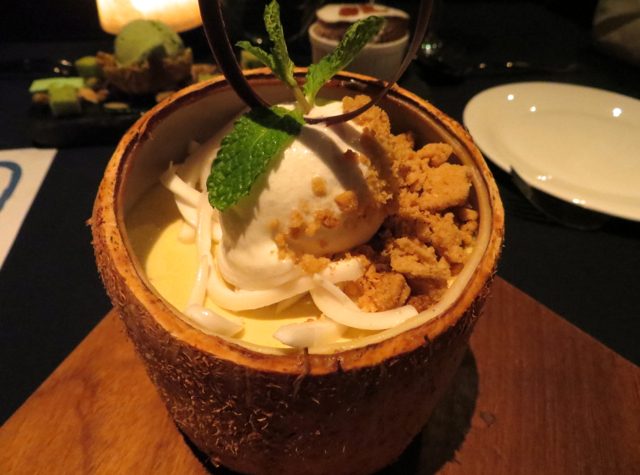 The chocolate souffle was fine texture-wise, but far too timid in its use of chocolate, which was merely milk chocolate with a barely discernable chocolate flavor. The pistachio ice cream was probably the best part of the dessert, but it wasn't nearly as good as the pistachio gelato we get at Grom here in NYC.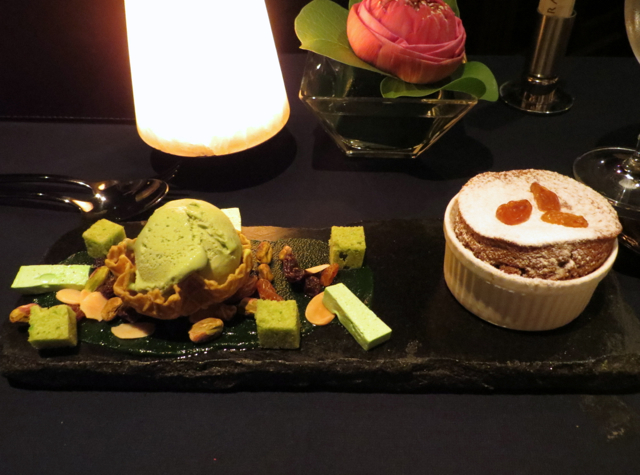 There was a thoughtful platter of mignardises provided, although all at the same time as the desserts. The only thing worth eating from it was the macaron.
Service
Service throughout our visit was friendly, attentive and professional. Our water glasses were kept refilled, when the munchkin inadvertently dropped a utensil it was replaced with a smile, and our questions regarding one of our allergies were answered and kept in mind throughout the meal.
The Verdict: We enjoyed our visit to Jahn, for its elegant take on Thai cuisine, sunset, and excellent service. I think I would have been disappointed had we done the full tasting menu, since in my view the strongest items were the amuse bouche and the main courses, so I'm glad we went the a la carte route. If you're a foodie, I would skip dessert, or just share one, since the dessert portions are generous.
Related Posts
Conrad Koh Samui Zest Restaurant Review, Menu and Prices
Need Award Booking Help? Our fee is as low as $75 per ticket if you book your hotel through us.
If you enjoyed this, join 100,000+ readers: please follow TravelSort on Twitter or like us on Facebook to be alerted to new posts.
Become a TravelSort Client and Book 5-Star Hotels with Virtuoso or Four Seasons Preferred Partner Amenities!