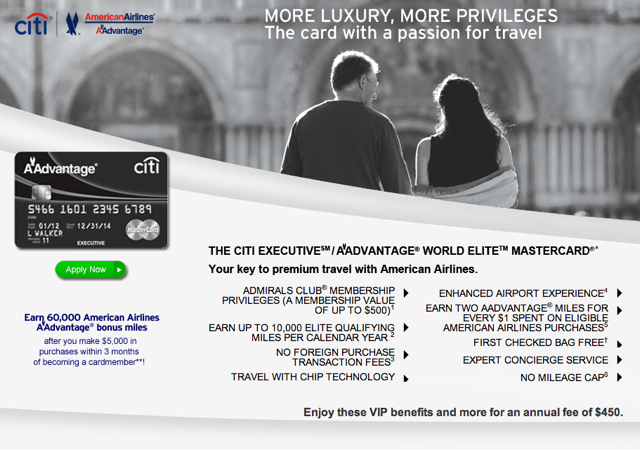 Update: Note that there is a 100K Citi Executive AAdvantage Offer with $200 statement credit
The Citi Executive AAdvantage Card offers a 60,000 miles bonus, for a $450 fee (not waived). That's equivalent to buying AAdvantage miles at 0.0075 cents per mile, less than 1 cent per mile. Of course, if you don't yet have any Citi AAdvantage cards, I recommend you take advantage of the 50,000 AAdvantage offers for personal Citi Platinum Select Visa and the business CitiBusiness AAdvantage MasterCard on the Best Travel Credit Cards page, as these waive the first year annual fee.
Nevertheless, the Citi Executive AA MasterCard could be worth it if you've already applied for the other Citi AAdvantage cards that waive the first year annual fee and need more AA miles, with a huge caveat: in the fine print terms and conditions it says "This Citi® / AAdvantage® card offer is only valid for new applicants for a Citi® / AAdvantage® account applied for pursuant to this offer and is not available to existing cardmembers or recent applicants for a Citi® / AAdvantage® credit card." It's a completely different product from the other Citi AAdvantage personal cards, so I do think many will be able to earn the bonus in spite of having other Citi cards, but the terms are pretty clear, so proceed at your own risk.
First, the details for the Citi Executive AAdvantage Card:
Earn 60,000 AAdvantage miles after $5000 in spend within the first 3 months

Earn 2 AAdvantage miles per dollar spent

First checked bag free

Priority check-in, priority security screening, priority boarding

No foreign transaction fees

Chip and signature card

Annual fee of $450 is NOT waived
Best Use: Earn More AA Miles If You Already Have Other Citi AAdvantage Cards and Willing to Take a Risk
As I mentioned above, this card only makes sense for most folks if you already have other Citi AAdvantage cards, which are a cheaper way to earn miles since they waive the first year annual fee. But now that Citi has tightened up and made it much harder to get a bonus for the same card, it could be worth it for those willing to risk not getting a bonus, due to Citi strictly applying the terms and conditions. Citi will normally prorate an annual fee if you end up cancelling a card.
Why Now: Expect an AAdvantage Devaluation Sometime in 2014
The reason it's a good time now to earn AAdvantage miles is in anticipation of a likely devaluation in early 2014. While we can hope it won't be as drastic as the United award chart devaluation, it only makes sense that in light of the United devaluation, both American and US Airways will announce some kind of devaluation in 2014, even before fully combining the frequent flyer programs. Time to plan a late 2014 or early 2015 trip with AAdvantage miles, flying Cathay Pacific First Class or Cathay Business Class, Etihad First Class, Qatar Business Class, Qantas First Class, etc.!
Can You Get the Bonus Twice?
TravelSort reader Richard helpfully commented "I just applied for the 60K mile bonus Citi Executive AAdvantage black card less than 5 weeks ago. I was approved on the spot for 22,500 limit even though I had 4 other AAdvantage cards. Yesterday I applied for another elite black card and did not get immediate approval. Nor did I ever expect to. They called me an hour later, asked me a couple of questions and gave me another black elite card with an 8,000 limit. Amazing. So it will cost 450 annual fee x2 to earn 130,000 miles.60+60+5+5. Still not bad at 900 dollars for 130,000 miles."
So, while this is very much YMMV (your mileage may vary) and there's certainly no guarantee that you'll get approve for either a first or second Citi Executive AAdvantage card, much less get two bonuses if you already have Citi AAdvantage cards, it seems to have been possible for this reader.
Other Cards to Apply For at the Same Time
It's often better to apply for several cards the same day, then wait a number of months before applying for more cards. That's because most bank issuers don't like to see too many recent credit inquiries. By applying all on the same day, they won't see that you're applying for multiple cards, and you'll have had several months prior with no credit inquiries.
This is especially important with picky issuers such as Barclay's Bank, which will often deny applications if you've applied for too many cards in the past year. If you apply for the Citi Executive AAdvantage, I would consider these cards as well:
US Airways MasterCard 35,000 Miles [Update: Offer is Dead; removed link from credit cards page]: 35,000 bonus miles after first spend. See link on the Best Travel Credit Cards page. Note that if you already have this card, you are likely to be denied, but if you don't yet have it, now is the time to get it, since this will be going away due to the American and US Airways Merger moving forward.
Lufthansa Miles & More Card 50,000 Miles [Update: Offer is Dead]: 20,000 miles after first spend, and another 30,000 miles after spending $5000 in 3 months. See 50,000 Lufthansa Miles & More Bonus Returns. Miles & More miles are the best way to book Lufthansa first class in advance, which is especially valuable when you have specific dates to plan for or two or more people are traveling. SPG points transfer to Miles & More, so you can top up your miles that way. Miles & More miles can also be used for United BusinessFirst for 17,000 miles each way, no fuel surcharges (see Best Ways to Use Lufthansa Miles & More Award Chart).
Barclays Arrival Card – 40,000 Bonus Miles = $440 Rebate on Travel: The best use of the Barclays Arrival card is to redeem the signup bonus, plus any other miles you earn from card spend (2x miles for ALL spend) for a rebate of your travel expenses. For example, you can get the airline fees and fuel surcharges rebated when you pay using the card. It's especially handy if you have foreign carrier fees, for example on a one way flight departing from an international destination, where the fees are in the local currency, since there are no foreign exchange fees on the card.
Do you plan to apply for the Citi Executive AAdvantage card to earn more AAdvantage miles ahead of a likely AAdvantage devaluation?
Related Posts