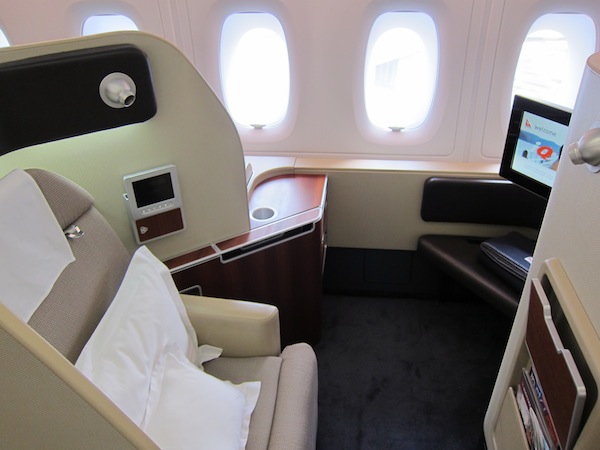 Can two Citi Executive AAdvantage cards earn you 200,000 AAdvantage miles?
TravelSort reader Jean writes "I saw Nenad's comment that he was able to get two Citi Executive AAdvantage cards back when the bonus was 60,000 miles each. Will this work for the 100,000 Citi Executive AAdvantage card, such that you can earn 200,000 AAdvantage miles if approved for two cards? And has anyone been recently approved for two of these cards?"
Amazingly, yes: it is possible to get approved for two of the Citi Executive AAdvantage cards and earn the 100,000 bonus for each, although keep in mind the high spending requirement: $10,000 within 3 months for each card. That's great for those who have high spend anyway, high reimburseable expenses, or can easily do manufactured spend, but it's certainly not for everyone.
FAQ
Is It Worth Paying the High $450 Annual Fee per Card, $900 Total, for 200,000 AAdvantage Miles?
Absolutely, if you value AAdvantage award travel. Keep in mind that the 100K Citi Executive AAdvantage offer comes with a $200 statement credit, so you're really looking at $250 per card, or $500 for 200,000 AAdvantage miles if approved. That's a bargain–you're buying an AAdvantage mile at 0.25 cents per mile, a quarter of a cent. Even before the BankDirect Devaluation, AAdvantage miles via BankDirect cost more than that given the opportunity cost of the money and the bank account fees.
What Can I Do with 220,000 Citi AAdvantage Miles?
220,000 AAdvantage miles (from the two 100K bonuses plus 20K from $20K minimum spend) is enough for:
1 Etihad First Class roundtrip to the Middle East, India and the Maldives (combined first and business class) (180,000 AA miles)
3 Cathay Pacific First Class one way flights between the U.S. and Asia
2 Cathay Pacific Business Class roundtrips to Asia (110,000 AA miles each)
A First Class Award to Asia and Australia with an AAdvantage Explorer Award (Zone 6 = 180,000 miles for First Class)
A Business Class, Round the World AAdvantage Explorer Award (Zone 9 = 220,000 miles for Business Class)

3

British Airways New First Class

one way flights or 4 British Airways Business Class one way flights between the U.S. and Europe although note the rather steep fuel surcharges.
But Don't Citi's Terms Explicitly Exclude Existing Cardholders?
Yes, the terms do exclude existing cardholders and recent applicants for a Citi AAdvantage card: "This Citi® / AAdvantage® card offer is only valid for new applicants for a Citi®/AAdvantage® account applied for pursuant to this offer and is not available to existing cardmembers or recent applicants for a Citi® / AAdvantage® credit card."
So while currently most people who actually are approved for two Citi Executive AAdvantage cards seem to be earning the 100K bonus on each card, that could change, and your mileage may vary. There are no guarantees that it will work for you, or on how long it will continue to work.
When Can I Apply for a Second Citi AAdvantage Card?
You can apply for no more than 2 Citi cards in a 60 day period, so if you've already applied for a couple of Citi cards within the past 60 day period, you'll need to wait.
How in the World Do I Meet the $20,000 Minimum Spend?
As noted above, the high minimum spend isn't a problem for those who naturally have high spend (see High Spend: Which Credit Cards?), reimburseable expenses, or are happy to do some manufactured spend. Don't forget Amazon Payments, and also see Meet Minimum Spend on Credit Cards: Top 20 Tips.
But if you've exhausted all these options, the bonus is lucrative enough that I would consider even things I normally don't suggest, such as paying taxes with a credit card or putting tuition on a credit card, even with a 2-3% fee, if you need a few more thousand dollars' worth of spend to earn the bonus.
What you *don't* want to do is charge some expensive refundable air tickets and then cancel them–American has been known to permanently close AAdvantage accounts of those it catches doing this to try to generate bonus miles quickly without actually flying on those tickets.
Do Multiple Applications for Other Citi AAdvantage Credit Cards Also Work and Give Multiple Bonuses?
As far as the collective experience goes, no. It seems that with the Citi Platinum Select cards, it's back to ~18-20 months after the most recent Citi AAdvantage application (which includes the Citi Executive AAdvantage card) until you're again eligible for a bonus. Some people have been successful at getting multiple CitiBusiness AAdvantage cards, each with its bonus, while others have been refused on the grounds of already having or having had a CitiBusiness card, so that card is very much YMMV as far as getting the bonus again.
What About Three Citi Executive AAdvantage Cards = 300,000 AAdvantage Miles?
Believe it or not, Dan of Dan's Deals and his wife have apparently gotten 3 of these cards; they closed their first one and now have two open, which will get them 600,000 AAdvantage miles.
What's your experience: have you successfully applied for two 100K Citi Executive AAdvantage cards for 200,000 AAdvantage miles?
Related Posts