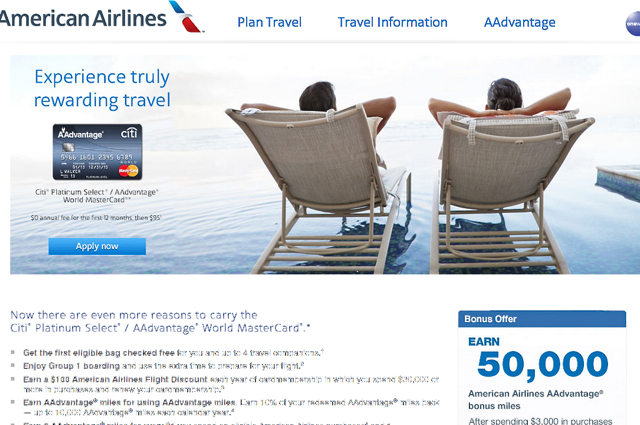 Citi AAdvantage Platinum Select credit cards were recently a sweet deal for earning AAdvantage miles; for the past few months it was possible to apply for multiple Citi AAdvantage Platinum Select Visa cards, each with a 50,000 AAdvantage miles bonus, so folks picked up 2-3 of these cards for 100,000-150,000 AAdvantage miles total (see Citi AAdvantage: 100K AA Miles from 2 Citi Platinum Select Visas in 8 Days?
Well, unfortunately, it looks like this particular party is over: various reports on Flyertalk are that those who are applying for a new Citi AAdvantage card and who either already have a Citi AAdvantage card or recently closed one are being rejected as ineligible for the bonus. Here are a few examples:
From cjbell, posted 8/25/13, bolding is mine:
"I had applied for the Amex product back in March, and tried this evening to apply for the Visa product. No instant approval.
Called the app status line, and the rep mentioned it had been denied due to already having an AAAdvantage card with them. She said they had been allowing people to have multiple cards, but had changed the rules today. Said it may change again in the future but for now, they are enforcing the rule again.
When asked if this failed the initial internal checks or a hard pull was done, she mentioned that unfortunately they had done a hard pull."
From elleandish, posted 8/26/13:
"5/28/13: Applied for AA Plat Mastercard Personal
8/26/13: Applied for AA Plat Visa Personal.. rejected. Visa & Mastercard are the same in their eyes."
From jhuck, posted 8/26, bolding is mine:
"…In my wife's churn yesterday I decided to play it safe and use the wiki link for 50k AA mastercard as she has had Visa for 17.5 months. Never had [Citi AAdvantage] MasterCard. It was under review and app. status line above says it was rejected as offer is for first time Aadvantage card holders. I had thought MasterCard would be safer after reading some of the first posts yesterday indicating visa was no longer churnable…"
The only good news, for the few of you out there that don't have (or perhaps haven't had for a long time) a Citi AAdvantage card is that there's finally an official landing page for a 50K Citi Platinum Select AAdvantage World MasterCard (not my affiliate link).
Note, as I mentioned above, that your most likely will NOT be approved for this 50K bonus if you currently have a Citi AAdvantage personal credit card or have recently had a Citi AAdvantage personal credit card. You CAN be approved if you have a CitiBusiness AAdvantage card, since these are separate products.
So, someone who has never had any Citi AAdvantage cards could still earn 90K AAdvantage miles with:
1. Either the 50K Citi AAdvantage Platinum Select Visa or MasterCard (but not both) AND
2. 40K CitiBusiness AAdvantage MasterCard
All good things must come to an end, so it's RIP for one of the best recent churning opportunities for American AAdvantage miles.
Related Posts
Citi AAdvantage 50K Bonus for the Platinum Select Visa Alive Again
Citi AAdvantage 10 Percent Award Rebate
American AAdvantage Oneworld Explorer Award Chart and Rules
Flyertalk Wiki and Thread: Citi AA Credit Cards
Need Award Booking Help? Our fee is as low as $75 per ticket if you book your hotel through us.
If you enjoyed this, join 90,000+ readers: please follow TravelSort on Twitter or like us on Facebook to be alerted to new posts.
Become a TravelSort Client and Book Your Hotel with Virtuoso or Four Seasons Preferred VIP Amenities!
HT: Flyertalk