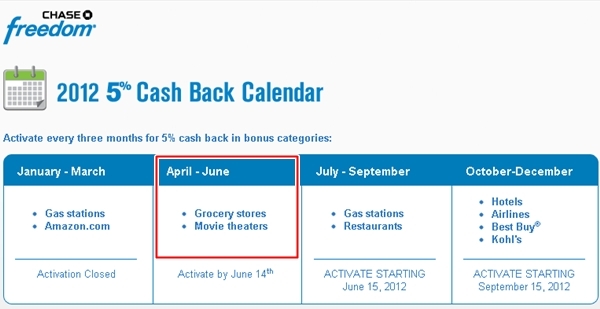 If you have the Chase Freedom card, don't forget to activate the second quarter bonus, which for April-June 2012 is grocery stores and movie theaters. Your spend in these two bonus categories, up to $1500 for the three months, will receive 1 point for each dollar plus 4 bonus points, for a total of 5 Ultimate Rewards points, assuming you have a Chase card connected to Ultimate Rewards, such as the Chase Sapphire Preferred or Ink Bold Business Card.
Since we watch all our movies at home, we'll be maxing out the $1500 limit on grocery stores. A few tips:
All purchases coded as grocery count. That includes dedicated grocery stores such as Trader Joe's, Whole Foods, Safeway, Kroger, etc., and also grocery purchases at Target and Walmart. In fact, as long as the Target or Walmart has a grocery section, Freedom users have reported being able to get 5X back for ALL Target and Walmart purchases, not just grocery ones.
Note that warehouse clubs such as Costco and Sams Club are *not* included in the grocery store category
Drugstores are also *not* included in the grocery store category, even if you buy a food or other grocery item there
If you don't buy much in the way of groceries, and/or do have a lot of purchases you need to make at stores that are included in the Ultimate Rewards Mall, you can try to buy gift cards for those stores at a grocery store, then click through from Ultimate Rewars so that you double dip: you'll get the 5x grocery bonus for the gift card, then additional Ultimate Rewards points by clicking through from the Ultimate Rewards Mall.
As for us, we buy at least $500 worth of food per month anyway. Normally I use the AMEX Premier Rewards Gold card to get 2x Membership Rewards points, but I plan to max out the $1500 bonus on the Chase Freedom first to get 5x Ultimate Rewards points, and only if we have any grocery spend above that switch back to the AMEX Premier Rewards Gold for the remaining spend, at 2x.
As an example, let's say you max out the bonus and spend $1500 on groceries/movie theaters, on 30 different transactions. You'd get:
1500 base points
6000 bonus points (4x, on top of the 1x base)
150 as your 10% bonus on $1500 net spend
300 (10 bonus points for each of your 30 transactions)
7950 Total
And if you assume you're able to get at least 2 cents per Ultimate Reward point by transferring to United MileagePlus and redeeming as part of a business or first class award, you're looking at over 10 cents per dollar spent on those bonus categories!
So, one thing some have told me is–but I don't cook–and there's no way I'm going to spend all that at movie theaters, plus I don't need much of anything through the Ultimate Rewards Mall. What now?
Well, everyone has to eat. So if you're into saving money, you can easily replace some of those meals you eat out with ones from your grocery store–I don't just mean prepared sandwiches. My favorite two groceries are Trader Joe's (where we do the bulk of our shopping) and Whole Foods, for certain organic items Trader Joe's doesn't stock. I thought it would be fun to do a Sunday Supper series on what we made using groceries bought with the Freedom card, to share easy, tasty and inexpensive dinners that also earn 5X points.
First up: tonight's simple Greek dinner of Trader Joe's Fillo Factory Spanakopita and Greek Salad
Cost: ~$10 for 4 people: $3.99 for Spanakopita, ~$6 (prorated for amount of ingredients used)
UR Points: 52 points for dinner; our usual Trader Joe's bill is $200, so 1021 UR points for the total bill
Preparation time: 6 minutes: 1 minute to score the Spanakopita and put in preheated oven, 5 minutes to make salad
Bake time: 50 min. for Spanakopita
Trader Joe's Shopping List:
Fillo Factory Spinach Cheese Pie
President's Reserve Extra Virgin olive oil
Balsamic Vinegar of Modena
Sundried tomatoes in olive oil
Greek Kalamata olives
Crumbled goat cheese
Package of organic spring greens or arugula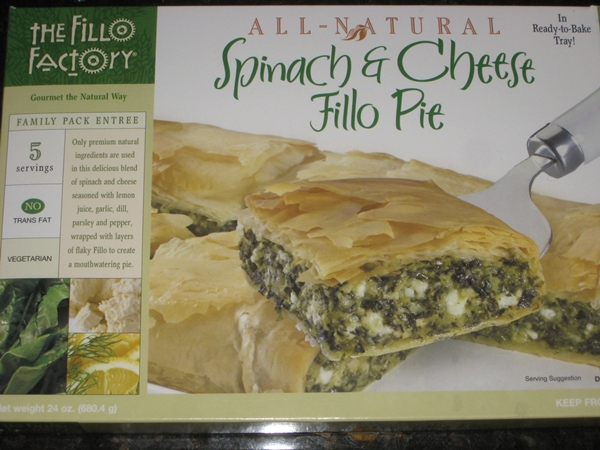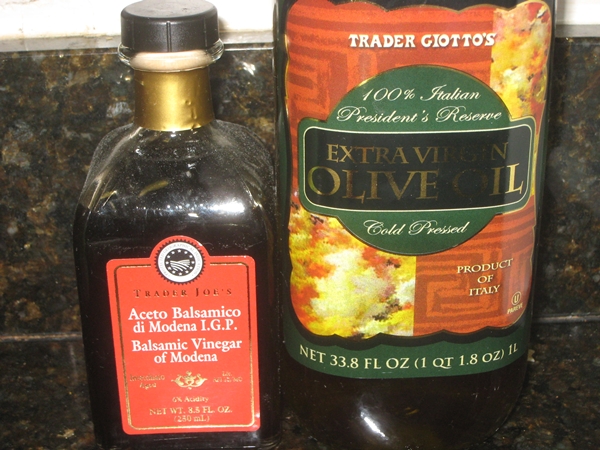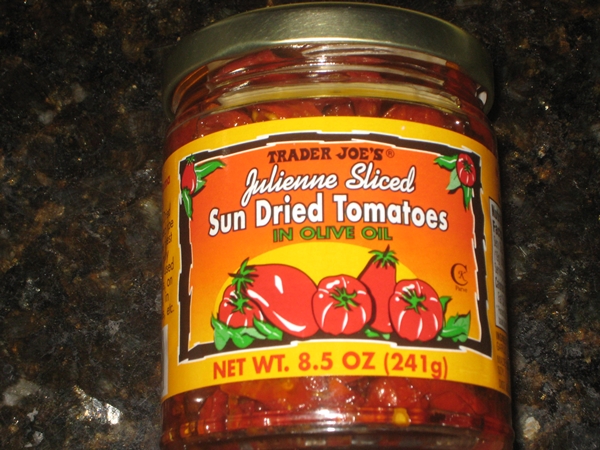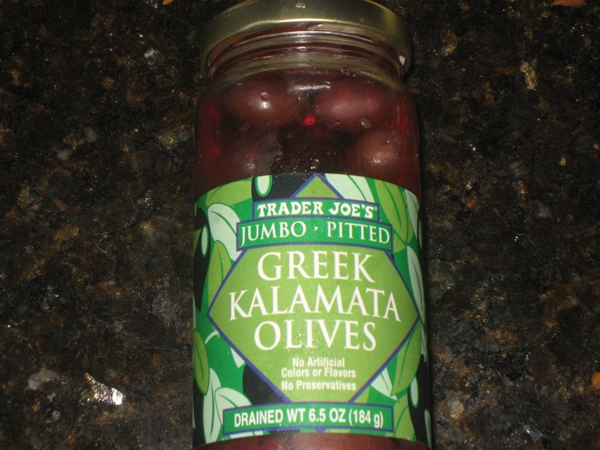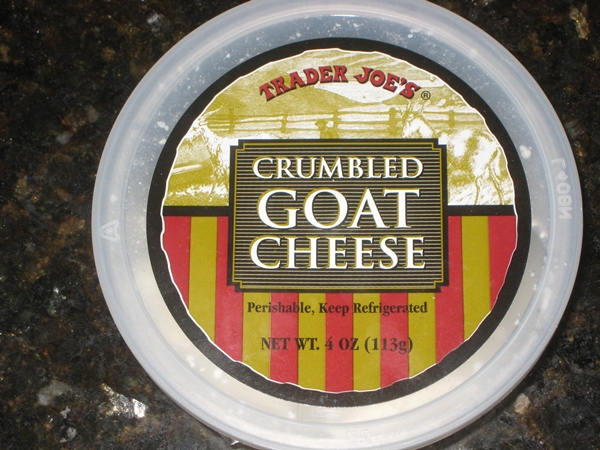 Spanakopita: Preheat oven to 375 degrees. Unwrap from box, remove parchment paper on top and score with sharp knife into desired number of serving pieces (4-6), then replace parchment paper and bake for 45-50 minutes until golden brown.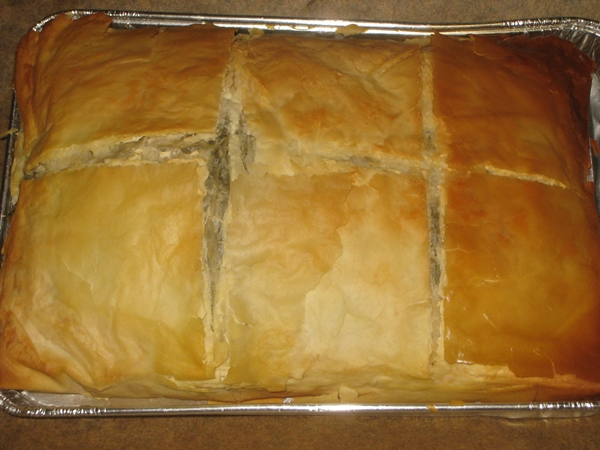 Greek salad dressing: Mix about 3 T. olive oil (I use a mixuture of the olive oil from the sundried tomatoes and the extra virgin olive oil) with 1 T. balsamic vinegar, add salt to taste and stir vigorously with a fork.
On each plate, heap salad greens. Add sundried tomatoes and Kalamata olives to taste, then divide salad dressing over each. Grind black pepper to taste over each, and sprinkly with crumbled goat cheese.
Voila! A tasty $3 Greek dinner per person, with just 6 minutes of prep, courtesy of Trader Joe's. Of course, you can dress this up with pitas, hummus, etc. but it's a good simple dinner or lunch.