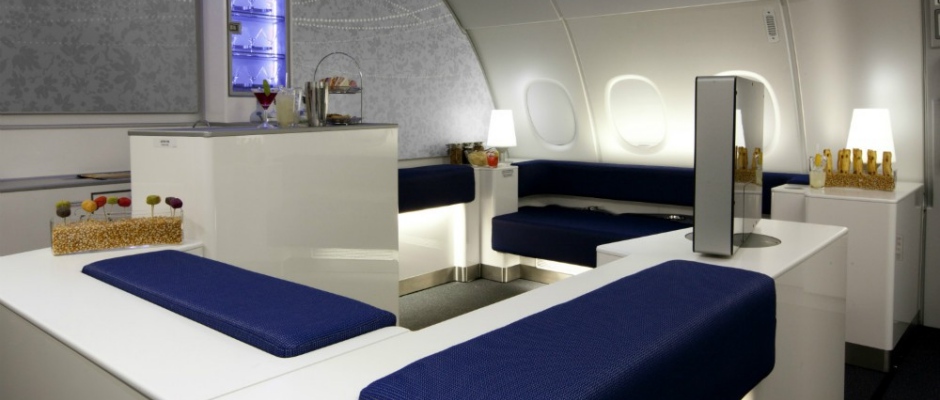 The Chase Freedom Q1 2018 5X Bonus Categories have been announced, although the rest of the 2018 Chase Freedom 5X calendar hasn't been revealed yet. Here are the Q1 2018 bonus categories, with more below on what's included.
Gas Stations
Internet, Cable and Phone Services
Chase Pay, Apple Pay, Android Pay and Samsung Pay
Initially I wasn't too excited about these categories, since I have no use for gas stations, living in Manhattan without a car, and I already earn 5X on internet and phone services with my Ink Plus. I'm also not a user of Apple Pay or the other payment services (apart from using Chase Pay recently to earn 10X at Walmart.com; see 
10X at Walmart with Chase Pay for Chase Sapphire and Chase Freedom
) but that's about to change, given the Chase Freedom 5X and the fact that my husband and I have 4 Chase Freedom cards between us.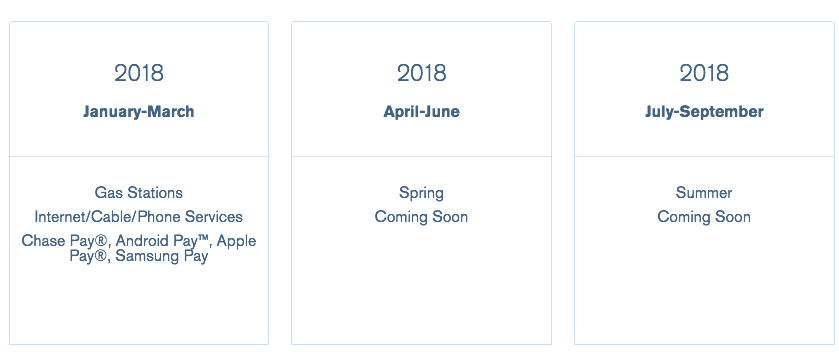 FAQ
When Can I Activate the Q1 2018 5X Categories?
You can Activate the Q1 2018 5X bonus categories starting tomorrow, December 15, 2017. If you still intend to earn 5X for Q4 2017 5X categories, don't forget to activate your Chase Freedom 5X today, December 14. Today is also the deadline to earn 10X for up to $325 spend at Walmart.com.
If I Have Multiple Chase Freedom Cards Must I Activate All of Them?
Yes; you'll only earn 5X on Chase Freedom cards that you've activated the 5X bonus category for, for that quarter. You must activate the bonus for each quarter, before putting spend on the card.
Where Can I Use Apple Pay?
While I've never been motivated to use Apple Pay, the 5X bonus is certainly a motivation, and fortunately Apple lists the major
retailers that accept Apple Pay
, which include JetBlue, Gap, Starbucks, Walgreens, Lego, Whole Foods, and Trader Joe's to name a few. Keep in mind that many smaller stores also accept Apple Pay, and for that matter Android Pay.
I'm especially happy to see Trader Joe's, since we've already used up all the gift cards we bought last time grocery stores were a 5X category, so that's where much of our 5X spend will go. Thanks to our Ink Plus, we already enjoy 5X at places such as Whole Foods via gift cards bought with the Ink Plus at Staples, for 5X points, but Trader Joe's doesn't sell its gift cards at office supply stores. We could also buy some Visa gift cards to max out the category, if we're willing to pay gift card fees.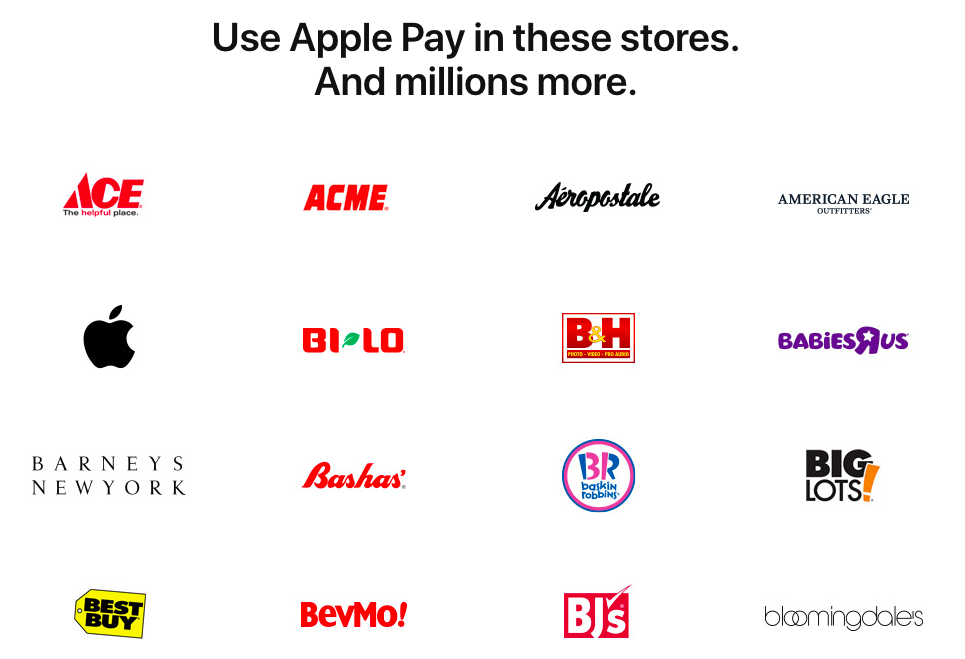 Are Chase Freedom Points Better for Cash Back or Transfers to Partners?
Keep in mind that you can only transfer Chase Freedom points out to travel partners such as Korean Air Skypass, Singapore KrisFlyer, Air France/KLM Flying Blue, United MileagePlus and others if you also have a Chase card linked to Ultimate Rewards, such as the 
Chase Sapphire Reserve
or
Ink Business Preferred
.
How do you plan to maximize the Chase Freedom Q1 2018 5X bonus categories?
Recommended Posts