You can now
activate the Chase Freedom Q4 5X bonuses
, up to $1500 for a total of 7500 points. If your partner also has the Freedom, your $3000 spend will get the 5X bonus, for 15,000 points = 15,000 United miles or 15,000 Hyatt points.
The Chase Freedom 4th Quarter Calendar 5X Bonuses are great: airlines and hotels! That means that for your first $1500 spend October-December, the Freedom trumps other credit cards such as the AMEX Premier Rewards Gold or AMEX Business Gold Rewards (3X for airlines), Hyatt (3X for Hyatt spend), Chase Sapphire (2X for travel, including airlines and hotels), etc. Keep in mind though that that you'll want to only use the Freedom on domestic spend, due to foreign transaction fees.
Plus, there's also 5X points for Best Buy and Kohl's, although personally I'm not very excited about either of those.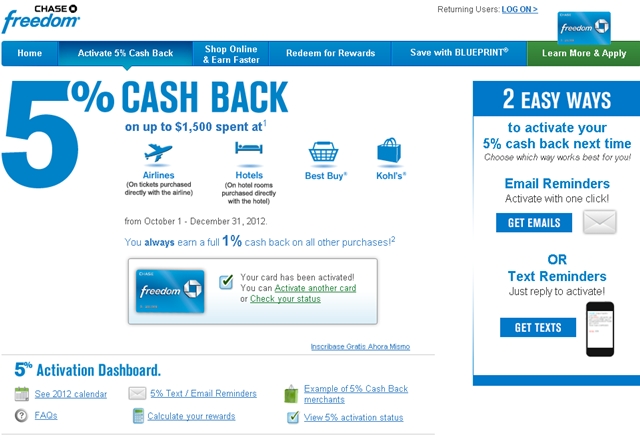 You can easily activate online, after which you'll get a confirmation on the Web site and also an email confirmation.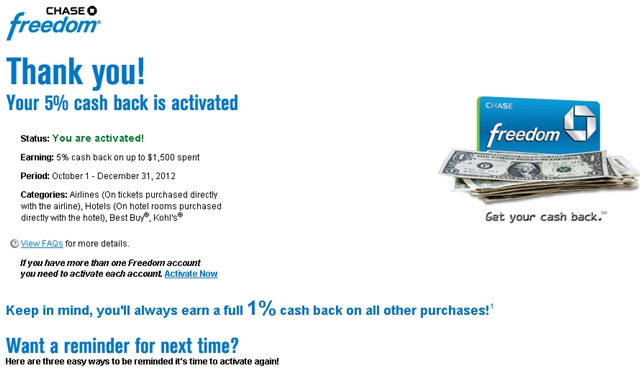 Note that the actual 5X bonus is for October-December spend, so don't get too excited when you notice that the Ultimate Rewards Mall currently offers a bonus of 10X for Kohls:

And 4X for InterContinental and Holiday Inn: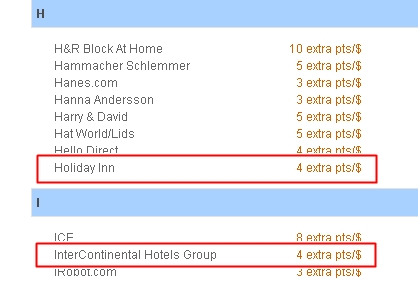 You can't take advantage of this double dipping because the 4th Quarter 5X bonuses of course start with October spend–we'll just have to see what the Ultimate Rewards Mall bonuses are in October, November and December for specific hotel chains, Best Buy and Kohls (airlines don't generally participate in the Ultimate Rewards Mall).
Related Posts