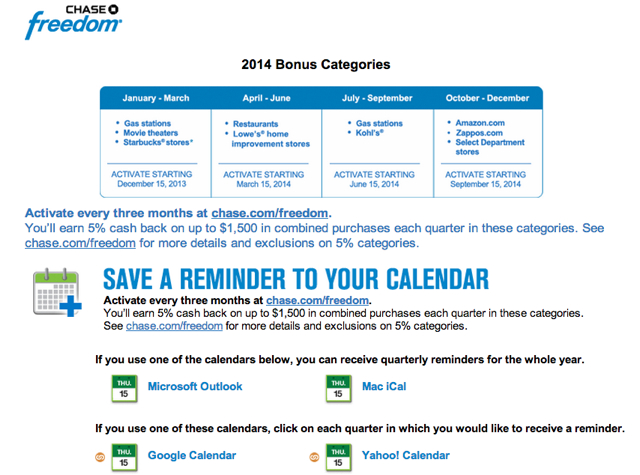 The Chase Freedom 2014 5X Categories have been announced, and one word describes them: disappointing. Sure, I'll keep my existing Chase Freedom card since it has no annual fee, but if you don't already have the Chase Freedom, I wouldn't bother wasting a Chase application on this card, even with the improved 20,000 signup bonus, unless you really have exhausted all other Chase cards you wish to apply for. My Chase Freedom will be collecting much more dust next year, since Chase ended its old Chase Exclusives program even for grandfathered members.
Here are the Chase Freedom 2014 5X bonus categories:
Q1 2014 (January 1 to March 31, 2014)
Gas Stations
Movie Theaters
Starbucks Stores
My Take: If you can find gas stations that take credit cards for gift cards or you genuinely have high gas costs, great. Movie theaters is a throwaway category (who is going to max out this bonus on movie theaters?) and so are Starbucks stores, if you have an Ink Bold or Ink Plus card, since you can earn 5X on Starbucks anytime by buying Starbucks cards at an office supply store.
Q2 2014 (April 1 to June 30, 2014)
Restaurants
Lowe's Home Improvement Stores
My Take: This is the ONLY 2014 5X quarter I'm looking forward to. My husband and I will each max out our 5X bonus by buying restaurant gift cards. As I wrote in United Award Chart Devaluation: Strategy Going Forward, my threshold for earning Ultimate Rewards points is now 5X, so I will continue to earn them if I can earn at least 5X per dollar, to compensate for the United award chart devaluation. Want some ideas for restaurants? Check out my Restaurant Reviews (just keep in mind you don't want to use the Chase Freedom for any international dining spend, due to the foreign transaction fee).
Q3 2014 (July 1 to September 30, 2014)
My Take: Ugh. Gas stations again? No more useful to me than in Q1. And there's really only so much one can buy from Kohl's, so even when stacking the usual Ultimate Rewards Mall 10X bonus to get 15X from Kohl's, I don't expect to max out this quarter by a long shot. I'll take the usually better prices, better brands and greater variety of Amazon over Kohl's.
Q4 2014 (October 1 to December 31, 2014)
Amazon.com
Zappos.com
Select Department Stores
My Take:
I already earn
5X on all Amazon spend
via my Ink Bold and Ink Plus, I don't shop at Zappos, and have very little department store spend even during the holidays, so this is another big "ho hum" quarter.
Bottom Line:
If you love 5X at gas stations and department stores you may be more thrilled about the Chase Freedom 2014 5X categories than I am. Frankly, I really miss
5X on grocery stores
, 5X on drugstores, and
5X for airlines and hotels
.
What do you think of the Chase Freedom 2014 Calendar and 5X categories?
Related Posts