Finally the Chase Freedom 2013 Calendar 5X categories have been released. I'm relieved by some, disappointed by others.
Thanks to my signup bonus and maxing out the Freedom 5X categories, I'll earn over 60,000 points from the Freedom card in 2012, and even in subsequent years with no signup bonus, if you max out the 5X categories and signed up with Chase Exclusives, you're looking at about 35,000 points per year, which you can transfer 1:1 to United, Hyatt and other partners as long as you have a Sapphire Preferred, Ink Bold or Ink Plus card. Without those cards you could simply get 5% cash back, but anyone who loves travel and plans to redeem points for international business or first class awards will do better by transferring Ultimate Rewards points to United MileagePlus, and using them to book Lufthansa, Swiss, Singapore Airlines, ANA, Asiana, etc.
A few pointers for those new to the Chase Freedom:
You must activate the 5X bonus each quarter either online or by phone; you can set up a reminder alert
The maximum 5X amount per quarter (3 months) is $1500, which averages $500 a month
Don't forget that even if your spending for the 3 months will be below the $1500 maximum, you can often buy gift certificates so that you can reap the benefit of 5X throughout the year.
Don't travel abroad with the Freedom, as it does incur foreign transaction fees.
If you have Chase Exclusives, the Freedom trumps pretty much every other card for small purchases. See our Comparison Chart of the Freedom + Exclusives vs. Sapphire Preferred vs. Ink Bold
Here are the 2013 Freedom 5X Categories: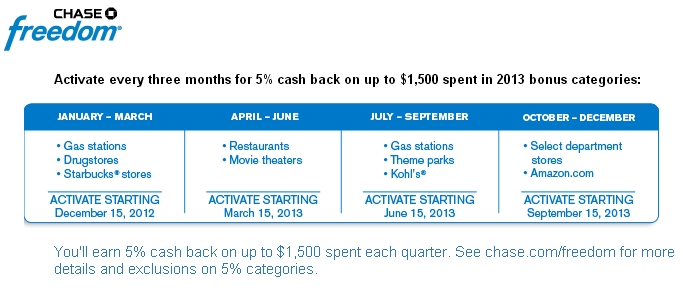 January – March 2013: Gas Stations, Drugstores, Starbucks
I'm lukewarm about Q1. Drugstores would be fine if it included prescription spend, but I'll bet it will be excluded. Most other items that we might buy at drugstores can be bought more cheaply online at Amazon by subscription, and I'm not keen on paying a markup just to get 5X. I'll need to investigate the status of reloads at NYC drugstores. I'm sure that anyone with drugstores that stock the AMEX Bluebird reloads or similar that allow credit card purchases will enjoy maxing out the drugstore category! Certainly if we need to, we can max out the category by simply using the Freedom to reload our Starbucks loyalty card, though I can't get too excited about the category since I can already get 5X on Starbucks gift cards with the Ink Bold.
April – June 2013: Restaurants, Movie Theaters
Yay, restaurants! This one category is one of the main reasons I got my husband to apply for the Freedom, since we can then stock up on even more gift certificates for our favorite restaurants. We watch all our movies at home these days, so I seriously doubt we'll spend even $1 in that category. If you're in NYC, check out some of our picks for where to dine in NYC, or reach out to me on Twitter @TravelSort for recs–I love to help folks uncover the tastiest eats in NYC!
July – September 2013: Gas Stations, Theme Parks, Kohl's
Q3 is definitely my least favorite quarter. You'd be crazy to keep a car in Manhattan, so we have zero gas station spend; ditto for theme parks. I sure hope Kohl's is doing some great promotions in the Ultimate Rewards Mall! It's far from my favorite retailer, but with the Kohl's 15X from the Ultimate Rewards Mall and Freedom, Kohl's Cash and free shipping it worked out well for us recently.
October – December 2013: Select Department Stores, Amazon.com
I don't care much about the "select department stores," but Amazon.com is always fine, and I'm glad it's Q4 (in 2012 Amazon.com was in Q1) as I've quite a stock of Amazon gift cards to work through right now. I'm already able to get 5X Points for All Amazon Spend thanks to the Ink Bold and gift cards, but Amazon is certainly a better category for my family than gas stations or theme parks.
The Verdict
While it doesn't have a great signup bonus, the Freedom + Chase Exclusives (if you managed to be grandfathered into the program) makes it a must-have card for all small purchases, from a library fine to quick snack to short taxi ride. I really miss having groceries and airlines as a categories in 2013, although am glad that restaurants and Amazon.com are back. And of course those that actually do depend on their car(s) a lot will no doubt be pleased that gas stations again make a double appearance.
What do you think of the 2013 Chase Freedom 5X Categories?
Related Posts