Call me blind, but today was the first time I spotted Blueprint underneath my Chase Freedom details, when I logged into my Chase accounts, so out of curiousity I clicked on it. I was trying to figure out whether to put more grocery purchases on my Chase Freedom for its current 5x rewards on grocery store spend (don't forget to activate the Chase Freedom Q2 bonus by June 14 if you haven't!), or whether I'd already maxed out the $1500 limit.
After a few more clicks, I was able to see my spend by category, completely up to date, which was exactly what I'd been wondering the other week when I was on a call with a Chase Freedom representative about something else, and decided to ask how much of my current grocery category spend I'd made relative to the $1500 limit. After all, except for small purchases I'd make anyway due to the Chase Exclusives bonuses, I didn't want to spend much beyond the $1500 limit, since it wouldn't earn the 5x bonus.
On the call, the representative wanted to help, but noted that the bonuses (4x bonus on top of the base spend) would take up to 6 weeks to post. Naturally that's not too helpful if you're trying to figure out if you've spent up to the $1500 limit or not. Either the rep isn't able to see what I see on Blueprint or isn't familiar with it, because a glance at my grocery category spend indicated I'd spent a bit over the $1500 limit, although thankfully not by much.
For the odd reader or two who is also encountering Blueprint for the first time, here's a step by step to get to the category breakdown:
1. Log into Chase, scroll to your Chase Freedom credit card, and click on Blueprint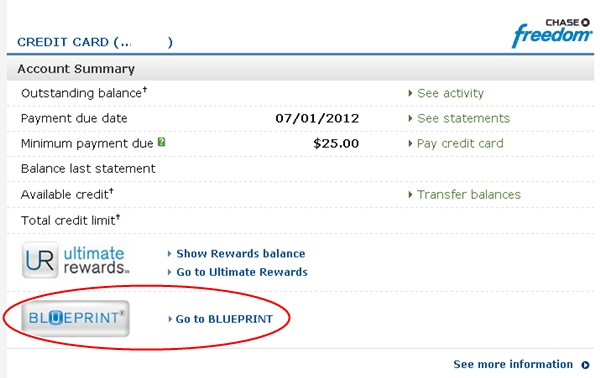 2. Go to "Tracking" and click on "See Spending"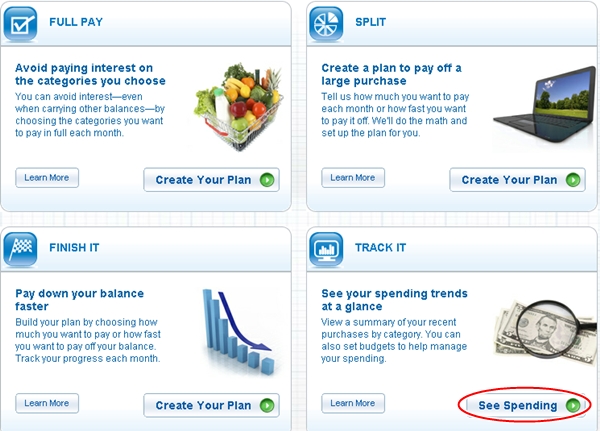 3. Click on the "I want to" dropdown and select "See purchases in categories"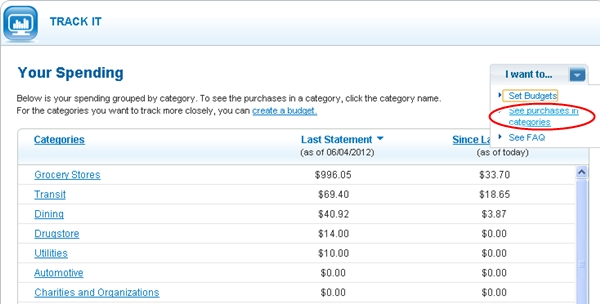 4. From the "Select a Category" dropdown select your desired category
I selected Grocery Stores to see my spend to date for April-present, since only up to $1500 receives a 5x point bonus (or, if you opted for cash back, 5% cash back). In Q3, I'll select Dining to see spending in that bonus category. If you plan to also get bonus spend from gas stations, it may be a bit trickier because I see that Gas and Convenience Stores are grouped together, and only gas station spend is a bonus category, not convenience stores. Similarly, it has the potential to be tricky in Q4 because Travel includes other types of travel spend such as car rentals, tours, cruises and travel agencies. If you just use the Chase Freedom for travel spend that is in the hotel or airline bonus category though, and the Sapphire Preferred or gift cards for other travel spend, you'll save yourself any problems of having to parse out non-bonus spend when checking the travel category spend to date.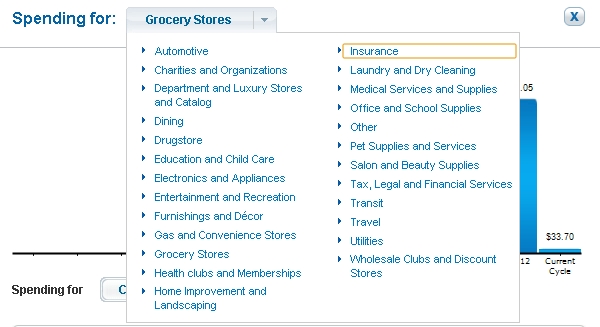 5. View Your Spend to Date for the Selected Category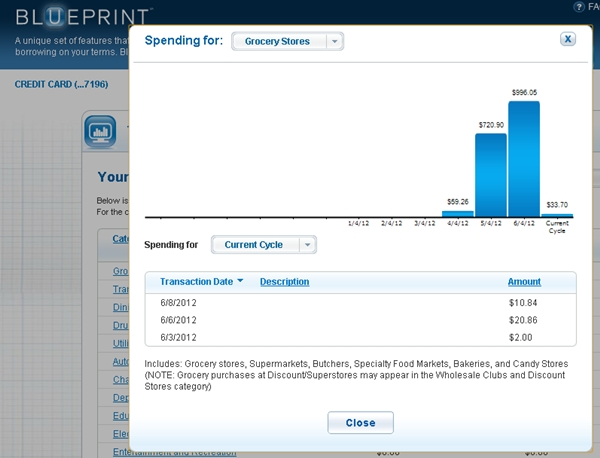 There's also other functionality offered in Blueprint that can be helpful if you don't pay your statement in full every month, but hopefully that isn't the case. As a reminder, please don't get into miles and points if you're still carrying any credit card debt, since the interest rates are so high that it will most likely negate the value of your miles and points. That notwithstanding, a quick overview of Blueprint:
Which Chase Credit Cards Offer Blueprint?
These Chase credit cards offer Blueprint:
Chase Sapphire and Chase Sapphire Preferred
Chase Slate
Chase Ink Cash (NOT the Ink Classic or Ink Bold)
What Does Chase Blueprint Offer, in Addition to Spend By Category?
1. Full Pay
This is the most useful feature, for anyone who isn't able to pay off their statement in full. You can select the category or categories of purchases that you want to pay in full, and as long as you do pay them in full, you won't be charged interest on those purchases. You'll only pay interest on other balances you carry over. In contrast, most credit cards charge you interest on your full credit card balance, even if you managed to pay off 90% of them by the due date. Full Pay lets you avoid that.
2. Split
You use Split to create a plan for paying off a particularly large purchase. Go to the Blueprint Calculator to set up your plan, and you can then track progress on paying it off online or via your statement. Split is simply for your own tracking and planning purposes–it's not a contract of any kind and you can change or abandon it at any time.
3. Finish It
This works the same way as Split, except for your entire balance, if you're trying to pay off; you'll see your progress toward paying it off reported on every statement or online.
4. Track It
This is the ability to see your spend by category, which we covered above as it's so useful in tracking spend on the Chase Freedom 5x bonus categories. You can also use it as a budgeting tool, to manage your spend by category.
Related posts