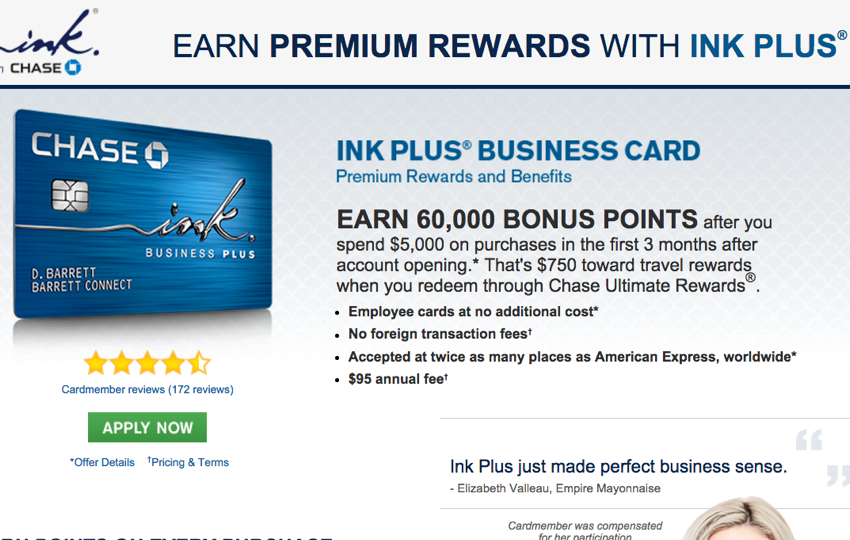 There's good reason to get the Ink Plus now, before Chase anti-churning rules take effect for the Ink Plus card in March, 2016. TravelSort reader Jason writes "I tried applying for the Sapphire Preferred from your Best Travel Credit Cards page but was denied due to too many recent credit applications. How many is too many, for Chase credit cards? And is there another Chase card I could still get?"
Chase Anti-Churning Rule: 5/24
Jason has run into Chase's anti-churning rule, nicknamed 5/24 because in most cases, Chase will deny your application for the Chase Sapphire Preferred or Chase Freedom if you've opened 5 or more new credit cards within the past 24 months. This new rule emerged last year, around May 2015, but so far hasn't been used for the Chase Ink Plus or Chase's co-branded cards, such as the Hyatt Visa, United Visa, Marriott Visa, Ritz-Carlton Visa, etc. that are issued by Chase.
Starting in March 2016, 5/24 Will Also Apply to Chase Ink Plus Cards: Apply Now
Per Flyertalk, which cites credible reports, the 5/24 rule will also applying to the Chase Ink Plus in March 2016, and is slated to apply to Chase co-branded cards such as the Hyatt Visa, etc. starting in April 2016. That makes now an ideal time to apply for the Ink Plus *if* you're eligible to earn the bonus.
Can I Earn the Bonus Again for the Ink Plus?
You're eligible to earn the bonus again for the Ink Plus if you don't currently have the card and haven't received a bonus for this card within the last 24 months.
Do I Need an EIN to Apply for an Ink Plus Card?
No, you can just use your SSN to apply for an Ink Plus or other small business cards, if you're a sole proprietor. If you haven't officially named your business, for example if you want a business card to separate out business expenses for your real estate rentals, consulting work, etc., you can put your own name as the company name.
What If I Have Two Businesses, Can I Earn the Bonus Again for a Second Ink Plus While Keeping the First?
I've been told by Chase that you can earn the bonus for a second Ink Plus card for a legitimate second business, but only if you haven't received a bonus for your current Ink Plus card for your first businesses within the last 24 months. Note that according to the representative, this rule has only been in effect since late last year, so before that, it was possible to get the bonus again for a second Ink Plus card for a second business, even if you'd received the bonus for the first card within the past 24 months.
Does the 5/24 Rule Only Count Chase Credit Card Applications?
No, the rule applies to ALL new credit card openings from all issuers and banks, not just Chase.
Does Being an Authorized User on a Card Count Against the 5 New Credit Cards in 24 Months Limit?
Unfortunately, yes: even if you weren't the primary cardholder on any new credit card applications within the past 24 months, if you were added as an authorized user on another cardholder's account, that does count. It makes adding your spouse as an authorized user much less appealing, at least if you want to apply for Chase credit cards.
What is the 60K Signup Bonus Worth?
Keep in mind that by the time you meet minimum spend, you'll have at least 65,000 Ultimate Rewards points, and depending on how you meet minimum spend, you could have more than that, due to the 5X and 2X categories:
5X per $1 spent on cellular phone, landline, Internet and cable TV services
5X per $1 spent on office supply store spend (including Whole Foods and Amazon gift cards)
2X per $1 spent on stand alone gas stations and hotels, when purchased directly from the hotel
In my view the best Ultimate Rewards transfer partners are Singapore KrisFlyer and Korean SkyPass, and to a lesser extent British Airways, United MileagePlus and Hyatt. I can't speak for others, but because we tend to redeem miles for Singapore Suites, Singapore First Class and Singapore Business Class, our redemptions tend to get us 6 cents or more in nominal value per point. That means 60,000 points yield $3600 in nominal value for our uses, although a more common valuation of 1 Ultimate Reward point is about 2 cents per point, or about $1200. And if you're not getting at least 2 cents per point in value when redeeming your Ultimate Rewards points, you should probably be focusing on cash back cards.
Do you plan to apply for the
Ink Plus
before the 5/24 rule goes into effect in March 2016?
Related Posts