TravelSort reader Mat writes: "I want to travel with my wife to Hong Kong next summer. What is the best airline for first class or business travel for couples (we really like to sit next to each other and chat on long plane flights). Though I know you have a separate post on this, Best First Class Airline Seats for Couples, could you recommend just one… your top recommendation? Also, I have not started the application process yet but woud really like to target the types of rewards points we will be using on the trip. What types of points should I shoot for that will get me tickets on your recommended airline, and possibly allow me to travel to different places in Asia when I'm there? Are there point types that you would stay away from because they would not apply to that trip?"
As I wrote Mat, there are several parts to his question, and you could easily get different answers depending on whom you ask, since there's a lot of subjectivity on how different travelers value various aspects of first class or business class travel for couples.
While Mat did include business class in his question, I'm going to focus on first class because I think the experience is so much better for couples, and the premium in miles, in my view, is well worth if for the long flight to Asia.
Convenience: Cathay Pacific First Class
Given that Mat's flying to Hong Kong, Cathay Pacific's the logical choice since Hong Kong is Cathay's hub and he and his wife would have a nonstop flight from NYC (JFK), Chicago (ORD), or Vancouver (YVR). With Singapore Airlines, Mat would have to transfer in Singapore, although if he plans to visit Singapore as part of his Asia trip anyway and wants to start his Asia travel there, Singapore Airlines would make sense.
Miles Required: Cathay Pacific First Class, Booked with AAdvantage Miles
With American AAdvantage miles, Cathay Pacific First Class from the U.S. is 135,000 miles roundtrip per person, or 67,500 miles one way and this can include a stop of less than 24 hours en route. Singapore Suites roundtrip from LAX or SFO would be 182,750 KrisFlyer miles roundtrip per person when booked online at the Saver level, or 91,375 miles each way. So as you can see, using AAdvantage miles for Cathay Pacific First Class would require fewer miles. And while you may need some flexibility with your dates to get two first class award seats (remember that Cathay Pacific's own Asia miles members and those booking with British Airways Avios have first crack at the award availability), getting two first class seats is quite doable. It can be harder to get two Singapore Suites awards for the same flight.
First Class Seats/Beds for Couples: Singapore Suites
Singapore Suites is so far the only product that enables a couple to have essentially a double bed in their own private suites compartment, so this will automatically be the top choice for many couples. Cathay Pacific First Class suites still feel quite private, but they are not enclosed suites the way Singapore Suites, Etihad First Class, or Asiana Suites are.
That said, when dining, I prefer Cathay Pacific First Class since you have the option of cosying up on the same seat (at least if you're both slender) because the seat itself is so wide, or of sitting across from each other with one of you on the ottoman.
Another consideration is a window seat: On Cathay I often recommend that couples take seats 1A and 2A, even though they are one behind another, since the suites are private enough that you can't really talk to a partner across the aisle anyway. That way you both get windows. In Singapore Suites, note that the double bed option for couples is only possible in the middle section, for example 2C and 2D, or the ones I recommend, 3C and 3D (a bit more private, since keep in mind that the suites are not enclosed at the top, so people going up and down the staircase can have a slight view of the suites in row 2).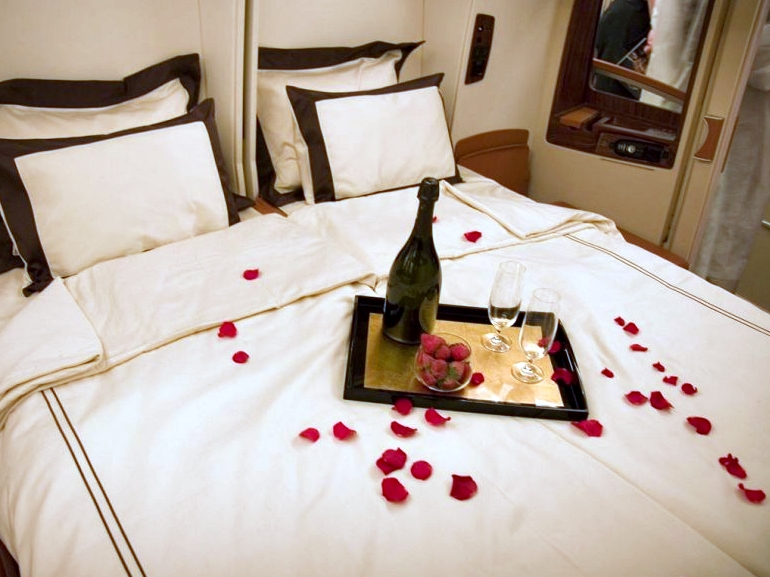 Service: Tie
I honestly can't make up my mind on this one, having experienced excellent service albeit with a few lapses on both Cathay Pacific First Class and Singapore First Class. On both I felt very well taken care of from boarding, through pre-flight beverages, meal service, turndown service, and miscellaneous requests.
I loved the handwritten note accompanying my meal on Cathay Pacific and how kind all of the attendants without exception have been, including to my young son.
In Singapore First Class, the flight attendants seem to me to exude more confidence, and I don't mean this as either a negative or a positive–it's just a noticeable difference in style. I did really enjoy talking at some length with the Singapore flight attendant who was taking care of me about our kids, her work, Singapore, etc. and I always enjoy these conversations and connections when they occur.
Food and Dining: Cathay Pacific First Class
Cathay Pacific's caviar with balik salmon appetizer is one of the rare dishes I've eaten on an airplane that I still crave and would happily pay for in a restaurant. In general, even first class food can't compare well to the best restaurant food. That said, the other things I enjoyed in Cathay Pacific First Class included dim sum for breakfast, a vegetarian duck dish (I was surprised as well how good this was), how willing the flight attendants were to let me have just tasting portions of all their red wines, and the excellent French yogurt served for breakfast.
This is not to say Singapore First Class food was poor–I particularly enjoyed the pre-meal satay with peanut sauce and the goose foie gras appetizer, as well as the tiramisu with a surprisingly good cappuccino.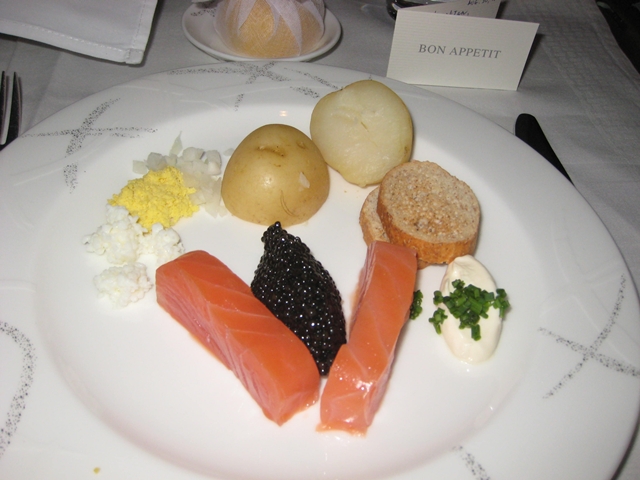 Pajamas and Amenity Kits: Cathay Pacific First Class
This is very much personal preference of course, but I do prefer the Australian Aesop's natural products included in the Cathay Pacific amenity kit, although many others may prefer the Kiehl's skincare products in Singapore's amenity kit. I find the Cathay Pacific Shanghai Tang pajamas softer and easier to sleep in than Singapore Airline's Givenchy pajamas. My husband, who is 6'5, also votes for Cathay Pacific pajamas since the large size fits his tall frame better.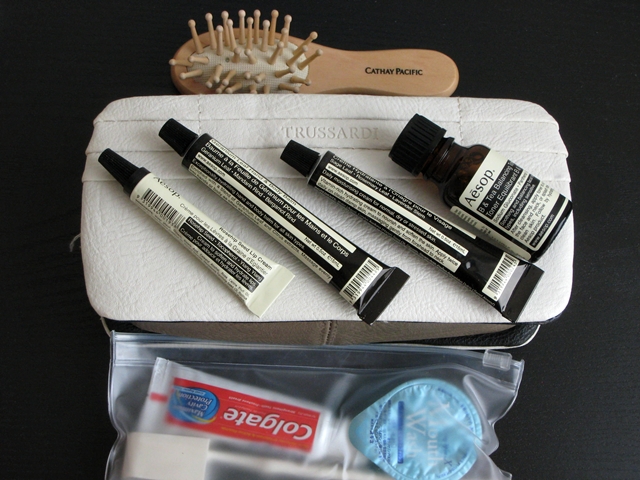 Which Points to Get to Asia?
Given the above, it will come down to whether Mat agrees with my assessment and how he values the different factors. I'd recommend Cathay Pacific, especially if Mat already has a head start in accruing American AAdvantage miles and would like to first spend time in Hong Kong, given it's a fantastic product and requires fewer miles than Singapore Suites, plus will likely be easier to find availability for two first class seats.
Which Points to Get Around Asia?
For getting around Asia, a good bet would be British Airways Avios. It's distance based, so it's no longer a good bet, following the 2011 devaluation, for long flights to Asia, but it is good for making short hops around Asia on Cathay Pacific and Japan Airlines. Don't forget there's currently a 35% transfer bonus from AMEX Membership Rewards points to Avios, until June 7.
Have a different take on which airline is best for couples flying first class to Asia? Tell me in the comments!
Related Posts
Best First Class Airline Seats for Couples
Cathay Pacific First Class Hong Kong to NYC
Need Award Booking Help? Our fee is as low as $75 per ticket if you book your hotel through us.
If you enjoyed this, join 100,000+ readers: please follow TravelSort on Twitter or like us on Facebook to be alerted to new posts.
Become a TravelSort Client and Book Your Hotel with Virtuoso or Four Seasons Preferred VIP Amenities!