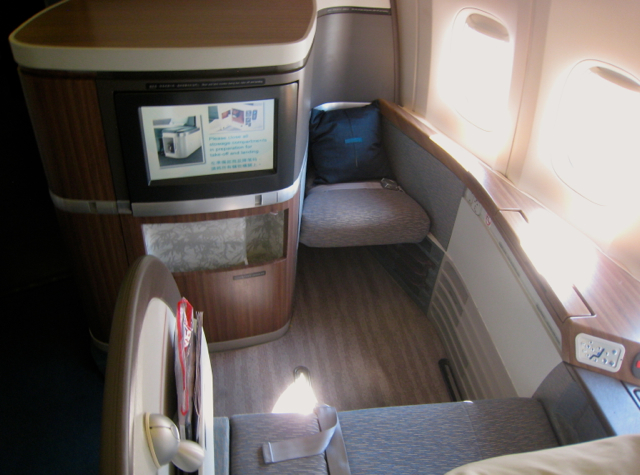 This Cathay Pacific First Class review is part of a trip report including Singapore Suites, Emirates First Class, Cathay Pacific First Class, Asiana First Class and luxury resorts and dining in Southeast Asia. For the previous posts, please see:
Singapore Suites A380 Review: New York JFK to Frankfurt
Review: Lufthansa Senator Lounge Frankfurt
Singapore Suites A380 Review: Frankfurt to Singapore
Singapore Airlines Private Room Lounge Review
I was really looking forward to this flight, and was excited to be bringing with me my six-year-old son. But I also had some trepidation as to how he (and I) would handle the sixteen-hour flight.
When I received our boarding passes at JFK, my normal apprehension grew exponentially when the Cathay agent informed me that I needed to have complete itineraries for myself and my son, or the Thai officials might not allow us to leave the airport. I had not printed out our itineraries, and didn't have time to find a printer. So, after our visit to the
First Class Lounge (left side of the British Airways Galleries Lounge at JFK
) I boarded the plane with a mixture of excitement and dread.
Cathay to the rescue! Upon entering the First Class compartment, I was immediately greeted by the flight attendant with a copy of our itineraries. My relief was aided by a glass of champagne (sorry no picture, I drank it too quickly).
The crew noticed that my son and I were sitting diagonally from each other, instead of directly across, and began to assure me that they would do everything they could to try to place us closer together.
The First Class compartment has a total of 6 seats, and every seat was taken, so the crew began a Rubik's cube-like calculation of how to move everyone around the cabin while still preserving or enhancing everyone's seating preferences, but I assured them that me and my son would be fine, so we would stay where we were. I noted that the man sitting across from me and behind my son seemed a little worried about having a small child in First Class.
Here is a photo of the First Class cabin: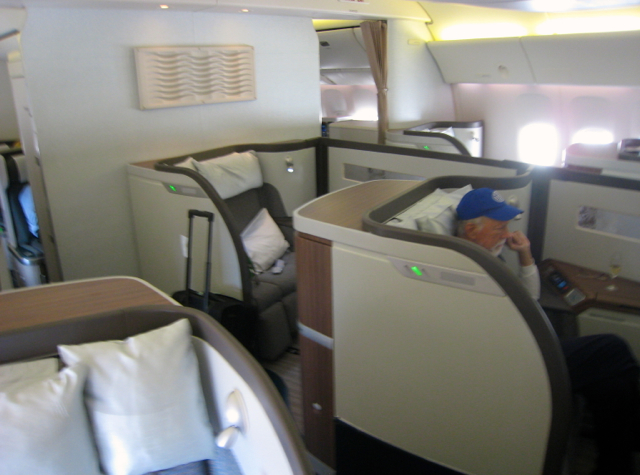 Our seats were exactly as I remembered from my prior First Class flight on Cathay — soft and capacious. Here's an aerial view of the munchkin's seat, Suite 1K: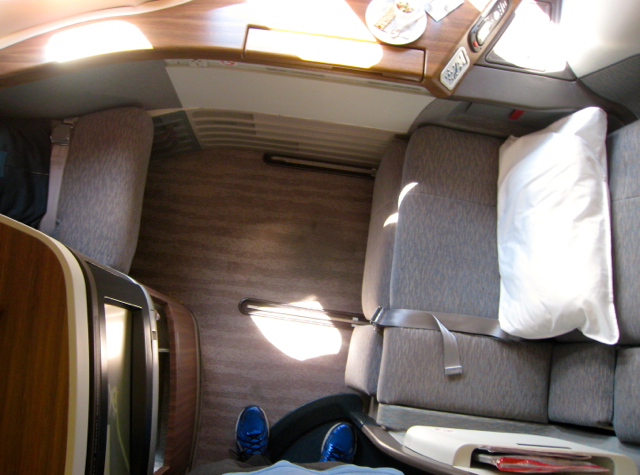 Prior to departure, we were given soft grey pajamas and an Ermenegildo Zegna amenity kit with a couple of Aesops amenities, in addition to the usual toothbrush, toothpaste, earplugs and comb.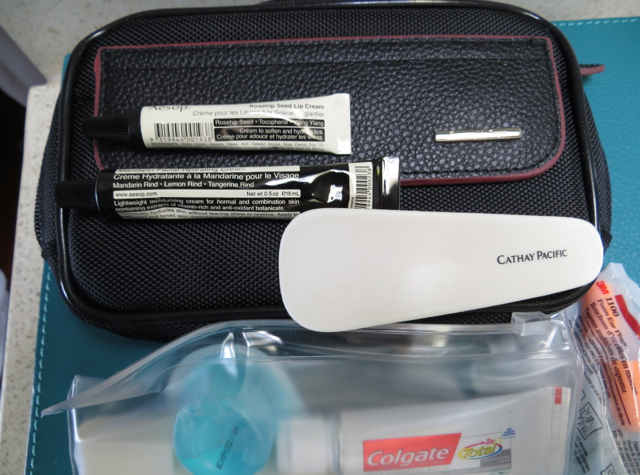 After we settled in, the flight attendant brought the menus, and I ordered our meals. We departed in the afternoon, so lunch was our first meal: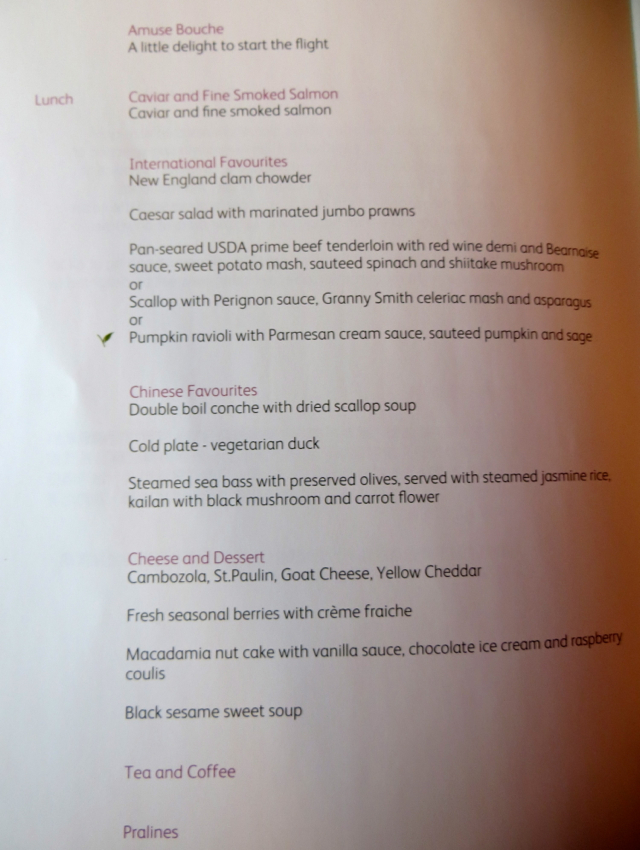 We were first brought a refreshing scallop amuse bouche: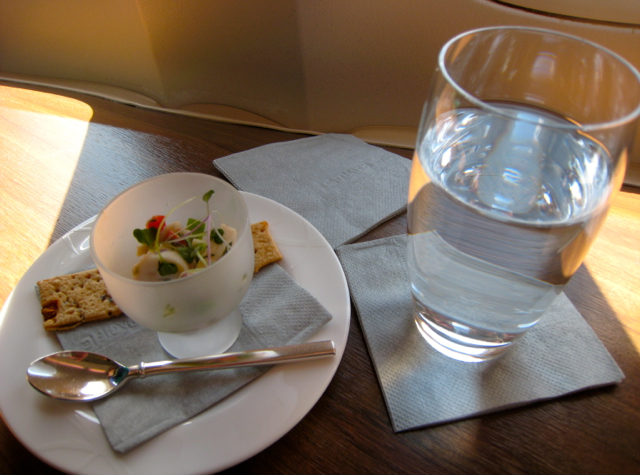 I chose the caviar and Balik salmon for our appetizers, which were excellent. I knew my son would love the salmon but not the caviar, so I asked if they would forego that part. They not only complied, but brought out a double helping of salmon which my son happily ate.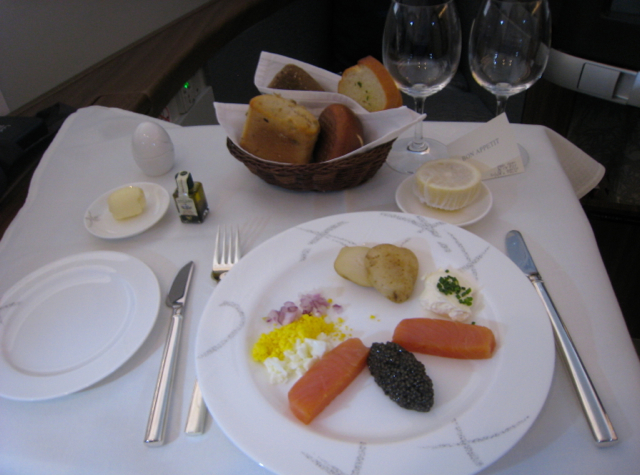 I then ate a lovely salad with very fresh-tasting giant prawns and lots of shaved parmesan cheese — delicious. I then ate a bowl of New England clam chowder. That was the only culinary disappointment: I am from New England and expect chowder to be creamy and chunky, the more of both the better. But this chowder to my palate was watery and thin.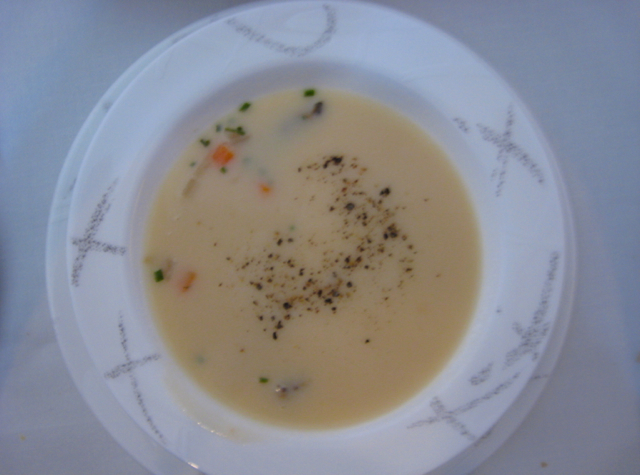 The munchkin had Haagen Dazs vanilla ice cream dessert, which he enjoyed immensely: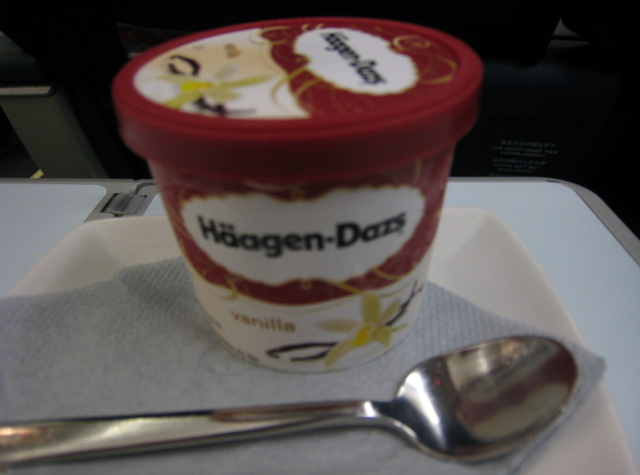 After dinner, it was time for my son to watch a few Bob the Builder dvds before bedtime. Later on in the flight he enjoyed the Dr. Seuss classic, Horton Hears a Who!, but I knew that he would be laughing so hard with that one (based on his prior experience watching it two years ago on
Cathay Pacific First Class Hong Kong to NYC
) that I saved it for later, so as not to disturb our fellow first class passengers with uncontrollable laughing.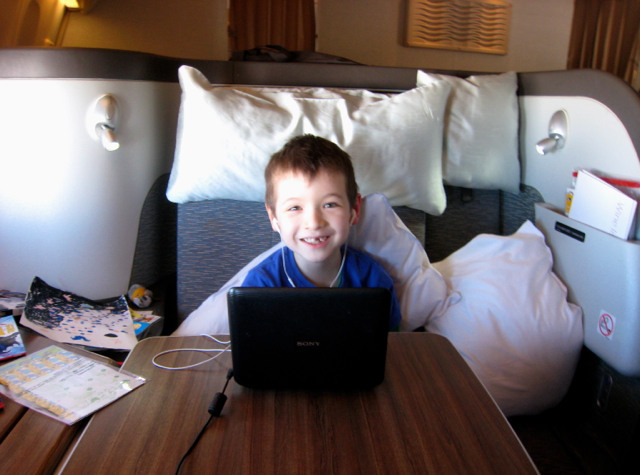 We went to the bathroom to brush teeth–here's the mirror and sink: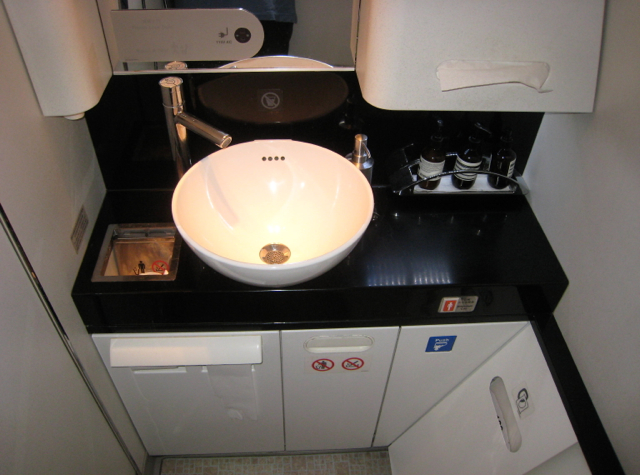 The turn-down service was so fast I stood up and turned my back for a second and my seat was already done.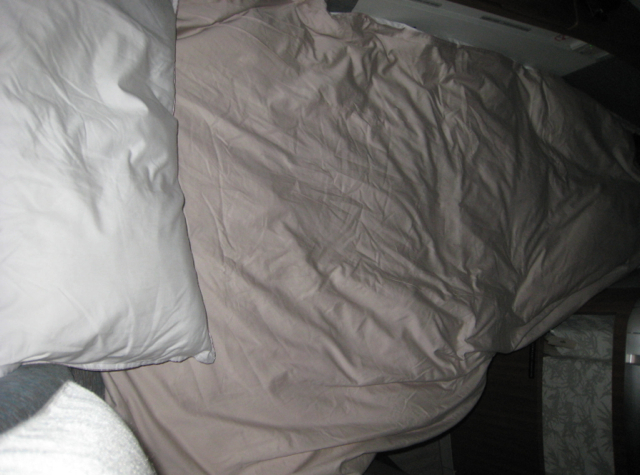 While my son slept, I seized the moment to load up on all the films I ha been wanting to watch. So despite my wife's admonitions, I gleefully watched Blue Jasmine, Inside Llewen Davis, and Philomena in quick succession.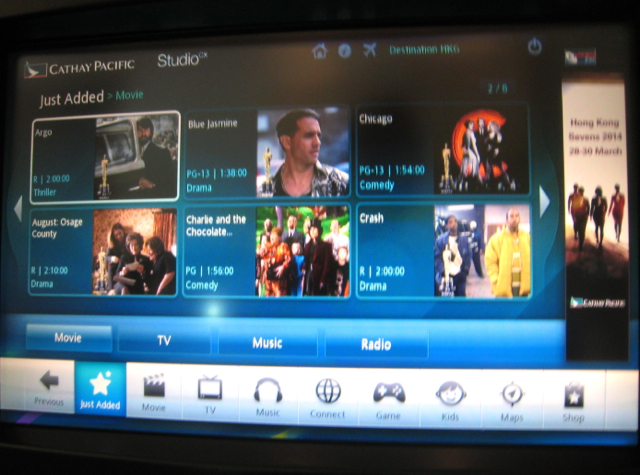 I then settled in to sleep, but had a hard time getting comfortable because of a bump in the flat-bed seat precisely located at a sensitive place in my lower back. The bump was caused by the shape of the seat itself so there was nothing I could do. Unfortunately, this was least enjoyable part of the flight as it kept me from sleeping as soundly as I had hoped.
That said, the munchkin had no problem sleeping for a good 8-9 hours, so the bed was perfectly comfortable for him.
Two hours before the plan was scheduled to land, I was offered dinner. Here's the dinner menu, as well as the light bites menu for between meal dining:
I chose the Five Spice Chicken with steamed jasmine rice, kailan and carrot flower. It was tasty, although not as good as at our favorite Chinese restaurants in NYC.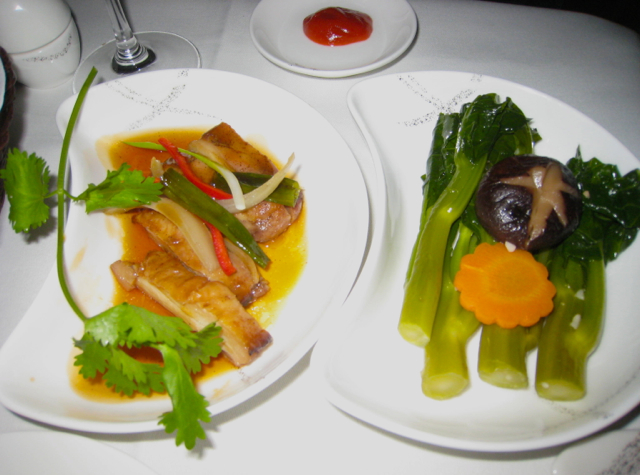 My son slept through while I had dinner, and about an hour and a half before landing had breakfast, including a fruit plate, orange juice, bread, and a strawberry smoothie: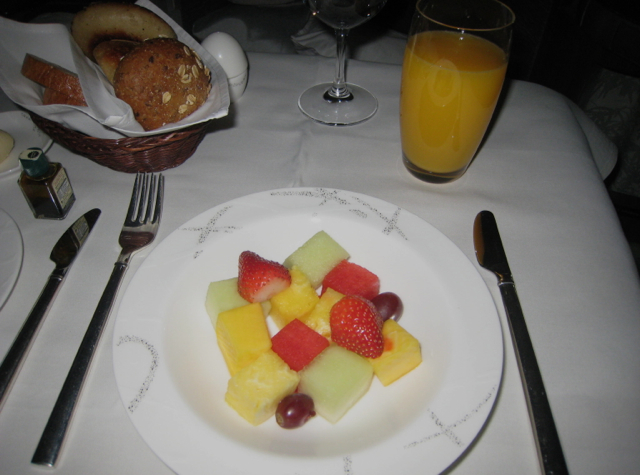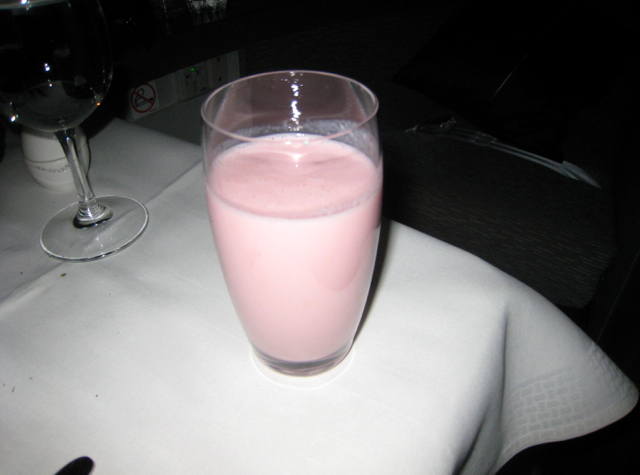 The Verdict: I still love Cathay First Class, but this trip was somehow less exceptional than my memory of my prior experience. Perhaps the luster wears off, or perhaps the full cabin made the trip seem less luxurious — the crew was unfailingly courteous and helpful, but had more people to serve.
On a personal note: as I was organizing my compartment I felt a hand on my shoulder, and turned to find the man who seemed concerned that his luxury experience might be ruined by my son. He was grinning, and warmly told me that I was "an outstanding father," which I took to mean that he was surprised that my son had not bothered him. I thanked him for the compliment, but was left wondering whether he was more surprised that my son was quiet or that his father, not his mother, was flying with him solo.
Related Posts