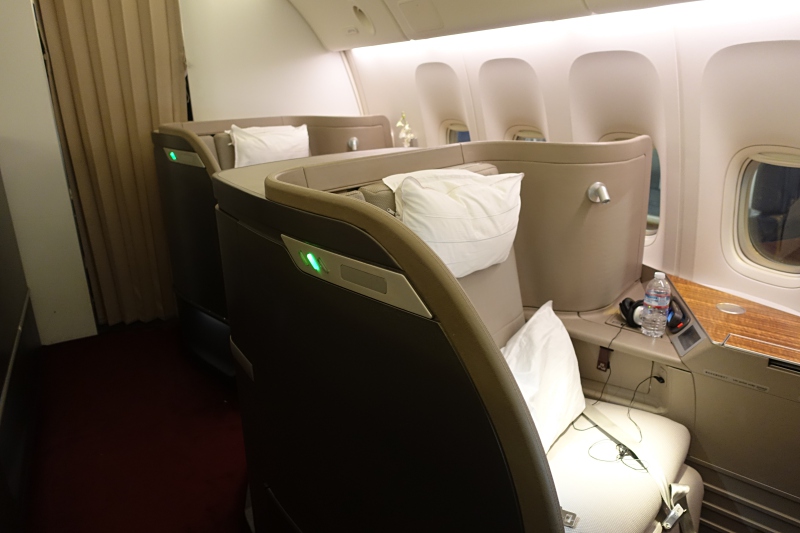 Cathay Pacific First Class is one of the first class awards most requested by my Award Booking clients, along with Singapore Suites on the A380 and Etihad First Apartment. It's interesting to me, because while I certainly love that the seats are huge and there are only 6 of them in first class, it's not the most comfortable bed (that would be Singapore Suites, JAL First Class and even JAL Business Class) and I find the food pretty disappointing, at least compared with Qantas First Class, Emirates First Class, JAL First Class, and the choices offered by Singapore Book the Cook. So Cathay First Class wouldn't be my first choice when flying to Asia, but to each his own.
But on to the subject of this post–a frequent question I get is: Will Cathay Pacific release unsold seats as award tickets? The answer, as is often the case, is: maybe–but don't count on it.
Booking in Advance? Typically Only 1 Cathay Pacific First Class Award Seat Available per Route
If you're booking your award flights far in advance, you'll notice that there's just one Cathay Pacific First Class award seat available (or none, if someone else has already gotten to it, or if it's during a high demand period when Cathay isn't releasing any award seats for a particular flight).
Close to Departure: Some Award Seats Are Released…
Cathay does release some of its unsold first class seats as award tickets about 10 days prior to departure date. Some are released to oneworld partners such as American AAdvantage and British Airways Executive Club, or other airline partners such as Alaska Airlines. So if you're extremely lucky (and flexible) you could conceivably snag 2 or, more rarely, 3 or even 4 first class seats a few days before departure.
…With More Availability for Cathay Pacific's Own Asia Miles Members
There's more award availability for Cathay's own Asia Miles frequent flyer members. This is why it's a good idea to diversify your miles and points, and have AMEX Membership Rewards points and/or Citi ThankYou points that you can transfer to Asia Miles.
Here's an example; earlier today I searched March 4, and there's availability with Cathay Pacific Asia miles for a First Class award on CX841 from JFK to HKG:

But checking with British Airways and other partner miles, there was no award availability for that flight.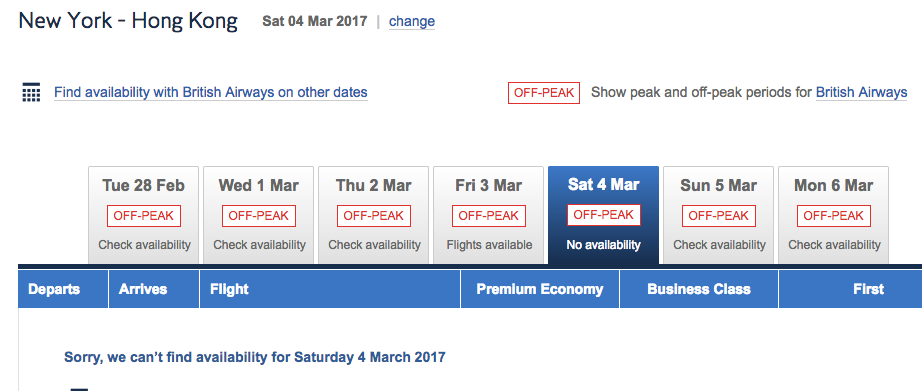 Some Seats Are Never Released as Awards
That said, you can't assume that all seats that are not purchased even a day or hours before departure will be released as award seats. I had clients with one award seat in first class and one seat in business class, who obviously were hoping that Cathay Pacific would open up another first class award so they could sit together in first class. That never happened, even though there were 2 unsold first class seats on that flight, an hour before departure.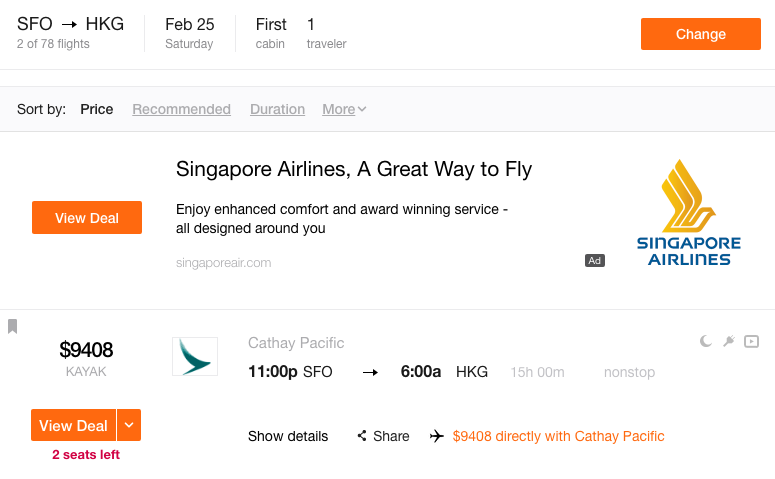 Even using Cathay Asia Miles Priority Awards Tier 2 (which at 210,000 miles each way cost double the miles of a standard award) nothing was available even an hour before departure.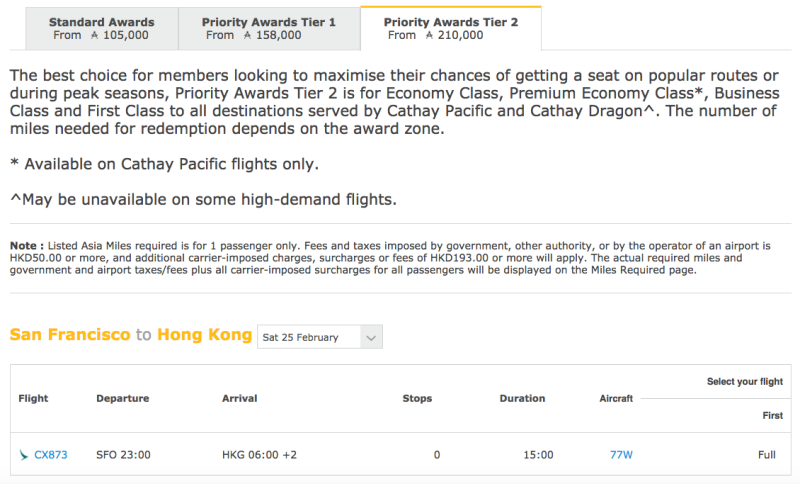 The Bottom Line
If you're hoping to fly Cathay Pacific First Class with a partner, just know that there is a considerable chance that you won't be able to fly it together in first class, even if the flight goes out with one or more empty seats in first class. You have a few options:
1. Fly on separate flights, each in First Class
2. Fly together in business class
3. Book one award and pay for the other First Class seat (an expensive proposition, since even 1 ways can be $17,000 or more)
4. Be extremely flexible and take your trip whenever you happen to see two Cathay Pacific First Class award seats; most likely this will be anywhere from next day to within a few days' time of departure.
Recommended Posts
Cathay Pacific First Class Review, Hong Kong to LAX
Best Seats in Cathay Pacific First Class?
Review: Cathay Pacific The Wing First Class Lounge, Hong Kong Airport
Review: Cathay Pacific The Pier First Class Lounge, Hong Kong Airport
Buy Alaska Miles with a 40 Percent Bonus
Need Award Booking Help? Our fee is as low as $75 per ticket if you book your hotel through us.
If you enjoyed this, join 200,000+ readers: please follow TravelSort on Twitter or  like us on Facebook to be alerted to new posts. 
Become a TravelSort Client and Book Your Hotel with Virtuoso or Four Seasons Preferred Partner Benefits!