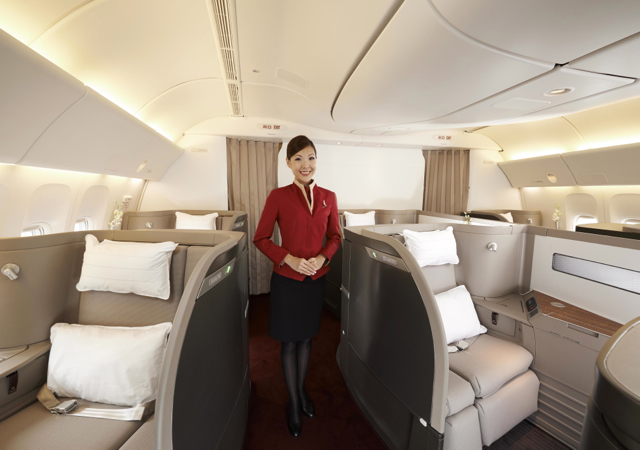 Cathay Pacific will launch Boston – Hong Kong flights starting May 1, 2015 on a 4x weekly schedule, making Boston Cathay's 6th U.S. city after New York JFK, Newark, Chicago, Los Angeles and San Francisco. The great news is this will include Cathay Pacific First Class (although it's TBD whether this will be Cathay Pacific New First Class, as pictured above).
Here are the flights and flight times, per the Cathay Pacific press release:
CX811 Boston to Hong Kong departs BOS 1:45am, arrives the next day HKG at 5:35am (Tuesdays, Wednesdays, Fridays, Sundays)
CX812 Hong Kong to Boston departs HKG 6pm, arrives the same day BOS at 9:30pm (Mondays, Tuesdays, Thursdays, Saturdays)
Note that the above times are for Summer 2015; there are very slight time differences for winter, with CX811 departing Boston at 1:30am and arriving 6:20am the next day, and CX812 departing at the same 6pm time but arriving a bit earlier, at 8:40pm.
It's great that this will be on the 777-300ER, with four classes of service:
6 first class open suites
53 business class seats
34 premium economy seats
182 economy seats
FAQ
Can Award Tickets Be Booked on the New Boston – Hong Kong Routes Yet?
No; while paid reservations are available, award seats haven't been released yet.
Once Award Bookings Are Available, What are the Best Miles to Use to Book Cathay Pacific Awards?
For long haul first class or business class awards, I recommend using AAdvantage miles. A first class roundtrip from the U.S. to Japan or Korea is 125,000 AAdvantage miles, and roundtrip in first class to the rest of Asia is 135,000 AA miles, or fly business class for 110,000 AA miles. Advantages of using AA miles include being able to book one way awards, put the award on hold for up to 5 days before ticketing, and having AA call you back if there's a long hold time.
Note, however, that you won't be able to stop over in Hong Kong for more than 24 hours without breaking the award into 2 awards.
If using US Airways Dividend miles, you'll need 5000 fewer miles if flying to Japan or Korea in first class: 120,000 Dividend miles, vs. 125,000 AA miles. But you'll actually pay 10,000 more miles for business class: 110,000 Dividend miles vs. 100,000 AA miles.
Since US Airways has different regional definitions, China and Hong Kong, which are in US Air's North Asia region, end up being cheaper to book as first class awards with US Air miles, than with American, which places them in Asia Zone 2. First class to China or Hong Kong is 120K US Air miles, vs. 135K AA miles.
Disadvantages of US Airways miles include only roundtrip award booking, horrendous U.S. call center waits (call the UK or Singapore call center instead), and no award changes after travel commences.
Best Ways to Earn American AAdvantage and US Airways Dividend Miles?
The current best offers for Citi AAdvantage cards are on the
Best Travel Credit Cards
page, and include 50K bonus offers for the Citi Platinum Select AAdvantage and CitiBusiness AAdvantage credit cards, after $3000 minimum spend.
For US Airways, the best current offer is the US Airways Premier World MasterCard which gives you a 50,000 bonus miles after first use and payment of the $89 annual fee. It's a great card to include when applying for other credit cards that have high minimum spend requirements, and a great deal since you're effectively getting miles at almost one fifth of a cent each.
Why Boston?!
Cathay Pacific played another guessing game on Facebook about their next U.S. destination, just as they did previously for Newark, with the other possibilities being Seattle and Miami. Some seem surprised that Boston was chosen ahead of Seattle, but I'm not. I have relatives in Boston, and they note that real estate is being snapped up (as it continues to be in NYC as well) by wealthy Chinese, buying with all cash offers for, in some cases, infants that they anticipate sending to Harvard, MIT, or one of the other colleges in the area. If anything, award availability could be harder to get into and out of Boston, given that presumably some of these type of real estate buyers are willing to pay for business or first class, and currently there are just 4 weekly flights in each direction, vs. 3 daily nonstops out of JFK, plus the daily nonstop out of EWR.
Do you plan to fly Cathay Pacific's new flight into or out of Boston after it launches in May 2015?
Related Posts