This Cathay Pacific Business Class Review for NYC to Hong Kong is the second in a trip report including Cathay Pacific Business Class and Cathay Pacific First Class to Hong Kong and Business Class to Bali, plus reviews of luxury hotels and dining in Hong Kong and Bali. Our awards were booked using British Airways mile prior to the award chart devaluation; see Time to Redeem British Airways Miles for Cathay First Class.
After the Cathay Pacific boarding call was announced in the British Airways Galleries Lounge I made my way to the gate, which was fortunately just steps away (no running for my flight as I did for my SWISS flight in Zurich!) Although sometimes there's a separate line or even section of the jetway for business and first class, there wasn't here–we were all in one line. No big deal, however, as it moved quickly. Once on board, since I was in the business class mini cabin (rows 11 and 12) I turned left, whereas the main business class cabin is to the right.
There are 4 seats across, so 8 seats total in the mini cabin; I was in seat 11K: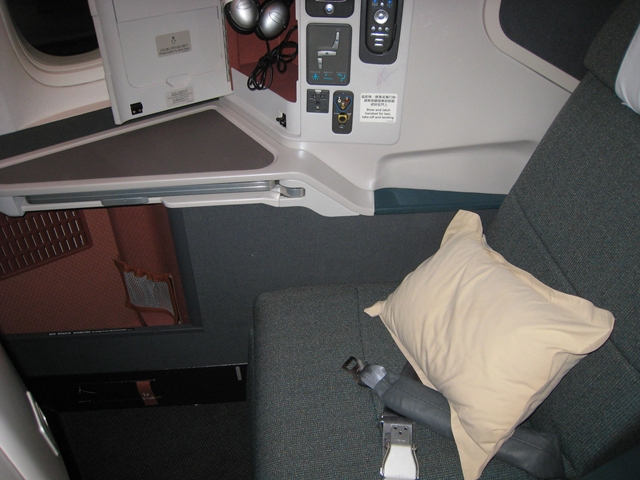 The A and K seats are great for solo travelers, whereas the D and G seats are good for friends or couples traveling together. Regardless of where you sit, there's of course plenty of leg room, and also storage space under the ottoman: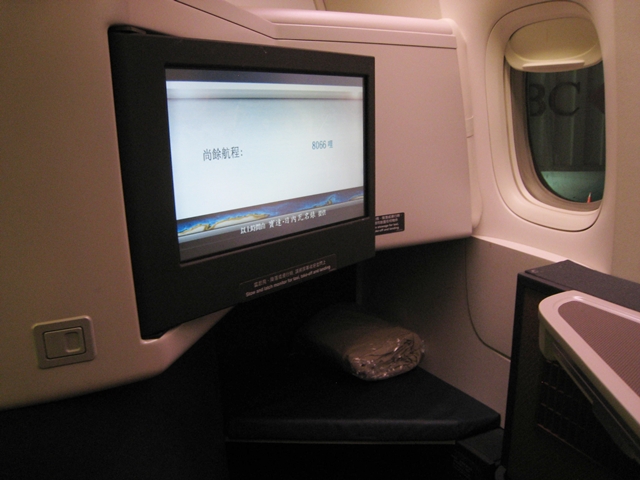 And here's a view of the seat taken from the ottoman: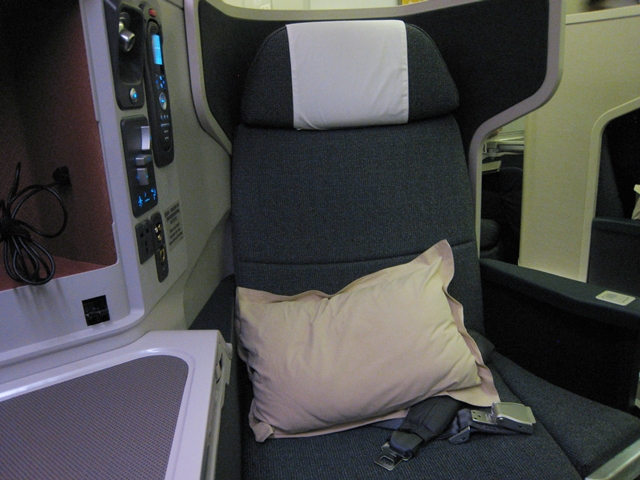 Seat 11K also has a good view of First Class prior to when they close the divider curtain, so don't sit here if you have cabin envy 🙂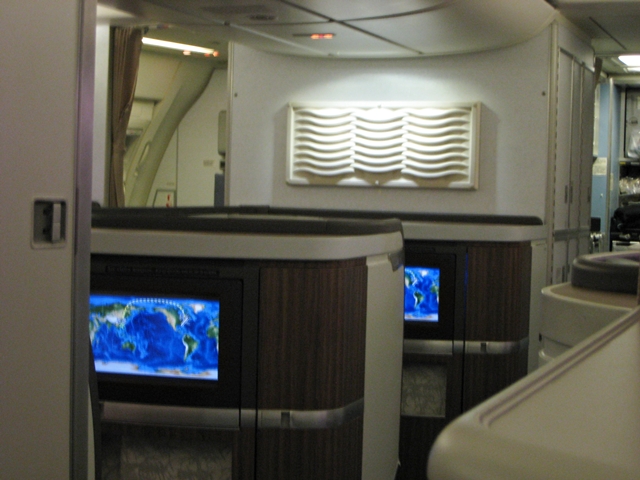 Prior to takeoff we were offered a warm towel and a drink; I opted for water and was handed an entire bottle. Boarding was completed quickly and departure was smooth and on-time. Once in the air, I adjusted the seat into a more comfortable reclined position. Here are the seat controls: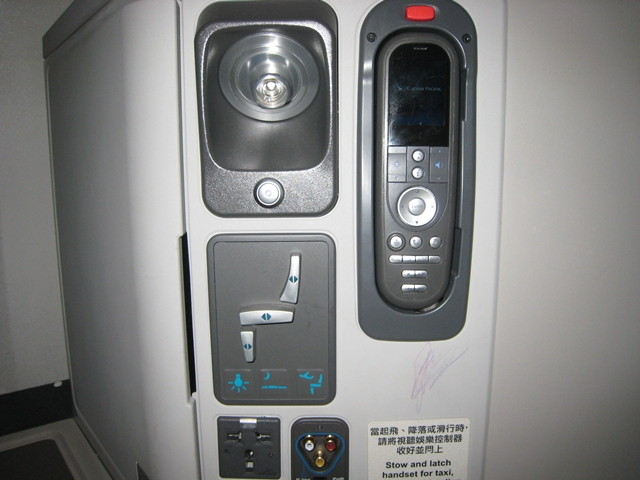 Though I'd had a light dinner earlier, given how late it was (the flight departed at 1:30am) I was quite hungry again. I was ravenous by the time we were offered another warm towel, and pre-dinner drinks and nuts (not warmed, but I didn't care). Here are the nuts, and the exterior of the amenity kit: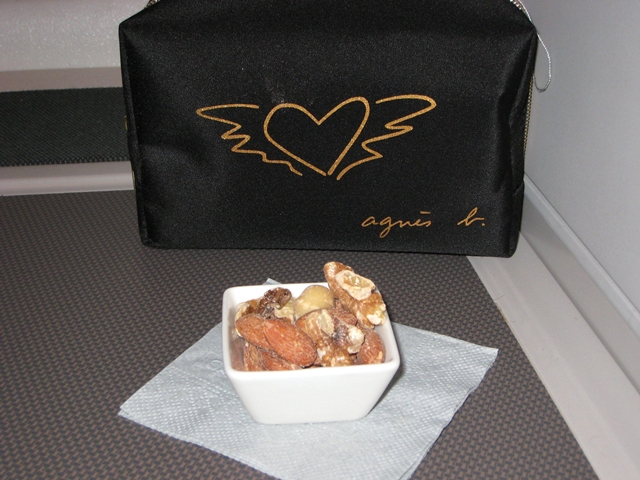 The menu offered the following for Supper:
Starter
Mesclun salad with lemon pepper cured salmon and lemon vinaigrette
Main Courses
Grilled USDA prime beef tenderloin with shallot sauce, potato terrine and sauteed asparagus
Wok-fried prawns in garlic chilli sauce, egg fried rice, kailan and braised black mushroom
Cheese and Dessert
Cambozola, St. Paulin, Cheddar Cheese
Fresh seasonal fruit
Tofu black sesame cheese cake
Tea and Coffee
Pralines
There was also a Light Meal option, as follows:
Creamy butternut squash and apple soup
Herb roasted chicken on Greek salad with lemon vinaigrette
Fresh Berries
Tofu black sesame cheese cake
Since I can't get excited about salad, I decided to go with the full dinner. The salad was nothing special, and in fact some of the lettuce was slightly wilted, although the cured salmon was good. I didn't use any of the vinaigrette, which was the same prepackaged brand you get on domestic flights.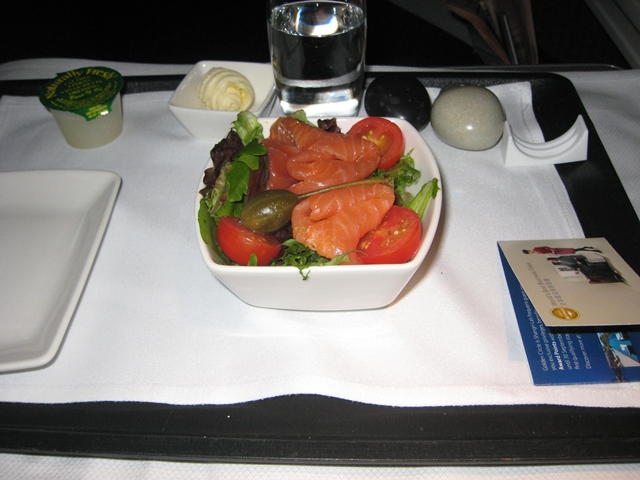 I liked the fact that the flight attendants used a trolley so you could actually see the different main courses before you chose. To be honest, the beef tenderloin looked a bit better, but I wasn't up for having meat right before going to sleep, so I went with the Wok-fried prawns in chilli garlic sauce. This main course was the weakest aspect of all the food I sampled on the flight: it was overcooked, the sauce wasn't spicy in the least (at least for someone who likes spicy food, as I do), and the fried rice was especially dry and overcooked. I accompanied with a glass of Gruner Veltliner, which initially gave the flight attendant serving me a hard time, because he was only familiar with the makers of the various wines on offer, not the wine varietals. It was practically like sparkling wine, which I personally didn't care for (I'd rather have had a nice Gewurtztraminer, like the kind I get for $10 from Trader Joe's) but it's a matter of personal preference–I'm sure there are others that would have enjoyed it.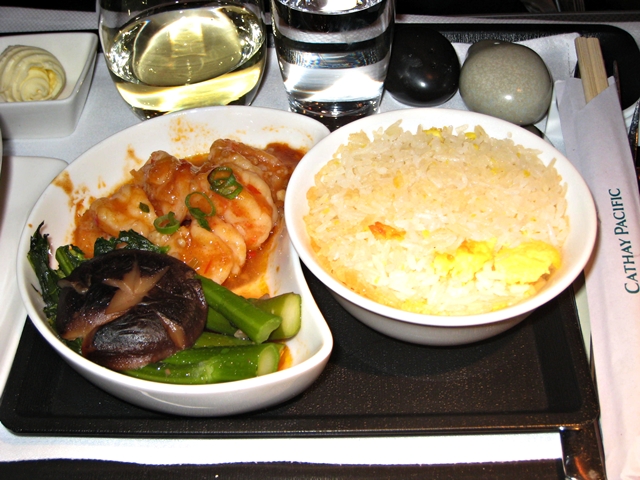 Since neither the cheese nor fruit offerings were that special, I chose the tofu black sesame cheese. I wouldn't say it's my favorite dessert or the kind of cheesecake that I like (it was more mousse like, and not the baked, dense type I prefer) but it was certainly unique, so points for that.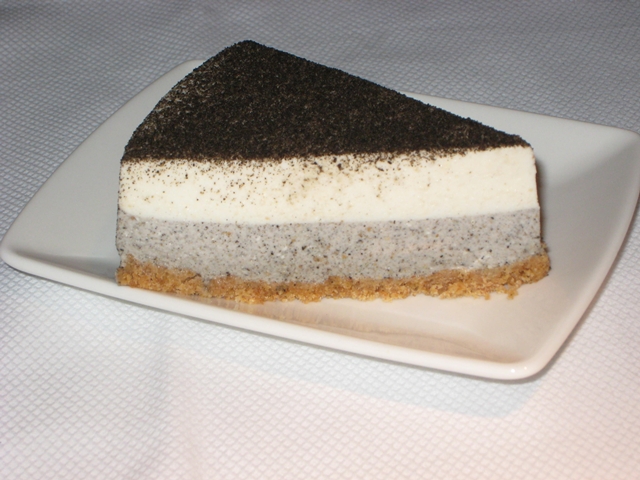 I didn't want to prolong the meal or have a sleepness night due to caffeine, so I skipped the tea/coffee and pralines and got my bed ready. There was a nice sized duvet and it was quite warm. The cabin was actually not as cold as I'm used to, so if anything it was just a tad too warm, but probably just right for most people. The bed itself was truly flat; at least, it seemed to me just as flat as on British Airways, and more flat than on SWISS. I would have liked it to be a bit softer or to have a mattress pad, but after all, this was business class, not first class (which my husband and son were in) so I really can't complain.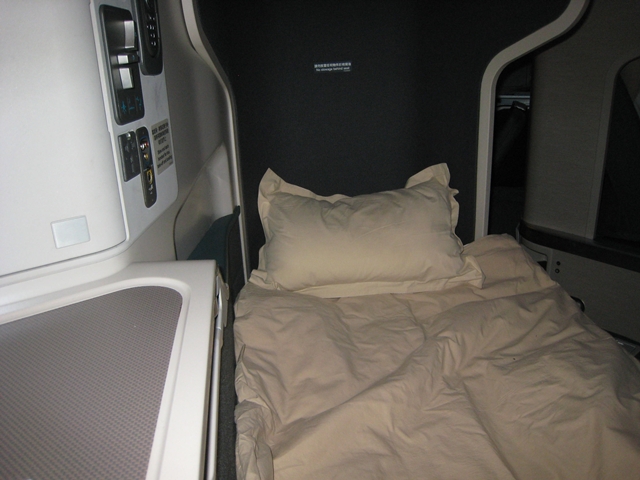 After 5-6 hours of pretty decent sleep, I woke up and couldn't get back to sleep, so I did a bit of work and, since I hadn't finished my main course, was hungry again. Two snacks were offered on the menu, Roasted duck in noodle soup or Haagen Dazs ice cream, and there was no question what it would be for me: I requested the duck noodle soup. It came with a packet of roasted chili sauce, and the combination was fantastic. I wish this had been my main course, as it was so much tastier:
Since I was already up, a cabin attendant asked if I'd complete a satisfaction survey, which was pretty comprehensive and took about 10 minutes to fill out. Ironically, it only asked about the appetizer and main course, and not the snack menu, so it probably looked from that as if I was hugely dissatisfied with catering, even though I loved the duck noodle soup.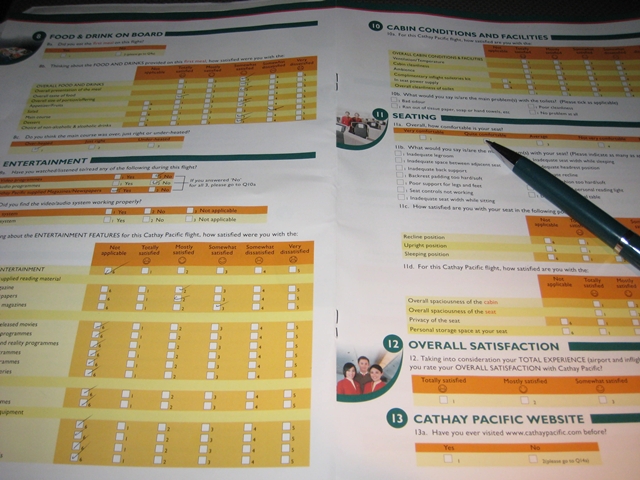 Breakfast was considerably better than dinner. I enjoyed the Strawberry energiser, which was like a strawberry yogurt smoothie, and also the freshly squeezed orange juice. The breakfast tray came with some fresh fruit, a mini croissant and Bonne Maman strawberry jam, which I also mixed in with some plain Greek yogurt.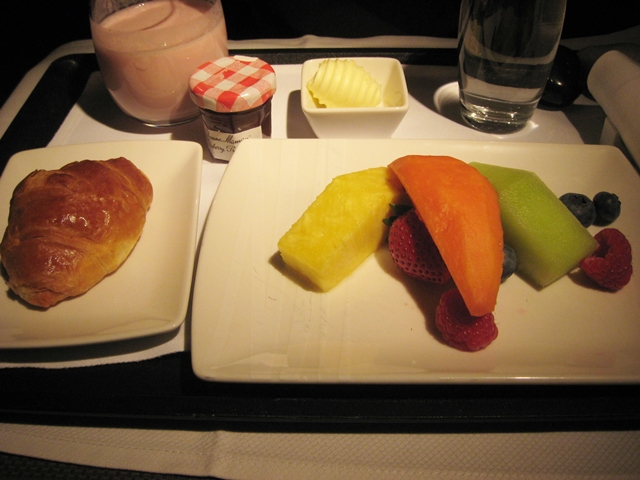 For main course, neither the mushroom omelette with bacon and roasted potatoes or the stir-fried egg noodles with beef and kailan looked that appetizing, so I chose the Abalone clam congee served with steamed prawn rice roll.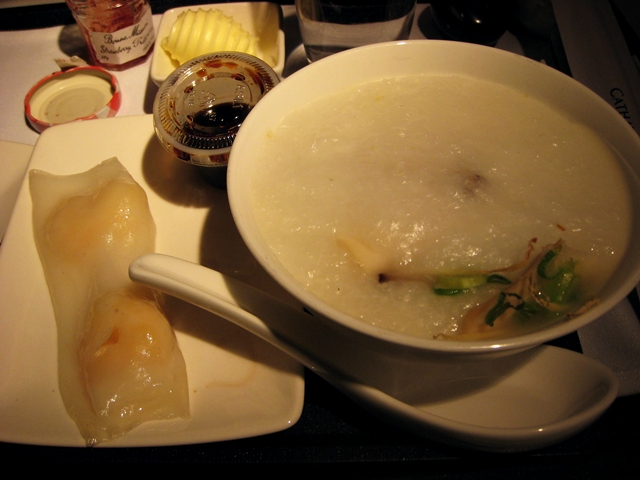 Verdict
I definitely enjoyed the hard product and think the new Cathay Business Class seats are great in terms of privacy, flat bed seats (though I wish they could be a bit more padded/ergonomic for sleeping) and probably IFE given the sheer number of films and programs on offer, even though I didn't watch any of them. Service was always courteous and professional, but I didn't find it particularly attentive: I needed to get up to ask for water, dessert plate wasn't cleared, my survey wasn't collected, etc. The duck noodle soup and breakfast were excellent, but dinner was very underwhelming. So, no surprise, my vote would be to save up and use 135 AAdvantage miles to fly first class roundtrip on Cathay Pacific to Hong Kong, instead of 110 miles for Business Class. Check out our posts BankDirect: Best Way to Earn AAdvantage miles and Best American AAdvantage Miles Bonus Offers Available Now to earn the miles.
Related Posts: