This Cathay Pacific Business Class Review for a 747-400 flight from Hong Kong (HKG) to Bali (DPS) is part of a trip report including Cathay Pacific Business Class and First Class to Hong Kong and Bali, plus reviews of luxury hotels and food in Hong Kong and Bali. Prior posts include:
Review of British Airways Galleries Lounge at JFK Airport
Cathay Pacific Business Class Review: 777-300ER NYC to Hong Kong
Cathay Pacific First Class NYC-Hong Kong
Tim Ho Wan Review: Hong Kong's Best Dim Sum and Cheapest Michelin Star?
Mandarin Oriental Hong Kong Review
My family of three were all in business class on our Cathay Pacific flight from Hong Kong to Denpasar, Bali, because even though my husband and son were on a first class award, Cathay doesn't provide true first class service on the 4 hour or so flight from Hong Kong to Bali. Now, there are of course first class seats, but when I inquired about them both prior to our flight and at The Wing, the response I got was that they were full, and reserved for top tier Asia Miles frequent flyer members. I know others have sometimes managed to get these seats on award tickets, without status, but no such luck for us. I wasn't especially worried, however, given that it was a relatively short flight, and we at least had seats on the upper deck, which is less crowded and usually more quiet than the main business class cabin.
Prior to our flight, we went to the business class area of The Wing, the largest of Cathay's several lounges in the Hong Kong airport. The munchkin, of course, made a beeline for the food, and was especially excited to see fresh fruit plates that included watermelon, his current favorite fruit.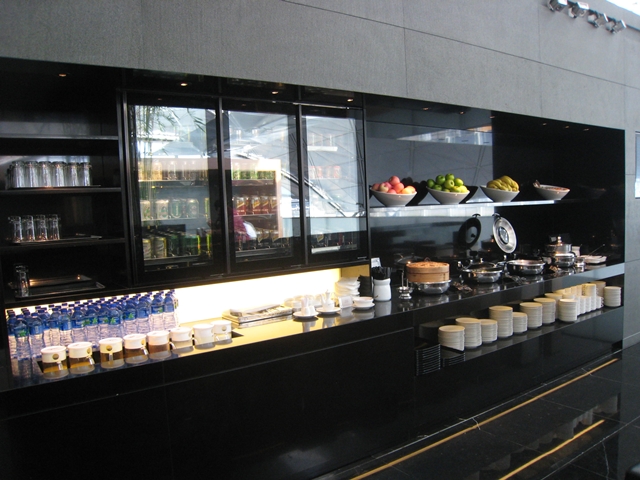 I was more intrigued by the sign noting that Asian options were available at the Noodle Bar, so that's where I headed. There were three soup options to choose from, so I opted for the spicy Dan Dan Mien soup and a char siu bao, and was given a buzzer to hold that lit up when my food was ready.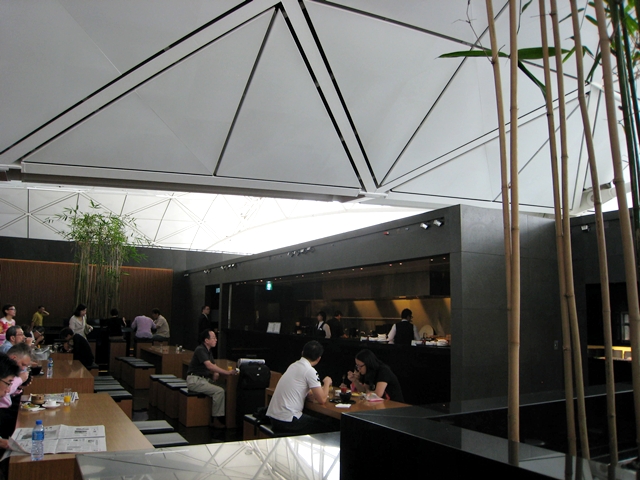 While waiting for my food, I also found the coffee bar, where pastries were on display, and got a raspberry pastry for the munchkin.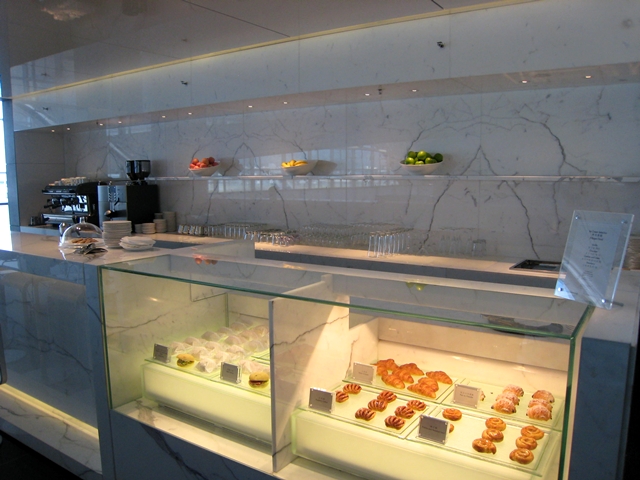 Here's the Dan Dan Mien soup, char siu bao, and pastry: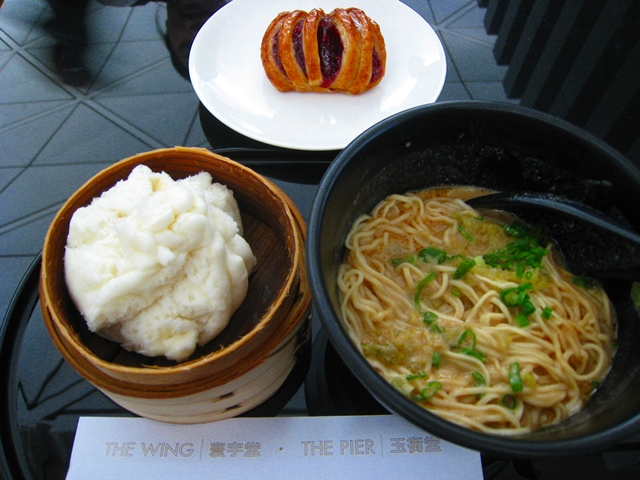 There were showers, but we didn't use them, or the Wi-Fi. At least in the area we were eating in, there weren't any electical outlets to allow convenient charging of our devices, but I'm sure if we'd gone to another area of the lounge there were some, and in any case there are outlets aboard Cathay. Quite soon, it was time to head for our gate, and it took longer than we anticipated to get there. Fortunately we made the plane, and weren't the last on board.
I knew this was Cathay Pacific's old business class product, with the super high divider walls, but I was still surprised at how narrow they appeared.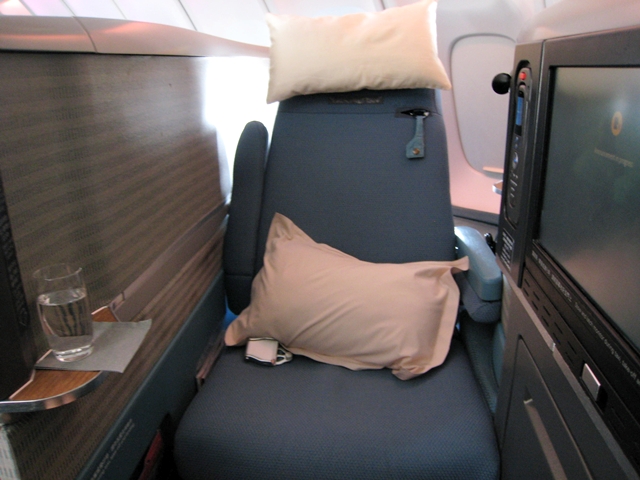 Since I was in row 82, I had a view of the flight deck: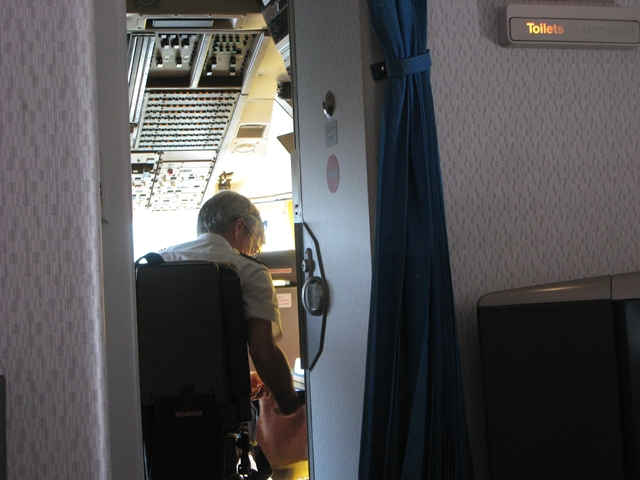 Almost all of the upper deck seats were occupied (including two other kids, in addition to our munchkin) so if you want the upper deck, make sure to get your seat assignments well in advance: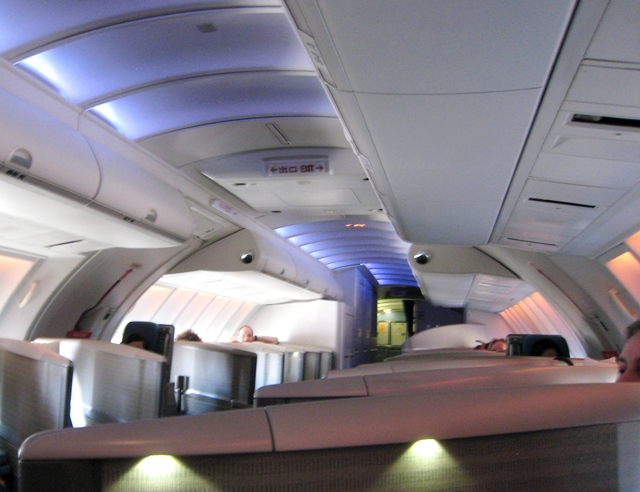 You're not supposed to sit on the ottoman, but the munchkin seemed light enough for it not to be an issue, and it was easier for him to join me at my seat for the meal service, as otherwise, with the tray table up, there was no way to help him with his meal when he was in his own seat. Here's the menu:
Starters
Marinated prawns with potato and leek salad
Mixed seasonal salad with balsamic vinegar dressing
Main Courses
Pan-roasted lamb chop with thyme rosemary sauce, potato gratin, green beans and capsicums
Sauteed haddock with spring onion, steamed jasmine rice, jade melon with garlic and medlar seeds
Indonesian spiced chicken in tomato sauce, coconut rice and mixed vegetables
Cheese and Dessert
Cheese selection
Fresh seasonal fruit
Ice cream
Tea and Coffee, Pralines
The appetizer prawns were tasty, although the potato leek salad was nothing special and I just ate a couple bites of it.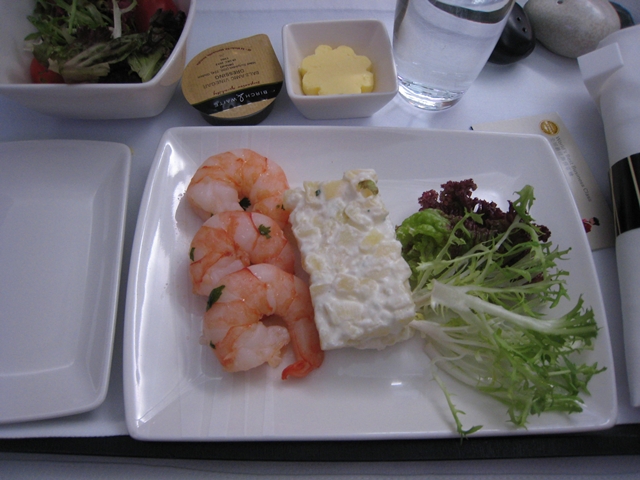 While the munchkin and I were having the appetizer, the flight attendant took our drink order. Inadvertently she broke a glass, which sent glass shards all over the carpet, although fortunately not onto the munchkin or me. Although very unfortunate, she apologized profusely and handled everything quite well, cleaning up as much as she could from the carpet and taking my sneakers away to be carefully examined for possible glass shards, before returning them. She brought over the munchkin's shoes from his seat, and asked me to make sure he wore them, since there might still be glass in the carpet (and indeed, I later noticed that after her cleanup I could still see tiny glass shards there). Fortunately everyone was fine, and no one got hurt, though I do hope the plane was deep cleaned and the remaining shards removed soon, so that no one else was injured.
Having had one of the most lackluster Asian meals ever on board Cathay's flight from New York to Hong Kong, I knew to steer clear of the Asian choice, the haddock with jasmine rice. I figured the Indonesian spiced chicken might be a safe choice, but was unlikely to be anywhere near as good as what I'd be eating later in Bali. So I opted for the lamb, which sure enough proved delicious. It looked a bit messy, but I care more about taste than plating. The Chateau Taffard de Blaignan Medoc 2009 that I drank with it was quite decent (50% Cabernet, 50% Merlot) but I do wish they'd just get some really good Argentinean Malbecs or California Zinfandels on board–you can get a much better wine for the price, than going with most French Bordeaux.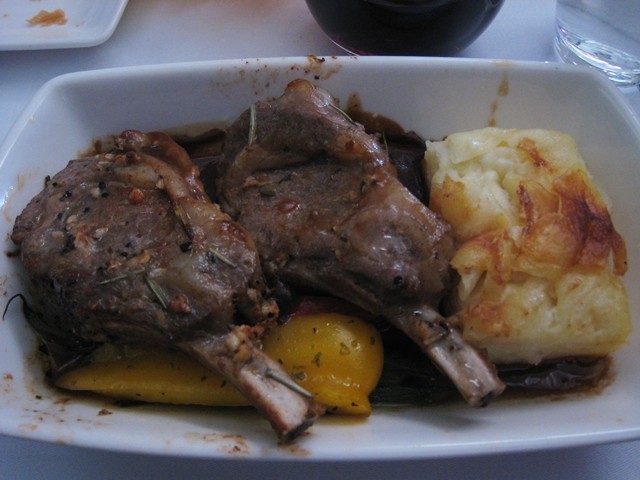 After the meat, I felt like some fruit, so was thrilled to see mango as part of the fresh seasonal fruit. I got a slice for myself, and some cheese and apple for the munchkin: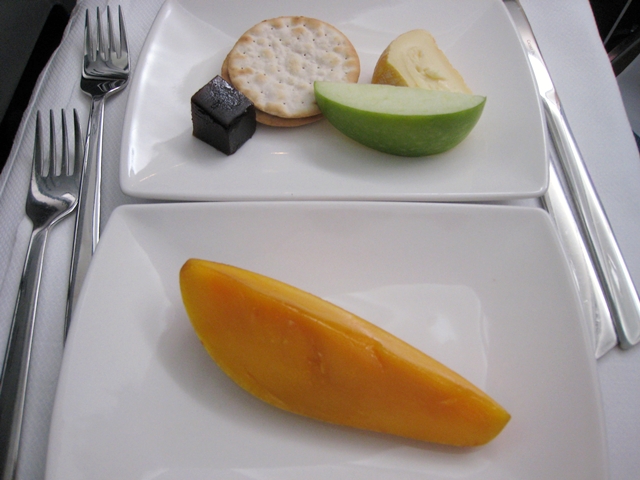 Then it was time for some rest. The seat extends its leg rest to join up with the ottoman to make a flat bed seat. Here's the seat control: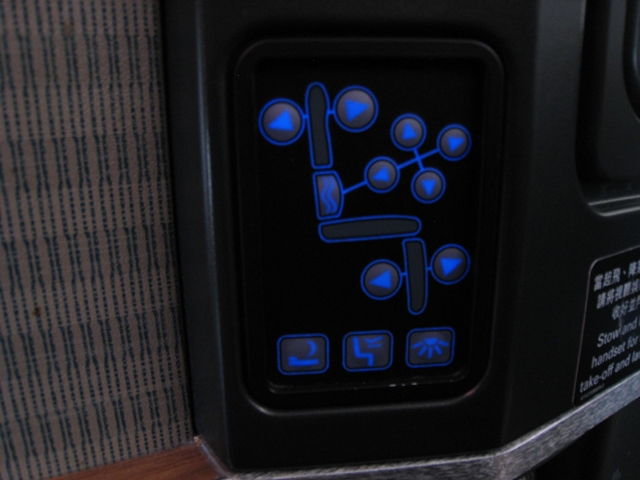 And here's the fully extended seat. Since it was a daytime flight, only pillows were on the seats, but I noticed some passengers did manage to request blankets. I'm not sure they had enough for everyone, however, so I'd request one early if you need one.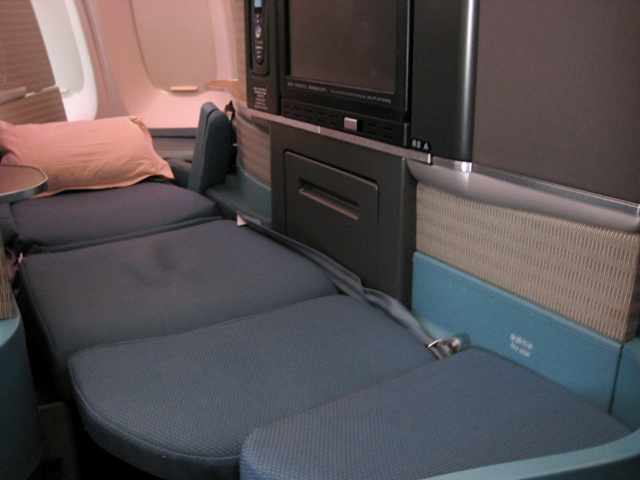 Verdict: This was Cathay's old business class, and it shows in terms of the worn and narrower seats, but the seats are flat bed and still fairly comfortable, especially given that it was only a 4 hour or so flight. I was definitely glad we were on the upper deck, which even though almost full, seemed more quiet and serene than the main business class cabin below. Service was very good, and the flight attendant couldn't have been more apologetic over the shattered glass. The meal was solid, if not spectacular. All in all, a very good way to get from Hong Kong to Bali, and I'll take a true flat bed seat and lower quality food over Singapore's angled flat business class product and fantastic food any day, given how uncomfortable I find angled flat seats. The best value award redemptions on Cathay Pacific are using American AAdvantage miles; see our Best American AAdvantage Miles Bonus Offers Available Now to earn the miles.
Related Posts: