Cathay Pacific award availability isn't hard to find for free, using the British Airways site, which we covered in Time to Redeem British Airways Miles for Cathay First Class. And the British Airways site has recently eliminated the step where you search partners, automatically including British Airways oneworld partners in your search.
That said, I like the Qantas.com site much better than BA for searching Cathay availability because it has a nice calendar that lets you see at a glance which dates have availability, whether you're searching for first class, business class or economy (but I recommend Cathay Pacific First Class!)
Need American Airlines miles? Don't forget you can earn 1 Million Miles (or More) a Year Without Flying, including hundreds of thousands of American Airlines miles.
But back to how to find Cathay award availability–here's what you need to do:
1. Register for the Qantas.com Frequent Flyer Program
Registration takes just a couple minutes and you get your Qantas frequent flyer number instantly after registering. You'll need to get the temporary PIN sent to the email you used when registering, and the first time you log in, you'll be prompted to change it.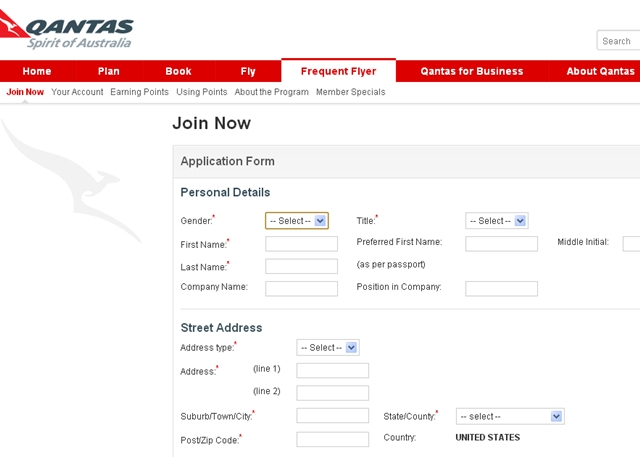 2. Login Using Your Qantas Frequent Flyer Credentials
3. Go to Using Points >> Partner Classic Awards >> Book Now
After clicking on "Using Points" in the top navigation, scroll down until you see Partner Classic Awards, and underneath, click on the "Book Now" link.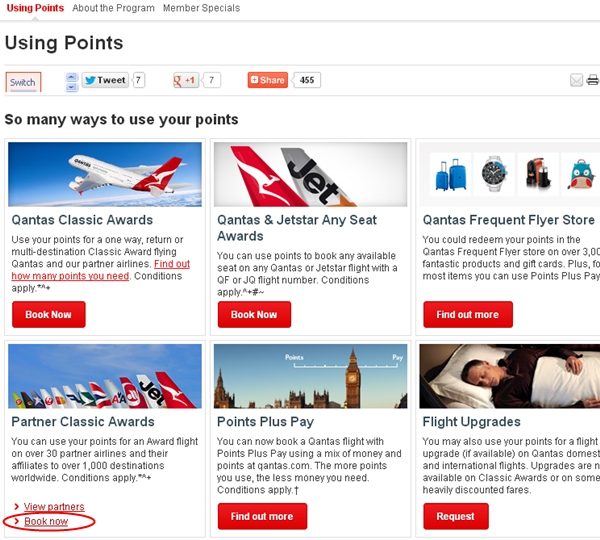 4. Enter in Cities and Dates
Another nice option that Qantas.com provides is the option to go to one of your prior searches, using the dropdown "Your past flight searches"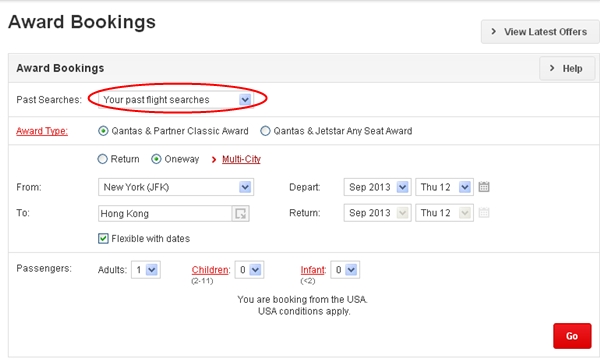 5. View the Results in Calendar Format
While the default is Economy award availability (Red Icon), you can change it to Business Class (Purple Icon) or First Class (Grey Icon) and view those results. Note that you can't book a Cathay award using AA or BA miles in Premium Economy, so ignore that option. The only issue is that the results can be over inclusive, because non-Cathay flights are also included. Note that in this example, I'm searching for 2 people traveling together, so availability is more limited than if I was searching for just 1 person.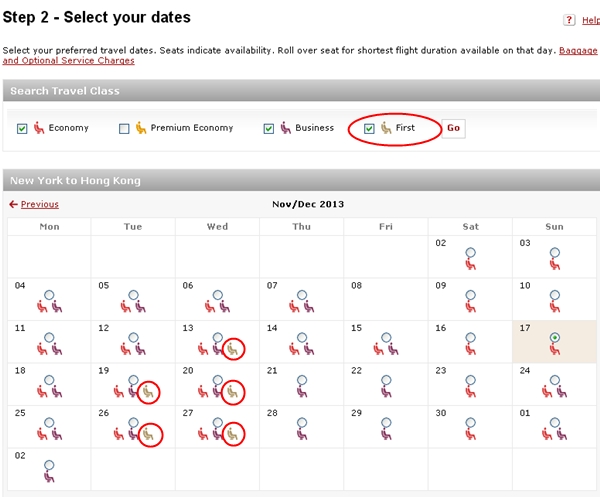 6. Select a Flight to Check Cathay Availability
As you can see, for the Nov. 13, 2013 date I selected, there is Cathay Pacific first class award availability for two people on the 9am flight from New York JFK, arriving the following day in Hong Kong at 2:20pm in the afternoon.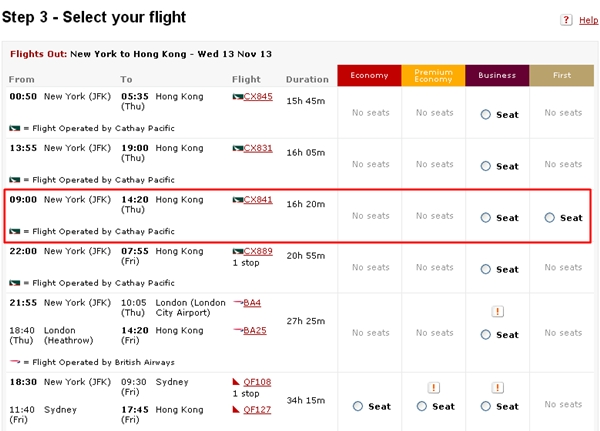 7. Double Check on British Airways
As you can see, British Airways also shows 2 award tickets available for the same flight on that date. You might be wondering–what about that other flight? Well, Qantas didn't show me that one because I was searching for 2 traveling together, and the other flight only has 1 award ticket left.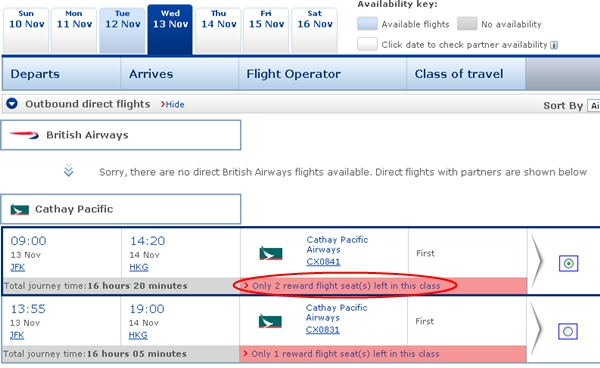 8. Call American Airlines to Ticket Your Cathay Pacific Award
American Airlines charges fewer miles and lower taxes than British Airways for awards on Cathay Pacific; the only issue is that the award calendar opens up later, so it's possible for someone with Asia Miles or British Airways Avios to book the awards you want before the American award calendar opens up. If have little to no flexibility then you may want to pay the British Airways Avios premium to lock in your awards. You can currently earn up to 100,000 British Airways Avios with the British Airways Visa. Also see British Airways 100K Avios Points Offer Back, But Worth It?
Searching Cathay Pacific and other oneworld award availability with Qantas.com is pretty straightforward and less time consuming than using the BA site, but of course if you don't want to spend the time or have a more complex itinerary, don't forget that you can use our TravelSort Award Booking Service if you've booked your hotel with us, whether a TravelSort collection hotel or any other hotel that we book for you. We offer the lowest cost award booking service to our clients, and extend free award booking services to our best TravelSort Hotels clients.
Related Posts:
How Much Is A Mile Worth? Value of American AAdvantage Miles