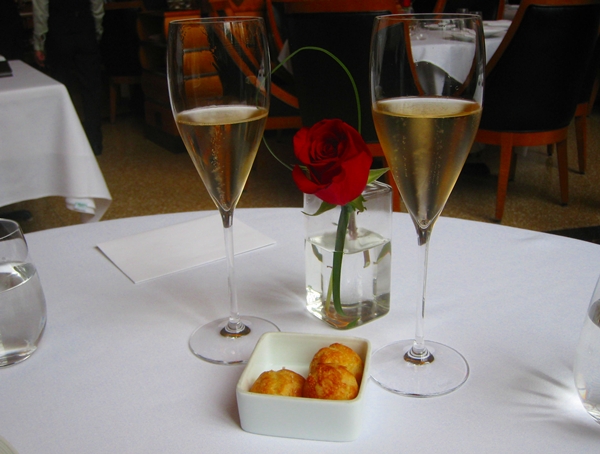 Can a Restaurant Cancel a Confirmed Reservation? I discussed Can a Hotel Cancel Your Confirmed Reservation in a prior post, but this time the issue is with a restaurant reserved for a special occasion. My client opted to return to a certain hotel, where he reserved a special 60th birthday dinner to celebrate with his family. We made the reservation 6 months ago, in fact, and informed the hotel of his special occasion.
Lo and behold, just a little over 2 weeks prior to his upcoming stay and dinner, he receives a call from the hotel telling him that the restaurant won't be honoring his reservation because the entire restaurant has been reserved for a private event. The restaurant "offered me a round of drinks which I obviously refused (I can buy my own drinks, thank you very much)."
Yes, Restaurant Buyouts Happen…
No question, restaurant buyouts happen, say for a convention, wedding, or other private event. Few restaurants will actually turndown a buyout offer given the profit that's at stake, since restaurants often run on such slim margins. As an individual with a reservation for a couple, family, or even a small group (but without a contract) you're vulnerable to having your reservation canceled in the event of a buyout. It may not happen often, but that's not much consolation for a destination restaurant that you've planned a trip around.
…But, Luxury Hotel Management 101: Don't Alienate Your Guests
Let me first say that I was also incredibly disappointed by how the hotel in question handled this. The unilateral cancellation with an offer to "buy a round of drinks" only after my client expressed his disappointment, is something you might expect from your local TGI Friday's, if anyone actually does a buyout of TGI Friday's.
What any luxury hotel restaurant should do, in my view, is to check the notes in the reservation (special occasion) and also double check if the guest will be staying at the hotel (he is, with two rooms booked for his family) and if s/he is a repeat guest (again, yes).
Next, the restaurant should have the hotel's Reservations department or Guest Relations contact either the travel advisor who made the reservation or the guest if the guest made the reservation directly, and discuss a mutually agreeable solution for the guest and hotel.
Don't Like What the Hotel is Offering? Ask to Speak with the General Manager
If your discussion with Reservations or the Restaurant Manager isn't going anywhere, ask to speak with the hotel's General Manager. If this is a luxury hotel, she or he should be both empathetic to your plight of no longer having a venue for the special occasion dinner you so carefully planned, but also be motivated to help resolve or turn around the situation for you. If the GM seems indifferent, this is likely not a property you want to be staying at anyway.
Negotiate for Fair Compensation
Many Michelin Star or other high end restaurants take your credit card at time of booking and charge you if you cancel after the deadline or don't show up for your reservation. The amount can vary from a nominal amount to the amount the restaurant would normally expect a guest to pay for a meal.
So if a restaurant unilaterally cancels your reservation and it was a special birthday or anniversary dinner, I think it's entirely fair to request compensation, such as a comped meal at a similar caliber alternate restaurant that you wish to dine at. It's still not the restaurant you originally reserved, hence some kind of compensation is appropriate, in my view, for not being able to enjoy the experience you planned on. This is particularly true in the case where you're making a special trip to dine at that specific restaurant and/or chose the hotel in large part because of wanting to dine there.
If the hotel isn't willing to outright comp your meal somewhere off property, then you may wish to negotiate for a discount to your room rate or for hotel credit that can be used toward a spa experience. For those hotels that offer a loyalty points program, you could alternately or additionally ask for rewards points, although most hotel points aren't worth much, with the notable exception of Starwood Starpoints, as those can be transferred 1:1 to many airline frequent flyer programs.
It's the hotel's and restaurant's decision on how to account for this, but it should be an accepted cost of agreeing to a private party's buyout, when there are existing dining reservations, particularly ones made so far in advance.
We're still working on a resolution for my client, so there's no update to post just yet, but:
If you've ever had a hotel restaurant or other restaurant try to cancel your confirmed reservation, what was your experience?
Related Posts
Can a Hotel Cancel Your Confirmed Reservation?
Top 5 Best Value NYC Michelin Star Restaurants
Need Award Booking Help? Our fee is as low as $75 per ticket if you book your hotel through us.
If you enjoyed this, join 200,000+ readers: please follow TravelSort on Twitter or like us on Facebook to be alerted to new posts.
Become a TravelSort Client and Book 5-Star Hotels with Virtuoso or Four Seasons Preferred Partner Amenities!