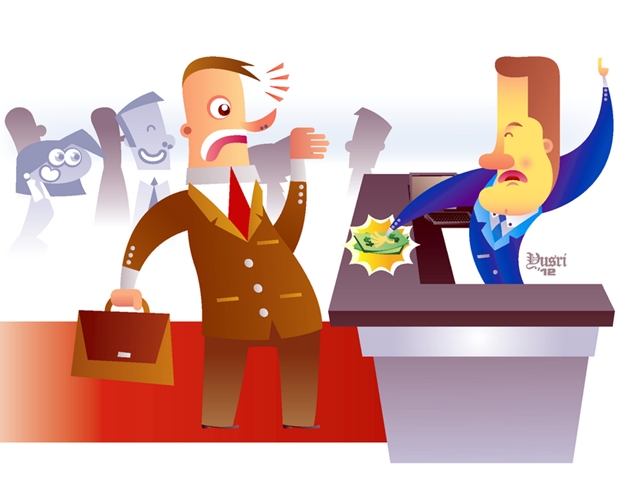 Can a hotel cancel your confirmed reservation? TravelSort reader Jack writes "About 6 months ago I booked a San Francisco hotel to attend an upcoming wedding of a friend, and received a confirmation. Just last week I was asked to move my reservation to another date, ostensibly because a group has asked to book out the hotel that weekend. Of course at this point prices are much higher for similar hotels, so I obviously want to keep my reservation. Surely I don't have to move my dates, given that I received a confirmation, and have my non-refundable flights to San Francisco to attend the wedding. Or can the hotel somehow cancel even my confirmed reservation?
Hotels Regularly Overbook: It's Part of Their Business Model
Whether the hotel has in fact received a group that wants to book out the hotel or is simply overbooked, Jack's situation isn't as uncommon as you might think, unfortunately. That's because most hotels regularly overbook, in order to maximize their occupancy. And sometimes their forecasts of the number of cancellations they'll receive don't match reality, and insufficient cancellations mean the hotel is overbooked.
Another factor is that hotel chains often guarantee a room to their top tier elites, for example:
Hyatt Gold Passport: Hyatt Platinums are guaranteed a room if booking at least 72 hours in advance, while Hyatt Diamonds are guaranteed a room if booking at least 48 hours in advance (although exceptions are Hyatt Place, Hyatt House, Hyatt Zilara, Hyatt Ziva, Hyatt Residence Club Resorts and during extraordinary room demand)
Starwood guarantees a room to SPG Platinum members who book by 3pm hotel time, 72 hours prior to arrival
Marriott guarantees a room to Marriott Platinum members who book at least 48 hours prior to arrival, excluding Marriott Vacation Club properties
The effect of providing these elite guaranteed rooms can result in bumping those who paid the lowest rate, probably through a 3rd party such as Expedia. Just another reason to book with a travel advisor or direct through the hotel, and to remember to attach your membership number, since those without any loyalty number are more likely to be bumped.
Unlike with U.S. Airlines or in the EU, There is No Federal Law Specifying What a Hotel Must Do if Cancelling a Confirmed Booking
If a hotel cancels your confirmed reservation or denies you a room at check-in due to being fully booked, no federal law specifies what you are owed. In that sense it differs from airline overbooking, where the Department of Transportation (DOT) specifies cash compensation of the value of the one-way flight, up to $400 for shorter delays and up to $800 for longer delays.
Instead, with hotel overbooking, it's a breach of contract law, and you could take the hotel to small claims court. But ideally that won't be necessary, if you follow the tips below.
Booking a Luxury Hotel? Book with TravelSort or a Luxury Travel Advisor Who is a Preferred Partner for That Hotel
Not only are luxury hotels less likely to engage in aggressive overbooking (since the 1 night penalty of a no-show at a luxury hotel is more significant, fewer guests are likely to no show for a reservation), their higher service level extends to better care for guests. And in all of the luxury hotel reservations I've made for guests booked with preferred partner or Virtuoso benefits, none to date have ever been walked to another hotel or even cancelled ahead of time. One of my personal stays is actually in the process of being changed, due to a hotel buy-out, but I have every expectation that we'll reach an amiable solution, as the hotel is a Virtuoso member.
The no walk policy is built into preferred partner programs such as Ritz-Carlton STARS, which has an explicit no-walk policy, but it's implied by Four Seasons Preferred Partner and all the other preferred partner programs, since guests are already accorded top priority for upgrades, ahead of guests booked through AMEX FHR, direct bookings, and of course 3rd party bookings such as Expedia, Priceline, etc.
Booking a Chain Hotel? Ensure Your Hotel Loyalty Program Number is Attached to the Reservation
Hotel chains such as Marriott have clear policies on cancelling your confirmed reservation, as long as you attach your hotel loyalty number to the reservation at time of booking. So even if you doubt you'll ever rack up many points, it can be good protection to join a hotel loyalty program and reduce your risk of having your reservation cancelled or being walked to another property. A reader has pointed out, however, that it only applies to Marriott Silver elites and above, per this Marriott Elite Benefits chart:
"If for some reason we're unable to honor your reservation, we'll pay for your accommodations that night at a nearby hotel and compensate you for the inconvenience. To be eligible, you must provide your Marriott Rewards membership number when making a reservation. Compensation varies by hotel brand." [Marriott Rewards Walking Guidelines]
Advise the Hotel If You Plan to Arrive Late
It almost goes without saying that if you plan to arrive late, you should advise the hotel ahead of time, so they know to expect you, they block the room for you, and don't give it away to another guest before you get there. Follow up a few days before, as well as on the day of.
If the Hotel Asks if You Can Change Your Dates, Advise the Hotel of the Non-Refundable Travel Expenses You've Incurred
There's no question that it can be tempting for hotels to earn more from groups that offer to buy out the hotel or a significant portion of it, and try to displace early bookers who reserved rooms at a more attractive rate than the hotel can now sell the rooms for.
But proposed date changes aren't really an option if you're in town for a special event and/or have already spent significant sums on non-refundable air tickets, tours, or other travel expenses for the trip. Be sure to let a hotel that is proposing date changes know about the expenses you've already incurred, and/or if your reason for the trip is very specific to the dates you booked.
If you reach an impasse with the hotel, reach out directly to the hotel's General Manager to express your disappointment. If true, mention your loyal customer status and prior stays at the hotel, other guests you've referred to the hotel, and your incurred travel expenses that you've made, relying on the hotel's reservation confirmation.
If You're Flexible, Negotiate for Fair Compensation
Of course, if the above doesn't apply and you are happy to stay at a different hotel or different dates, be sure to negotiate fair compensation for your flexibility. For example, if you're willing to stay different dates at the hotel but your room would be at a higher cost, negotiate to be able to stay during those new dates for the same rate you paid for the original ones. Or if the rates will actually be lower, see if the hotel is willing to confirm an upgrade into a higher category room or suite, for the same original rate you paid.
If you need your dates but are willing to stay at a different hotel, I recommend you do your research and propose the alternative hotel (so you can ensure it's the same or a bit higher in quality than the original one) rather than leaving the hotel to propose a property, as the hotel is more likely to propose a lower tier alternative property.
If the original hotel you booked has a loyalty program, you may also want to negotiate for several thousand points, for your flexibility in moving properties.
If you've ever had a hotel try to cancel your confirmed reservation or walk you to another property due to being overbooked, what was your experience?
Related Posts
SPG: Free WiFi for All Members Combines with Starwood Luxury Privileges
PenClub: Peninsula Hotels Preferred Partner Benefits
Need Award Booking Help? Our fee is as low as $75 per ticket if you book your hotel through us.
If you enjoyed this, join 200,000+ readers: please follow TravelSort on Twitter or like us on Facebook to be alerted to new posts.
Become a TravelSort Client and Book 5-Star Hotels with Virtuoso or Four Seasons Preferred Partner Amenities!