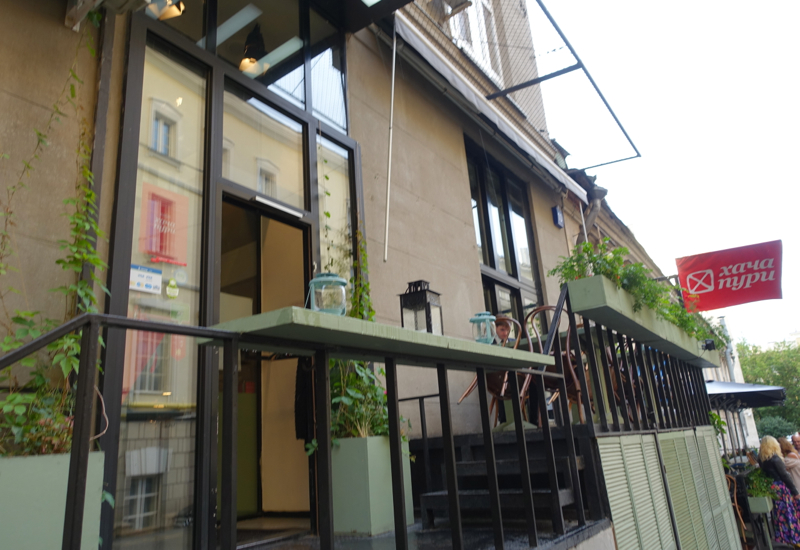 This Cafe Khachapuri Moscow Review is part of a trip report including Vienna and luxury hotels and dining in Moscow and St. Petersburg, Russia. Visiting Moscow? See all our posts tagged Moscow. For the previous posts please see:
Review: Sofitel Vienna Stephansdom
Labstelle Wien Vienna Restaurant Review
Review: Ararat Park Hyatt Moscow
Moscow Metro Tour with Happy Moscow Tours
Cafe Khachapuri Moscow Location and Hours
There are 4 different Cafe Khachapuri locations in Moscow, but the most central one is at 10, Bolshoy Gnezdnikovsky pereulok, about a 15 minute walk from the Four Seasons Moscow, where we were staying. Cafe Khachapuri is open weekdays 10am-1am and weekends 11am-1am.
The Scene
Since Cafe Khachapuri is pretty casual, I didn't bother making a reservation–but I should have. Even though the Bolshoy Gnezdnikovsky location probably seats around 60-70 guests, with both downstairs and upstairs seating, it was completely packed when we arrived about 6pm on a Saturday evening. The place was filled with mostly 20 and 30 somethings, some of the women dressed up for a night on the town to follow, but other groups of friends dressed casually, and catching up with each other over some hearty Georgian food. There were also a couple of families with young kids, having an early family dinner.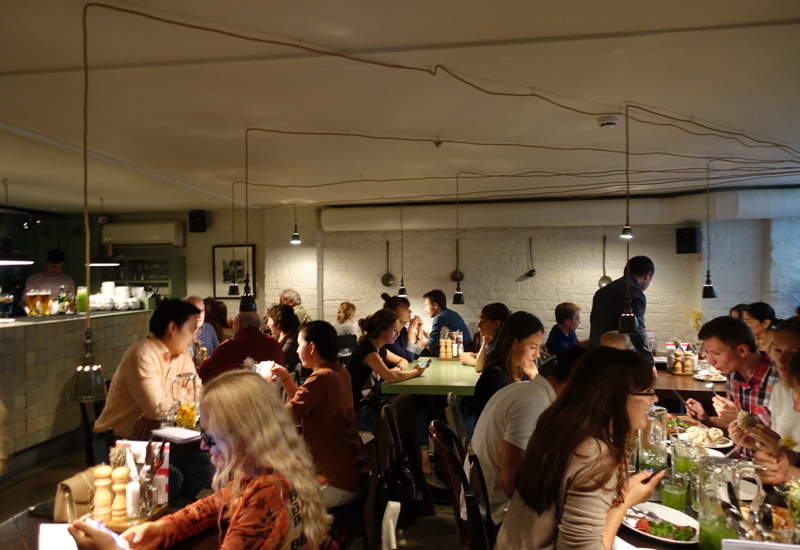 My 7 year old was ravenous, so I was thankful that right by the entrance was a basket of apples, with simply a sign that read "мытые" (washed). I grabbed an apple for him to munch, and we waited in line for about 15 minutes, until it was our turn for a vacant table.
Cafe Khachapuri Menu and Food
If you don't speak or read Russian, no worries, Cafe Khachapuri has you covered with an English menu and English speaking staff (at least I'm pretty sure they speak English, even though we spoke with our server in Russian).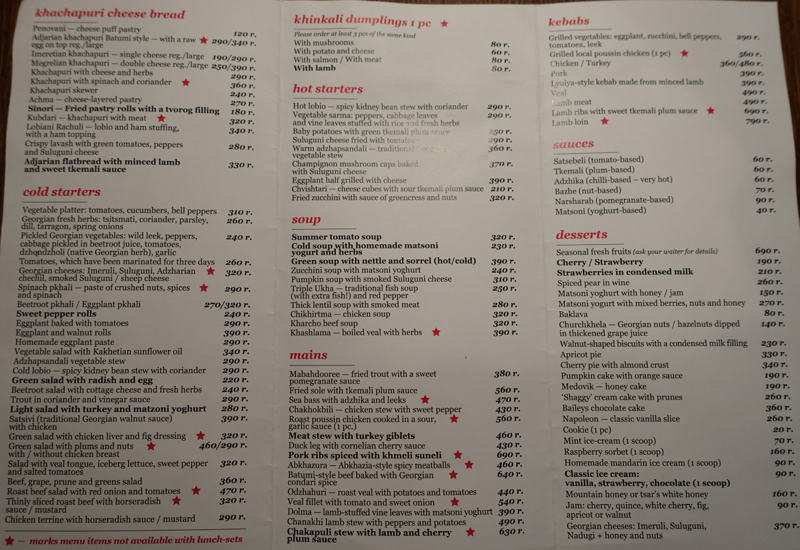 And here's the kids' menu–I inadvertently took a photo of the Russian version, but you can also see many of the selections on the Khachapuri Kids Menu page.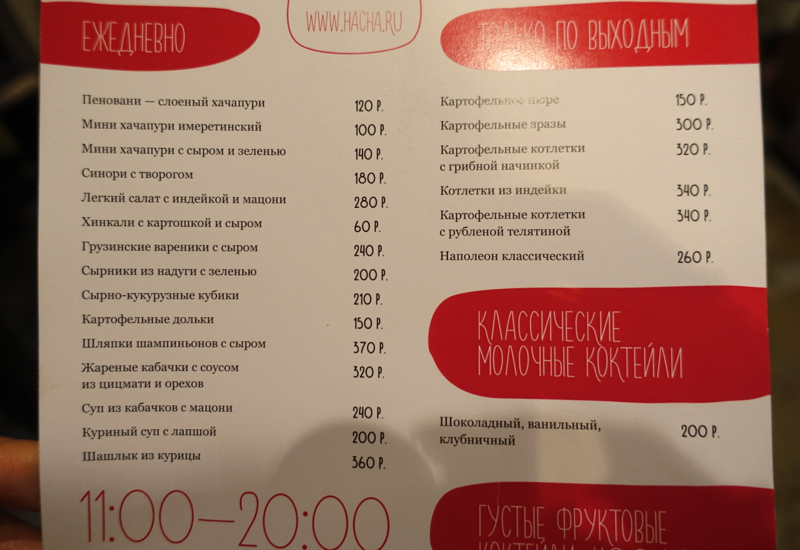 There are several types of pkhali, Georgian vegetable-walnut pates, but my favorite remains spinach pkhali. The garlicky richness is always nicely accented by fresh pomegranate seeds.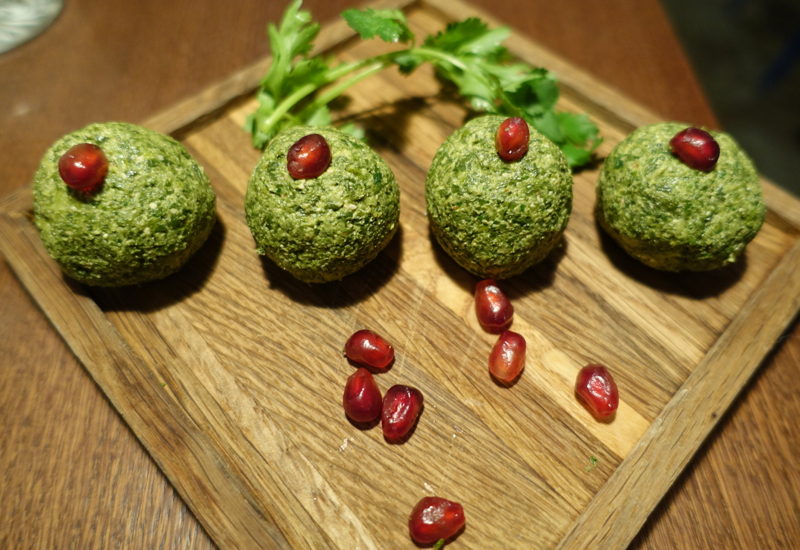 I had asked our server for a Georgian white wine recommendation, and enjoyed a glass of Tsinandali, and its fresh minerality with mild fruit notes were a welcome accompaniment to the pkhali and the rich main courses that followed.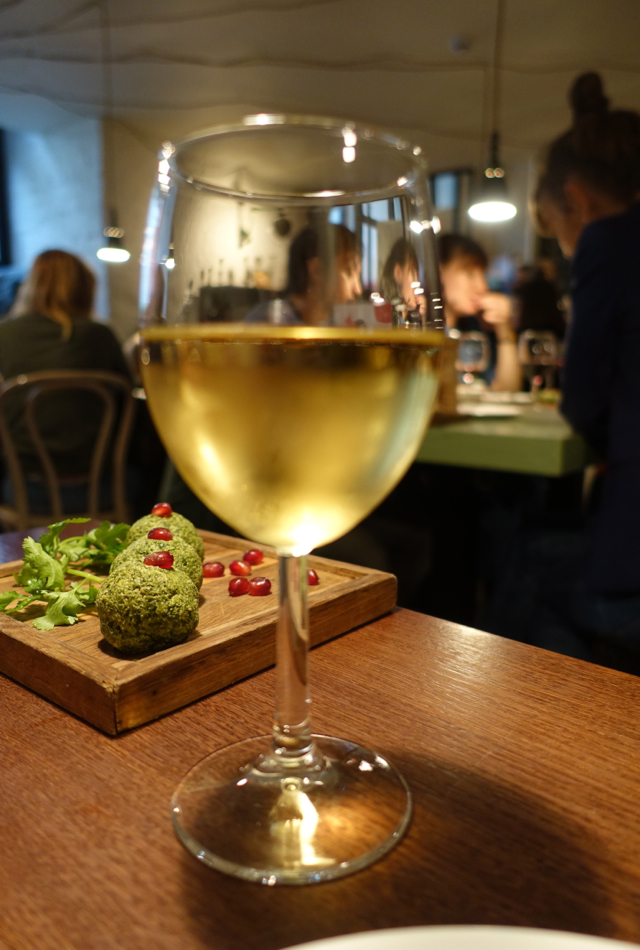 Next to come out was the Penovani that I'd ordered from the Kids' Menu. Melted Georgian sulguni cheese is encased in flaky puff pastry–what's not to like?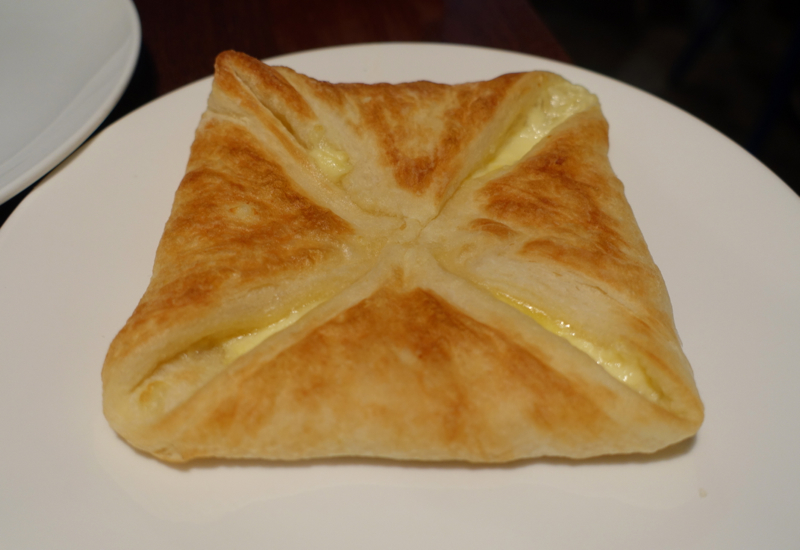 I also ordered Adjarian Khachapuri, which has a great presentation, since piping hot out of the oven, a fresh egg is added to the center. Butter is also added, which I always take out, since believe me, the cheese and egg filling is rich enough as it is. You mix the egg into the hot cheese, which cooks it, then tear off pieces of the fresh baked bread to dip inside the egg and cheese mixture. Of the many egg, cheese and bread combinations across cultures that I've tried, this is one of my very favorites.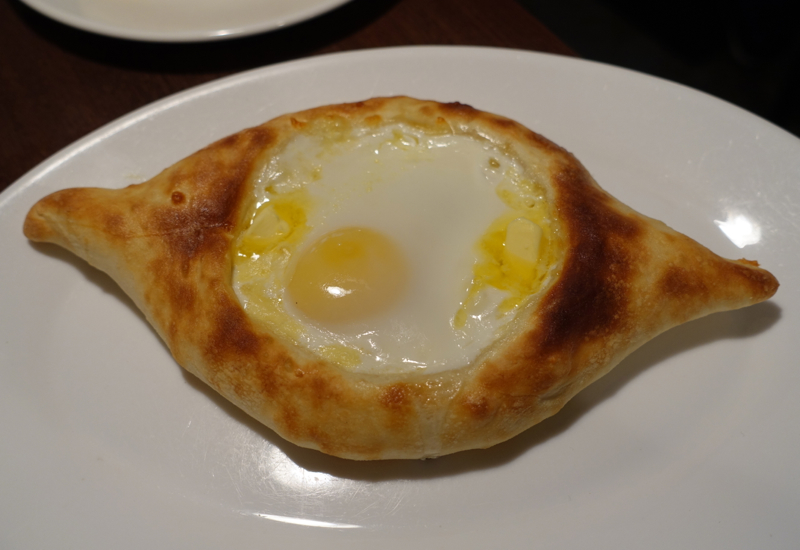 Although completely unorthodox, I ordered a side of adjika (Georgian chili-garlic paste) and dabbed some onto the khachapuri, since the spice helps cut through some of the richness of the cheese.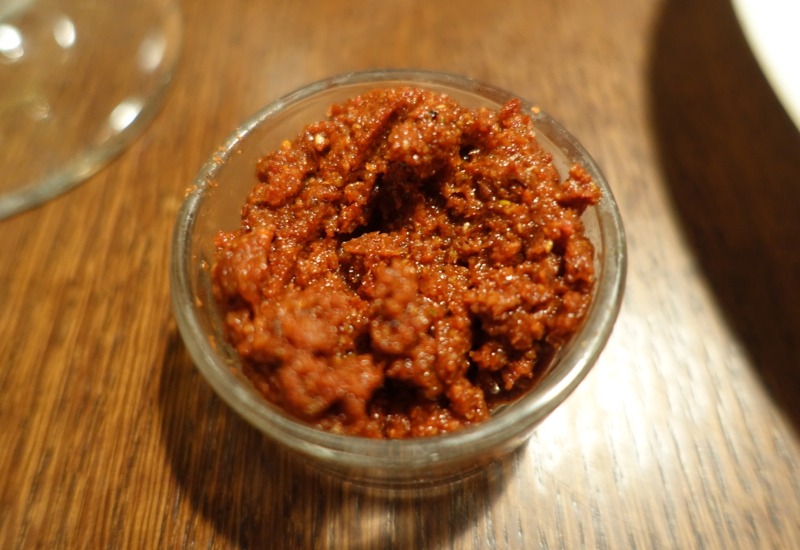 More conventionally, adjika is used as a condiment to grilled meats, so I also enjoyed it with the Lyulya kebab we ordered, which was perfectly grilled and juicy.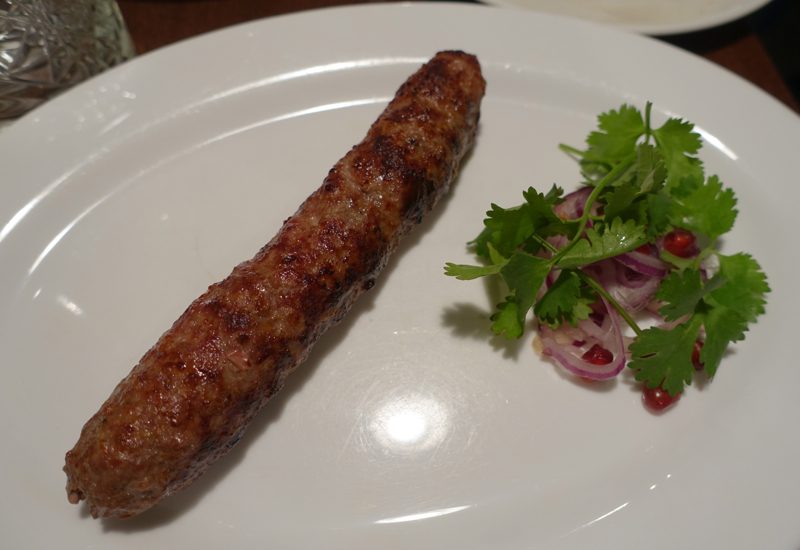 The Verdict
I was happy to finally be able to take my son to one of my favorite casual eateries in Moscow and reintroduce him to Georgian food, which he's only had a couple times in NYC. We enjoyed both khachapuri and everything else we ordered, service was prompt and friendly, and the price is very reasonable given the quality of the food and convenient location. I was intrigued to read on The Team page that Managing Partner Maxim Voznyakov wants to open Khachapuri in the U.S.–hope it transpires, since I would love to have Cafe Khachapuri in NYC.
If you've dined at Cafe Khachapuri in Moscow, what was your experience?
Related Posts
Review: Ararat Park Hyatt Moscow Hotel
Getting Around Moscow by Metro: Top 10 Tips
3-Year Russian Visa Application Requirements and Tips
Need Award Booking Help? Our fee is as low as $75 per ticket if you book your hotel or cruise with us.
If you enjoyed this, join 200,000+ readers: please follow TravelSort on Twitter or like us on Facebook to be alerted to new posts.
Become a TravelSort Client and Book 5-star hotels with Virtuoso Perks and Four Seasons Preferred Partner Benefits