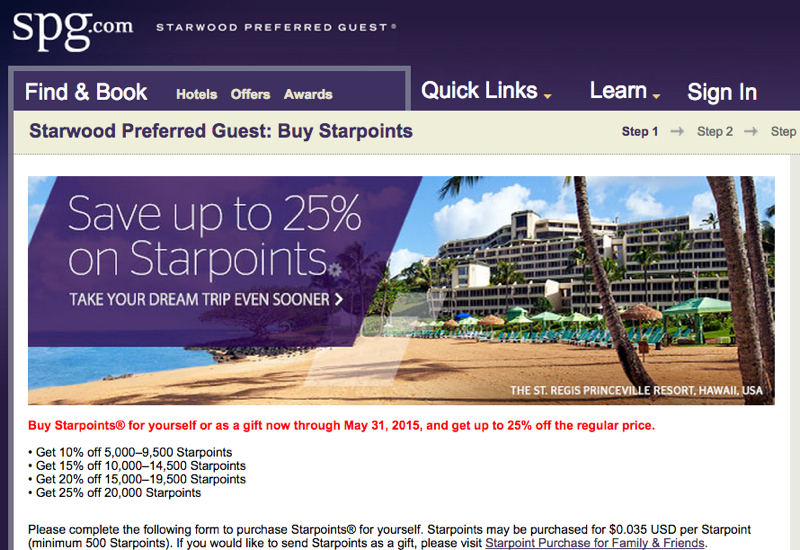 You can buy Starpoints with a 25% discount through May 31–is it worth it? Currently, through tomorrow 5/31/15, SPG is offering up to 25% off 20,000 Starpoints. Here are the details:
• 10% off 500–9,500 Starpoints
• 15% off 10,000–14,500 Starpoints
• 20% off 15,000–19,500 Starpoints
• 25% off 20,000 Starpoints
If you maximize the offer, you can buy 20,000 Starpoints for $525, a cost of 2.6 cents per point. Since you can transfer Starpoints to frequent flyer miles with a 25% bonus for transfers in increments of 20,000 Starpoints, that gives you hard to earn miles such as Lufthansa Miles & More miles and JAL Mileage Plan miles at a cost of 2.1 cents per mile, for all miles that have a 1:1 transfer ratio with SPG.
Reasons Why Buying Starwood Points at a 25% Discount Could be Worth It
1. Specific Redemption in Mind, Such as Lufthansa First Class, Emirates First Class
Let's say you want to fly Lufthansa First Class one way. You have 10,000 Starpoints that you value at about 2.3 cents per point, and you would need 75,000 more Starpoints to be able to redeem for a one way Lufthansa First Class award. If you and two others in your household already have SPG accounts, you would each be able to buy 20,000 Starpoints at a 25% discount, for $525, then consolidate them all in one account (see How to Transfer Starwood Points Between Accounts). You'd then transfer these 60,000 Starpoints plus your existing 10,000 points to Lufthansa Miles & More, for a total of 85,000 Miles & More miles thanks to the 25% bonus on the 60,000 points transferred in increments of 20K points.
If booking a ticket from Europe to the U.S., taxes and fees are ~$300, so taking into account the purchased points and the value of your existing 10,000 SPG points, you'd be paying ~$2100. Certainly not cheap, but about 40% of the cost of the retail price of a Lufthansa First Class ticket. That's because the cost of Lufthansa First Class is often around $10,000 roundtrip, so about $5000 each way.
Similarly, let's say you snagged an Etihad First Class Apartment award seat between NYC and Abu Dhabi, but you actually want to go to South Africa. JAL charges 80,000 miles for Emirates First Class roundtrip between the Middle East and Africa (keep in mind these are on Boeing 777-300ER planes, not A380s), a route that is often $5500 or more roundtrip. After taking into account the cost of buying miles (assuming you have access to 3 SPG accounts and can buy 60K miles) and taxes, the award will cost about 45-50% of a paid ticket.
2. Emirates Redemptions That Don't Touch the U.S.
The above example brings me to another point: while you can certainly redeem for Emirates awards using Alaska Mileage Plan miles, Alaska awards are only available when the award originates or returns to the U.S. You can't use Alaska miles to book Emirates awards that don't touch the U.S. at all, such as between the Middle East and Africa, or on the Emirates A380 First Class Fifth Freedom flight between Hong Kong and Bangkok. For these types of redemptions, you'll need either Emirates' own Skywards Miles or JAL Mileage Bank miles, which are hard to earn unless you regularly fly on JAL paid tickets.
3. Hard to Earn Starpoints Unless You Have Many Starwood Stays or High Spend on the Card
The regular bonus for either the personal SPG AMEX or the business SPG AMEX is only 25,000 Starpoints, with an increased 30,000 signup bonus usually available around August or September each year. And while it used to be possible to get these bonuses again after a year of not having the card, AMEX Signup Bonuses Became Once in a Lifetime, making it even harder to earn Starpoints via credit cards.
The main way of earning Starpoints is via stays at Starwood hotels or with high spend on an SPG AMEX card.
Reasons NOT to Buy Starpoints
1. You Need an Award Right Away
Since no Starwood Starpoints transfers to frequent flyer programs are instant, it's not a good idea to buy Starpoints if you need to book an award right away. You may be lucky and be able to transfer Starpoints to AAdvantage miles while the award is on a 5 day hold, but don't count on it. Also see SPG Points Transfer Times to Airlines
2. You Want to Stockpile Starpoints for a St. Regis Bora Bora or W Koh Samui Stay
Starwood's best properties are very overpriced as award stays, plus they're rarely the best hotel or resort in their market. You'll almost always do better to use SPG points transferred to frequent flyer programs to get award flights to the destination, and then use the cash you save to stay at a better quality hotel or resort such as Four Seasons, Aman Resorts, The Peninsula or Mandarin Oriental, booked with Virtuoso perks or Four Seasons Preferred Partner benefits.
FAQ
Can I Earn 2X Starpoints per Dollar by Buying Starpoints with My SPG AMEX?
No–the transaction is processed by Points.com, so you merely earn the normal miles or points you would with a general purchase using your credit card, for example 1 Starpoint per dollar using your SPG AMEX. A good card to use is whichever card you're working on minimum spend, for a signup bonus.
How Long Does It Take the Purchased Starpoints to Post to My SPG Account?
Up to 24 hours. Per Points.com, the Starpoints cannot be expedited, so allow up to 24 hours.
Can I Buy or Gift More Than 20,000 Starpoints at the 25% Discount?
No–each SPG account may receive up to 20,000 purchased Starpoints per calendar year, whether purchased by the account holder or received as a gift.
Could I Buy 20,000 Starpoints for Each SPG Member in My Household and Transfer Them into My Account?
Yes, you can. Unlike AMEX Membership Rewards points, which cannot be transferred to your spouse or anyone else (only to a frequent flyer account or loyalty program), you can transfer Starpoints to a household member (need not be related to you) as long as both of you have been at the same address at least 30 days. Also see How to Transfer Starwood Points Between Accounts.
Do you plan to buy Starpoints with a 25% discount?
Related Posts
SPG Airline Partners: Transfer Starwood Points to Miles
Top 10 Best Ways to Use SPG Points
SPG and Emirates Your World Rewards and FAQ
Which Travel Credit Card to Replace an SPG Business AMEX for Lufthansa Awards?
Need Award Booking Help? Our fee is as low as $75 per ticket if you book your hotel through us.
If you enjoyed this, join 200,000+ readers: please follow TravelSort on Twitter or like us on Facebook to be alerted to new posts.
Become a TravelSort Client and Book Your Hotel with Virtuoso or Four Seasons Preferred VIP Amenities!