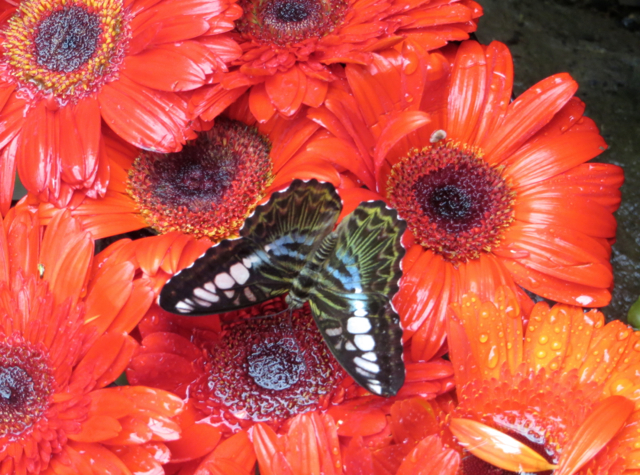 The Butterfly Garden at Singapore Changi Airport Terminal 3 was another highlight for us, in addition to the Slide@T3. Keep in mind that the Butterfly Garden is air side, so unlike the slide, which is land side and can be visited before you clear security, you must be a passenger and have cleared security before visiting the Butterfly Garden. Visiting is free; there's no charge for the Butterfly Garden.
For such a unique airport attraction, I was surprised that the Butterfly Garden wasn't better signed. I checked with a couple of the fortunately abundant information desks, in order to be sure we hadn't missed it and were still headed in the right direction. It would be easy to walk past it, since the entrance isn't off of the main thoroughfare where the shops are, but instead squirreled away in a nondescript corridor, after cutting through a lounge/bar area.
But finally we saw the sign and entrance: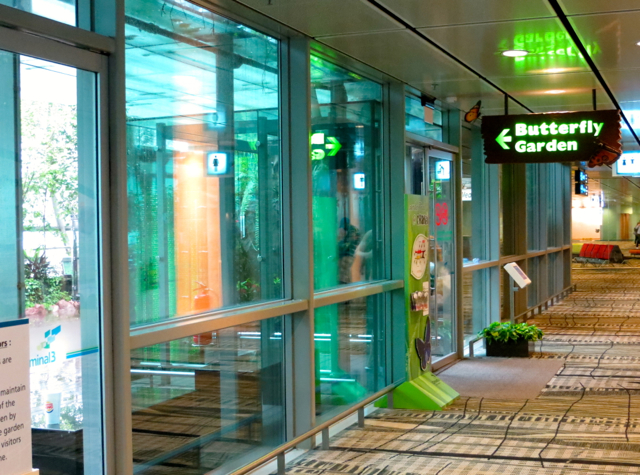 And across from the entrance door was a description of the Butterfly Garden: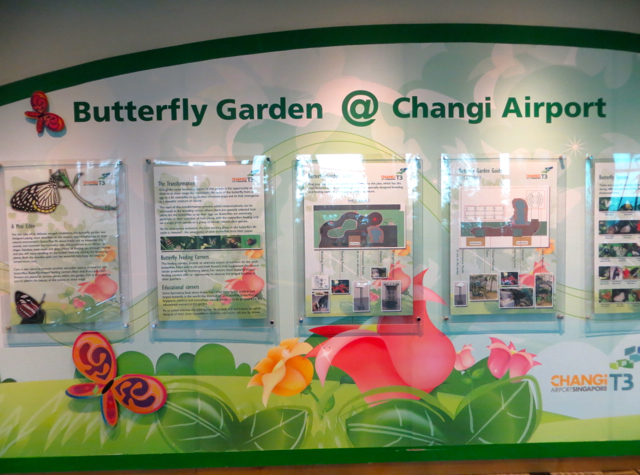 After entering the glass doors, you pass through heavy plastic strips, to help ensure the butterflies don't escape. The actual Butterfly Garden is small in terms of footprint, although with soaring ceilings, giving the butterflies plenty of altitude to fly, although most of course hovered around the flowers, to drink the nectar. I especially liked this one, of a blue and black butterfly on vibrant red flowers: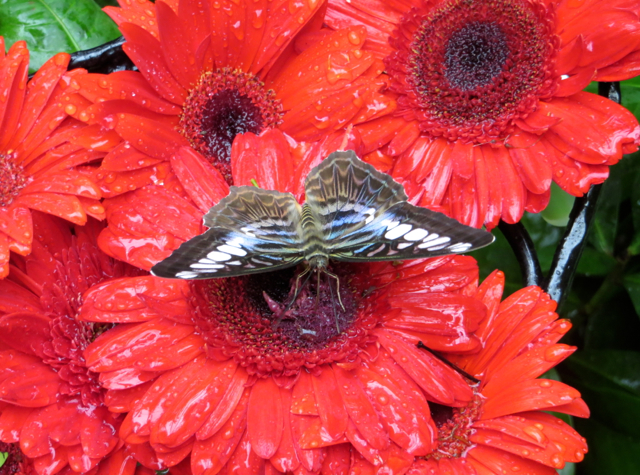 One of the first things the munchkin noticed was a case with cocoons in various stages of development—a butterfly incubator.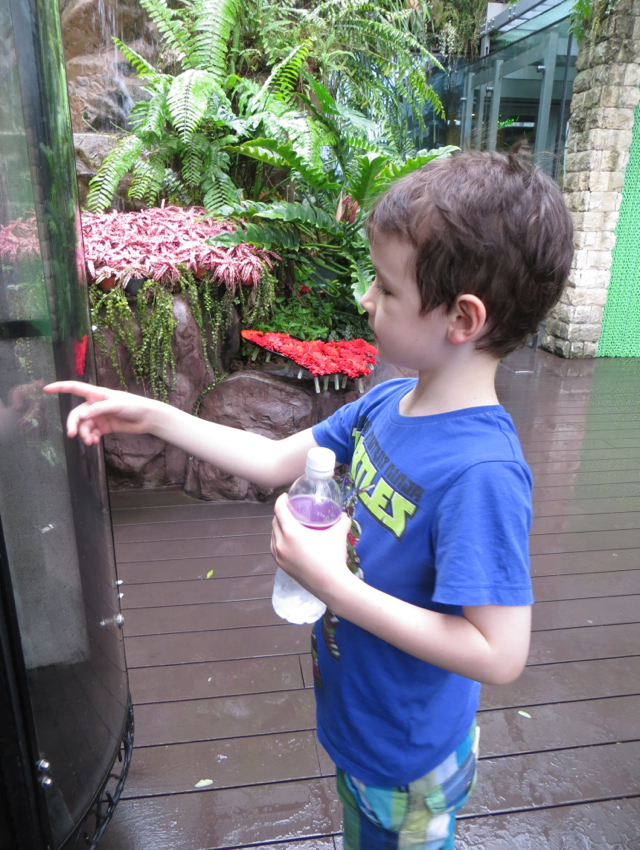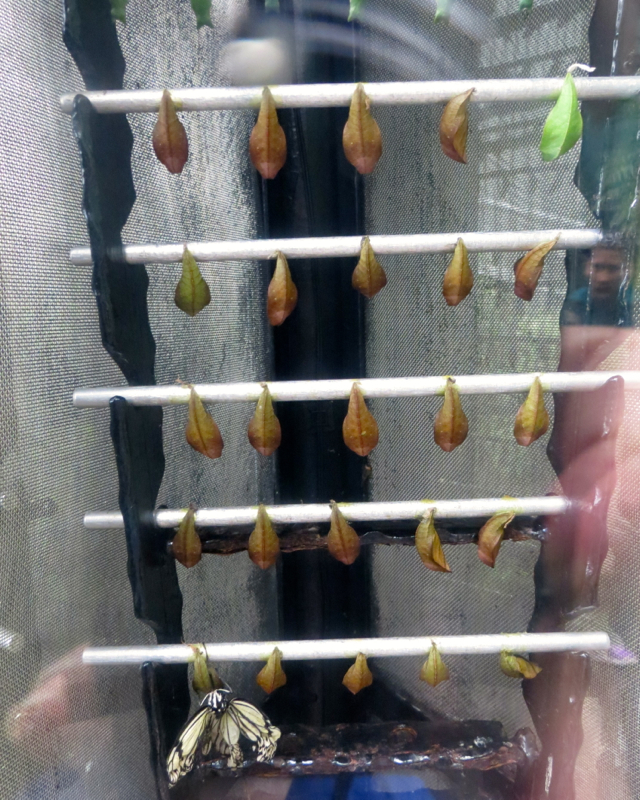 One of the butterflies had already emerged and was drying its wings: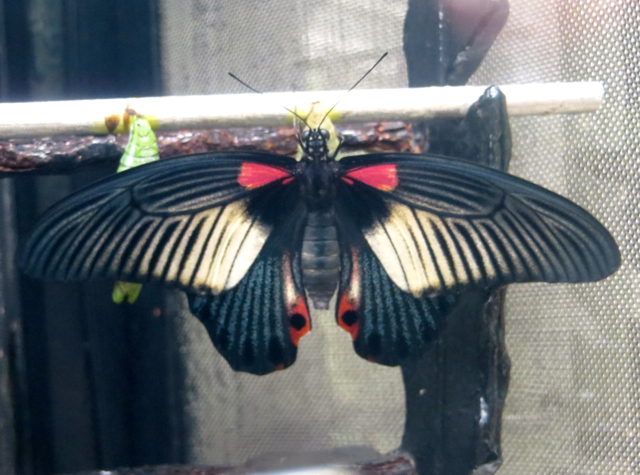 The Verdict: While small, we were glad we made time to stop by The Butterfly Garden at T3. It was a welcome dose of natural beauty in an otherwise high tech, commercial airport environment.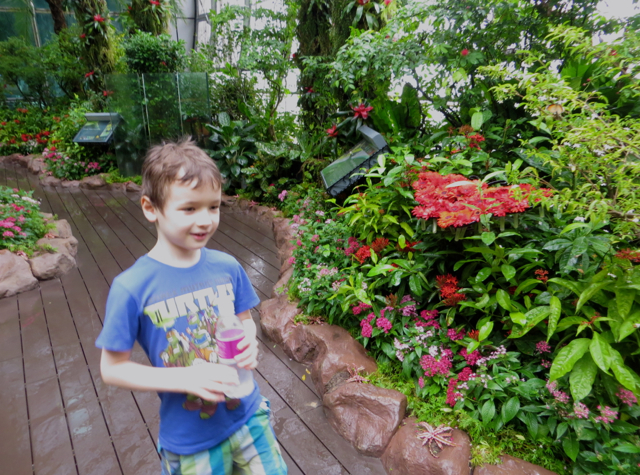 Have you visited the Butterfly Garden at T3 in Singapore Changi Airport?
Related Posts
The Slide at T3, Singapore Changi Airport
Crowne Plaza Singapore Changi Airport Hotel Review
Singapore Gardens By the Bay Review
Singapore Airlines Private Room Lounge Review
Singapore Suites A380 Review: Frankfurt to Singapore
Need Award Booking Help? Our fee is as low as $75 per ticket if you book your hotel through us.
If you enjoyed this, join 100,000+ readers: please follow TravelSort on Twitter or like us on Facebook to be alerted to new posts.
Become a TravelSort Client and Book 5-Star Hotels with Virtuoso or Four Seasons Preferred Partner Amenities!