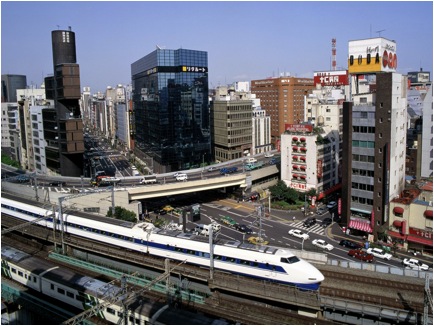 Why Go
Tokyo offers an escape into the past. Its rich history can be explored through the many temples, castles, and gardens left behind by residents of a prior era. These gems are scattered throughout modern Tokyo, a bustling metropolis of more than 35 million people.
The new stands in tandem with the old, and it is in this contrast that Tokyo shines as an attractive vacation option, as it is a city that caters to both the historian and modernist alike. Beautiful skyscrapers, the product of Japanese modernism at its finest, loom in Tokyo's awe-inspiring skyline along with Mt. Fiji, an important landmark in Japanese culture.
Of course, nothing good comes easy, and enjoying Tokyo can hurt one's wallet. Tokyo consistently ranks as one of the most expensive cities in the world. The high premium at which Tokyo is to be enjoyed has turned away many a prospective tourist who travels on a budget, looking elsewhere to get the best bang for their buck. Fortunately, Tokyo does have many bargain options for the budget-minded traveler; you, too, can achieve an excellent Tokyo experience that still leaves something in your pockets at the end of the day.
Insider Tips
100 Yen Shops. All Tokyo tourists on a budget should make their way to one of these during their trip. These shops carry a variety of goods, all priced at only 100 Yen, or $1.30. They are usually located near smaller Tokyo Metro stations or in the general vicinity of the bigger stations. 100 Yen Shops offer cute Japanese wares, which make excellent souvenirs both for yourself and all those eagerly awaiting your travel gifts at home. Even better, travelers can take these stores as an opportunity to stock up on loads of snacks, satisfying breakfast and/or later-night needs. Tokyo's most popular 100 yen store, Daiso Harajuku in the popular Harajuku district, has four heavily stocked levels of shopping, providing the budget traveler an entire afternoon of searching for interesting objects.
Best Times to Visit. Avoid the summer in Tokyo as it is very humid and more expensive. Aim for the spring months of March and April, or the fall months of September and October. Also, try and avoid visiting during Golden Week, the first week in May. This is a major Japanese holiday and during this time all Tokyoites will have off from work, so everything will be more crowded!
Getting Into Tokyo. Getting into Tokyo is made simple thanks to the Keisei Limited Express, which gets you from Narita Airport to Nippori Station in about 90 minutes. From there, you have access to the Yamanote Line, a central subway line that travels in a loop, connecting all of Tokyo's important city centers and will cost between $1.70 and $3.25, depending on how far one travels on it. Through the Yamamote line, one can easily get to wherever in Tokyo they are staying, or access to another major station through which other Tokyo Metro lines are accessible.
Avoid the Tokyo Subway at Rush Hour. Public transportation is a budget traveler's best friend, and fortunately Tokyo possesses perhaps the most extensive subway and rail network in the world. Visitors can go to any Tokyo Metro station to pick up a PASMO card, a pass that can be uploaded with yen and used on Toei, Tokyo's other metro system. But – travelers beware, as rush hour in Tokyo is an unpleasant experience. Try and schedule activities around this, traveling after

9am

and not around 5-6pm, so while you are enjoying a Tokyo sight, you are avoiding a scene such as this….ouch.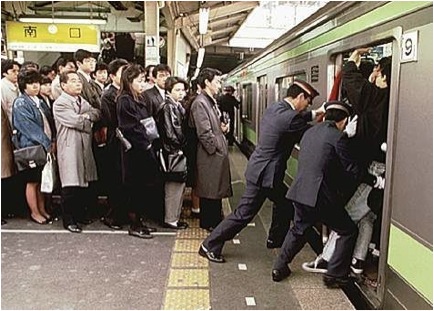 Where to Stay
After landing in Tokyo through either Narita or Haneda, hop on the metro and make your way to the Asakusa District to find the lovely and affordable Tokyo Ryokan. This quaint inn is tucked away on a quiet street in the heart of Tokyo, making it a great base for extensive travel and sightseeing throughout the city. At a rate of $45 a night, it is a great bargain for a place to stay in such a central location. Despite its cheap price, Tokyo Ryokan does not skimp on quality. Guests stay in rooms with traditional Japanese interiors, giving guests an opportunity to experience life as a Tokyoite. Unfortunately this gem only has three rooms, so reservations must be made a good deal ahead of time. But for the budget traveler fortunate enough to snag a stay here, you are in for a treat.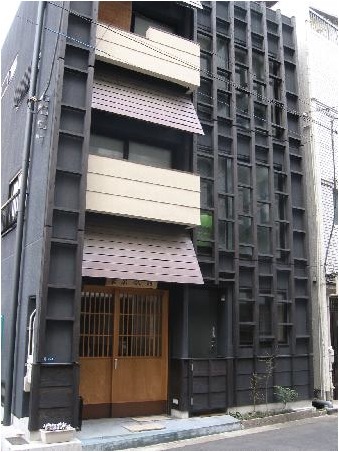 Ten minutes away in the same district is Sakura Hostel, another great option for the budget traveler. Only minutes away from many sights, stores and restaurants, guests staying at the Sakura Hostel don't have to go far for their fun. The hostel offers simple dormitory styled rooms at only $40 a night, another great bargain to be found in inner Tokyo.
An even cheaper option would be capsule hotels, a phenomenon in Tokyo in particular. At one of these, one can get a capsule-room for only $30! This is a great option for the budget traveler who packs lightly, since these hotels require you to check out all of your things each day, and you would have to keep reserving your pod every night. Not for the claustrophobic though!
Another option, if you want all the amenities of a full service hotel and don't mind the travel time, is to stay at one of the airport hotels, such as the Hilton Tokyo Narita Airport Hotel. Depending on how far ahead you plan and the time of year, a room might run about $80-$100 per night, and split with another traveler that's just $40-$50 per night.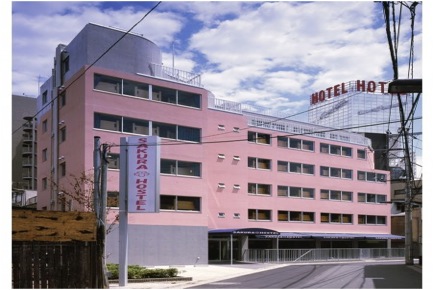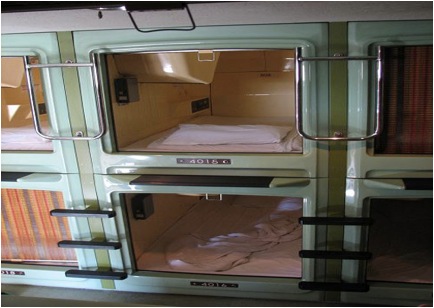 What to Eat
Tokyo also excels when it comes to food – some of the best dishes and restaurants in the world can be found here, and the delicious food options trickle down to all budgets.
One can cut breakfast costs by stocking up on snacks at a 100-yen shop, as suggested earlier, but lunch is really the budget traveler's best friend. Between the hours of 11 a.m. and 2 p.m., nearly every restaurant in Tokyo has a "set lunch" package, providing 2-3 course lunches at affordable rates and giving budget travelers the opportunity to eat at restaurants normally out of their price range. One such restaurant is Nakajima, a Michelin rated restaurant in the popular Shinjuku ward. Here, travelers can feast on a set lunch of fish (choice of boiled, grilled, raw or fried) simmered in soy sauce, with rice, a pickle, and a side of miso soup: a pretty filling meal, especially at only $11.
Major department stores in Tokyo do have restaurants that all offer set lunches. So while frequent might not be in the budget travelers agenda, frequent visits to these stores should be, as they are a great place to grab a quick and affordable meal.
While some restaurants do offer set dinners, this option is much rarer, so the budget traveler should turn towards Tokyo's variety of noodle bars to satisfy their dinner needs. Ramen Tetsuya in the Suginami ward specializes in Sapporo-style ramen, which is a delicious brand of ramen that hails from the northern Hokkaido region. At ramen shops like Ramen Tetsuya one gets good food at a manageable price. Delicious!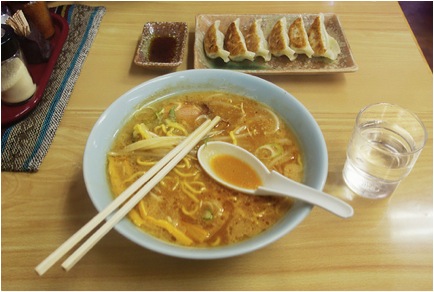 On vacation, even the budget traveler will want to make an occasional splurge. In Shibuya, Tokyo's latest fashion, Kaikaya: By The Sea is the perfect place to have that splurge meal. Here, one can get a sashimi appetizer, seafood or "sizzling hot" beef, pork, or even octopus main dish, a side salad, and also a glass of wine for under $40.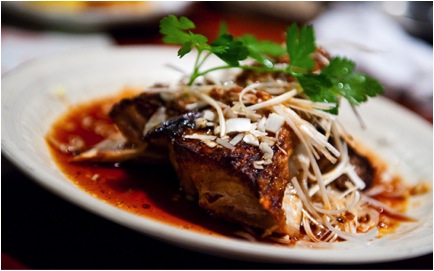 What To See And Do
Thanks to Tokyo's metro system, tourists of all budgets can enjoy the best of what the city has to offer. If one was able to secure a room at Tokyo Ryokan, Ueno Park is only a 20-minute walk away. Japan's iconic cherry blossom trees fill the park, making for pretty scenery and an excellent place for an afternoon stroll. Visit in late March-early April to catch them in full bloom.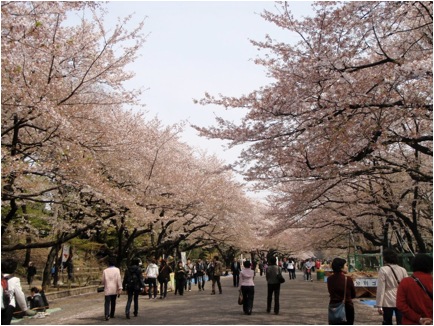 Ueno Park offers more than just a pretty stroll however, as the park is home to Japan's largest museum, Tokyo National Museum. For only an $8 admission fee , the museum grants you extensive exhibits and galleries to explore – an entire day's worth of fascination.
If your art craving has yet to be satisfied, take the metro to Ginza, only a 10 minute train ride away. This upscale district is home to Gallery Koyanagi, one of Tokyo's best art galleries. Aspiring Tokyoite artists vie for space to showcase their work at this exclusive gallery, and only the best of the best are put on display here. Even better, admission to this gallery is FREE, the favorite price of the budget traveler.
Yoyogi Park is another free attraction in Tokyo, and on Sunday is a popular hangout where many musicians and other performers gather.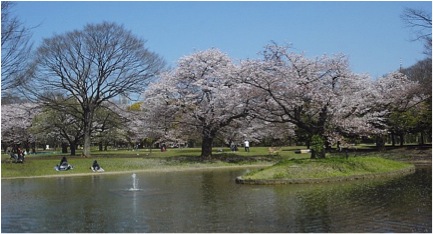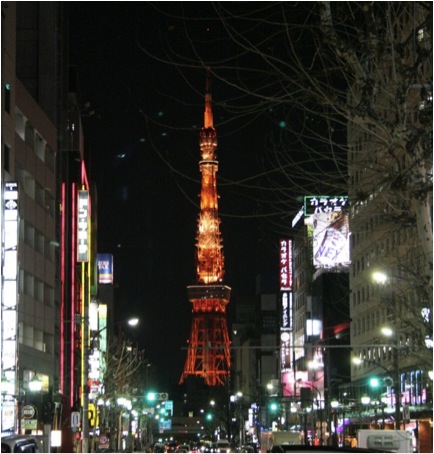 Roppongi is the go-to district for nightlife, although it will generally be an expensive affair. One of the first discount bars in Tokyo, Bar, Isn't It, offers all drinks for $6.50, perhaps the best deal when it comes to nightlife that the budget traveler can get in Tokyo.
Related Posts
Review: Hilton Tokyo Narita Airport Hotel
JAL Sky Suite Business Class Review
Needed: More Airport Day Rooms and Sleeping Rooms
ANA All Nippon Airways Business Class Review, LA-Tokyo
Singapore Airlines Business Class Review, Tokyo to Singapore
Need Award Booking Help? Our fee is as low as $75 per ticket if you book your hotel through us.
If you enjoyed this, join 200,000+ readers: please follow TravelSort on Twitter or like us on Facebook to be alerted to new posts.
Become a TravelSort Client and Book 5-Star Hotels with Virtuoso or Four Seasons Preferred Partner Amenities!