We flew Brussels Airlines Business Class yesterday from NYC JFK to Brussels, and while I'll have a full review and YouTube video later, I thought I'd share the pros and cons I experienced. Keep in mind that if you're very short or a kid the main con may not apply to you.
Pros of Brussels Airways Business Class
1. Reserve Throne Seats for No Extra Fee
As I wrote in Swiss Business Class: Pay $149-$199 to Select a Good Seat SWISS charges hefty seat selection fees to select a "throne seat" if you're not a Miles & More Senator or HON Circle member. Throne seats are so called because they have extra personal space around the seat, making them more private and also providing handy space for your cabin bag or working on a laptop during the flight, even if your meal tray is out.
On Brussels Airlines I was able to select throne seats for us at no extra charge, because of how early we booked our award flights.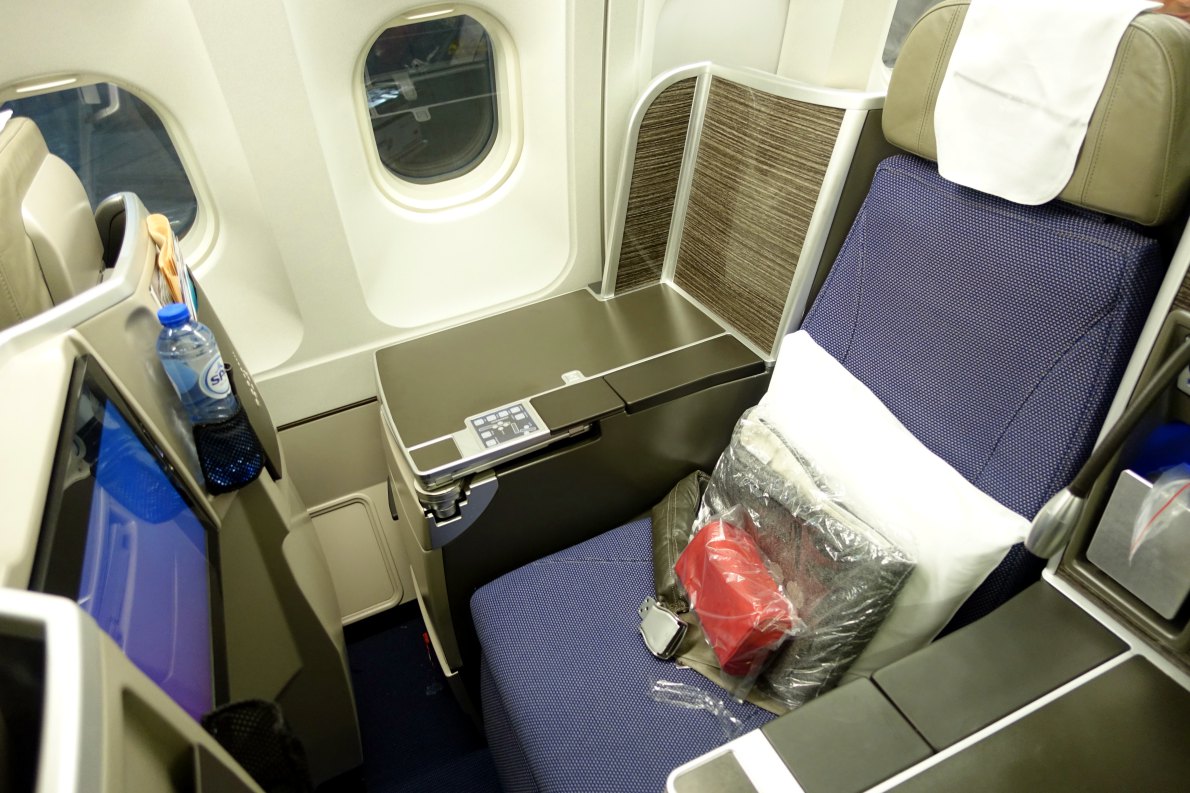 2. Smaller Business Class Cabin Than SWISS and Austrian
Brussels Business Class is either 30 seats on the A330-300 or 22 seats on the A330-200, which is what we were on. Even though the cabin was full, it was nice to have just 22 seats in the cabin, compared with 45 in SWISS Business Class on the A330-300, or 36 seats in the Austrian Business Class 767-300 that I reviewed. I will say that if you manage to be seated in the SWISS mini cabin that is just two rows, that is a far more private option than any other, but it can be tough to score a seat in that cabin without paying for it or ending up in a seat right by the lavatory.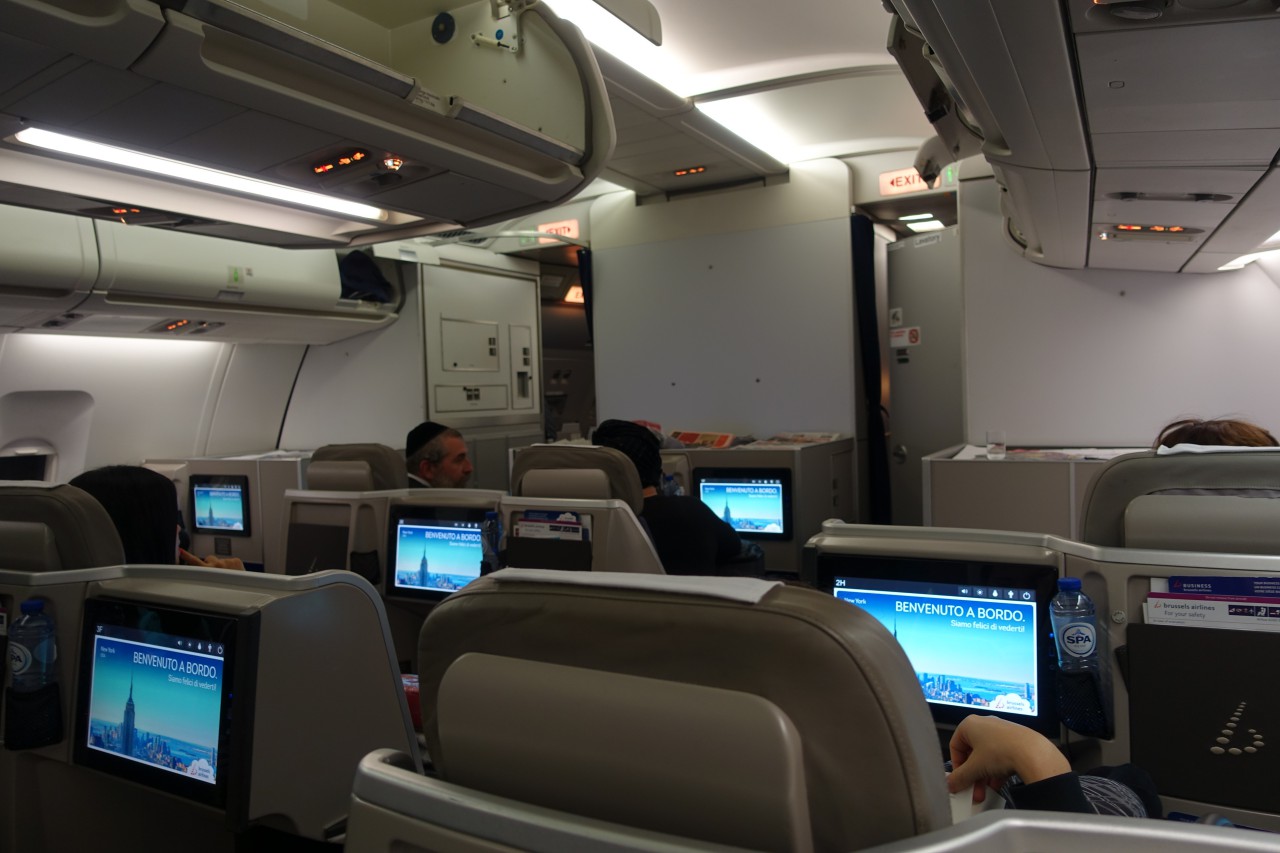 3. Fresh Fruit and Free Flowing Champagne Provided at the Beginning of Meal Service
Even though the menu advised that fresh fruit would be available after the meal service, the flight crew actually arranged a large basket of fresh fruit, as well as Laurent Perrier champagne and juices, at the front of the cabin for passengers to help themselves. That was much appreciated, since I was able to substitute some fresh fruit for my son's dessert (as most parents will attest, not a good idea to feed kids sugary desserts, unmitigated by the fiber that at least whole fresh fruits have, right before bedtime, unless you *don't* want them to go to sleep).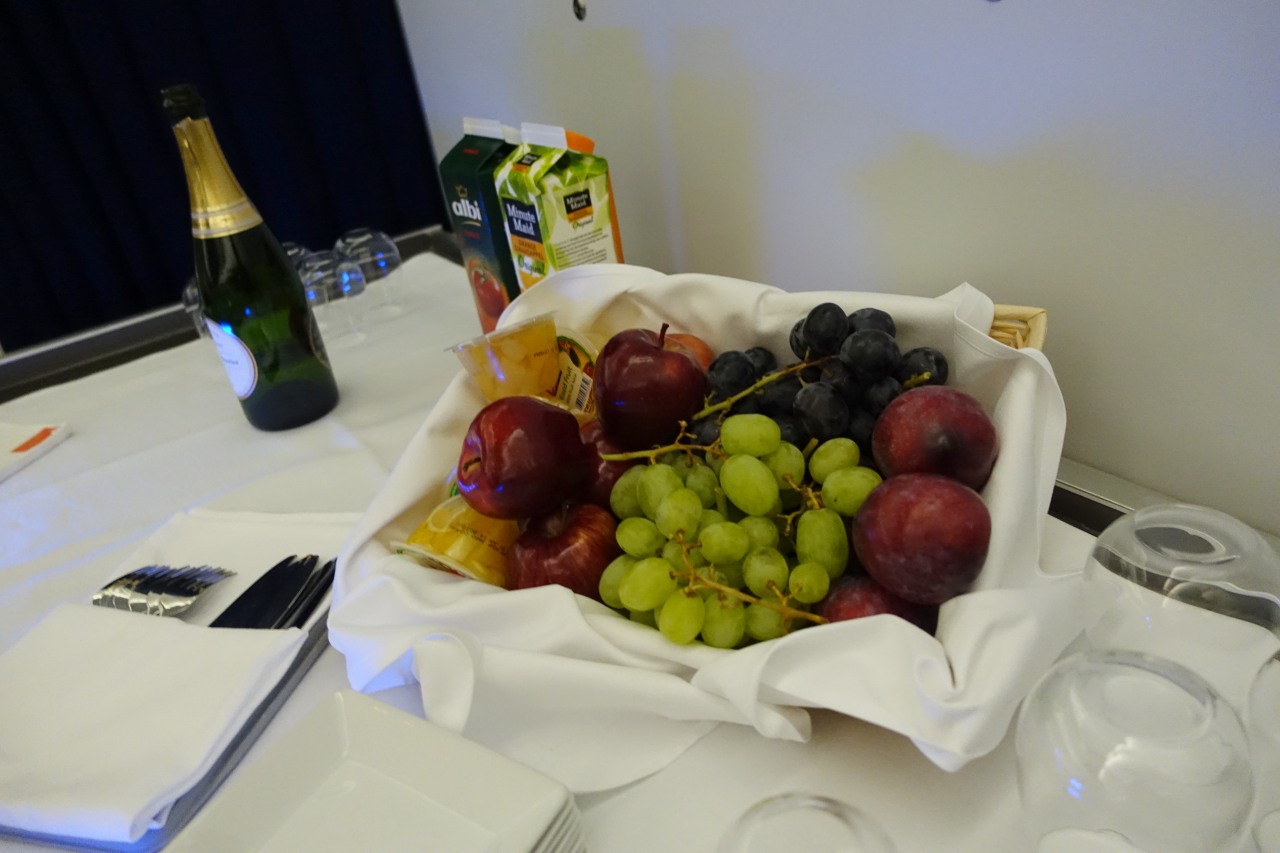 4. Express Meal Option Served Quickly, Good for NYC to BRU Flight
While I had to proactively request it, I appreciated that once I requested the express meal option for my son, the cabin crew served it to him quite quickly, allowing him to finish and go to sleep fairly soon. On the short NYC to Brussels flight, which in our case was less than 7 hours, that was very important.
5. Good for (Belgian) Chocoholics
Not only were we offered our pick of Neuhaus chocolates after the meal, we were each actually presented with a full box of Neuhaus chocolates as a parting gift, a lovely touch. I will most likely regift mine, since I prefer really dark high cacao content chocolates, which are more a French specialty, but for anyone who prefers Belgian chocolates this gift is a plus.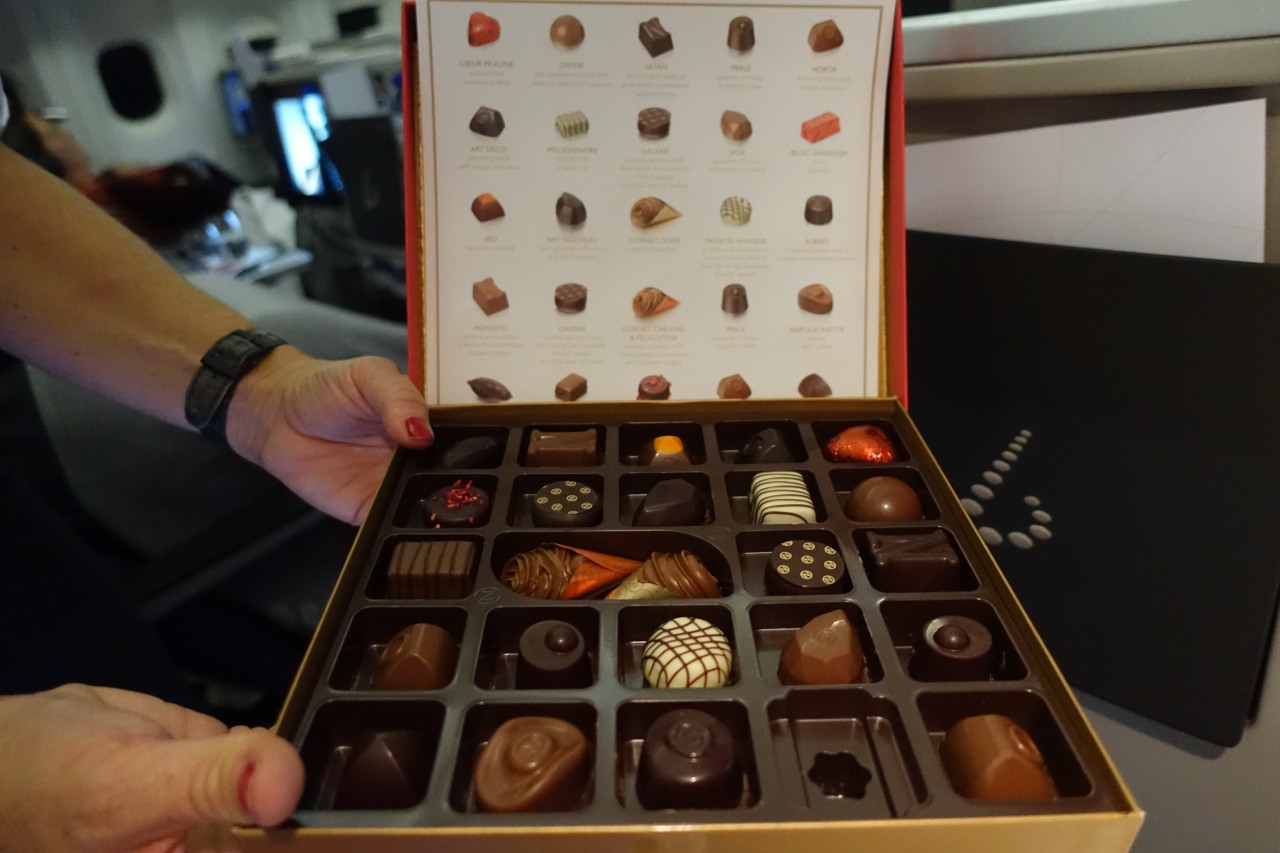 Cons of Brussels Airways Business Class
1. Very Short Bed
It's a good thing my son and I were on this flight, and not my husband, as the Brussels Airlines Business Class bed, although it's supposed to be 2 meters long, or 78 inches, definitely felt shorter. I'm 5'7″ and my toes could touch the end of the space, even with my head at the top of the seat, so I can't imagine how this seat would work with taller people such as my husband, who is 6'5″.
2. Very Small Space for Feet
As with SWISS, Brussels Airlines has a staggered seating, which means that your seat's footwell is the armrest space of the seats in front of you. Somehow this space seemed even tighter on Brussels Airlines than SWISS, and the restricted space meant I couldn't get comfortable or sleep well on this flight, even when lying on my back.
It would also be hard for side sleepers, since there's not room for you to bend your knees in a side sleeping position–I knocked my knees around a fair amount trying to get comfortable.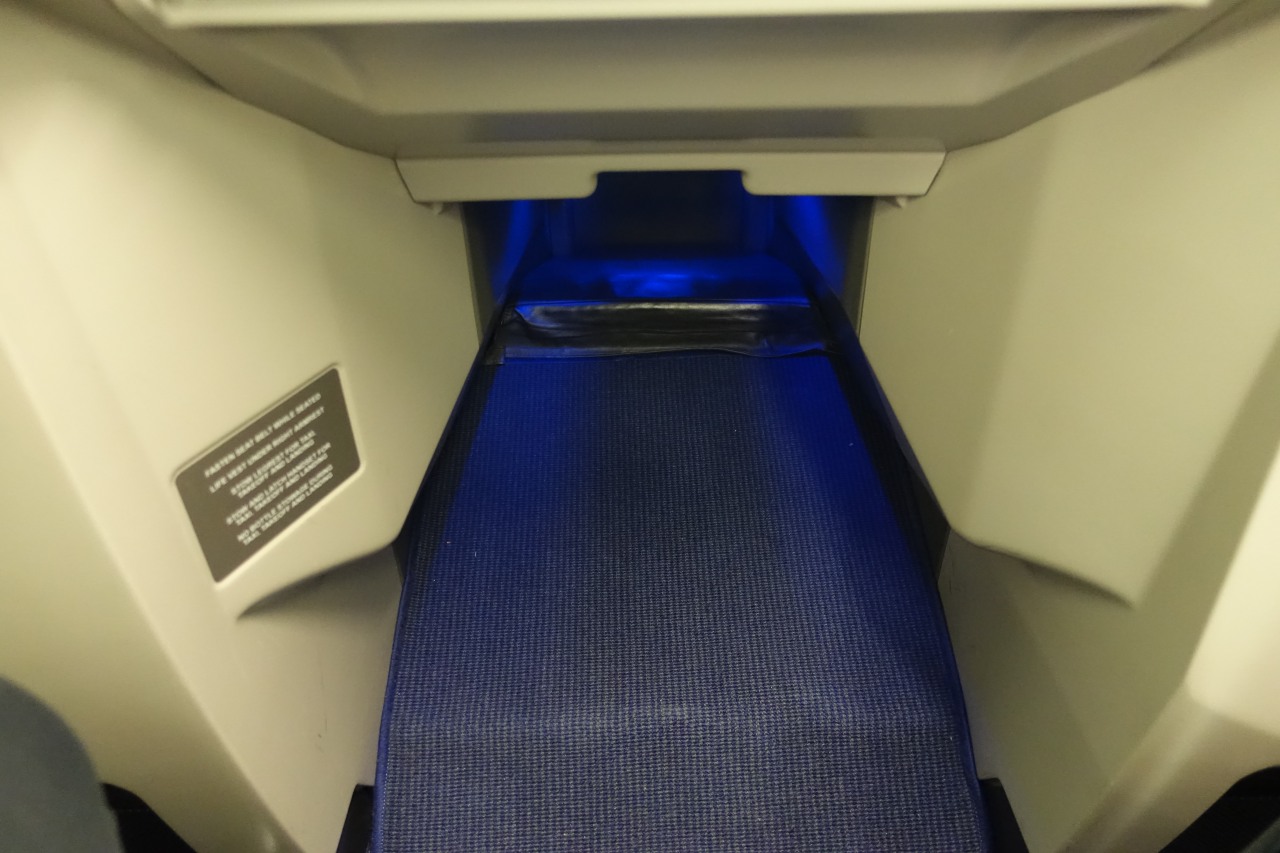 3. Warm Cabin
I don't know if this was just our flight or is a regular occurrence, but the cabin was fairly warm, which makes it harder to sleep. I used the blanket underneath me as extra padding, since I definitely didn't need it on top of me.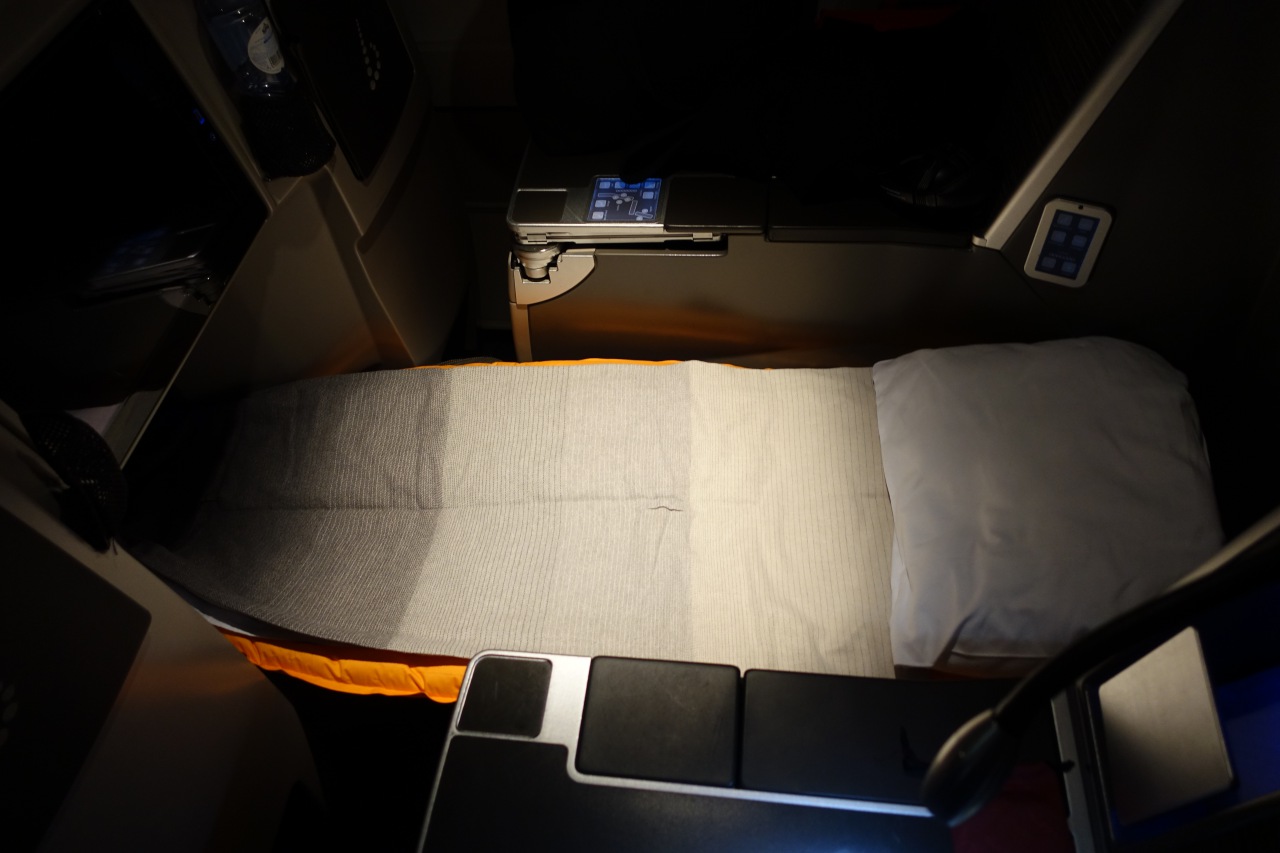 4. Average Catering
Perhaps my return flight in Brussels Airlines will wow me more on the food front, since it will be from the airline's hub, Brussels, but I wasn't overly impressed by the two starters I tried on the flight from JFK, one a balik salmon appetizer and the other a veal salad, or the cheese plate or dessert.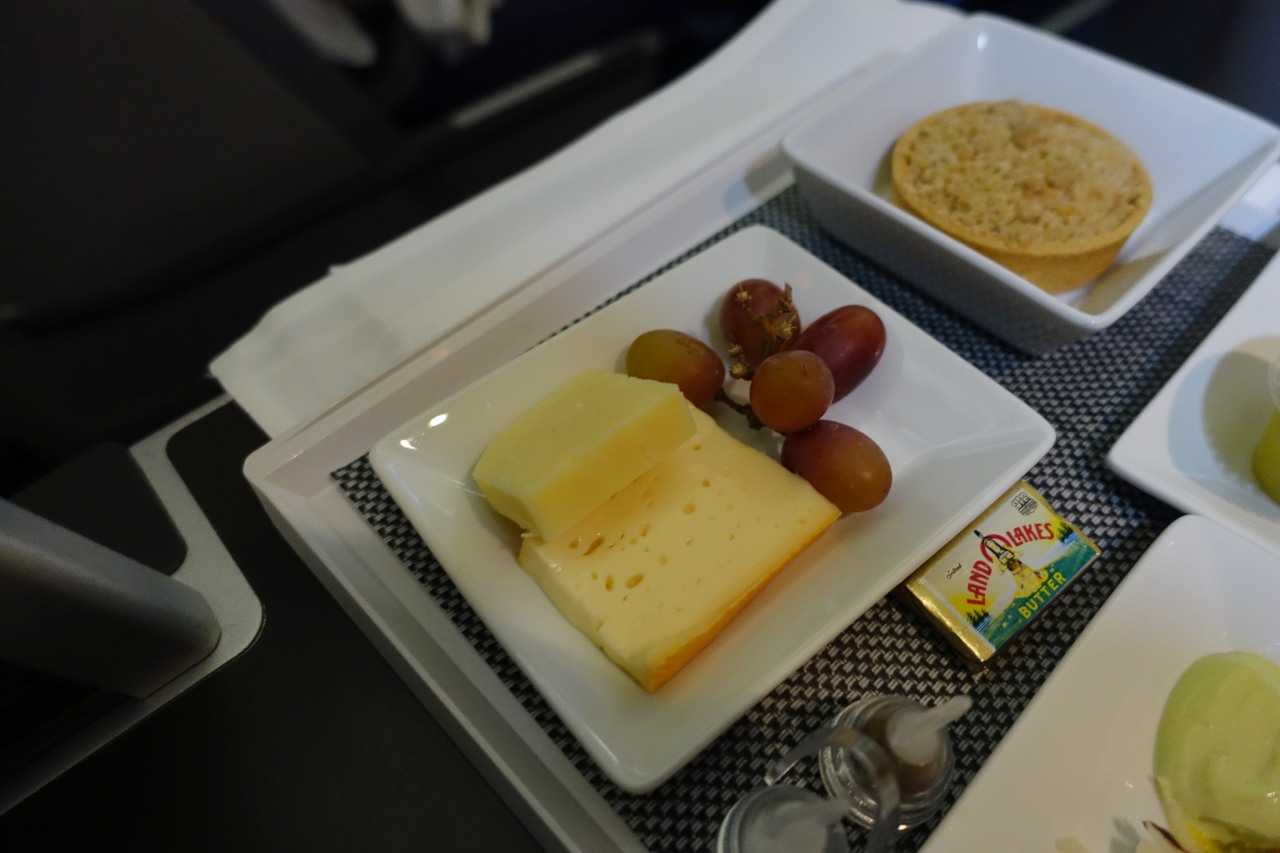 If you've flown Brussels Business Class, what do you see as the pros and cons?
Recommended Posts
Etihad Guest Award Chart Devaluation: Brussels Airlines Awards Increased with No Notice
LOT Polish Adds Nonstop Flights to Budapest from NYC and Chicago
United MileagePlus Award Chart Devaluation 2017 and Everyday Awards
Client Tip: How to Make Airline Business Class Beds More Comfortable