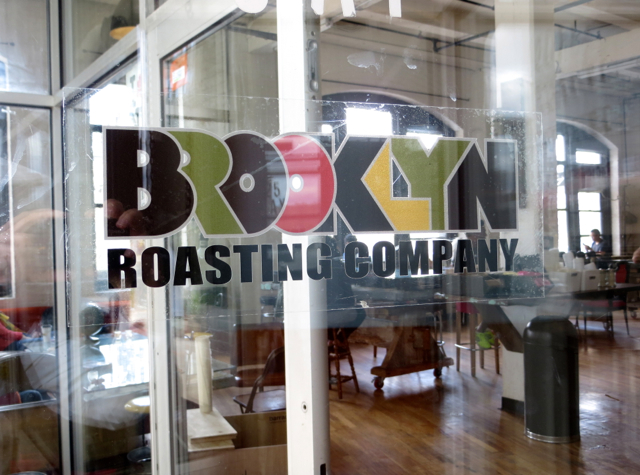 This Brooklyn Roasting Company Review is one of our many NYC Restaurant Reviews. Visiting New York? See all of our posts tagged NYC.
Forget Starbucks. If you're craving a seriously great coffee or espresso drink, with much better pastries than you'll get at Starbucks and want some space to catch up with an old friend or hunker down and get some work done with free WiFi Brooklyn Roasting Company has you covered.
Getting to Brooklyn Roasting Company
Brooklyn Roasting Company has a couple of Brooklyn locations: the original cafe at 25 Jay Street in DUMBO, and also a Navy Yard outpost at 200 Flushing Avenue. We visited the DUMBO location, by taking the A train to High Street, the first stop in Brooklyn, and walking from there. You could also take the F train to York Street/Jay Street, which is closer, but the A train runs more frequently, with less waiting time.
In Japan? Brooklyn Roasting Company is also in Osaka, at 2-1-16 Kitahama Chuo, Osaka.
The Scene
It was a good thing we knew the address and that The Brooklyn Roasting Company occupies a huge warehouse like space, because there's no large sign outside. We walked into the backdoor, passing the area that used to be the original cafe space: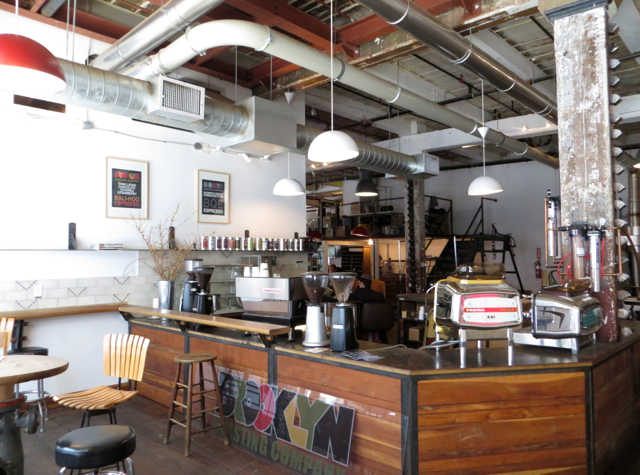 Next we came across the actual Loring Coffee Roaster, which roasts 60 pounds of coffee per batch, 150 pounds per hour. Altogether, for Brooklyn Roasting Company's retail and wholesale business (supplying popular cafes such as Russ & Daughters, Croissanteria, Miss Lily's, Dun-Well Doughnuts, Upright Coffee and others, as well as Fresh Direct and specialty grocers and Columbia University coffee bars).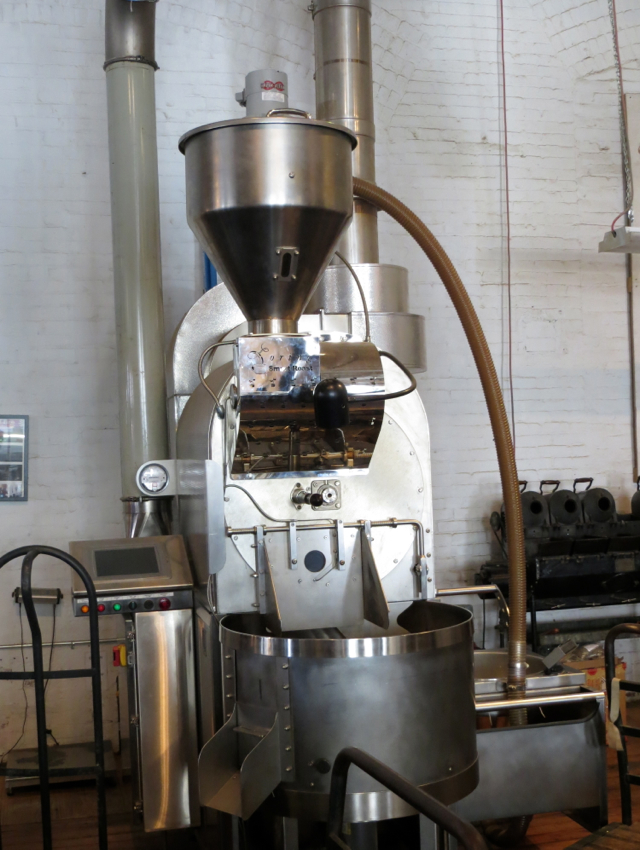 Next were tables, including a quirky one with a roulette wheel salvaged from a historic passenger train:
The space was once the home of Arbuckles Coffee and its stables, so artifacts from that time, including reclaimed wooden doors repurposed as tables, recall its former incarnation: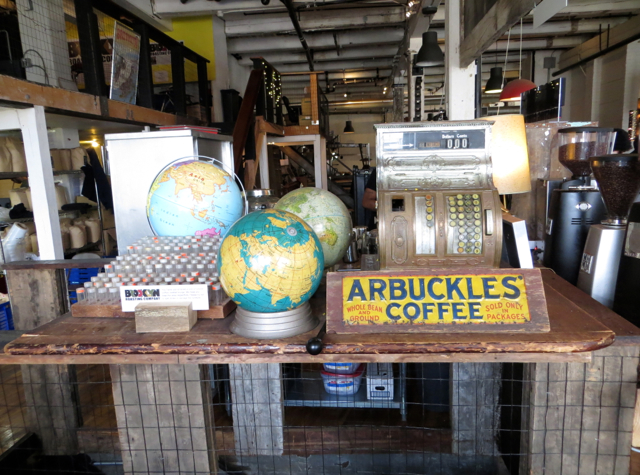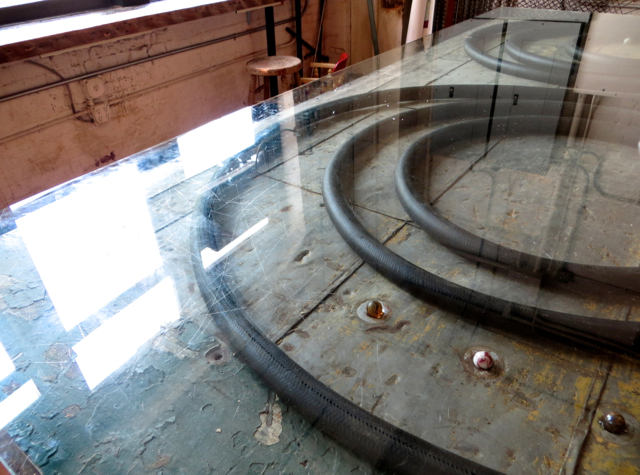 The crowd is a mix of hipsters and young families–we saw several with babies in strollers or Ergo carriers–and the vibe is relaxed. It's a good thing it's a huge space, because it does get busy, especially on weekend mornings. I loved the light filled space by the windows: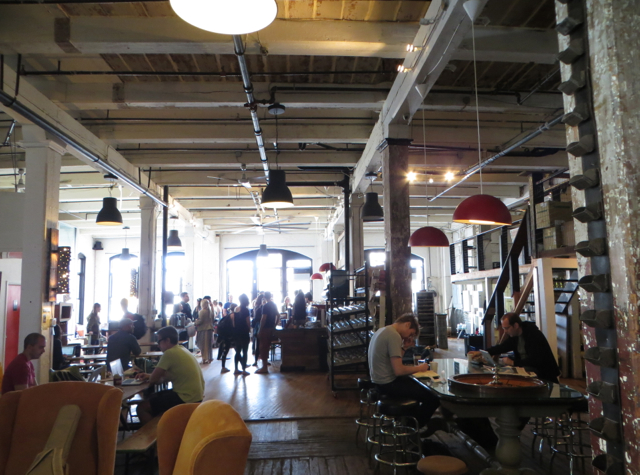 The Story
Jim Munson founded Brooklyn Roasting Company in 2010, and was joined by Michael Pollack in 2011. From the outset, they've both been focused on crafting the best coffee, from the best fair trade coffee beans. The coffee beans are sourced from top coffee estates in Bali, Costa Rica, El Salvador, Ethiopia, Guatemala, Mexico, Nicaragua, Peru, and elsewhere, then roasted within 24 hours of arriving.
And sustainability doesn't just concern the coffee–it's delivered by bicycle or bio-diesel van, and they're even pioneering a "Citi Bike for Coffee" program where you would use a "Good to Go" coffee cup that you return to the cafe or another drop off location. That solves the issue of having to constantly carry around your own reuseable cup, since the cafe and drop off points would wash and sterilize the cups. I hope it's fully implemented and catches on, given that in NYC alone about 7 million paper cups are thrown away each day.
Notwithstanding his zeal for coffe that also does good, Jim Munson has a great sense of humor and doesn't take himself too seriously, as you can see in this photo snapped by his daughter on a recent trip: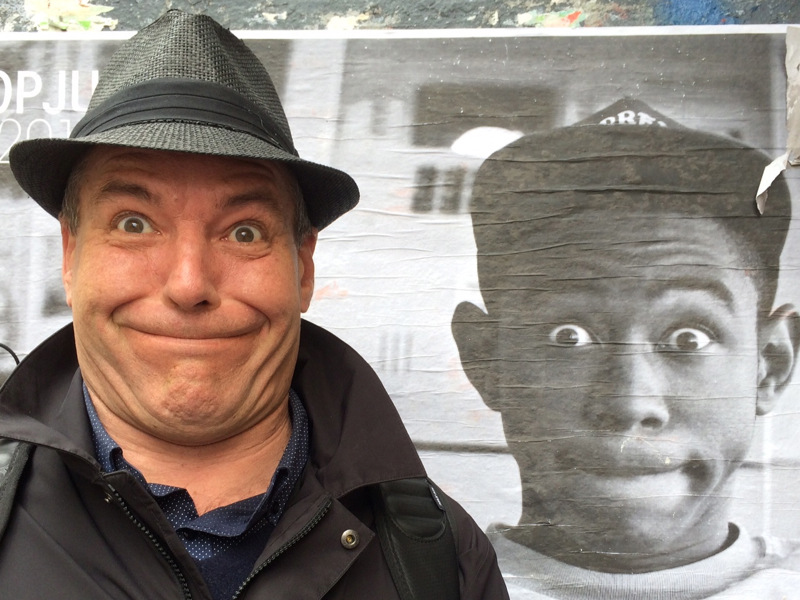 Brooklyn Roasting Company Menu and Coffee
While there are sandwiches from Brooklyn's Margot Patisserie, the focus of course is on the coffee and espresso drinks.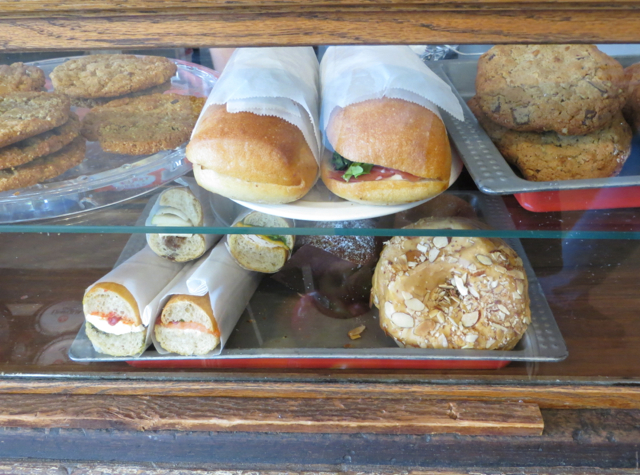 Here's the coffee menu, with prices comparable to other NYC cafes: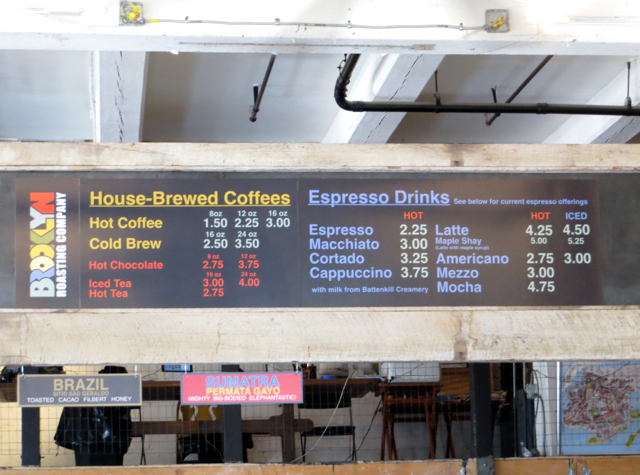 I'm the main coffee drinker in my family, so I ordered a latte. It came perfectly foamed, with some pretty latte art, and was some of the smoothest espresso I've tasted: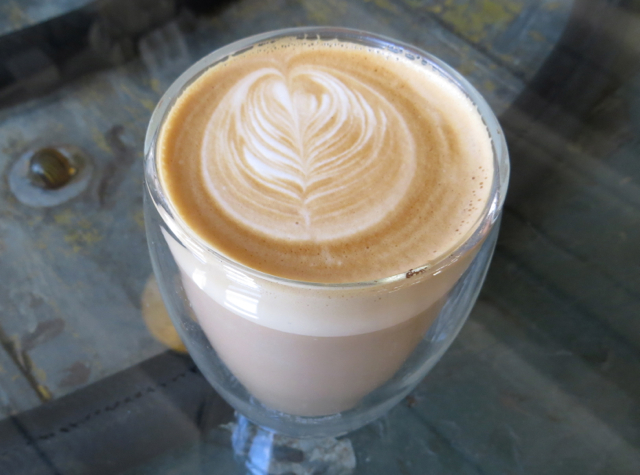 My husband and the munchkin opted for hot chocolate, which came with its own pretty art–I rarely see this for hot chocolate, and the munchkin was tickled to see a heart in his hot chocolate! I must admit that I prefer the super rich, thick hot chocolate at Grom and City Bakery, but this version was much better for the munchkin, who doesn't like his hot chocolate so dark and intense.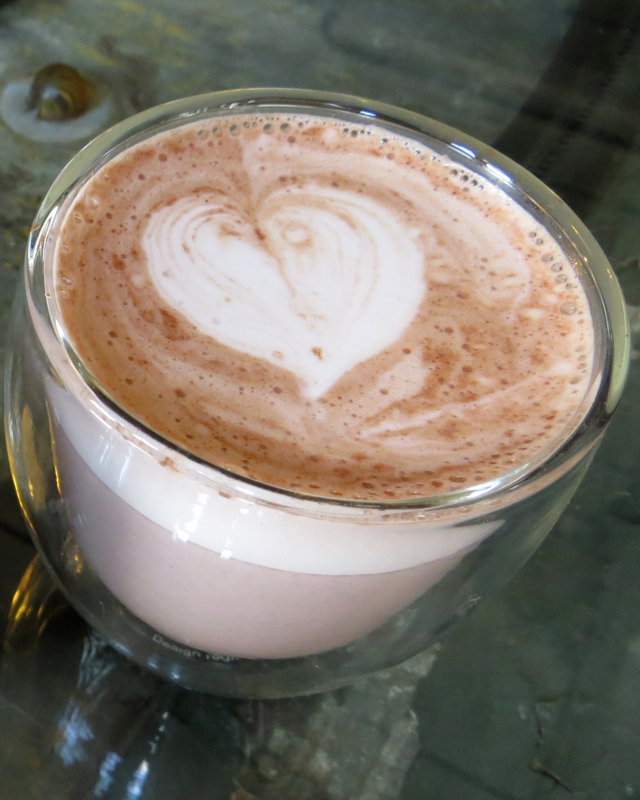 We also enjoyed some doughnuts, which are made by Dough. I've also had these at The Shop at The Andaz 5th Avenue, but the almond doughnut we had here at Brooklyn Roasting Company was a much better version. As you can tell, I wasn't fast enough snapping a photo–a family member who shall go nameless had already snagged a bite: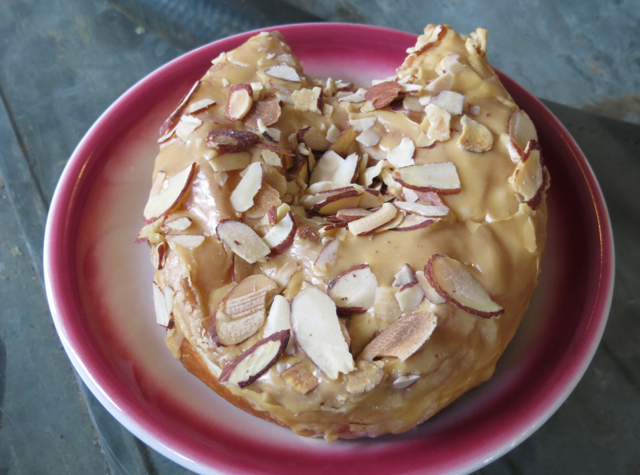 Unlike places that pay lip service to fair trade coffee and sustainability, The Brooklyn Roasting Company really walks the walk. Most of its coffees are either Fair Trade Certified or Rain Forest Alliance Certified. Customer favorites include:
Iris Espresso: Fair Trade Certified, a smooth, creamy and slightly spicy blend of Peru High Grown Anders, Sumatra Permata Gayo and Ethiopian Sidamo Aleta Wondo
Mocha Java: Fair Trade Certified, a blend of dark roasted Sumatran Permata Gayo and heirloom Ethiopian Yirge Cheffe Arabica beans
The Service
Unlike the usually brusque service I encounter at Starbucks, the baristas at Brooklyn Roasting Company are much friendlier and more enjoyable to speak with. They seem genuinely passionate and knowledgeable about great coffee and are happy to make recommendations if you're trying to decide among different types.
The Verdict
We loved the coffee, light filled space, and vibe of The Brooklyn Roasting Company–we just wish there was one near where we live in Manhattan! If I had to nitpick, I would love to see some more savory options that are more modestly priced, since sandwiches are a bit pricey at $8-9, and some yogurts in a refrigerated case would be ideal as well. But it's great to see a local business supporting both its own community and those that it sources its coffee from, since great coffee is a truly painstaking endeavor, from the hand picked beans to precise roasting and brewing.
Related Posts
Can't Miss Best Dark Chocolate Desserts in New York
Hip Traif: NYC Restaurant Review
Need Award Booking Help? Our fee is as low as $75 per ticket if you book your hotel through us.
If you enjoyed this, join 100,000+ readers: please follow TravelSort on Twitter or like us on Facebook to be alerted to new posts.
Become a TravelSort Client and Book Your Hotel with Virtuoso or Four Seasons Preferred VIP Amenities!