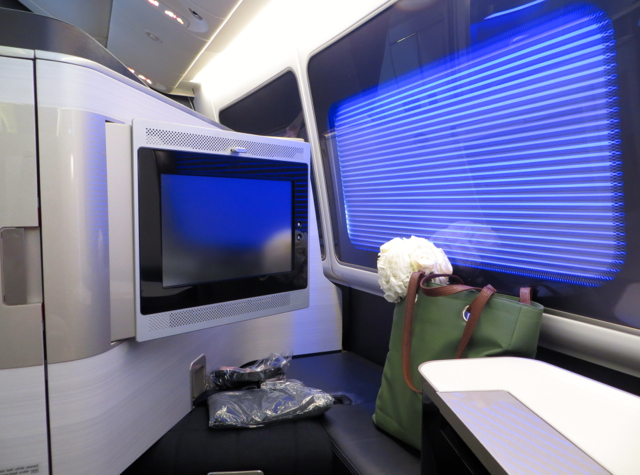 This British Airways New First Class Review is part of a UK and France trip report including flights in British Airways in New First Class, Singapore Business Class and Singapore Suites, stays in a Scottish castle and 5-star hotels in London and Paris, and Michelin Star Dining in Paris. For the prior posts, please see:
British Airways Galleries Lounge in Newark and First Class Dining Review
British Airways New First Class 777 Review
British Airways Galleries Arrivals Lounge London and Concorde Room
Singapore Business Class Review NYC (JFK) to Frankfurt
Petrus London Restaurant Review
Dalhousie Castle Hotel Review, Scotland
Dalhousie Castle Falconry Review, Scotland
Epicure at Le Bristol Paris Restaurant Review
Four Seasons Paris Hotel Review
Paris Plages (Paris Beaches) Review
Le Cinq at Four Seasons Paris Restaurant Review
Four Seasons Paris Kids Pastry Lesson and Back of House Tour
Park Hyatt Paris-Vendome Review
Park Hyatt Paris Breakfast Buffet Review
Prince de Galles Paris Hotel Review
La Grande Eperviere Barcelonnette Hotel Review
Things to Do in Barcelonnette, France with Kids
InterContinental Marseille Hotel Review
Vinoneo Bistro Marseille Restaurant Review
Westin Grand Frankfurt Hotel Review
La Maison Stella Cadente Review (Provins, France)
Provins France Fete de la Moisson (Harvest Festival)
Hotel Fouquet's Barriere Paris Hotel Review
La Regalade Conservatoire Paris Restaurant Review
Breakfast in Paris: Le Diane at Hotel Fouquet's Barriere
British Airways Concorde Room and Cabana Review
After departing our Cabana in the British Airways Concorde Room we made our way to the gate, which was some distance away–thankfully we got there in time. Here's our Boeing 777 parked at the gate: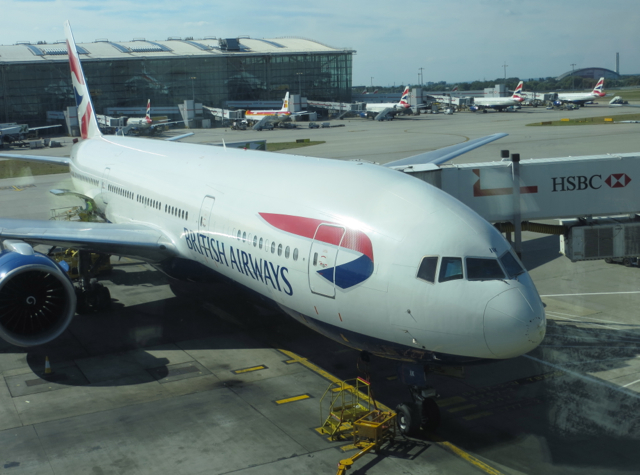 After being welcomed on board, we were escorted to our seats, again seats 2K and 3K. This time the cabin was nearly full: 9 of the 10 seats were taken, four of them by a family with 2 kids (although both older than the munchkin). Here's a view of the first class cabin: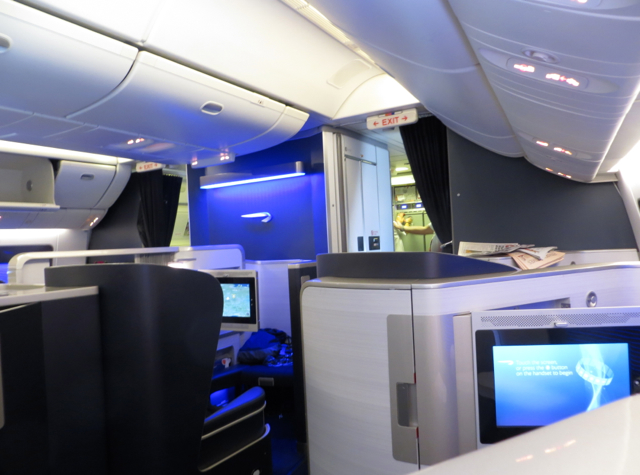 Here's an aerial view of my seat, 3K, and a view from the aisle: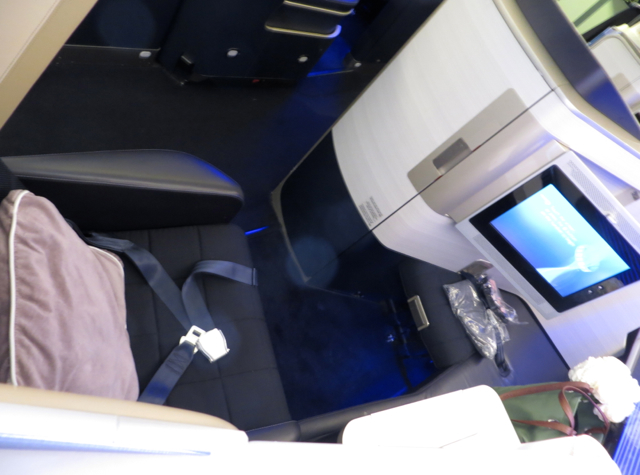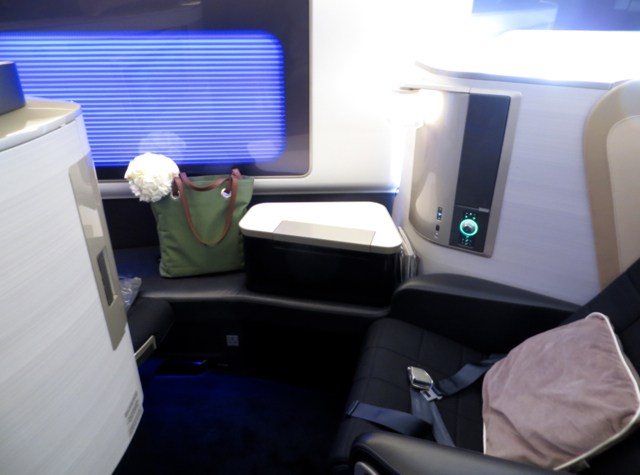 The Seat Control is thankfully intuitive, although turning all the lights of the seat off, while it looked easy, was a bit hit and miss–even the Flight Attendant had to tinker with it a bit.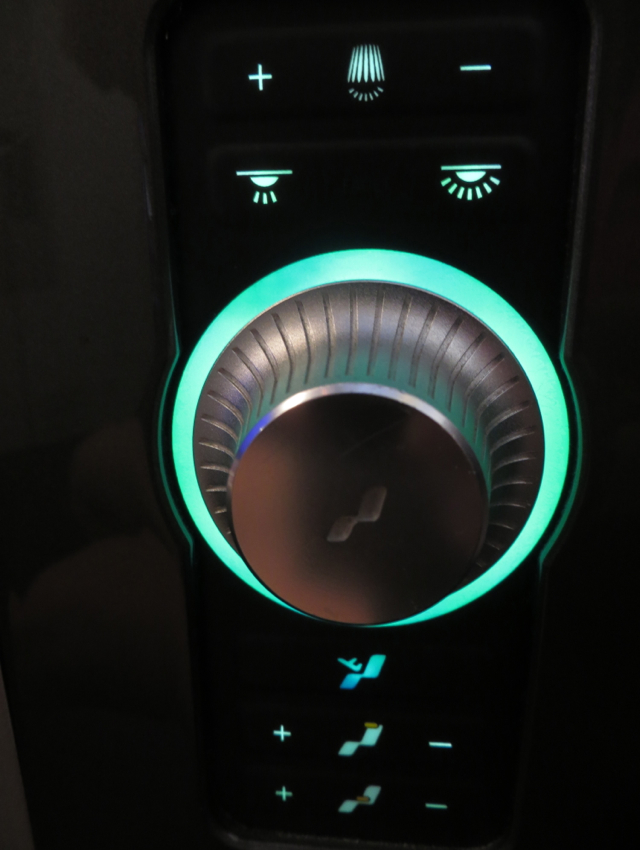 There's a slim coat closet with a hanger and a cubby underneath for shoes:
We were offered a pre-flight drink and as usual, the munchkin chose orange juice while I opted for water. We were also each brought an amenity kit with REN skincare products, although, since this was a daytime flight, no pajamas.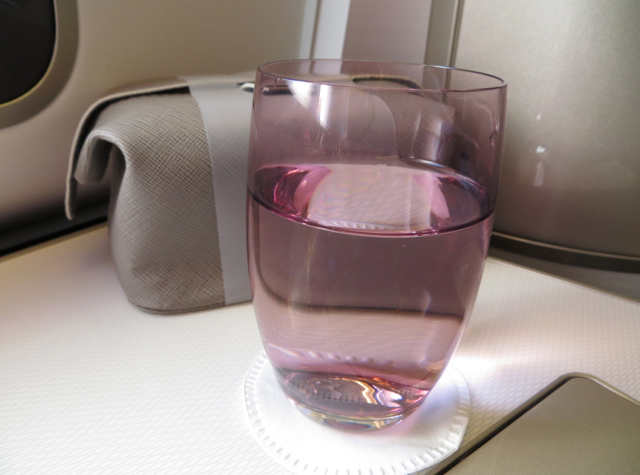 There was a bit of a tarmac delay due to a backlog of planes in front of us waiting to take off, but the nice thing about first class (assuming you're flying home as we were, with no tight connections on the other end) is that you don't mind in the least. Here's the munchkin, not minding our delay: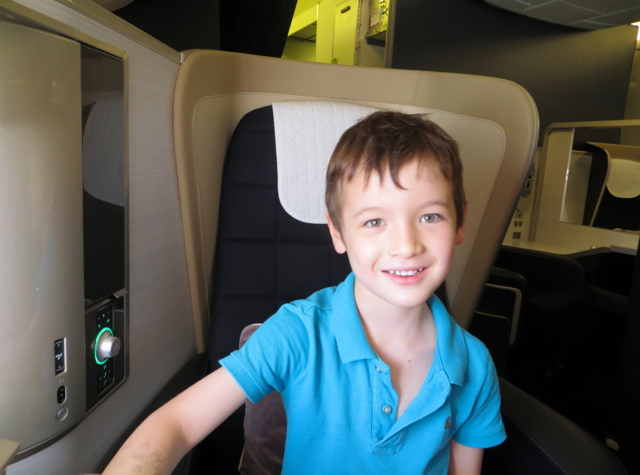 Instead, the munchkin and I read some of his books and also looked at the menus we had been given. Here's the lunch menu: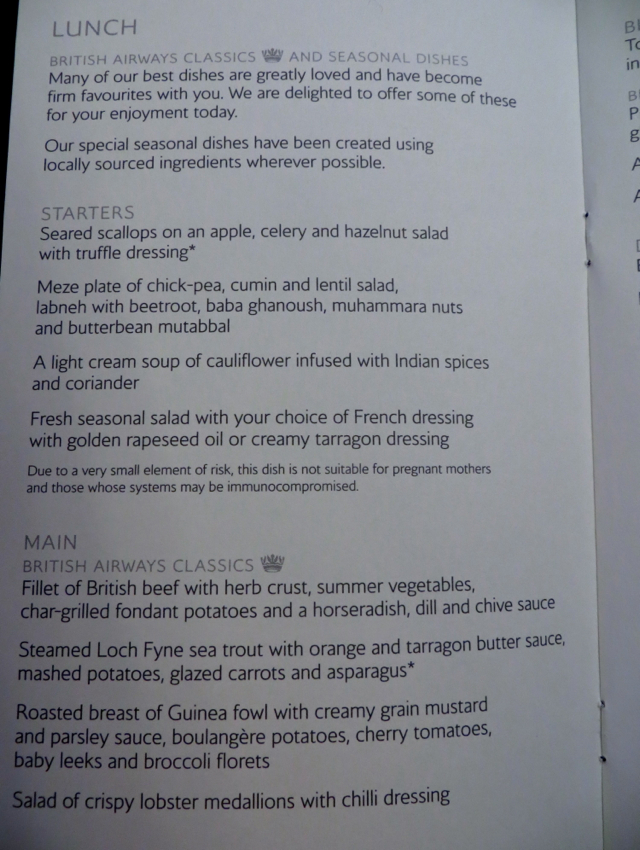 And here's the snack and dessert menu: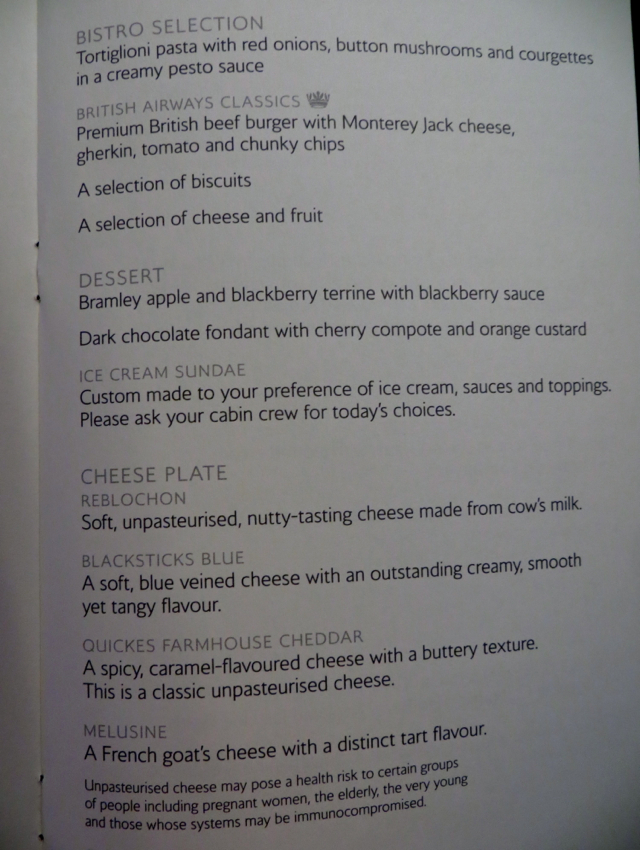 The wine list was the same as on the outbound flight, and since I planned to select a seafood entree, once we were airborne and service had commenced, I selected a glass of the Verdicchio dei Castelli di Jesi 2010. I prefer unoaked white wines, and the Verdicchio was crisp and refreshing.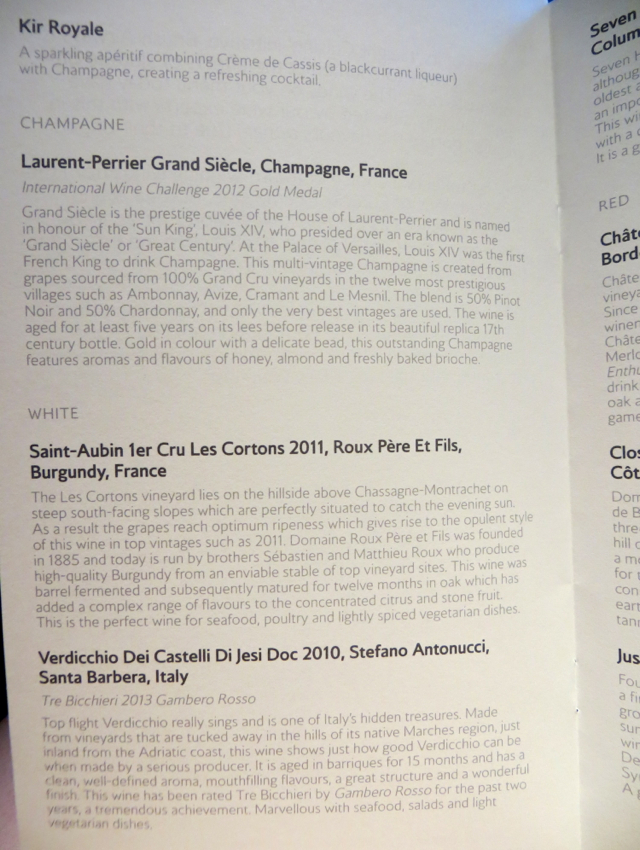 I enjoyed it with a bowl of salted mixed nuts: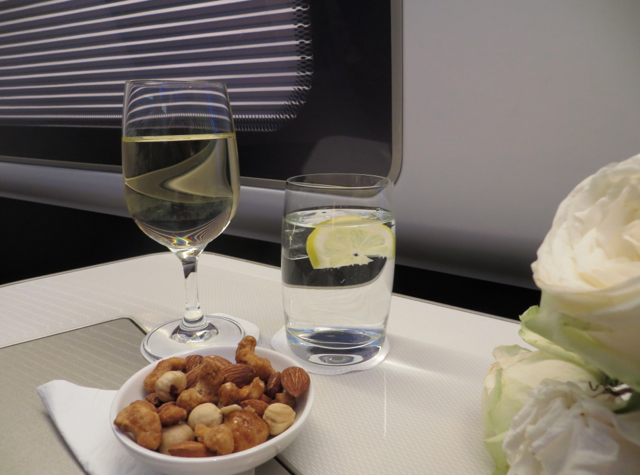 The munchkin had eaten rather well in the Concorde Room Cabana, since his sea bass was very good, so we decided to just get a cheese plate for him. I must say that British Airways does one of the better first class cheese plates. Most tend to serve 3 cheeses, very standard, pasteurized ones such as a Brie, a blue cheese, and perhaps a Gruyere or Cheddar.
British Airways included generous helpings of four selections, two of them unpasteurized, all of them delicious (I sneaked some bites!)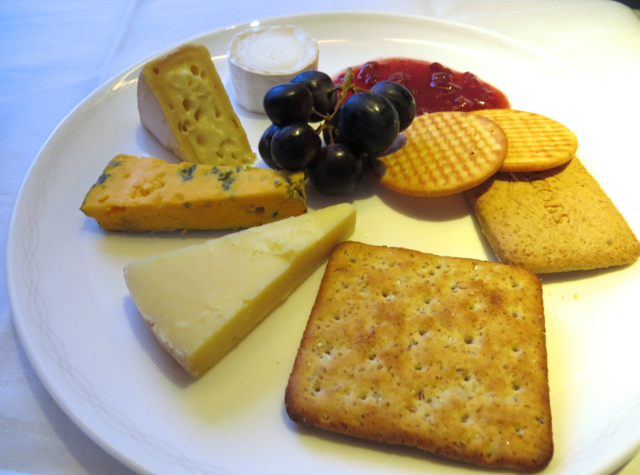 Since I'd barely touched the poor excuse for a burger in the Concorde Room Cabana, I was quite hungry and ordered a full meal. After the table was set, a very nice amuse bouche was served: smoked salmon with asparagus. Delicious and a promising beginning.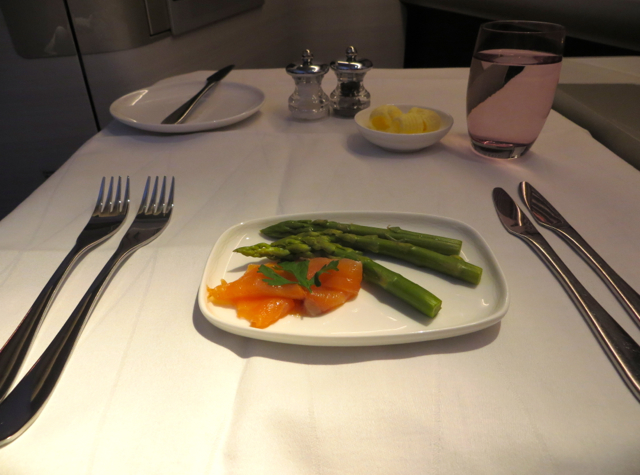 For an appetizer, I chose the Seared Scallops on an apple, celery and hazelnut salad. I'll admit I didn't much care for the salad part, since I dislike celery and am more accustomed to having seared scallops served atop something hot rather than a cold salad, but the scallops were surprisingly good.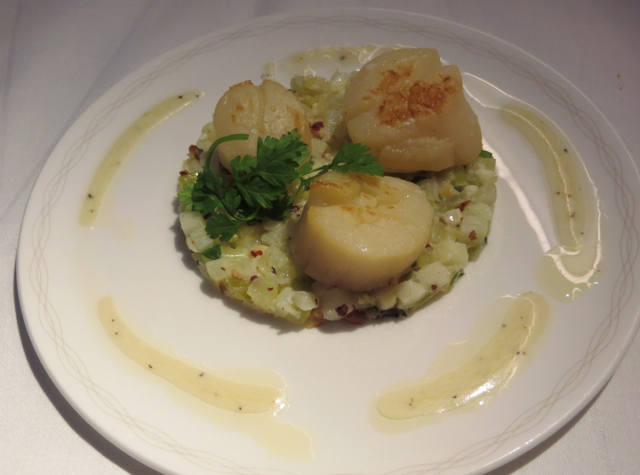 I'd asked the flight attendant for a main course recommendation, and she recommended the Loch Fyne Sea Trout in an orange tarragon butter sauce so I ordered that. The fish was fine, although I thought the munchkin's sea bass served in our Cabana in the Concorde Room was much better.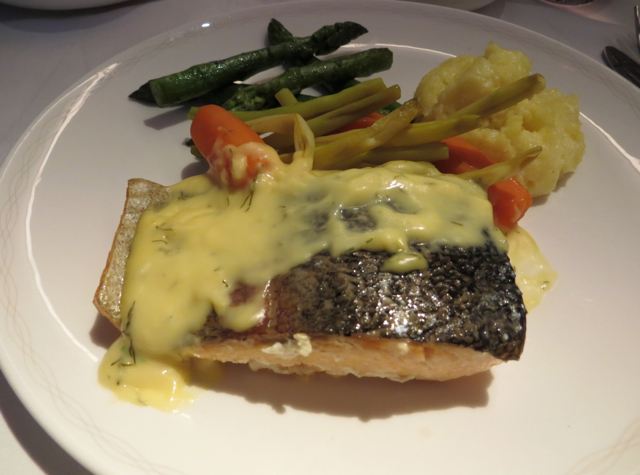 Unlike Etihad First Class, there was no sorbet palate cleanser between the main course and dessert, but the desserts, along with the munchkin's cheese plate, were the highlights of the meal. The munchkin had the Bramley Apple and Blackberry Terrine with Blackberry Sauce, which was prettily adorned with edible apple decorations, and was a creamy terrine and bright apple flavor: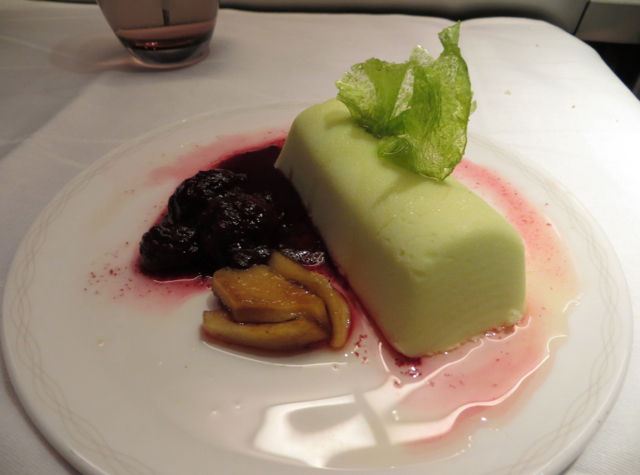 I chose the Dark Chocolate Fondant with Custard, also very satisfying, especially with the cherry compote, although I give a slight edge taste-wise to the less pretty but rich chocolate dessert in Etihad First Class.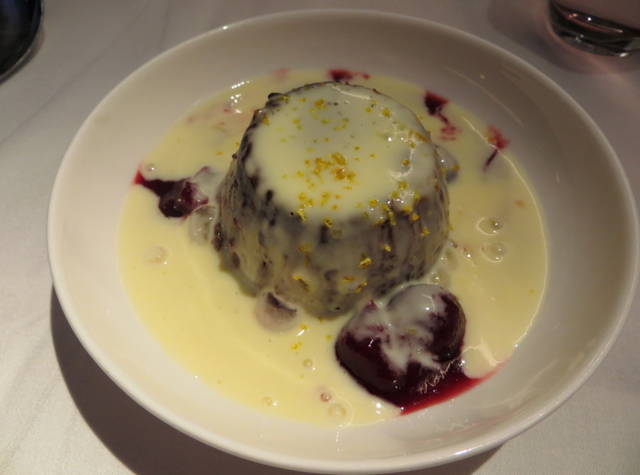 Afterwards, the munchkin was ready for a nap, so we requested turndown service for him. While his bed was being prepared, we went to the bathroom to brush teeth. The First Class bathroom is plain and not that spacious, but brightened a bit by a pink flower: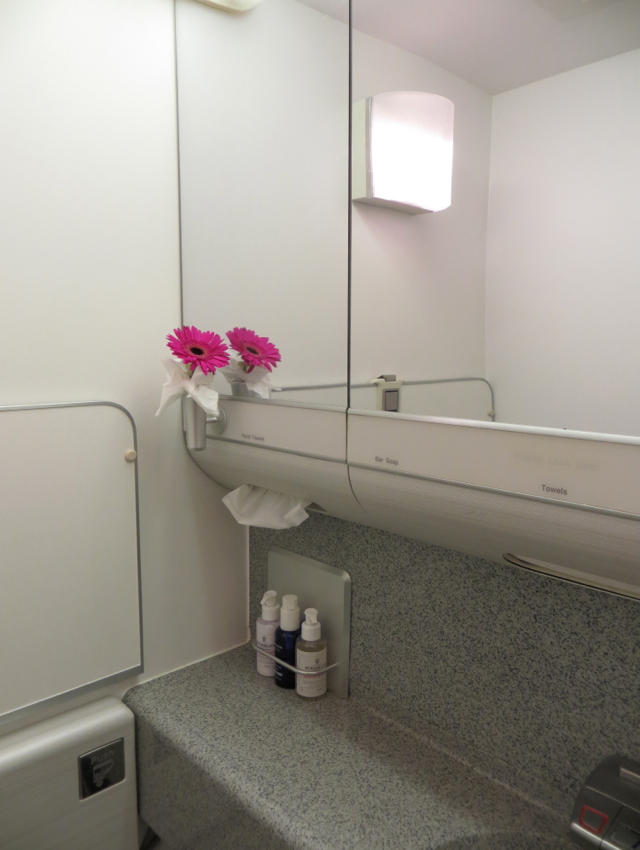 Bathroom Amenities are a combination of Elemis and Dr. Harris: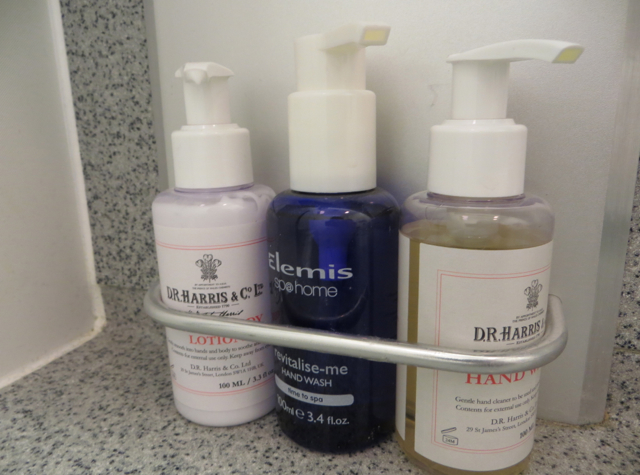 Here's the munchkin's bed (with a lady bug friend from Hotel Fouquet's Barriere):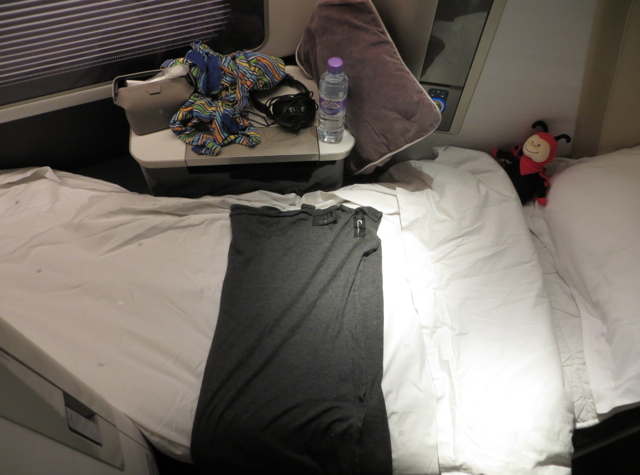 I lay down for awhile as well, but only managed to doze a bit, whereas the munchkin slept pretty soundly. There was ample space for me, but the bed isn't as well padded as Cathay Pacific First Class. Much more comfortable, however, than say Qatar Business Class. Must say that while purely cosmetic, the British Airways First Class window shade is quite striking.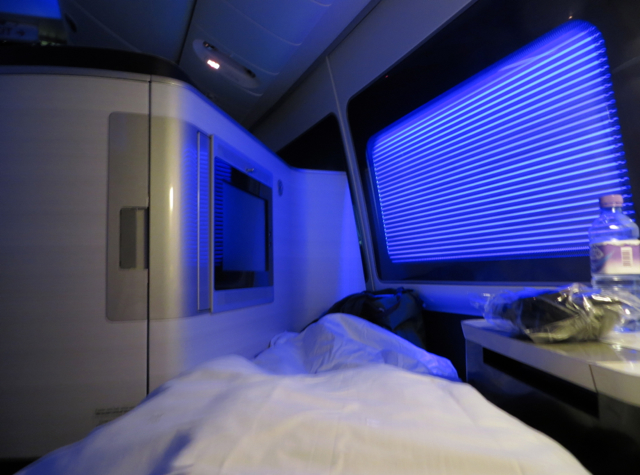 About an hour before our arrival, noticing some of the other passengers were having afternoon tea, I decided to try this as well. Here's the Afternoon Tea menu: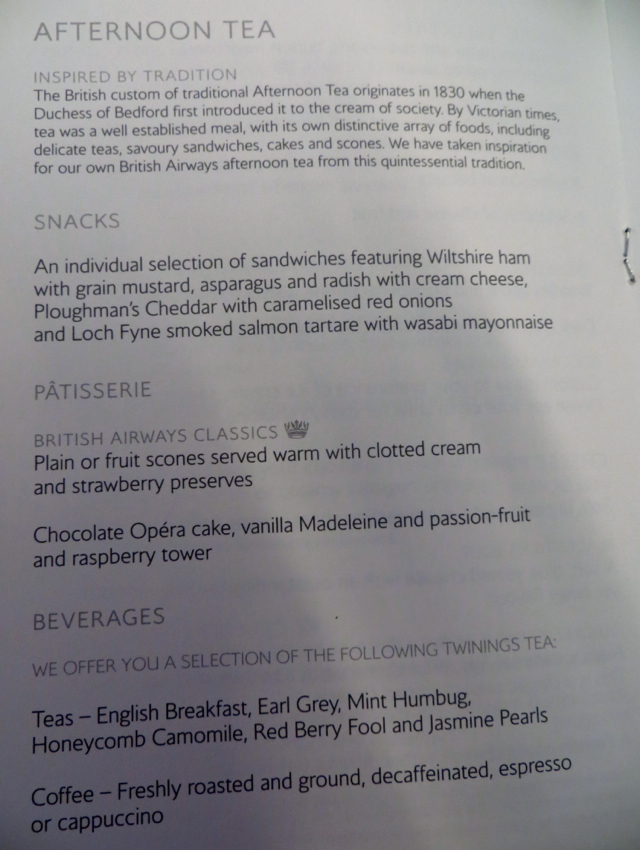 It's hard for me to imagine impressive afternoon tea sandwiches, since there's only so much you can do to a sandwich. My favorite of the bunch was the sandwich with Loch Fyne Smoked Salmon Tartare with Wasabi Mayonnaise: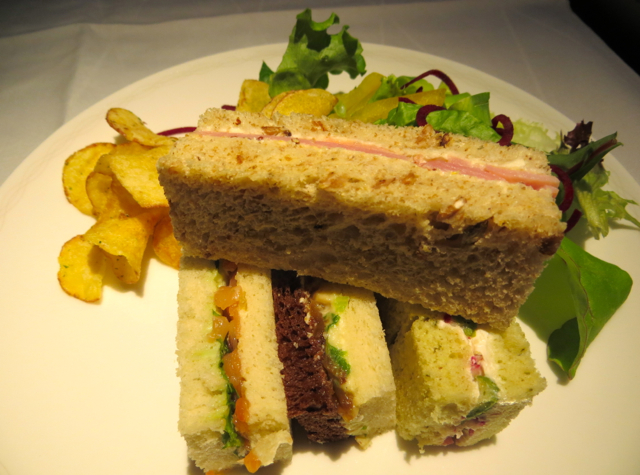 It's no secret that I enjoy the sweet parts of afternoon tea more, such as the traditional scones with clotted cream and jam. While I understand that Wilkin & Sons is British, I do think the jam could be higher quality. If it didn't have to be British, I would have preferred Favorit Swiss preserves or Austrian d'Arbo, which make wonderful raspberry and cherry jams, respectively.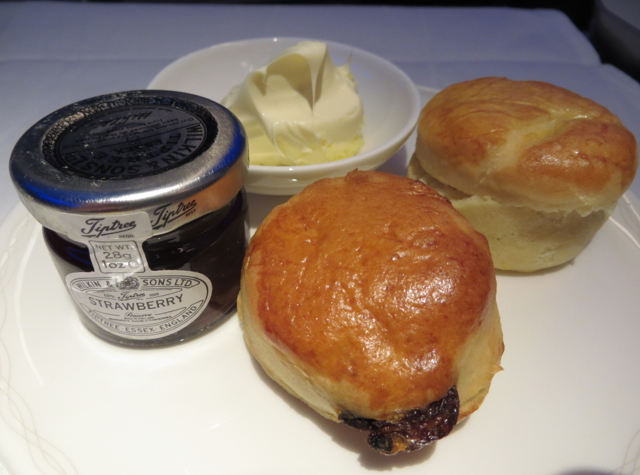 Even though it was Afternoon Tea, I opted for a cappuccino, and it was expertly made and well frothed: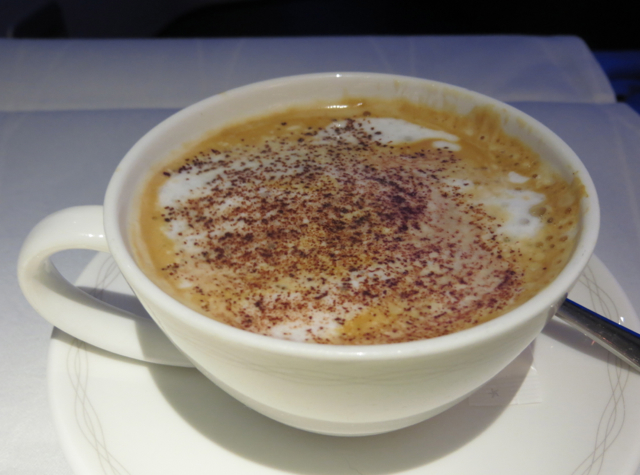 The best part of Afternoon Tea had to be the pastries. Both the chocolate opera cake and passion fruit and raspberry tower were superb, although the madeleine couldn't hold a candle to the freshly baked madeleines the munckin helped make as part of his Four Seasons Paris Kids Pastry Lesson and Back of House Tour.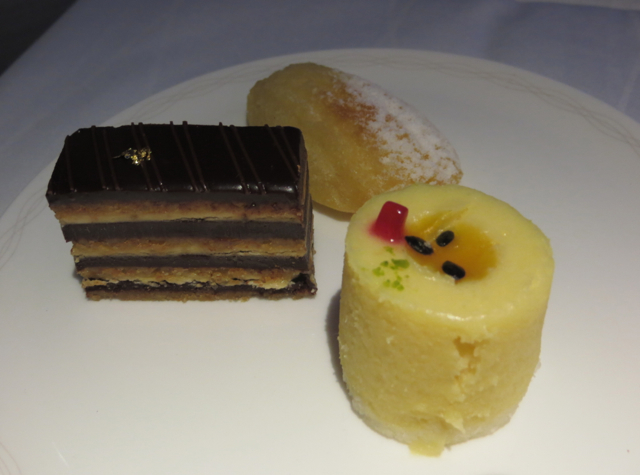 All too soon we were on our descent into JFK, and I was rousing the munchkin (it helped that I had saved a scone and some pastry for him from Afternoon Tea).
The Verdict: My second flight in British Airways New First Class confirmed my impressions of my first flight: not the best first class experience, particularly compared to top Asian carriers such as Cathay Pacific, Singapore and Asiana, but one that I felt very much at home and at ease in, in a way I didn't feel while in Lufthansa New First Class. The hard product is fine, although I wish the seats were wider and a bit more padded. Wines were a highlight, as were cheeses and desserts, or, as the British would say, "puddings." Service was always friendly, including with the munchkin. All in all, a great use fo the British Airways Companion Ticket, even with the fuel surcharges, given the ability to secure two seats for our chosen dates in advance.
Blog Giveaway
Thanks for reading along my family's trip report through London, Edinburgh, Paris, Barcelonnette, Provins, British Airways First Class and Singapore Suites! Here are a few souvenirs we're giving away:
British Airways First Class Amenity Kit with REN skincare products
Singapore Suites Amenity Kit with Sothys skincare products
La Cremerie Butter Cookies from Le Fouquet's Barriere and Caramels from Le Cinq at Four Seasons Hotel George V, Paris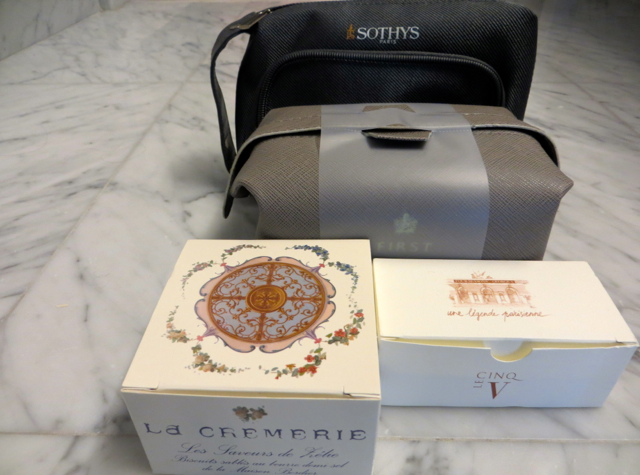 How to Enter:
1. Leave a Comment
You can enter by leaving one comment on which first class airline product or 5-star luxury hotel you'd most like to experience. I'll pick 1 commenter who will win one of the 3 prizes after the drawing closes at 8pm ET Wednesday October 30. Please note that you must comment using your Facebook account. If you don't have one, use a Twitter account to enter, see below.
2. Tweet
Follow TravelSort on Twitter and tweet (once) the first class airline product or 5-star luxury hotel you'd most like to experience, e.g. "Would love to stay @FSParis in the City of Lights #TravelSortGiveaway" Your tweet must *not* begin @TravelSort to be eligible, and don't forget the hashtag #TravelSortGiveaway
I'll pick 1 tweeter who will win one of the 3 prizes after the drawing closes at 8pm ET Wednesday October 30.
3. Facebook
Like TravelSort on Facebook and comment (once) on the first class airline product or 5-star luxury hotel you'd most like to experience.
I'll pick 1 Facebook commenter who will win one of the 3 prizes after the drawing closes at 8pm ET Wednesday October 30.
Please note: You must comment, tweet, or comment on Facebook by 8pm Wednesday October 30, 2013 and I make all decisions regarding the giveaway.
Related Posts
British Airways New First Class 777 Review
British Airways Galleries Lounge New York JFK Review
British Airways Avios Best Deals
How to Maximize the British Airways Companion Ticket
Need Award Booking Help? Our fee is as low as $75 per ticket if you book your hotel through us.
If you enjoyed this, join 90,000+ readers: please follow TravelSort on Twitter or like us on Facebook to be alerted to new posts.
Become a TravelSort Client and Book 5-Star Hotels with Virtuoso or Four Seasons Preferred Partner Amenities!