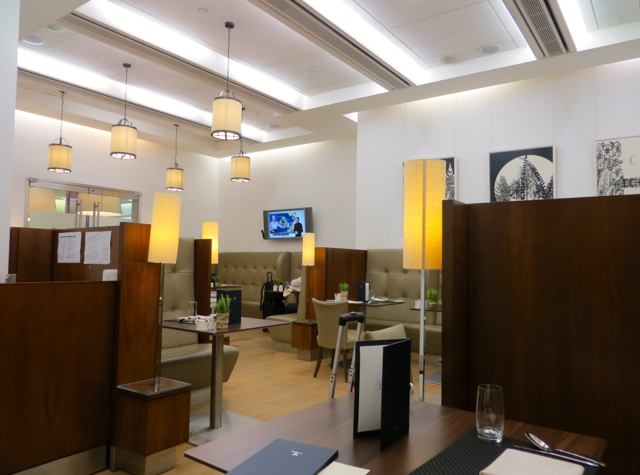 This British Airways Galleries Arrivals Lounge in London Terminal 5 and Concorde Breakfast Room Review is part of a UK and France trip report including flights in British Airways in New First Class and stays in a Scottish castle and 5-star hotels in London and Paris. For the prior posts, please see:
British Airways New First Class 777 Review
British Airways Galleries Lounge Terminal 5 Opening Hours: Daily, 5am – 2pm
We arrived at London Heathrow around 6:30am on our British Airways Flight from Newark, and since I'd let the munchkin sleep as long as possible, he hadn't had time to have more than a few sips of smoothie and a bit of frittata–so he was hungry. And as the parents among you know, the last thing you want on your hands is a hungry kid. So, after using our fast track priority pass to get through security relatively quickly, we exited baggage claim (fortunately we were traveling with no checked luggage, so no waiting around for that) and got on the escalator to the 2nd floor, where the British Airways Galleries Arrivals Lounge in Terminal 5 is located. Here's the entrance: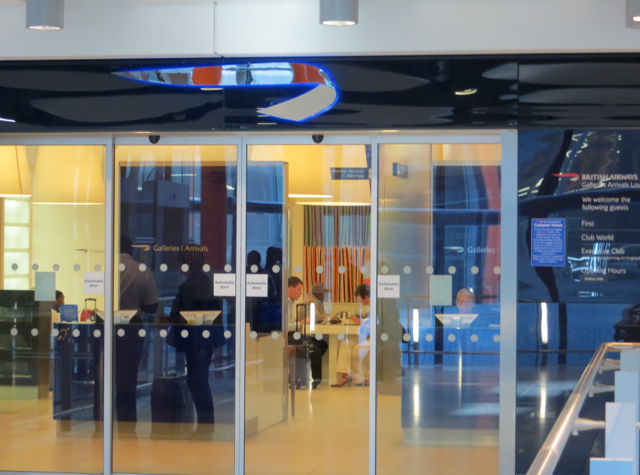 As we checked in, I overheard something about water problems, so I asked if the water for the toilets and showers were working. They nervously replied that it had been "on again, off again" and suggested double checking with the spa attendants.
To the right, there's lounge seating, and presumably shower rooms, although we didn't use those: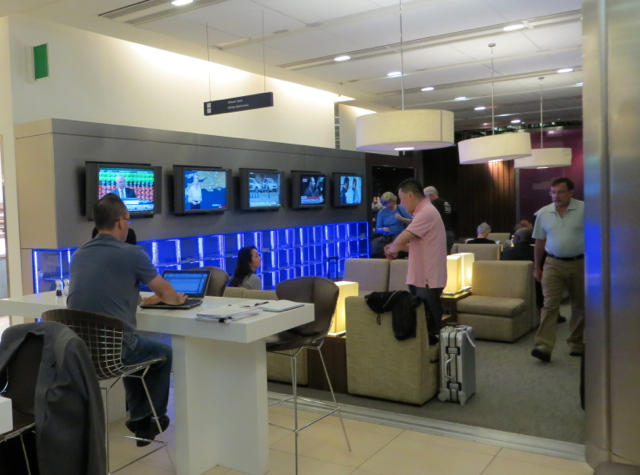 Straight in front, there's the breakfast buffet and seating; more on those offerings later: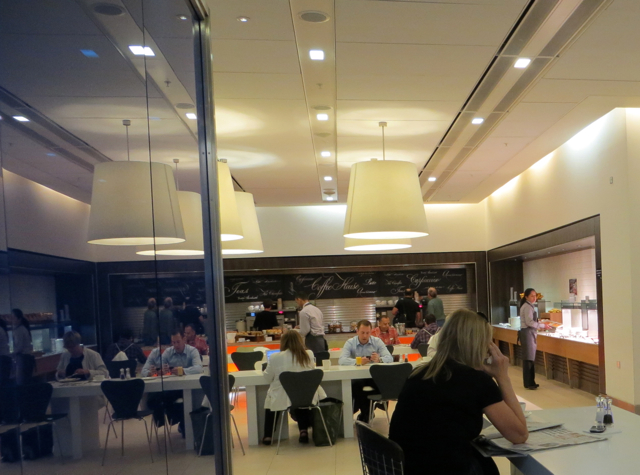 To the left, there's the Elemis Spa. Right after entering, I asked the Elemis spa attendant about massage availability, and even though we were there a bit before 7am, there were no appointments available until 9am. Note that even if you're traveling in British Airways First Class, as we were, there are no advance appointments for massages available for the Arrivals Lounge, only for The Concorde Room, which you only have access to if you're departing London Heathrow.
I do find this policy a bit disappointing, since it wouldn't seem to be that difficult to provide advance appointments for arrivals (with, say, the caveat that if you miss your appointment time then it's first come, first served) but not a big deal–I wasn't going to wait around with an antsy munchkin for 2 hours just for a 15 minute massage, that was certain.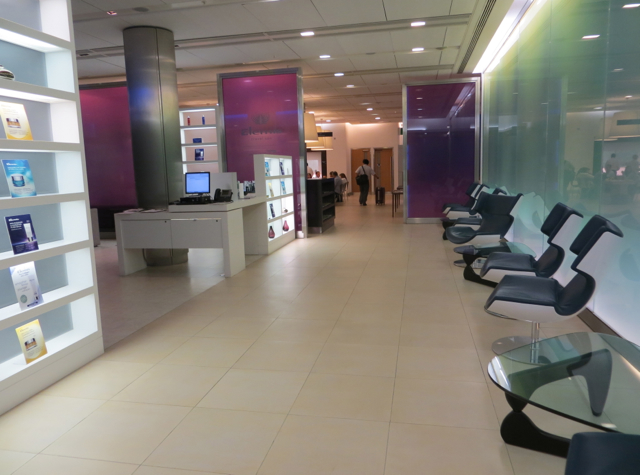 The munchkin did enjoy the gas "fireplace" in the Elemis Spa, a cozy element: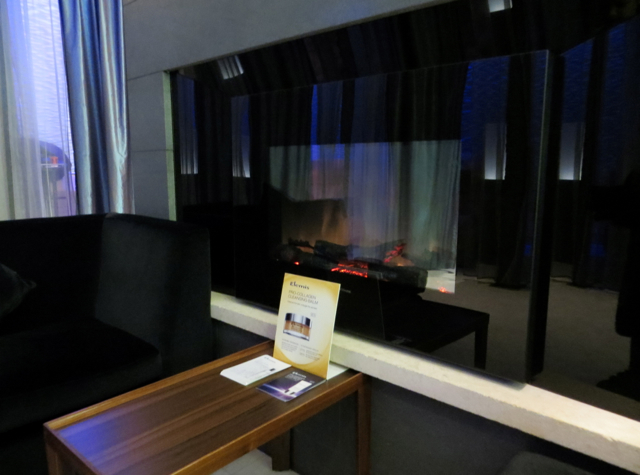 Then it was off to the Concorde Room for breakfast, where you present the tickets provided you upon checking into the Arrivals Lounge. It's not a huge room as it doesn't need to be, given the relatively small number of British Airways First passengers who are likely to be in the Arrivals Lounge at any given time. There was one other passenger in the lounge when we entered, and after he left, another couple of passengers were seated during the time we were there. See the first photo of the post for the seating area.
The breakfast menu is simple, and as you'll see when I get into the offerings for the Arrivals Lounge breakfast buffet, largely duplicates the buffet's offerings, just in a table service environment.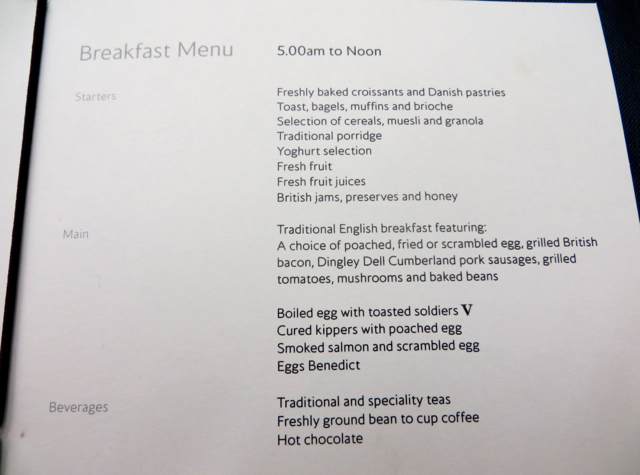 Since I'd already had most of my breakfast on the flight, I just had some plain yogurt, but the munchkin had a full breakfast. He chose scrambled eggs with smoked salmon, and while I didn't much care for the scrambled eggs, he ate a decent amount of them, and the smoked salmon was quite good. I also didn't see smoked salmon on the regular breakfast buffet, so this may be something only available for breakfast in the Concorde Room.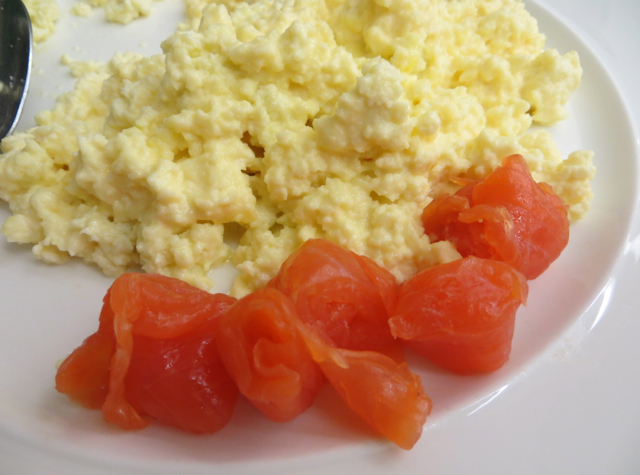 He also had fruit salad, which is also available in the regular buffet. Not pictured is orange juice–it was just regular orange juice, whereas for a true first class offering, I would have expected fresh squeezed.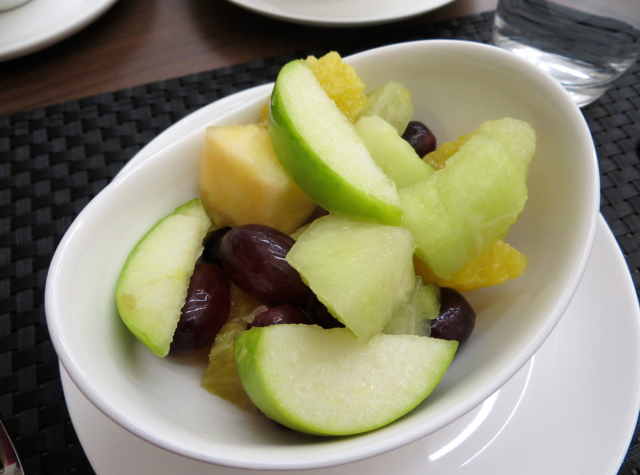 Hot chocolate appeared to be machine made, so acceptable, but nothing special: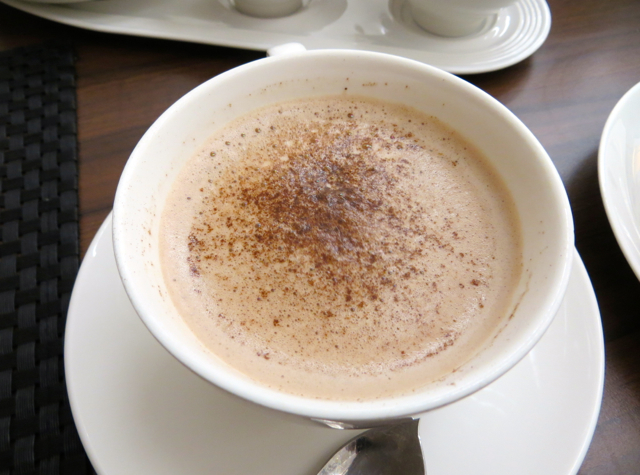 In my view, the best aspect of the Concorde Room is the tranquility; the food itself isn't special, but you'd be able to have a work phone call or focus on work in a way that would be more difficult in the main part of the Arrivals Lounge, given how busy it is.
The Galleries Arrivals Lounge breakfast buffet offers a good amount of choice, and of course even as a First Class passenger you could simply avail yourself of that if you prefer self service to table service.
Here are the breakfast meats, including bacon and sausages: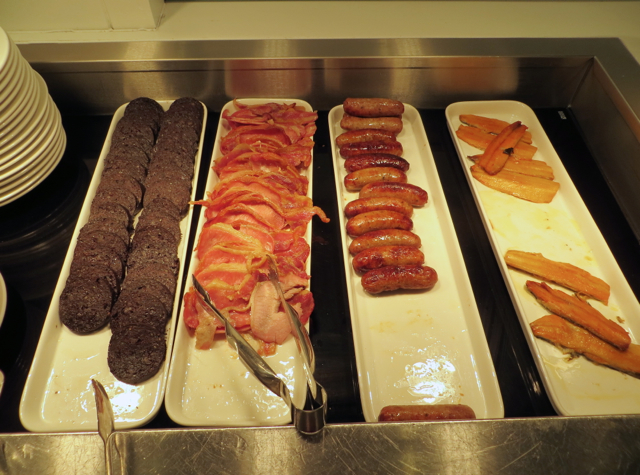 Scrambled eggs, tomatoes, and beans would help you put together a full traditional English breakfast: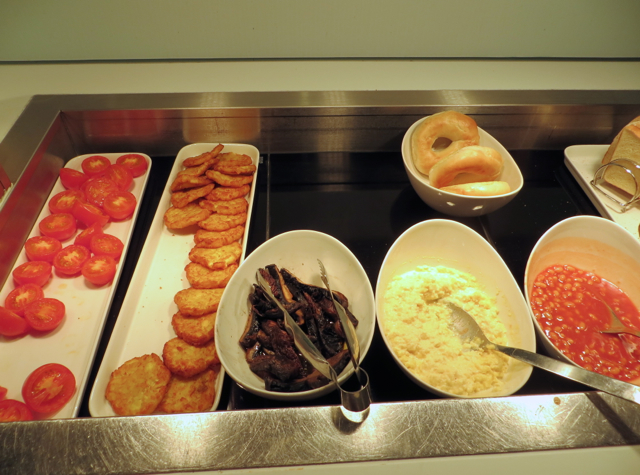 Various cheeses and cold cuts: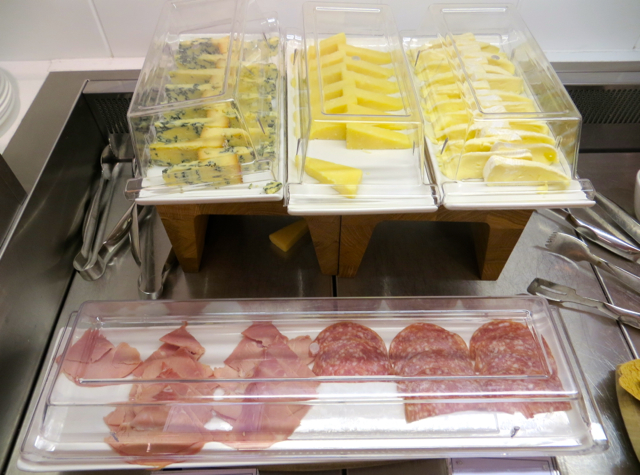 Yogurts and fruit salad: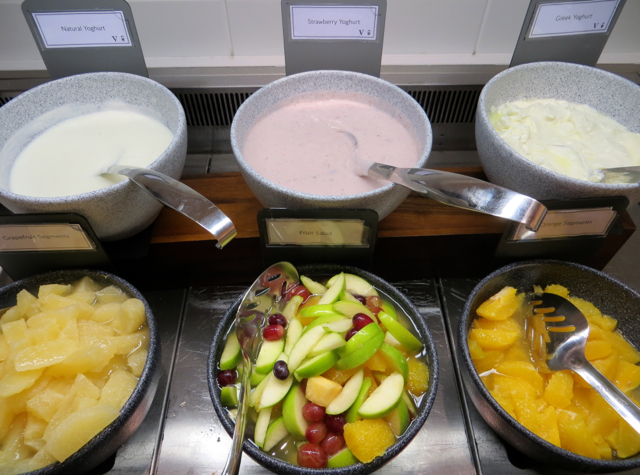 Fresh fruits: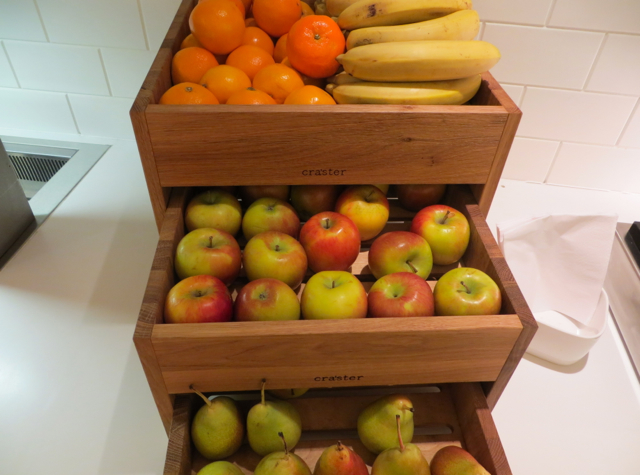 Pastries: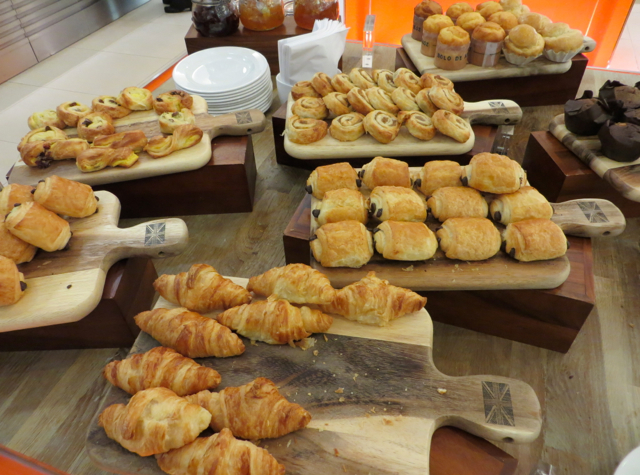 We also swung by the Business Center to print out some confirmations and maps that I hadn't had time to print before leaving NYC.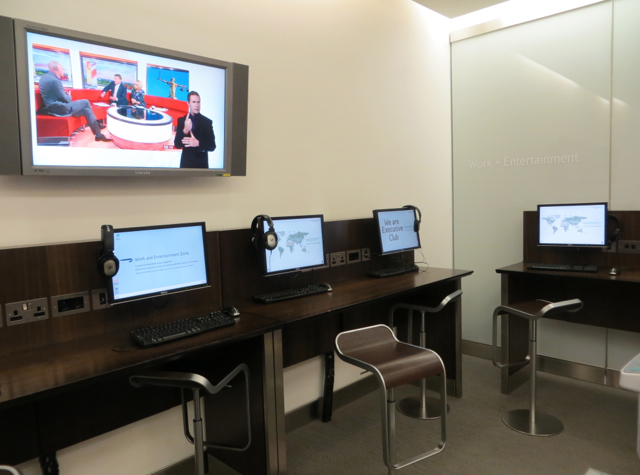 Verdict: While I was a bit disappointed at how long one would have to wait for an Elemis massage and that the Concorde Room food and drink offerings weren't higher quality, the British Airways Galleries Arrivals Lounge gets the job done, and the Concorde Room is good to have for First Class passengers in the event you need to make some work calls or concentrate on a work matter in a less hectic environment.
If you've been in the British Airways Galleries Arrivals Lounge and Concorde Room in London Heathrow's Terminal 5, what was your experience?
Related Posts
British Airways New First Class 777 Review
British Airways Galleries Lounge New York JFK Review
British Airways Avios Best Deals
How to Maximize the British Airways Companion Ticket
Need Award Booking Help? Our fee is as low as $75 per ticket if you book your hotel through us.
If you enjoyed this, join 90,000+ readers: please follow TravelSort on Twitter or like us on Facebook to be alerted to new posts.
Become a TravelSort Client and Book 5-Star Hotels with Virtuoso or Four Seasons Preferred Partner Amenities!