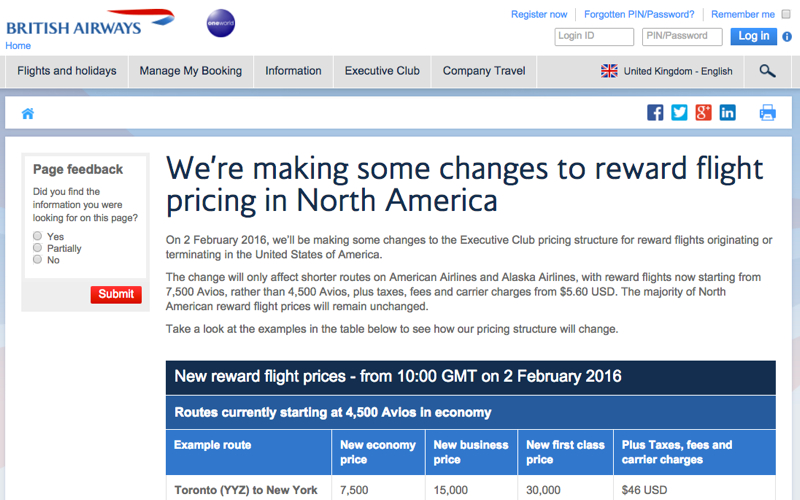 Another British Airways devaluation: higher award prices for short haul flights in the U.S. Specifically, all routes that currently are just 4500 Avios each way in economy will increase to 7500 each way, on February 2, 2016.
If you have a British Airways account, you probably received a similar email yesterday, bolding mine:
"We're going to be making a change to the Executive Club pricing structure for shorter reward flights originating or terminating within the United States of America. From 2 February 2016, reward flights will start from 7,500 Avios, instead of 4,500 Avios, plus taxes, fees and carrier charges ("TFCs") from $5.60 USD.
Only those reward flights that currently cost 4,500 Avios for a one way flight in Economy, 9,000 Avios for Business Class and 18,000 Avios for First Class plus TFCs will increase; to 7,500 Avios, 15,000 Avios and 30,000 Avios plus TFCs respectively. All other Avios reward flight pricing will remain the same as it is today."
FAQ
Do Award Flight Have to Be Booked or Flown Before February 2, 2016 to Be at the 4500 Avios Rate?
Award flights that are currently priced at 4500 each way for economy just have to be booked before February 2, 2016 to be at the current rate. Starting at 5am ET / 2am PT on February 2, 2016 the rate will go up to 7500 Avios each way in economy / 15,000 Avios each way in business class and 30,000 Avios each way in first class.
Which Routes Are Affected?
The routes that are affected are those that begin or end in the U.S. and are less than about 650 miles. Here are a few example of these types of routes, mostly on American Airlines or American Eagle:
Baltimore BWI to Chicago ORD
Charlotte CLT to Orlando MCO
Charlotte CLT to Sarasota SRQ
Charlotte CLT to New Orleans MSY
Charlotte CLT to Washington, DC DCA
Chicago ORD to Cleveland CLE
Chicago ORD to Minneapolis MSP
Chicago ORD to Toronto YYZ
Chicago ORD to Washington, DC DCA
Dallas DFW to Austin AUS
Dallas DFW to Denver DEN
Dallas DFW to Houston IAH
Dallas DFW to New Orleans MSY
NYC to Boston BOS
NYC to Charlotte CLT
NYC to Montreal YUL
NYC to Toronto YYZ
NYC to Washington, DC
Are There Any Cheaper Alternatives to British Airways Avios for Booking These Flights?
Note that paid flights may well be a better deal for some of these flights. Figure out what your British Airways Avios are worth to you (many tend to value their Avios somewhere between 1.5 cents-2.2 cents per point) and check whether roundtrip airfare is more or less than what you'd spend using Avios.
For example, let's take a flight from New York LGA to Washington DC DCA on March 16, 2016, returning March 23. It would be 9000 Avios + $11, and paid economy fares are currently $269 per person. If you value British Airways Avios at .018 cents per point, 9000 Avios = $162, so $173 total. That makes Avios a better value than paying for the ticket, by almost $100.
Unfortunately, after the devaluation, this roundtrip will cost 15,000 Avios, bringing the total to $270 + $11, or $281. At that point you may opt to pay for the ticket, unless you're trying to get rid of your Avios.
What about other frequent flyer programs? American AAdvantage charges 12,500 miles each way even on these short flights such as New York LGA to Washington DC DCA, so you'd still be better off redeeming Avios, in case paid fares are very expensive.
What About Other British Airways Short-Haul Flight Awards in Europe, Asia, Australia?
At this point only U.S. flight awards are increasing, no other regions are affected.
Didn't British Airways Just Recently Have a Major Devaluation?
Yes–see New British Airways Avios Award Chart Devaluation for details of the devaluation that went into effect April 28, 2015.
Are you planning to redeem British Airways Avios for short haul flight awards at the 4500 each way level before the February 2, 2016 devaluation?
Related Posts
Award Flights to Europe with 3 First Class Award Seats?
Need Award Booking Help? Our fee is as low as $75 per ticket if you book your hotel or cruise through us.
If you enjoyed this, join 200,000+ readers: please follow TravelSort on Twitter or like us on Facebook to be alerted to new posts.
Become a TravelSort Client and Book Your Hotel with Virtuoso or Four Seasons Preferred VIP Amenities!