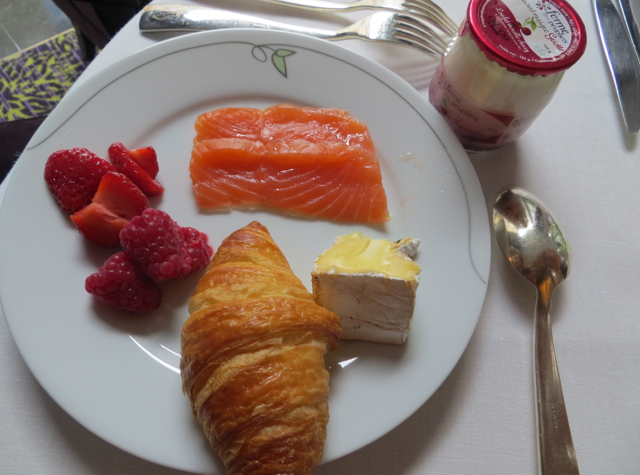 This Le Diane Breakfast in Paris post is part of a UK and France trip report including flights in British Airways in New First Class, Singapore Business Class and Singapore Suites, stays in a Scottish castle and 5-star hotels in London and Paris, and Michelin Star Dining in Paris. For the prior posts, please see:
British Airways Galleries Lounge in Newark and First Class Dining Review
British Airways New First Class 777 Review
British Airways Galleries Arrivals Lounge London and Concorde Room
Singapore Business Class Review NYC (JFK) to Frankfurt
Petrus London Restaurant Review
Dalhousie Castle Hotel Review, Scotland
Dalhousie Castle Falconry Review, Scotland
Epicure at Le Bristol Paris Restaurant Review
Four Seasons Paris Hotel Review
Paris Plages (Paris Beaches) Review
Le Cinq at Four Seasons Paris Restaurant Review
Four Seasons Paris Kids Pastry Lesson and Back of House Tour
Park Hyatt Paris-Vendome Review
Park Hyatt Paris Breakfast Buffet Review
Prince de Galles Paris Hotel Review
La Grande Eperviere Barcelonnette Hotel Review
Things to Do in Barcelonnette, France with Kids
InterContinental Marseille Hotel Review
Vinoneo Bistro Marseille Restaurant Review
Westin Grand Frankfurt Hotel Review
La Maison Stella Cadente Review (Provins, France)
Provins France Fete de la Moisson (Harvest Festival)
Hotel Fouquet's Barriere Paris Hotel Review
La Regalade Conservatoire Paris Restaurant Review
Breakfast at Hotel Fouquet's Barriere is served in Le Diane, the hotel's Michelin star restaurant. The restaurant itself was closed during our August visit for its annual vacation, so we didn't experience dinner there, but we did get to see the intimate setting during our brief breakfast, on our last morning in Paris before flying home.
It's a small setting, a round restaurant with just about 12 or so tables, and very much in keeping with the more boutique feel of the hotel. Here's our table, set for breakfast: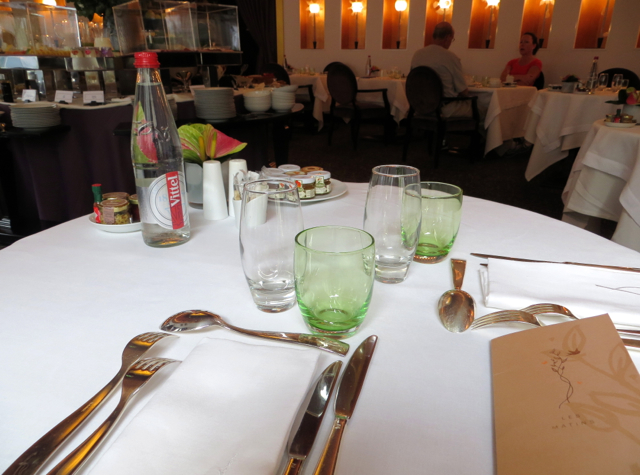 The breakfast buffet was included for us and is included for anyone making a Virtuoso hotel booking at Hotel Fouquet's Barriere with TravelSort. Otherwise, the breakfast is 46 Euros per person, which is steep, but the going rate for breakfast at 5-star hotels in Paris.
In addition to the buffet, it's possible to request eggs cooked to order accompanied by cheese, ham, bacon, sausage or tomato; pancakes with maple syrup; waffles, porridge; and even miso soup–the hotel must see its share of Japanese guests. As we had little time before we needed to leave for the aiport, however, we kept to the buffet, which was more than ample for our needs.
Here's the breakfast buffet menu at Le Diane: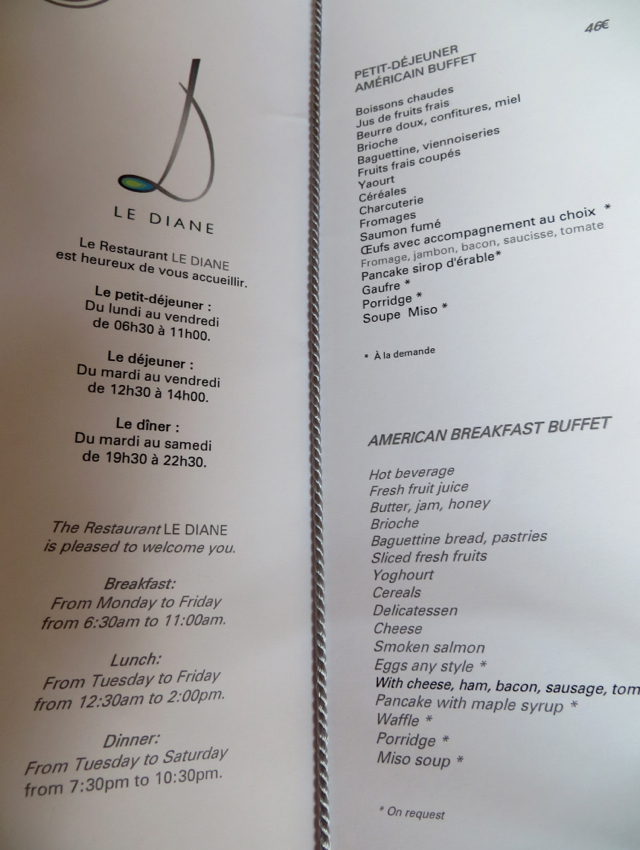 First stop for me, as usual, was the smoked salmon, which was top-notch: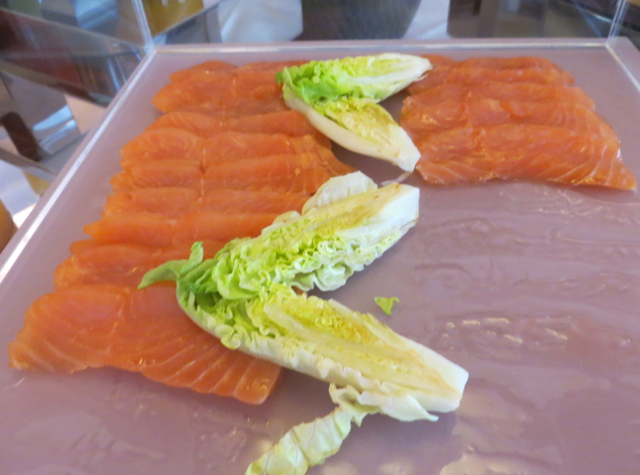 I also liked this prettily arranged tray of tomatoes and selected some for me, although the munchkin eyed them suspiciously and would have nothing to do with them.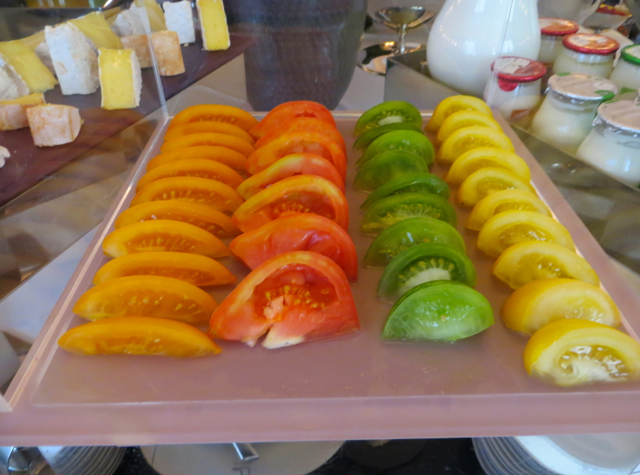 There were also the requisite cold cuts, although we had enough other choices that we didn't partake: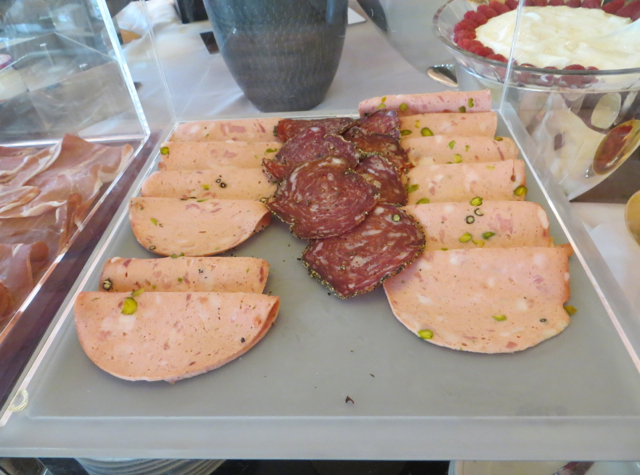 The cheese plate offered three types of cheese, including a great Comte and buttery Brie de Meaux: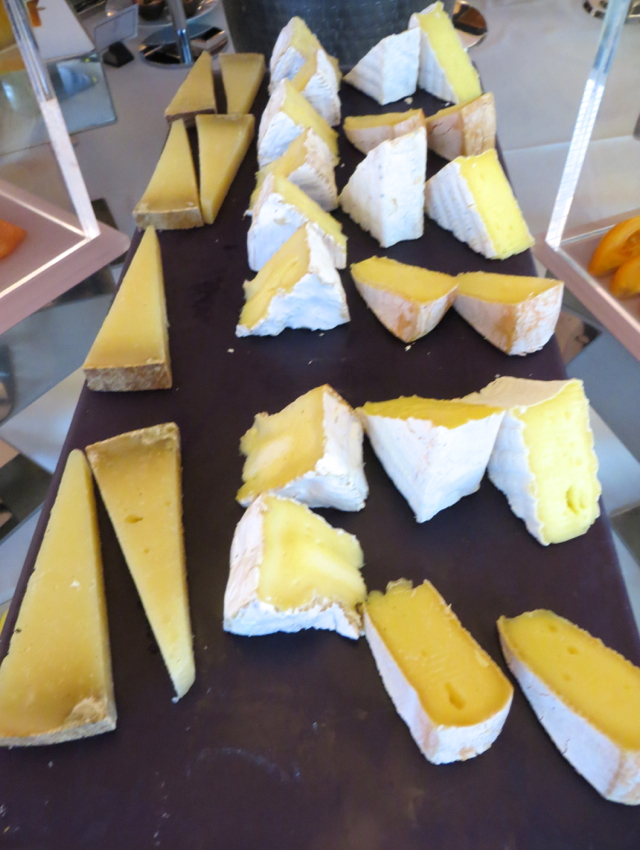 We both enjoyed the artisanal yogurt, by La Ferme du Manège, which is one of my favorite brands. I remember enjoying it in Cathay Pacific First Class.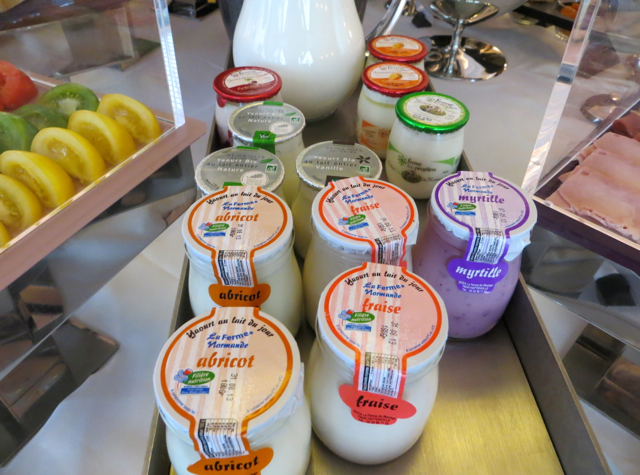 I mixed in some of the beautifully presented fromage frais, adorned with fresh raspberries, which I wish was easier to come by in the U.S. It's silky smooth and milder in taste than yogurt.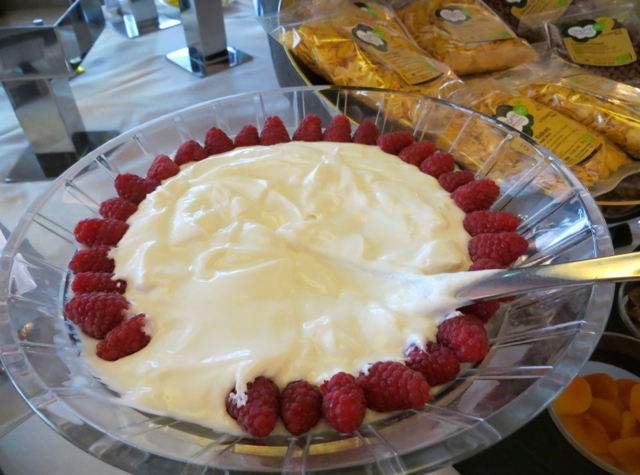 And of course breakfast wouldn't be complete without a croissant or two. There were also pain au chocolat and pain aux raisins, not to mention various breads: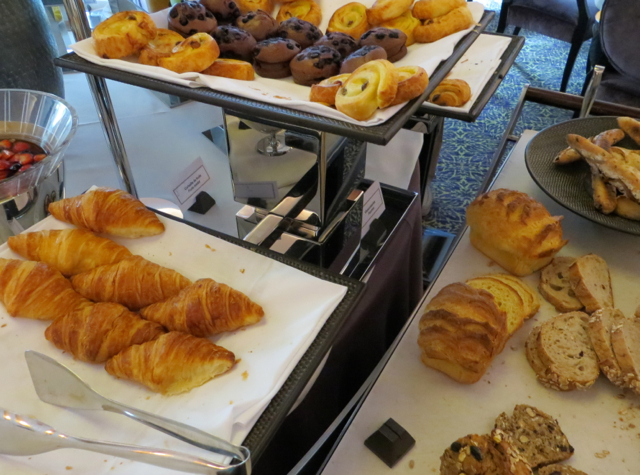 There were also a couple of loaf cakes, but the pastries, spread with jam, were more tempting:
Probably our favorite station was the freshly squeezed juices. I liked being able to help myself, rather than having to be served them by a frosty server, as was the case at the Park Hyatt Paris Vendome. My favorite was the mango juice, and the munchkin's favorite was the green apple: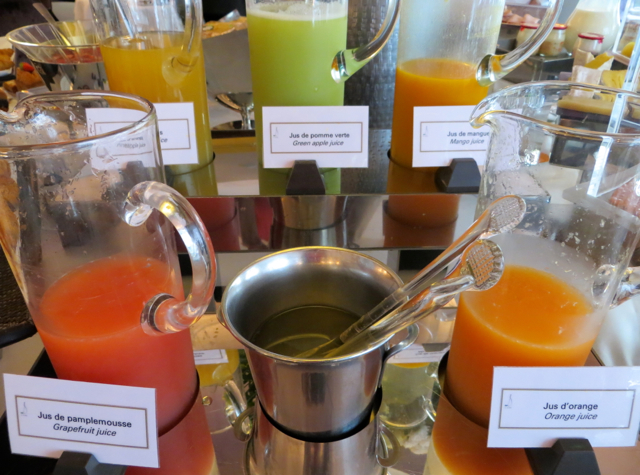 The Verdict: Le Diane offers a delicious and copious breakfast in an intimate and elegant setting. The buffet is a cold buffet, with the emphasis on quality rather than quantity. We were sorry not to have been able to linger longer–had we had more time, we certainly would have ordered some of the made to order hot options, such as an omelette, pancakes, waffles and perhaps even miso soup. Service was attentive and more friendly than at the Park Hyatt Paris.
The price, as at all Paris luxury hotels, is steep, and it's best to make a Virtuoso booking at Hotel Fouquet's Barriere, as that includes the full breakfast buffet for two daily, in addition to a guaranteed upgrade at the time of booking, a 50 EUR voucher for spa treatments, and, for stays of 3 nights or more, a 1 way private transfer.
Disclosure: I was a guest and enjoyed a complimentary stay at Hotel Fouquet's Barriere Paris and breakfast at Le Diane, however the views expressed in this post are my own.
Related Posts
Hotel Fouquet's Barriere Paris Hotel Review
Park Hyatt Paris Breakfast Buffet Review
What's the Best Place to Have Breakfast in Paris?
Need Award Booking Help? Our fee is as low as $75 per ticket if you book your hotel through us.
If you enjoyed this, join 90,000+ readers: please follow TravelSort on Twitter or like us on Facebook to be alerted to new posts.
Become a TravelSort Client and Book 5-Star Hotels with Virtuoso or Four Seasons Preferred Partner Amenities!