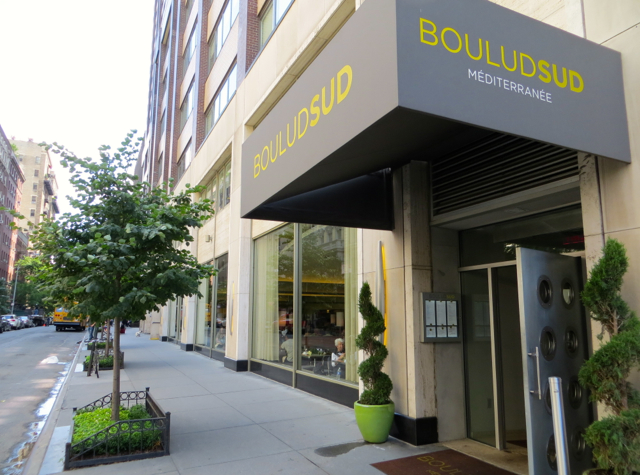 This Boulud Sud Restaurant Review is one of our many NYC Restaurant Reviews and recommendations for NYC Restaurant Week. Visiting New York? See all of our posts tagged NYC.
Boulud Sud is part of Daniel Boulud's empire of restaurants around the world, spanning 8 eateries in NYC as well as outposts in Miami, Palm Beach, London, Beijing, Singapore, Toronto and Montreal. Envisioned as a a Mediterranean melting pot, Boulud Sud's cuisine is Southern French inflected with Moroccan, Spanish, Italian, Greek and Turkish accents. I'd heard somewhat mixed reviews, so it wasn't highest on my list of NYC restaurants to try, but the current New York Restaurant Week promotion with a prix fixe lunch menu for $25 made it a good time to review it.
Boulud Sud is on 64th Street between Central Park West and Broadway, close to Lincoln Center and a bit north of Columbus Circle, not far from Nougatine, another Restaurant Week favorite. Since apart from Nougatine and Telepan this area is rather poor for upscale food that isn't ultra pricey (such as Per Se and Jean-Georges) I'm guessing Boulud Sud is the beneficiary of a great deal of pre-theater and post-theater dining.
My husband and I were greeted and given a booth table, as we'd requested in our Open Table reservation. The tables are spaced quite closely together, and I was surprised at just how large the space is. It was fairly busy for lunch, so noise level was moderate, although not so high as to be unpleasant.
We were given menus that included both the a la carte choices and the Restaurant Week menu. Here's the Restaurant Week lunch menu: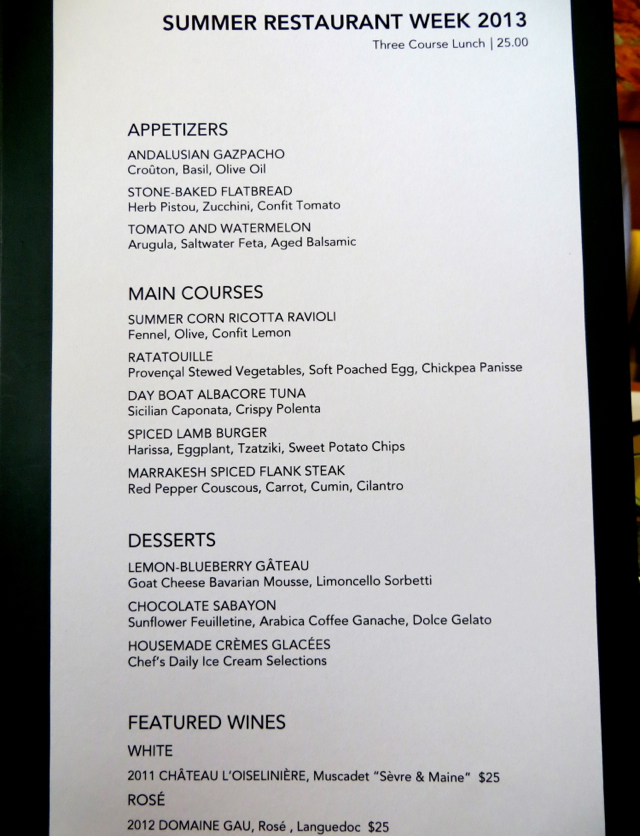 We chose and closed our menus, and waited, but no one came by to take our order, so I eventually flagged a server and soon none other than the Maitre D' was at our table, asking what we'd like (and no, I hadn't complained about the waiting time or asked for the Maitre D'!)
Soon after ordering, complimentary bread was placed at our table, and a shallow dish with some spices and garlic was set next to it, to which a server added olive oil for dipping. The focaccia was delicious and very fresh, and the olive oil top quality. To me at least, the bread a restaurant serves sets the tone for the rest of the meal, and first impressions count–this was a good one.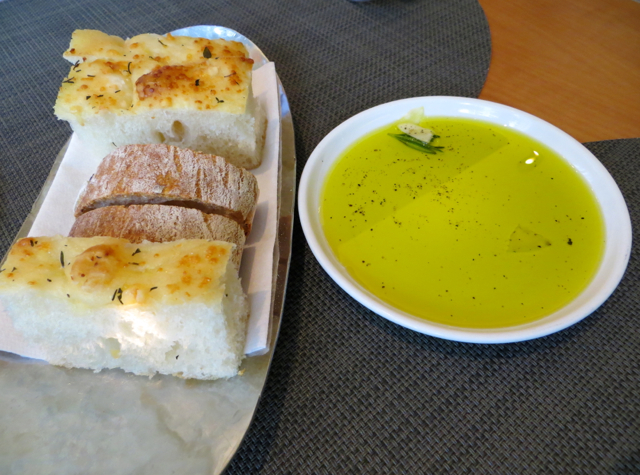 Presently our first courses arrived. My husband had ordered the Andalusian Gazpacho with Croutons, Basil and Olive Oil, and he enjoyed the vibrant tomato flavor, although was a bit disappointed with how pureed it was. His own preference is for gazpacho with more tomato pieces and texture.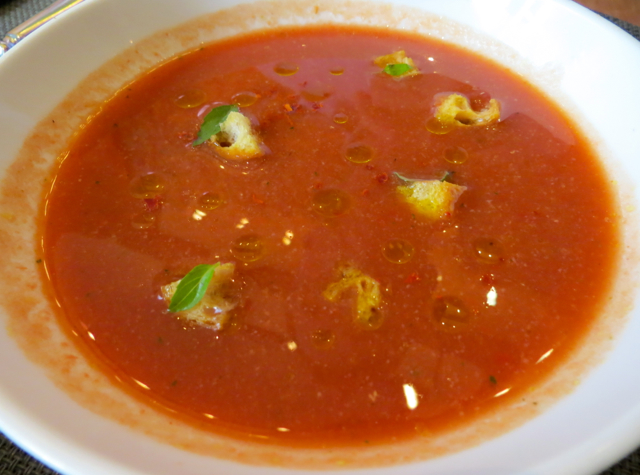 I thought my Stone-Baked Flatbread with Herb Pistou, Zucchini and Confit Tomato was the winner here, both in terms of presention but also in taste. The herb pistou was a brilliant green on the warm flatbread, and the thin wisps of zucchini, punctuated with the concentrated bursts of flavor from the confit tomato and accented with fresh parmesan was addictive. I'm pretty sure that if the munchkin had been there he would have insisted on eating nothing else.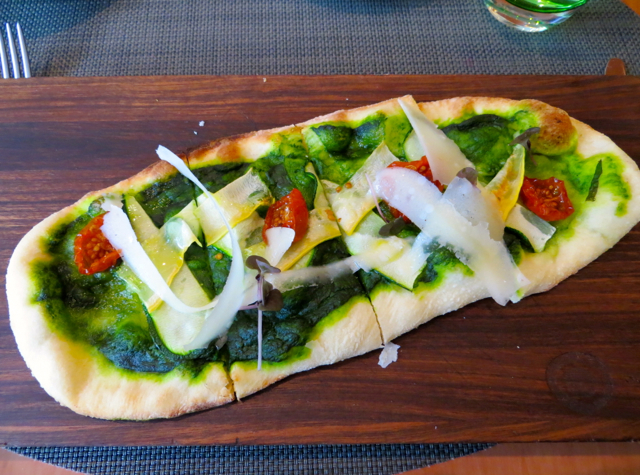 There was a something of a service lull here, with about 10 minutes of a delay between finishing our first courses before plates were cleared, although fortunately we weren't in a huge hurry for this lunch.
For mains, my husband chose the Spiced Lamb Burger with Harissa, Eggplant, Tzatziki and Sweet Potato Chips. Prior to this our favorite lamb burger in the city was the one at Fish Tag, but we both agreed that this one was even better, perfectly cooked to medium rare and deliciously complemented by the harissa and eggplant. The only criticism I had was that the sweet potato chips didn't taste much of sweet potato; Terra sweet potato chips from Whole Foods have more sweet potato flavor.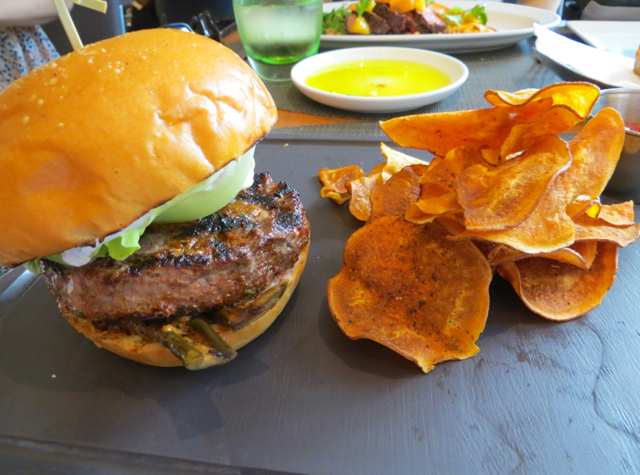 I chose the Marrakesh Spiced Flank Steak, also perfectly cooked to medium rare. While my husband didn't care for this much, I liked the spice crusted steak (especially the end pieces, which had even more of the spices) and thought the couscous with roasted red pepper sauce went perfectly with it. There was a bit too much cilantro on the plate, but that was easily remedied by putting most of it to one side.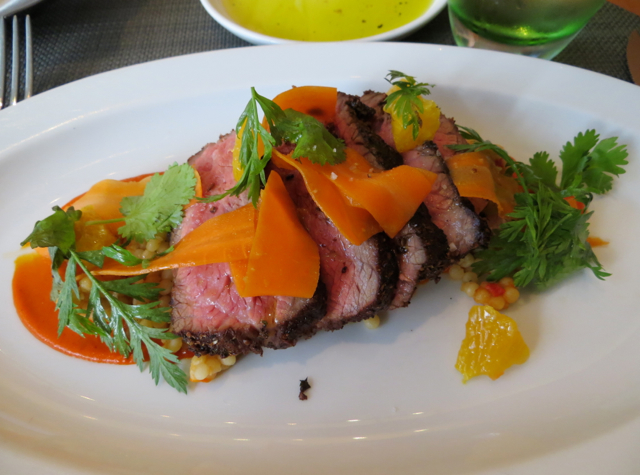 For desserts, my husband chose the Chocolate Sabayon, a fairly straightforward chocolate custard with Arabica Coffee Ganache and Dolce Gelato. I must say that I enjoyed the gelato best, although the dessert was beautifully presented.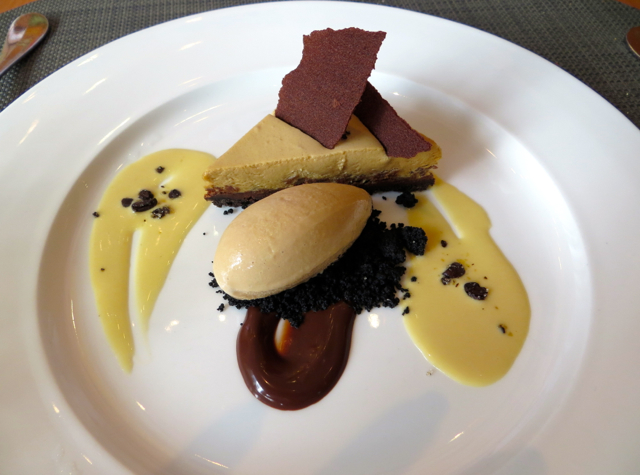 Similarly, for my dessert, the Lemon Blueberry Gateau with Goat Cheese Bavarian Mousse and Limoncello Sorbet, the dessert looked a bit better than it tasted. Very artistically presented, the lemon blueberry cake was perfectly fine but not that memorable on its own–what really made this dessert was the limoncello sorbet, as the limoncello liquer really kicked the sorbet up several notches from any lemon sorbet (without the limoncello) that I've tasted. It made me wish that one of us had simply gotten the selection of housemade gelato and sorbet, since these were the highlights of our desserts.
Perhaps I'll have to stop by Epicerie Boulud right around the corner sometime to try more of these gelatos and sorbets.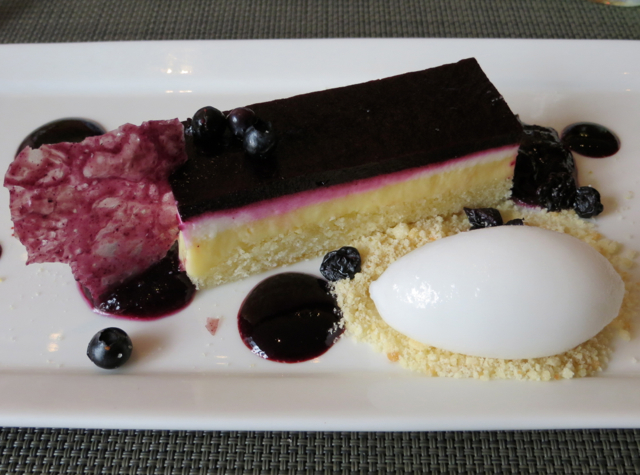 The Verdict: While I wasn't overly impressed with the restaurant interior, given the tight seating and how big it was, the food at Boulud Sud was thoughtfully envisioned and very well executed. I enjoyed the housebaked fresh foccacia, the stone-baked flatbread, the spicing of our main courses, since I've always loved Moroccan and Greek cuisine, and the housemade gelato and sorbet that we tried.
Would I go back to try more of the menu at full price? Doubtful, even though there are definitely several dishes that draw rave reviews, such as Octopus a la Plancha and the Chicken Tagine. With appetizers in the $15-21 range and main dishes in the $21-$30 range even at lunch, Boulud Sud is just too pricey for what it delivers, in my view. But it can charge these prices and get away with it due to the dearth of competition in the immediate area.
If you've dined at Boulud Sud, what was your experience?
Related Posts
NYC Restaurant Week Summer 2013: Where to Go
Cafe Boulud NYC Restaurant Review
Where to Eat in NYC: The Best New York Restaurants Right Now
Need Award Booking Help? Our fee is as low as $75 per ticket if you book your hotel through us.
If you enjoyed this, join 90,000+ readers: please follow TravelSort on Twitter or like us on Facebook to be alerted to new posts.
Become a TravelSort Client and Book Your Hotel with Virtuoso or Four Seasons Preferred VIP Amenities!