The Intercontinental Boston is best known as a large business-oriented hotel near Boston's financial district (although also convenient walking distance to Faneuil Hall, Quincy Market and the North End) but based on our recent stay, it's great for families with young kids as well. We were upgraded to the Club Level.
We arrived around 7pm, after an early dinner with our relatives, and check-in was perfectly smooth. Perhaps due to Thanksgiving, there was no line at all, and we were soon on our way up to the 12th floor. When we entered, there was a foyer: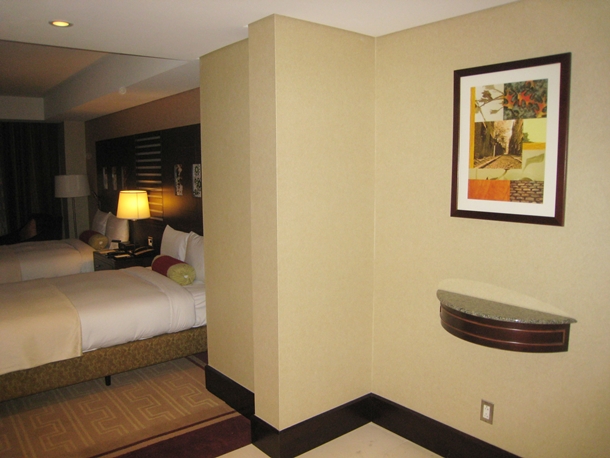 The room itself was huge. Although this was a Club room, even the standard rooms at the Intercontinental Boston are over 400 sq ft. So if you need to some space for pilates, yoga, practicing your golf swing (kidding!) these are the Boston rooms for you. Even the closet was huge–we could have put our son's entire crib in there easily (don't worry, we didn't!)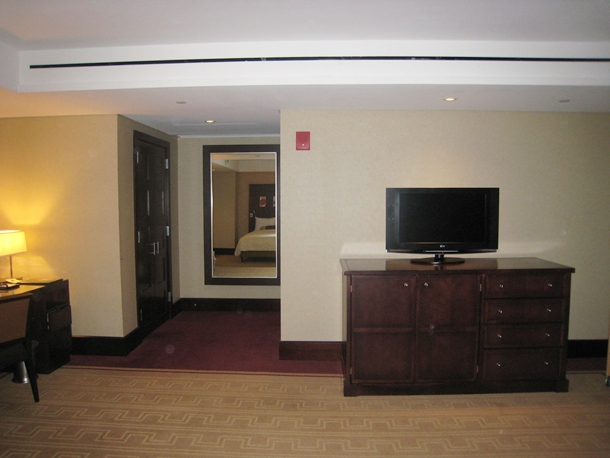 I can't say I was overly impressed with the decor, which seemed a bit drab, but that's personal taste–I have a strong dislike of too much beige or neutral tones. The other thing I wasn't overly impressed with were the beds–given all that space, it would be nice to have 2 queen size beds, rather than 2 double beds. Fortunately getting a crib for our son wasn't a problem. The mattresses were also a bit firmer than my husband and I prefer. Again, we're pretty picky–even the Westin Heavenly Bed is no match for our SpringAir pillowtop at home, with its memory foam layer, so the Intercontinental beds may well be perfect for you if you prefer firmer beds.
What I did really like was the spacious bathroom, with its deep soaking tub and separate glass shower with rainfall showerhead. Not as elegant or finely finished of course as the Four Seasons, but very nice nonetheless.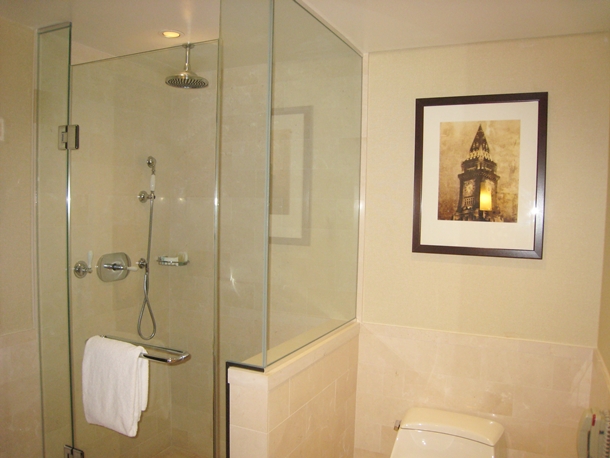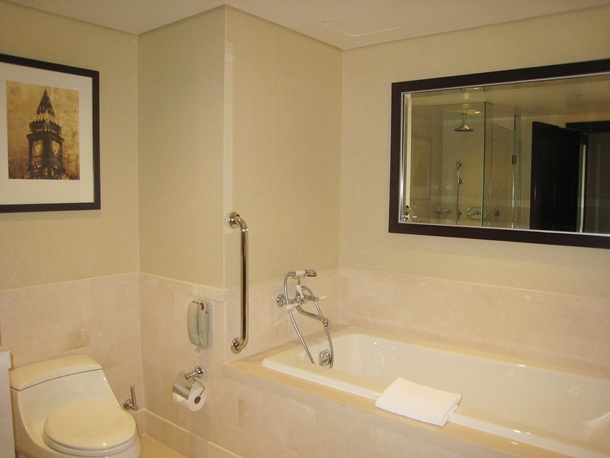 Floris bath amenities were provided, but I opted to use the L'Occitane toiletries I'd brought with me.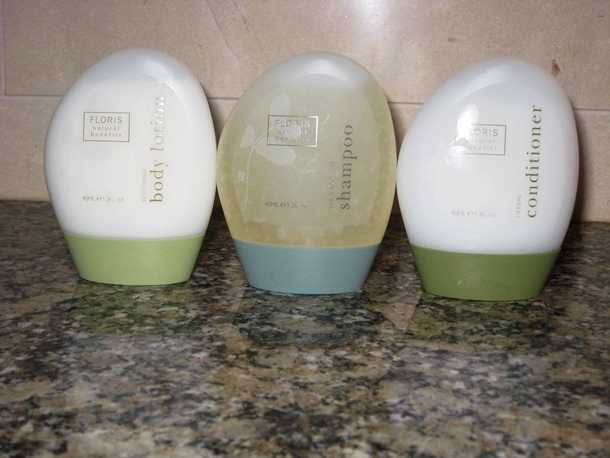 We decided to explore the Club Lounge, which was just down the hall, even though we'd already had dinner. My husband and I had a little wine, and the munchkin, who seemingly is a black hole as far as food is concerned, managed to put away a second dinner of berries, pineapple, cheese and some bread.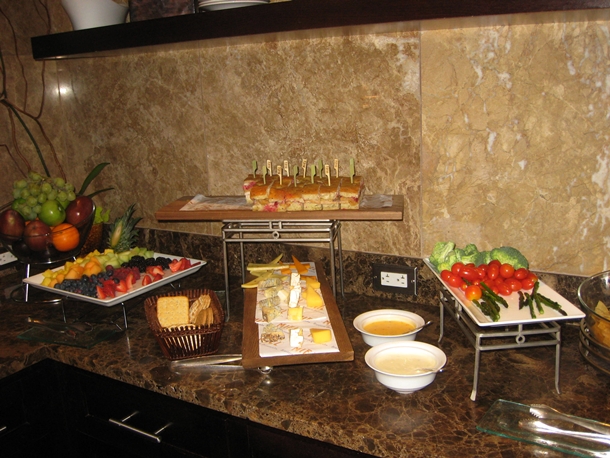 I also tried one of the creme brulees, but sadly the brulee part was no longer crackly; it had probably been in the fridge and the moisture did away with the crunchy brulee topping.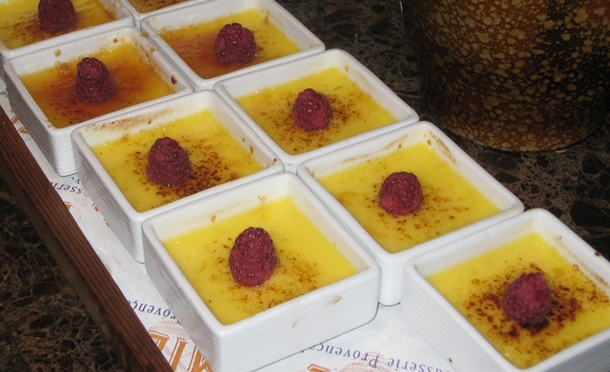 We all slept quite well, in spite of the bed not being quite as plush as we'd have liked. The room was super quiet, which we appreciated. In the morning, we opened the curtains to reveal a bit of a view. Even though we'd booked the city view room, not waterfront, since we were there just overnight, the great weather that day and blue sky still made it a decent view.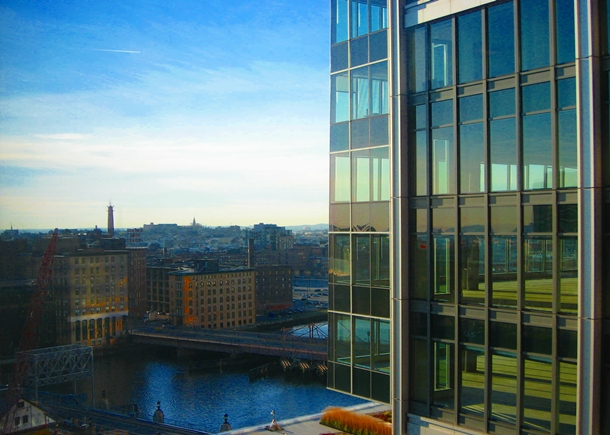 Then it was time for breakfast and coffee in the Club Lounge. I enjoyed my favorite–smoked salmon, tomatoes and capers, plus a side of berries. There's a complimentary computer with printer in the Club Lounge for guest use, so it was easy to print out our boarding passes for the flight home.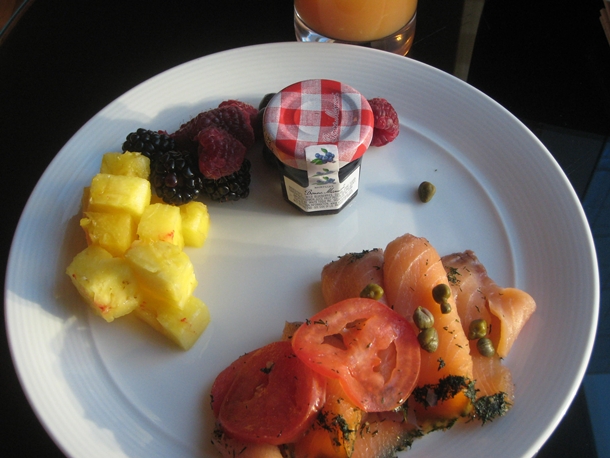 Before we left, my husband and son went for a swim, which some other kids and families were already enjoying. If kids aren't your thing, I suspect that the swimming pool is emptier in the evenings and non-holiday weekdays. And while we didn't use it, the gym looked very well equipped, and a great place to work out given the natural light and views of the greenway.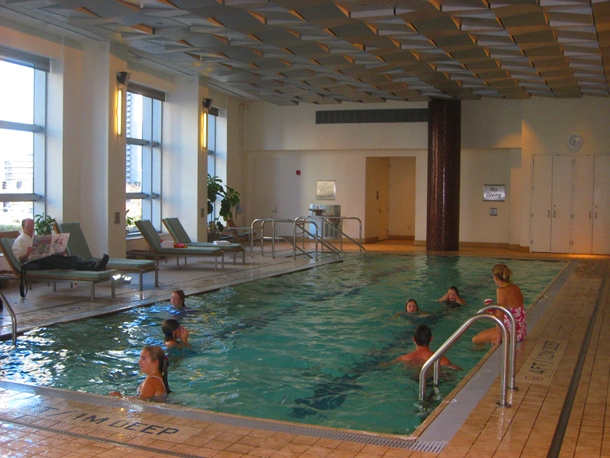 One last photo by the Christmas tree, which had already been set up in the lobby, then it was time for a taxi (super quick–about 15 minutes) to the airport.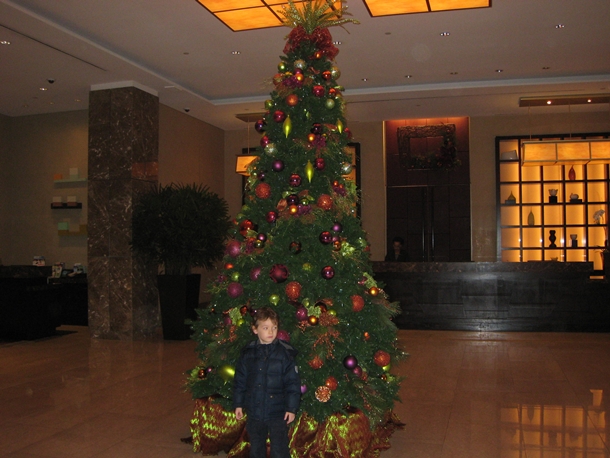 The Verdict
While I haven't stayed at many Intercontinental hotels, the Intercontinental Boston made a good impression. I'd say it's a slight step above the better Westins, but not of course at the same level of Ritz-Carltons or Four Seasons. The hotel's large size and unassuming decor reflect the fact that many guests are there on business, but the sheer size of the rooms and bathrooms, not to mention the great indoor pool, make it perfect for families. And we had no issues bringing our son into the Club Lounge (though of course we did make sure he behaved). The hotel is also frequently great value, compared to other Boston hotels of its caliber.
Related Posts
Review: Fairmont Copley Plaza Boston
Four Seasons Boston State Suite Review
Cathay Pacific First Class Boston to Hong Kong Flights Coming
10 Places to Satisfy Your Sweet Tooth in Boston
Need Award Booking Help? Our fee is as low as $75 per ticket if you book your hotel or cruise through us.
If you enjoyed this, join 200,000+ readers: please follow TravelSort on Twitter or like us on Facebook to be alerted to new posts.
Become a TravelSort Client and Book 5-Star Hotels with Virtuoso or Four Seasons Preferred Partner Amenities!