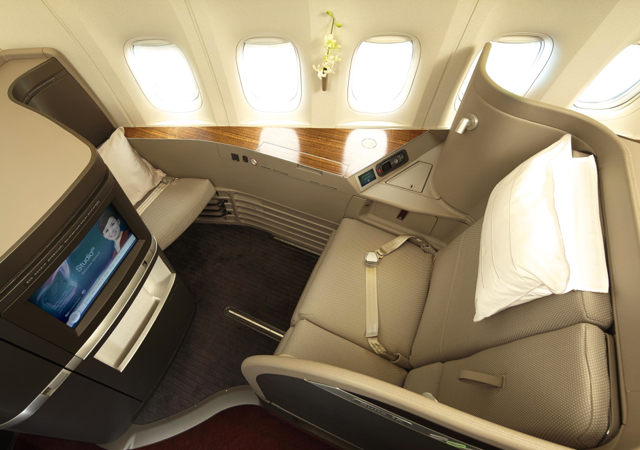 Can you book Cathay Pacific First Class for two people with Alaska Mileage Plan miles? TravelSort reader Chad writes:
"I have a pair of Cathay Pacific Business Class tickets from HKG to JFK booked later this year, via Alaska miles…I actually have enough miles to upgrade the seats from from business to Cathay First Class, providing there is availability – but on both British Airways and Qantas, it only shows a single seat available on the flight in question in first class, as well as in any flight from there to the end of schedule.
I looked at revenue seats on the flight on Cathay's site, and there are two seats available (I do know revenue is not always equal to award seats!). So the question: Do you happen to know if another seat would become available if we upgrade one of the business seats – I read somewhere that does happen with business class booked via Alaska, I think? Or if that one Cathay First Class seat is all that is ever available? Or, perhaps, if there is any way to ever get that second seat? Having one person in business and one in first is not the end of the world, but it would not be ideal for such a long flight."
This is a great question. Cathay Pacific First Class is one of my Award Booking clients' most requested awards (even though it's just one of what I consider The World's 6 Best First Class Airline Experiences). And Alaska Mileage Plan is attractive because its Cathay Pacific Award Chart is less than American AAdvantage and Cathay Pacific Asia Miles; a Cathay Pacific First Class award is just 70,000 miles per person between the U.S. and Hong Kong, if available, vs. 110,000 miles for AAdvantage and 130,000 Asia Miles. But here's what you should know:
Only 1 Cathay Pacific First Class Seat is Available in Advance on Routes to/from the U.S.
For some time now, only 1 Cathay Pacific First Class seat has been available in advance on routes to and from the U.S. Often there are 5 or so Cathay Business Class seats, but just 1 Cathay Pacific First Class seat, if any. Because of this, if you're booking for two of you, at best you'll be able to book one Cathay First Class seat and one Cathay Business Class seat in advance.
Alaska Airlines Mileage Plan Doesn't Always Have Access to All Cathay Pacific Partner Award Availability
The question has been asked by frustrated clients and readers–is Alaska blocking Cathay Pacific award seats? There have been reported cases where a Cathay First Class award seat appears on partner sites, such as Japan Airlines, Qantas and British Airways, but Alaska can't book the seat: "the seat AS reps couldn't see when I tried to book it is still available according to BA, JL and QF's search engines…AS found CX Y+ I could see on BA but not F" (Flyertalk)
While Alaska agents will typically say that it's what Cathay releases to Alaska, it seems unlikely that Cathay Pacific would release the same number of award seats to all other partners, except for Alaska. And since there have been other problems with being able to book space using Alaska miles, not just Cathay (one reader even told me they had problem booking space on an Alaska flight, which was easily available with AAdvantage miles!) I'm inclined to believe there's a technology glitch explanation rather than Cathay actually releasing less space to Alaska or purposeful "blocking" of seats.
But whatever the source of the problem, the result is that you're at a disadvantage using Alaska miles for many awards, including Cathay Pacific First Class awards.
If There Are Only Two Revenue Seats Left for Sale, Unlikely Both Will be Released as Partner Awards
Chad mentions that Cathay is selling two first class seats on the flight he's hoping to book two awards on. Unfortunately, if that's all that's left, and four seats are already taken, I'm not optimistic that Chad will be able to secure both seats as Alaska mileage awards. He'll be lucky if he can book one (even seeing the availability on British Airways and Qantas), as discussed above.
Cathay doesn't even always open up all remaining unsold award space to its own Asia Miles members, much less to partners, although there can be more award availability offered to Asia Miles members for some flights. Unlike U.S. carriers, where typically first class cabins will be filled by selling paid upgrades or upgrading elites, carriers such as Cathay prefer to preserve the high price point of their first class seats by not filling all seats. On my most recent Cathay Pacific First Class flight from Hong Kong to LAX, I was the only passenger in First Class, and the other 5 seats were all empty.
The Upshot: Decide if Flying in Two Separate Cabins is Fine if a Second First Class Seat Isn't Released
In Chad's case, I do think it's unlikely that he'll be able to book both Cathay First Class seats using Alaska miles, if there are truly only 2 unsold seats in First Class. In other cases, where no seats or only 1 seat is sold, there is a higher likelihood that another Cathay First Class seat will be released to partners closer to departure, although still no guarantee. And if you want the highest chance of getting a second first class seat, it's best to have some Asia Miles available, although you'll pay nearly twice as much for a one way as you would using Alaska miles. But as discussed, Alaska miles aren't as reliable as other partner miles, such as AAdvantage, for booking Cathay First Class.
Have you experienced problems using Alaska miles to book Cathay Pacific First Class, even when award availability was showing as available on the Japan Airlines and Qantas sites?
Recommended Posts
Cathay Pacific First Class: Don't Count On All Unsold Seats Released as Awards
Persistence Pays Off for AAdvantage Awards
Cathay Pacific First Class Review, Hong Kong to LAX
Review: Cathay Pacific The Wing First Class Lounge, Hong Kong Airport
Need Award Booking Help? Our fee is as low as $75 per ticket if you book your hotel or cruise through us.
If you enjoyed this, join 200,000+ readers: please follow TravelSort on Twitter or like us on Facebook to be alerted to new posts.
Become a TravelSort Client and Book 5-Star Hotels with Virtuoso or Four Seasons Preferred Partner Amenities!