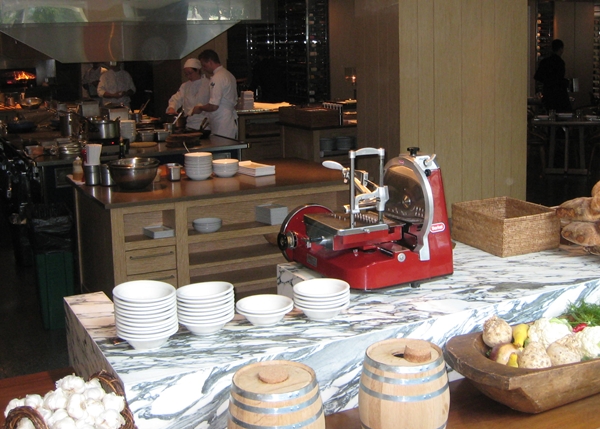 The Blue Duck Tavern at the Park Hyatt Washington DC is not your average hotel restaurant. It's garnered accolades ranging from Zagat Survey's America's Top Restaurants to Washingtonian Magazine and Bon Appetit. So my family and I were quite excited in anticipation of our early dinner reservation, especially as we'd all worked up quite an appetite after more than an hour in the hotel's swimming pool (which is fine, but not as nice as that at the Mandarin Oriental-see our Mandarin Oriental Washington DC review).
Initially, we almost walked straight into the open pastry kitchen—the actual entrance to the Blue Duck Tavern is clear from the street, but less clear from the hotel lobby. We were about 5 minutes early for our reservation, and they weren't quite ready for us, so while we waited we watched the chefs in the main kitchen, also open.
Presently, a gracious hostess led us to our table, which had a great view of the open kitchen, as I'd requested when making the reservation on Open Table. Our server soon introduced herself, and offered us menus, including a kids' menu for our son.
We initially planned on selecting a number of small plates, in order to sample the greatest possible variety, but as our server warned us that the plates were "very small" we included a main course order of suckling pig. We inquired about the Malbec, and our server was kind enough to bring a taste of it first. It wasn't as good as the Malbec we drink at home, but we opted for a glass of it anyway, since the only other robust red wines they had I was familiar with, and would have liked them even less than the Malbec.
We were brought some fresh bread and butter, which my husband and son immediately started eating, ravenous as they were. It was fine, although I couldn't help but wish for the buttery rolls at Eleven Madison Park or the pretzel bread rolls at Per Se. I know, I know—Blue Duck Tavern isn't a 3 Michelin Star restaurant—but bread is the first taste one usually has of a restaurant's offerings, and I felt it could have been improved on here.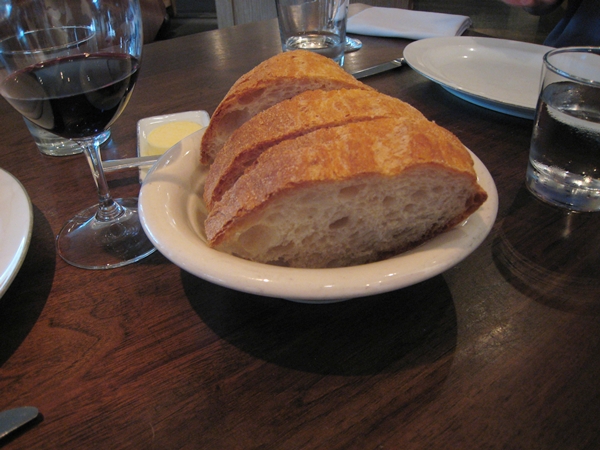 They were good enough to focus on my son's grilled cheese sandwich and bring that out first. I liked that we were able to order it with wheat bread, rather than white, and that we were able to substitute carrots instead of fries (since we had already ordered fries as a side). The sandwich was perfectly fine, and higher quality than most kids' menu fare. The carrots were obviously locally sourced, and not as sweet as more commercial ones, so not really a hit with my son, although we had him eat some of them anyway since it was the main vegetable he had that day.
When they brought the oysters on the half shell, it was like a cruel joke—instead of 6 plump bivalves, it was as if we got 6 oysters that had been on a diet, so miniscule were they. They also were basically without flavor, unless you added some of the accompanying vinegar. Since our server hadn't delivered them and was nowhere in sight, I flagged another one and mentioned how disappointed we were, and that if we'd known they were going to be like this, we would never have ordered them. He was apologetic and said he'd check with a manager, but no one came to check on us, and the plate was later removed without comment and without any kind of follow up.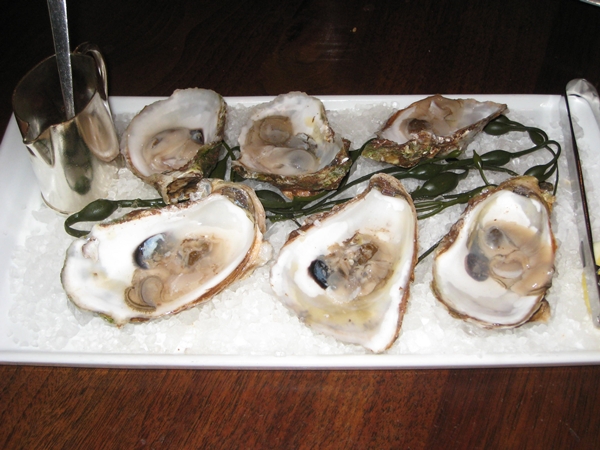 Fortunately, the other dishes, which all came out together, were better. The winner, in my book, was the veal sweet breads with aged cheddar mac and cheese and morel mushrooms. For $14, this dish was pretty small and could have had another one or two sweet breads, but the flavors were outstanding. And my son, as soon as he saw it, chided me "they DO have mac and cheese!" (since there wasn't a mac and cheese option on the kids menu) and proceeded to happily eat half of it. We really should have gotten a couple of portions of this.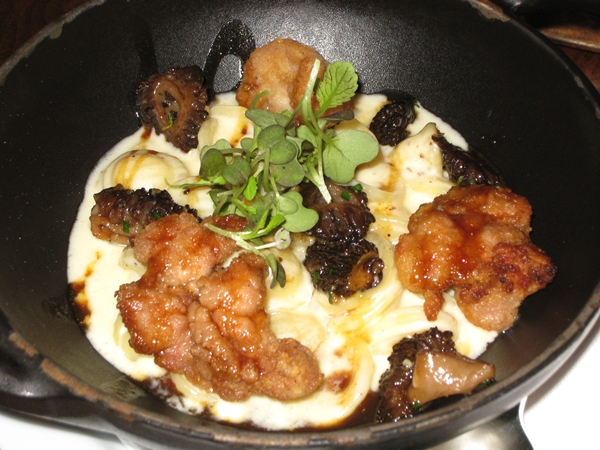 The hand cut fries were fine, but apart from being thick were nothing special, in my view.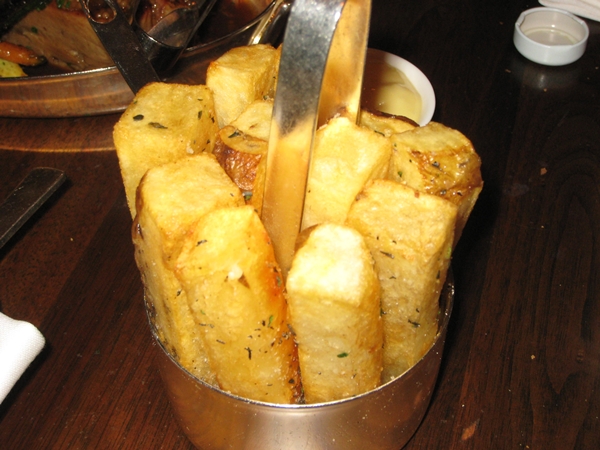 The collard greens were good, and both my husband and I enjoyed them, but just a notch or so above those at my local Whole Foods hot food bar.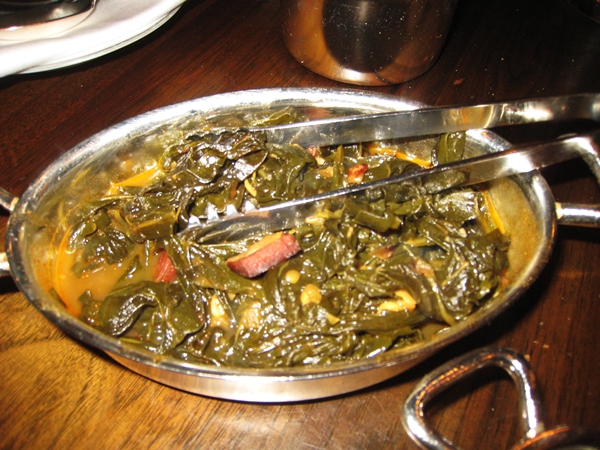 The suckling pig was succulent and moist, with delicious jus and baby vegetables served alongside. I missed having a crispy skin though, and for my money, I prefer the versions not only at Eleven Madison Park (I know, not a fair comparison since it's at another level entirely) but also at ABC Kitchen.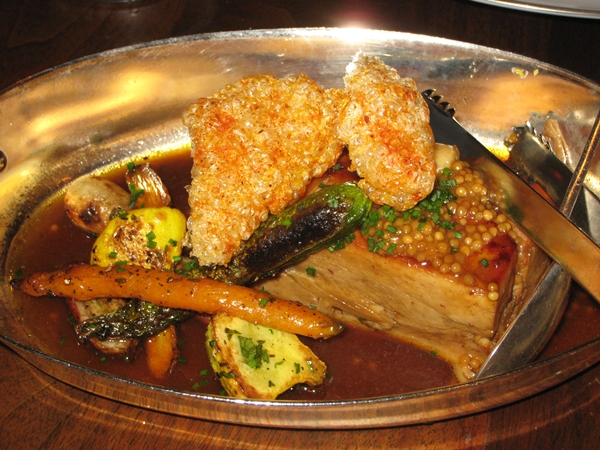 Also, at this point, service really seemed to slip. Previously, various servers had been good about refilling our water glasses, but at this point they started to go unfilled, and it took some time before we were able to flag someone to ask if we could get our table cleared and order dessert .
Then, after our server finally provided dessert menus, I waited over 10 minutes while she chatted to another table, and finally flagged down another server so I could put in our dessert order of rhubarb strawberry cobbler with buttermilk biscuits. When it finally came, it was very good—my second favorite dish of the night, after the sweet breads with mac and cheese and morels. It was on the tart side, which I love with rhubarb desserts, and the cream it came with wasn't sweetened at all. So this particular dessert probably isn't for you if you like your desserts super sweet, but for my taste it was just right.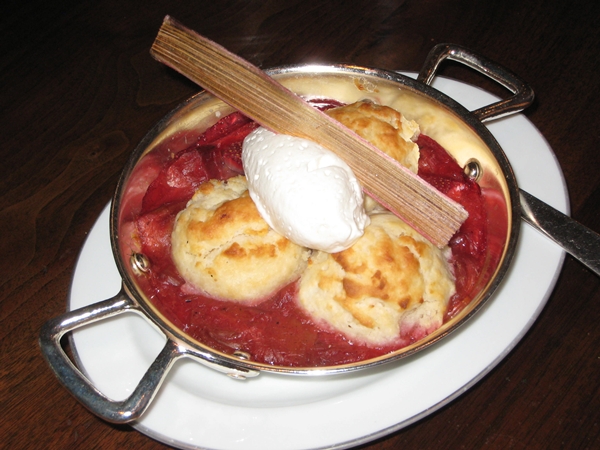 The Verdict
Overall, I was not that impressed with our dinner at Blue Duck Tavern; I'd definitely been expecting more from the restaurant, although perhaps unfairly. I'd come back as a solo diner for the sweet breads with mac and cheese and the rhubarb strawberry cobbler, but not for anything else that we tried for dinner. And while service started out ok, the service towards the end was some of the poorest I've experienced in similar caliber restaurants in recent memory. Even if the dinner had been better, I'd definitely hesitate before booking a family or business dinner here again simply due to the service lapses. It was all the more amazing given the sheer number of people they had running around, so I don't think they're short staffed, just inefficient, disorganized and insufficiently attentive to guests. This critique is for dinner service; we had a more positive experience at breakfast, which I'll post tomorrow.
Related posts:
Four Seasons Washington DC Seasons "Power Breakfast" Review
Best Luxury Hotels in Washington, DC
History, Ghosts, and Delicious Eats in Washington, DC
Where are the best pancakes in Washington, DC?
What are the best kid-friendly sights and things to do in Washington, DC?
Need Award Booking Help? Our fee is as low as $75 per ticket if you book your hotel through us.
If you enjoyed this, join 200,000+ readers: please follow TravelSort on Twitter or like us on Facebook to be alerted to new posts.
Become a TravelSort Client and Book the Park Hyatt Washington, DC with Virtuoso Benefits!