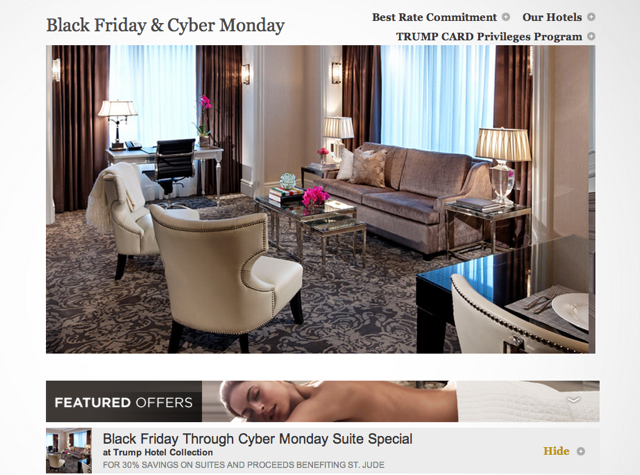 Black Friday travel "deals" abound. Black Friday luxury travel deals? Not so much–the luxury brands don't need to offer special Black Friday deals over and above what some specific properties are already offering, and for the most part they have more to lose by cheapening their brand. So don't expect a search on "Four Seasons Black Friday Deals" to yield anything. Sure, there are discounted stays at the major chains–Marriott, Starwood, Hyatt, Omni etc. but these aren't luxury and there are usually black out days and limited availability. Similarly, the airline Black Friday "deals" I've seen on Cathay Pacific, Air Berlin, etc. are all on coach travel–not too interesting.
That said, there are a few travel and food related Black Friday sales that I'll mention, and would love to hear from readers if there are other luxury travel or food-related experience Black Friday or Cyber Monday deals that you recommend. I do not receive any benefit for recommending these sites or offers, these are simply my personal favorites of what I've seen.
1. Trump Black Friday and Cyber Monday Deal: 30% Off Suites
The Trump Hotels 30% off Suites Black Friday and Cyber Monday deal is about as good as it gets in terms of luxury hotel deals. These are still of course subject to availability, so I would book soon if any are of interest.
Site: Trump Hotel Black Friday through Cyber Monday Suite Special Must reserve online only. Also enjoy a special welcome amenity and early check-in/late check-out based on availability. No code necessary when booked through the link.
Offer Date: Book November 29 through December 2
Stay Dates: Travel January 1 – March 31, 2014
2. Sunday Afternoons: 30% Off Everything on the Site
Several readers have emailed me to ask where I bought our sun hats, which we used extensively at the Park Hyatt Maldives, Barcelonnette, Amankila in Bali, and pretty much daily even here in NYC when it's sunny. We find it so much easier and more effective to protect our skin from the sun with these hats rather than smearing on and continually reapplying sun screen. Our sun hats are from Sunday Afternoons, where we've also gotten sun protective shirts and swim shirts. I especially urge families to protect their children, since kids have thinner skin and sun damage is cumulative over our lives, so by protecting them now, you'll reduce their risk of skin cancer later in life.
Site: Sunday Afternoons
Date: Friday November 29 only, until 11:59pm PST
Code: No coupon code necessary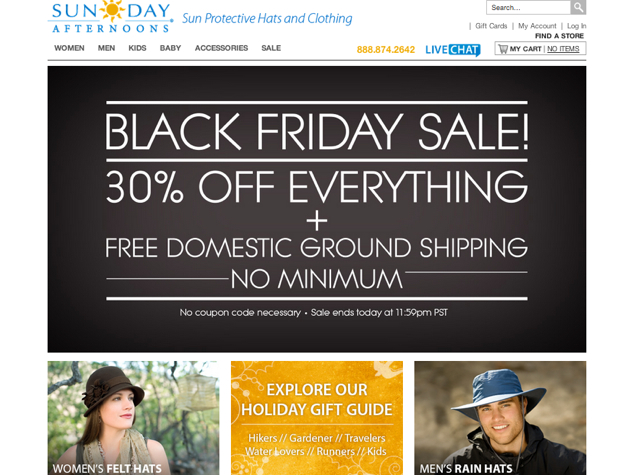 3. D'Artagnan: Up to 20% Off Everything
While I did earn 5X Points for Whole Foods Groceries used for our side dishes for Thanksgiving, for the main event itself, I went with an organic turkey ordered from D'Artagnan, and made gravy with duck and veal demi glace enriched with some medallion of duck foie gras with black truffles, which also made a nice appetizer sliced atop some squares of toasted challah (a nod to Hanukkah) accompanied with a glass of Sauternes. D'Artagnan provides many of the top restaurants around the country with their foie gras, duck, Berkshire pork, wild game, etc., and is a great source for the home chef as well. Also see D'Artagnan, A Taste of France at Home
Site: D'Artagnan
Offer: 20% off $350 or more, 15% off $250 or more, 10% off $100 or more
Dates: November 29 – December 2
Code: SAVEMORE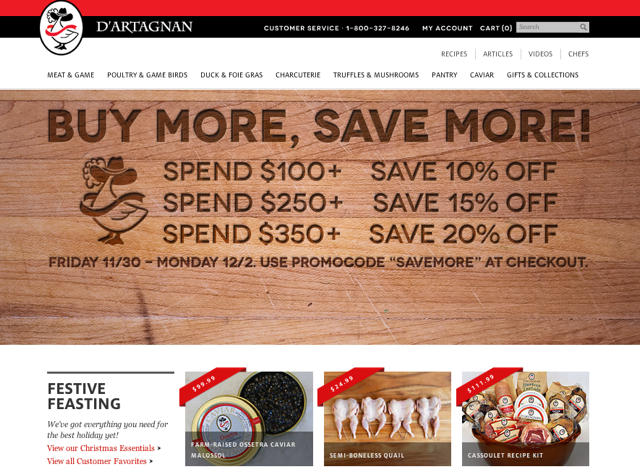 4. Institute of Culinary Education (ICE) in New York: 15% All Recreational Classes
I've enjoyed several classes in the recreational division of the Institute of Culinary Education (ICE) here in New York, and still use some of the recipes for dinner parties. My cousin even completed a professional program there, before opening a couple of restaurants. It's a fun date night or get together with foodie friends, especially if you seek out classes or ICE on location events taught by a working NYC chef.
Site: ICE
Date: Friday November 29 only, until 11:59pm EST
Code: HOLIDAY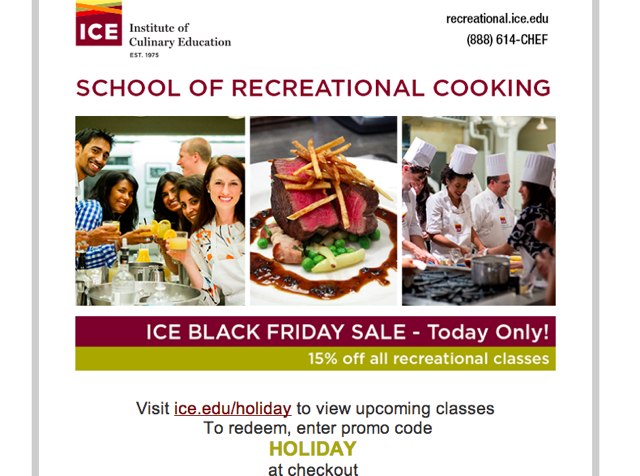 5. Seamless: 15% Off
Good old Seamless. I actually never order from Seamless unless there's a discount code, and this one comes in handy since we have good friends visiting from out of town, and what with Thanksgiving dinner, I think I'm done in the kitchen for awhile 🙂 I'll probably use this for Zabb Elee, my favorite Northern Thai / Issan restaurant in Manhattan.
Site: Seamless
Dates: Until Midnight Sunday, December 1
Code: BLACKFRIDAY15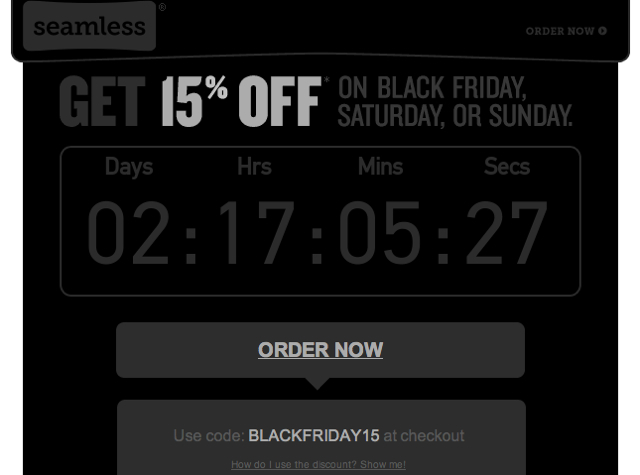 Black Friday and Cyber Monday Travel Deals Alternatives
1. Save 17% on Top Park Hyatts Worldwide with Hyatt Check Certificates
See Hyatt: 10% Off Hyatt Gift Cards, Check Certificates and Stay Certificates, for how to earn 16.5% off by combining this discount with using an SPG AMEX Business card to get 5% savings plus earn SPG points and also Hyatt points for the stay. At top Park Hyatts that are members of Virtuoso, this can also be combined with booking with TravelSort to receive Virtuoso upgrades, complimentary breakfast and resort credit, which is especially valuable if you're not a Hyatt Diamond member. Even Diamond members come out ahead with a Virtuoso booking, since the hotel or resort credit wouldn't otherwise be included.
2. Book a Virtuoso Hotel with a Guaranteed Upgrade
Rather than a cheap but mediocre experience at one of the Black Friday "deals" on tired chain hotels, you can guarantee an upgrade at one of several Virtuoso hotels that offer a confirmed upgrade at time of booking (subject to availability at time of booking).
3. Book a Four Seasons Hotel with a Guaranteed Upgrade
Similarly, several Four Seasons hotels offer a guaranteed upgrade at time of booking. See the post for the exact dates and offer at each property.
4. Save Up to Afford Luxury Travel
As I wrote in Trading Up and Trading Down to Afford Luxury Travel, in addition to using miles and points to fly first class for just the cost of taxes on the tickets, you can choose to trade down in other major spending areas to enjoy some of the best travel experiences and luxury hotels and resorts the world has to offer. As just one example, anyone considering a mortgage in NYC or similarly expensive place should consider getting two mortgage rate offers. Yes, you'll pay two appraisal fees, but that's a small expense compared to the many thousands of dollars you can save over a 30 year mortgage by getting the lowest possible rate. Those savings can pay for many nights at the Best Aman Resorts in the World, Four Seasons stays, Mandarin Oriental stays, and other luxury resorts and travel.
What are your favorite Black Friday luxury travel deals or ongoing luxury travel deals right now?
Related Posts
Virtuoso Guaranteed Upgrade: Top 10 Hotels
Top 10 Four Seasons Preferred Partner Guaranteed Upgrades
Register for AMEX Small Business Saturday
Fly First Class for Free: New to Miles and Points Guide
Need Award Booking Help? Our fee is as low as $75 per ticket if you book your hotel through us.
If you enjoyed this, join 90,000+ readers: please follow TravelSort on Twitter or like us on Facebook to be alerted to new posts.
Become a TravelSort Client and Book Your Hotel with Virtuoso or Four Seasons Preferred VIP Amenities!