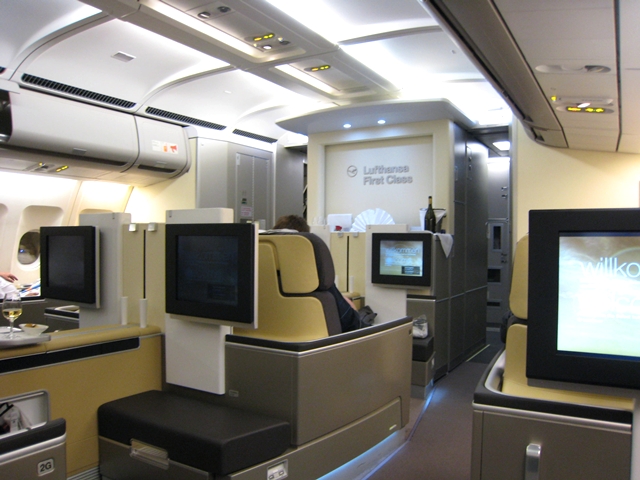 Update: Current Offer is for 20,000 miles with first purchase. Consider instead applying for another credit card on the Best Travel Credit Cards page.
The best way to use Lufthansa Miles & More miles from the Lufthansa Miles & More Card, if you really want to enjoy your flight, is an award in Lufthansa New First Class. Now, you will need to top up your account to fly first class, which can be done by transferring SPG points to Lufthansa Miles & More miles with a 25% bonus when you transfer in increments of 20,000 miles. I'll also provide some more tips on the Miles & More award chart, stopover and open jaw rules, and Miles & More Call Centers that I hope will help you maximize your Miles & More miles.
Here are my picks for the best ways to use Lufthansa Miles & More miles:
1. Lufthansa First Class Frankfurt FRA to San Francisco SFO for 85,000 Miles + ~$270
The Lufthansa First Class award flight from Frankfurt to SFO is notoriously difficult, close to impossible, in fact, to book using United miles, even last minute, but there's much better availability when you book with Miles & More. Yes, you'll be paying a premium in miles: 85K Miles & More miles vs. 67.5K United miles, but fuel surcharges are just slightly more with the Miles & More award on these ex-Europe flights, at ~$270 (don't forget you can get all of those fuel surcharges refunded if you pay them with your Barclays Arrival Card, since the 40,000 bonus miles equate to a $400 rebate on travel; after meeting the $3000 minimum spend to earn the signup bonus you'd have 46,000 miles, good towards a $460 travel statement credit). But given you're going from no award availability at all to the ability to plan ahead to lock in an award or even 2 awards for a couple, I'd say it's worth it if you care about flying comfortably on the long 11+ hour flight. As a bonus, you get to use the Lufthansa First Class Terminal in Frankfurt.
While my own preference would be for SWISS First Class from Zurich to SFO, you can pretty much forget that–for whatever reason, that route to and from SFO is nigh impossible even with Miles & More miles.
2. Lufthansa First Class San Francisco SFO to Frankfurt FRA One Way for 85,000 Miles + ~$430
Similar to 1. above, but lower on the list since the fuel surcharges are ~$160 higher for ex-US flights to Europe (although if you can get $400 of the $430 fuel surcharges refunded if you pay them with your Barclays Arrival Card). But for readers who have asked me how to get Lufthansa First Class from the West Coast to Europe, this is by far the best (and typically the only) option.
3. SWISS Business Class Zurich ZRH to New York JFK One Way for 52,000 Miles + ~$260
SWISS Business Class is of course not nearly as luxurious as SWISS First Class, but the beds are flat and the staggered seating arrangement means that virtually every seat has aisle access. I especially like the "mini cabin" of just 2 rows between First Class and the main Business Class cabin. The alternative to this would be Singapore Business Class between FRA and JFK for ~49K KrisFlyer miles + ~$320 in surcharges.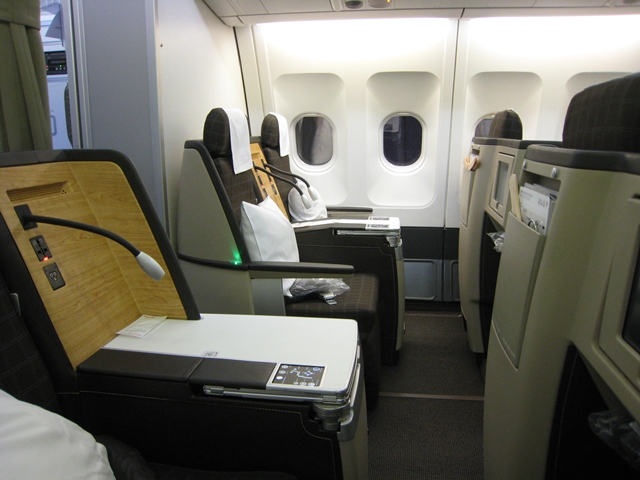 4. Lufthansa First Class Frankfurt FRA to New York JFK One Way for 85,000 Miles + ~$260
While you get more bang for your buck with the 11+ hour flights from the West Coast, if you live on the East Coast as I do, it's still helpful to have the flexibility to be able to plan ahead and book a first class award from Europe to NYC. My first choice would be to use Singapore KrisFlyer miles for Singapore Suites FRA-JFK, but if that wasn't available and I really needed a flight for that date, I just might pay the premium in miles, with of course plenty of time to enjoy the First Class Terminal 🙂 I personally don't really care for even Lufthansa's new business class, which isn't as private as SWISS or Cathay's products, so I'd probably just splurge on this if for some reason Singapore Suites, Singapore Business Class and SWISS Business Class weren't available from Europe to NYC, although it is a very high premium vs. Singapore Suites of just 58K KrisFlyer miles when the online discount is taken into account.
5. United BusinessFirst NYC to LA LAX or SFO (or Reverse) One Way for 17,000 Miles and No Fuel Surcharges
I can't really get that excited about United's flat bed seats between NYC and LAX or SFO, but in practical terms it's a good value to fly this each way for 17K Miles & More miles. It would be 25K each way United miles, and you could almost fly 3 one ways with the 50,000 bonus miles from the Lufthansa Card.
6. Air New Zealand Business Class Honolulu to Auckland One Way for 35,000 Miles + ~$30
This award will probably appeal to a minority of folks, and it's certainly not the best use of Miles & More miles, but it's not a bad one if you don't have to be in a lie flat seat. The surcharges are low, at ~$30 each way, and you do get to fly Air New Zealand, although it's unfortunately only a recliner seat in business class, not even angled flat let alone flat bed. Note that United would charge 62,500 miles for this award.
7. Singapore Airlines Business Class San Francisco SFO to Hong Kong HKG One Way for 67,000 Miles + $112
I recently booked a client on this route using just under 64K KrisFlyer miles. You can also book it for 67K Miles & More miles, with the same taxes/fuel surcharges. Not a bad way to get to Asia, and Miles & More gives you another ability to get at this award space for just over 3000 more miles, in case you're low on Membership Rewards miles or using them for other awards.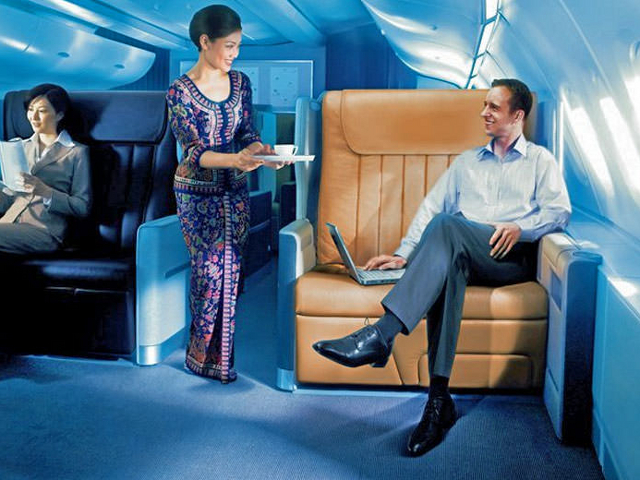 8. United or USAir Economy Class One Way within the U.S. or U.S.-Alaska for $12,000 Miles and No Fuel Surcharges
I get even less excited about coach flights, whether awards or paid flights, but if you're focused on not paying any fuel surcharges and are fine with coach, you could get 4 domestic one ways or 2 domestic roundtrip awards on United or USAir (well, until USAir merges with American and leaves the Star Alliance anyway) with your 50,000 bonus Miles & More miles.
Where Do I Sign Up for the Lufthansa Miles & More Program?
Go to Miles & More to enroll. Make sure to opt-in to the newsletter, as you receive 500 bonus miles and this enables you to search for Miles & More awards. You can't do award searches without a few miles in your account, so it's best just to sign up to get this taken care of quickly, even before you earn the miles from the Lufthansa Card signup bonus.
The other thing to note is that you'll need a PIN to log in. Just call the Miles & More Service Center (see numbers below in this post) to receive your PIN via email, instead of having to wait for snail mail from Germany.
What are the Lufthansa's Airline Award Travel Partners?
Lufthansa is a member of the Star Alliance, so all Star Alliance partners are available for award travel (see logos below). Lufthansa also partners with a few non-Star Alliance airlines, such as Jet Airways, Air India, Luxair and Air Malta, Air Astana and Condor Airlines.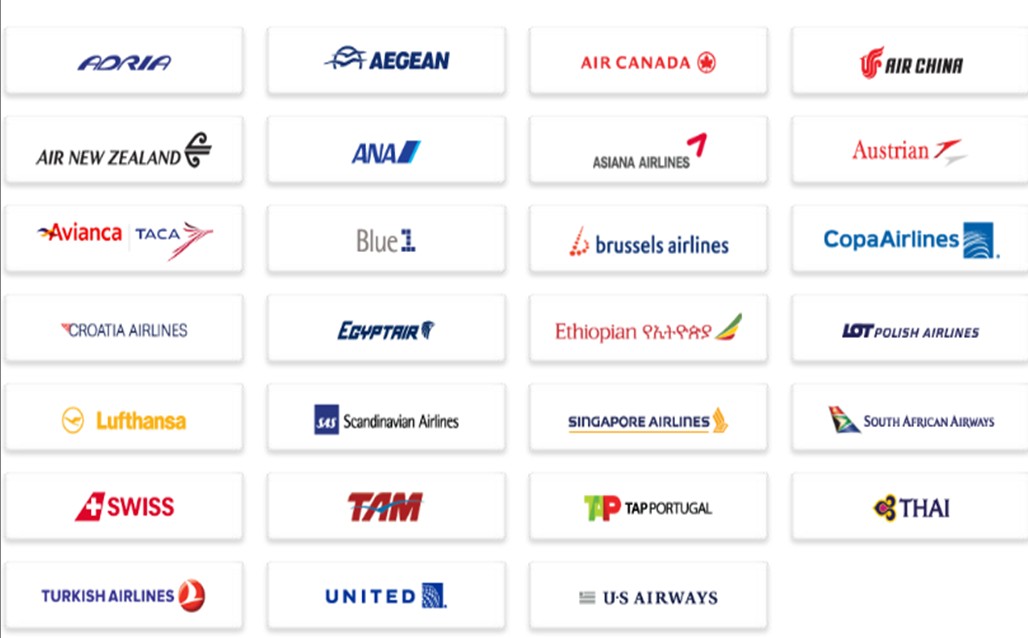 How Many Stopovers and Open Jaws Am I Allowed on an Award?
Stopovers allowed only on trips involving 2 or more regions (so no stopovers in a domestic/single country award)
2 stopovers allowed on a round trip award (1 in each direction; so you *cannot* have 2 stopovers on the outbound, or 2 stopovers on the return)
Stopover not allowed in the region you depart from
2 open jaws allowed on a roundtrip award
No stopovers or open jaws on a one way award
Award Chart: How Many Miles Do I Need for a Miles & More Award?
Here is the Miles & More Award Chart.
When Is the 3 Region Award Chart Triggered?
Probably the worst feature of the Miles & More frequent flyer program (apart from high fuel surcharges) is the 3 region award chart that kicks in if you transit another region en route to or on the way from your destination.
So, for example, if you were to book a one way Lufthansa First Class from New York to Bangkok via Frankfurt, you wouldn't just be paying half of the North America – Far East award, i.e. half of 210K or 105K miles; you'd instead trigger the 3 Region Award Chart price of half of 290K miles, or 145K miles–ouch! Same thing with, say, U.S. to Australia or New Zealand awards: forget going through Asia unless you don't mind the high 3 Region Award Chart. Here's the 3 Region Award Chart:
Economy Roundtrip: 100K
Business Roundtrip: 185K
First Class Roundtrip: 290K
When Can I Use the Domestic Award Chart?
A small consolation prize is the domestic award chart that applies to travel wholly within a given country. One of its best uses is in the U.S. (while theoretically another good candidate would be Russia given the distances, there isn't a Russian partner airline that you could use for a Moscow to Vladivostok award).
An Economy Roundtrip is 25K miles and Business Class Roundtrip is 35K miles, and one ways are allowed. Just keep in mind the flight segment limitation of up to 2 flight segments per direction: so you can only connect once to your destination (not that you'd want to connect more, but just note it's not possible to book the award with more than 1 connection each way).
How Far in Advance Can I Book?
You can book Miles & More awards on Lufthansa, SWISS and other Lufthansa Group partner airlines up to 361 days in advance. For partners, you gain access when that partner opens its award calendar availability.
How Do I Book an Award on Lufthansa, SWISS, or Other Lufthansa Group Airline?
You can book Lufthansa, SWISS, and other Lufthansa Group airline awards online (log in and search), as long as you can find the flight you need (not all possible flight combinations are displayed) and if you don't need stopovers or open jaws. You can search with just 500 Miles & More miles in your account (thanks to the newsletter subscription) and the system will search about a week further in advance if it doesn't find availability on your exact day.
If you need to book a stopover or open jaw or are booking a partner award, you'll need to call the Miles & More Service Center.
What are the Miles & More Service Center Numbers and Hours of Operation?
Although the U.S. call center is open 8am-8pm ET weekdays only, you can call one of the other worldwide Miles & More contact centers cheaply using Skype, if you need to call outside of the U.S. Service Center hours. For example, the German call center is open Saturday, and the Australia and Turkey call centers are open daily, including Saturdays and Sundays.
U.S.: 800-581-6400 8am-8pm ET Monday – Friday
Australia: +61 13-00-655-727 7am-9pm AEST (summer) / 8am-10pm AEWT (winter) Daily
Singapore: +65 62-45-5600 9am-5pm local time Monday – Friday
Germany: +49 69-209-777-777 7am-10pm local time Monday-Saturday
Turkey: +90 212 354 88 99 9am-9pm local time Daily
What are the Change, Cancellation, Telephone Service and Close in Booking Fees?
No phone booking fee
No close-in booking fee (but note that you cannot book an award within 2 working days of departure)
Change or cancellation fee: Free for first 24 hours after booking, then $60
If you earn 50,000 Miles & More miles with the Lufthansa Premier Miles & More MasterCard, which award(s) do you plan to book?
Related Posts
50,000 Miles and More Lufthansa Premier Miles & More MasterCard Worth It?
How to Use ANA to Search for Star Alliance Award Space
Need Award Booking Help? Our fee is as low as $75 per ticket if you book your hotel through us.
If you enjoyed this, join 200,000+ readers: please follow TravelSort on Twitter or like us on Facebook to be alerted to new posts.
Become a TravelSort Client and Book Your Hotel with Virtuoso or Four Seasons Preferred VIP Amenities!