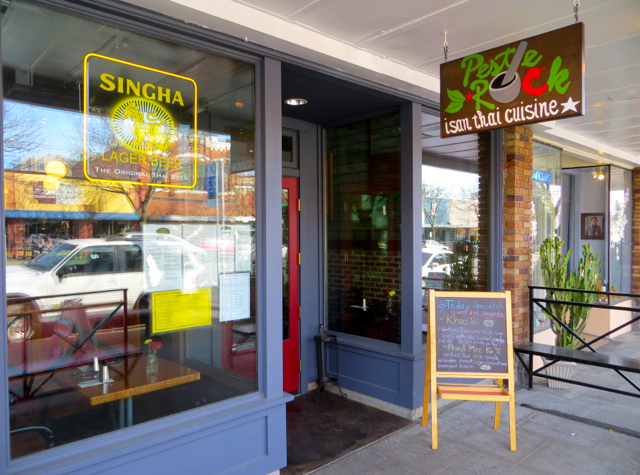 This Best Thai Food in Seattle review of Pestle Rock Thai restaurant is part of a Seattle and Vancouver trip report including Cathay Pacific First Class to Vancouver, plus reviews of luxury hotels, food, and family friendly things to do in Vancouver and Seattle. Prior posts include:
Cathay Pacific First Class NYC to Vancouver
Four Seasons Vancouver Hotel Review
Bishop's Vancouver Restaurant Review
Stanley Park Miniature Train: Vancouver with Kids
YEW Vancouver Restaurant Review
Vancouver Aquarium in Stanley Park with Kids
Four Seasons Seattle Hotel Review
Chihuly Garden and Glass: Must-See in Seattle
Toulouse Petit Seattle Restaurant Review
Theo Chocolate Factory Tour in Seattle, Washington
The best Thai food in Seattle? Not in Seattle proper, I'm afraid: you'll need to venture to Ballard, which is actually itching to secede from Seattle with the "Free Ballard" slogan. But for now at least Ballard counts as part of greater Seattle, and this is where you'll find Pestle Rock, a cheery but easily missed storefront.
We arrived at Pestle Rock in the mid-afternoon, just after the lunch specials ended (served Monday to Friday 11:30-3pm) but that wasn't a problem, with the reasonable pricing even on the dinner menu. A friendly server came over and, since there was only one other couple in the restaurant, we opted for a table by the window, with great natural light. The booths in the restaurant were also well lit in the daytime and a nice choice for couples or families. There was a specials menu on the wall that looked tempting, although we ended up sticking with the regular menu.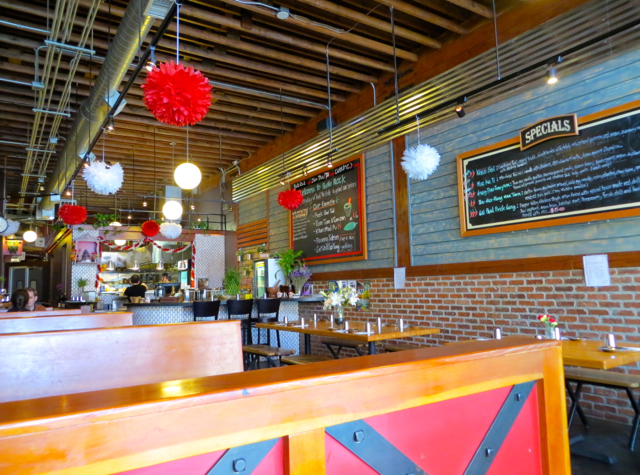 The munchkin decided to start off with a drink of young coconut juice ($3) which came chilled in a huge glass, with a generous hunk of fresh coconut inside it. It was sweet, with great coconut flavor, and could have been a dessert drink.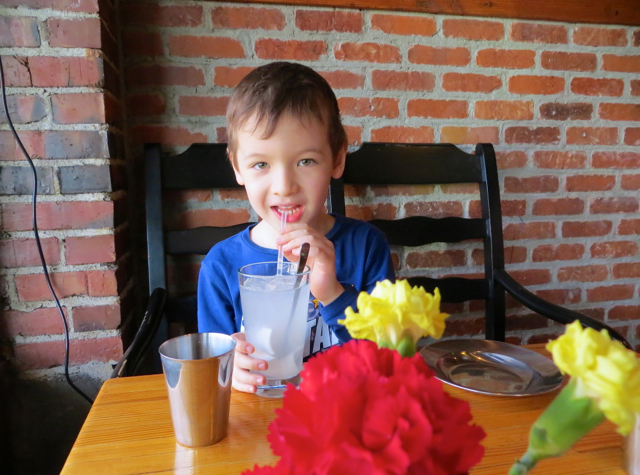 Pestle Rock, as with Zabb Elee in New York, is an Isan (or Issan) Thai restaurant, specializing in the cuisine of northeastern Thailand. The Isan speak a dialect of Lao, and the food also more closely resembles Laotian cuisine, rather than the coconut infused curries of southern Thailand.
The menu reflected this, with sticky rice, several barbeque dishes, salads, including Som Tum (green papaya salad) and Larb Isan (ground meat mixed with chilis and fresh herbs) and stir fries to round out the menu.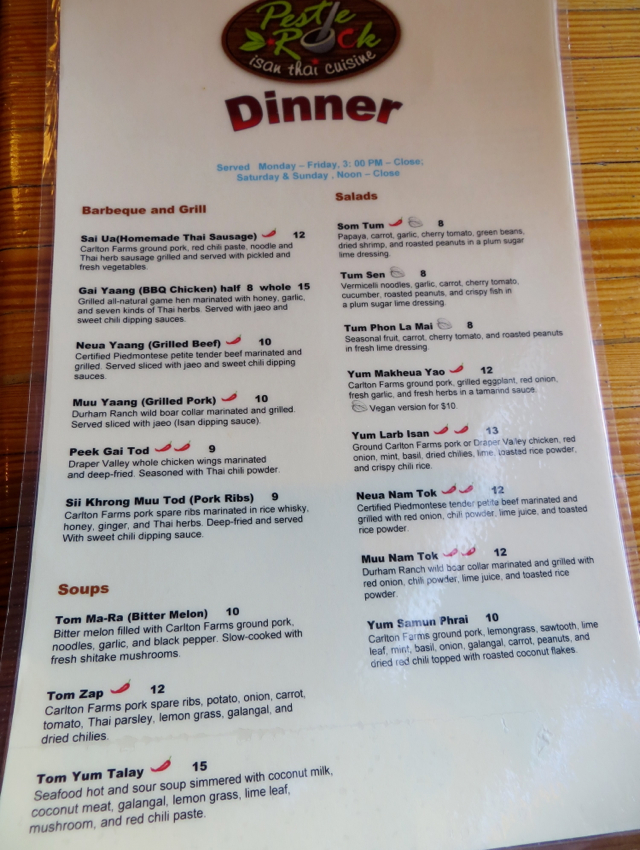 While I love spicy food, the munchkin isn't up to anything too spicy. So after carefully studying the menu, I decided on Sii Khrong Muu Tod (marinated and fried pork ribs) for him, Larb Isan for me, and sticky rice for both of us.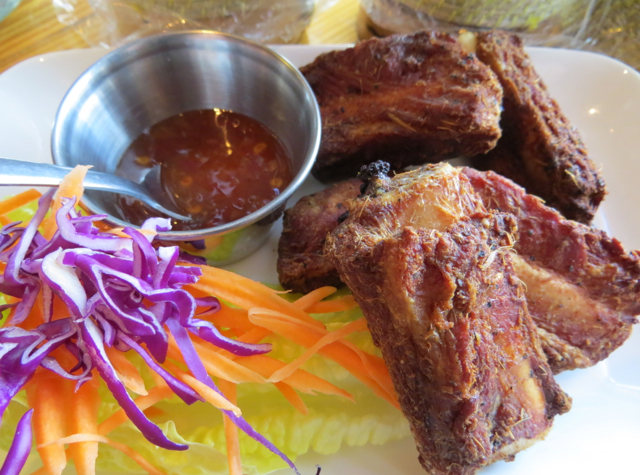 The pork ribs arrived first, fortunately for my ravenous son, and I nearly forgot to take a photo in the flurry of cooling it down and getting food into him. I finally got to try a bit myself, and marvelled at the amazing flavor, thanks to the marinade of rice whisky, honey, ginger, and a blend of Thai herbs before being deep fried to crispy deliciousness.
Only one problem: although a good sized portion, given the bones, the meat (even with generous helpings of sticky rice) wasn't enough for the munchkin. So we ordered some more food.
Meanwhile, the Larb Isan arrived. I ordered it with Carlton Farms pork, but it could also be ordered with Draper Valley chicken. The mixture, with fresh mint, Thai basil, onion, dried chili, lime and toasted rice powder is the best larb I've tasted anywhere, including in Laos. The proportions were just right for me, although of course a native would have ordered it even hotter than I did. Just writing about this dish is making me crave it and envy the Ballard hipsters who have Pestle Rock just a short walk away. If you order it, don't forget to order a side of sticky rice, which is the perfect (and traditional) accompaniment.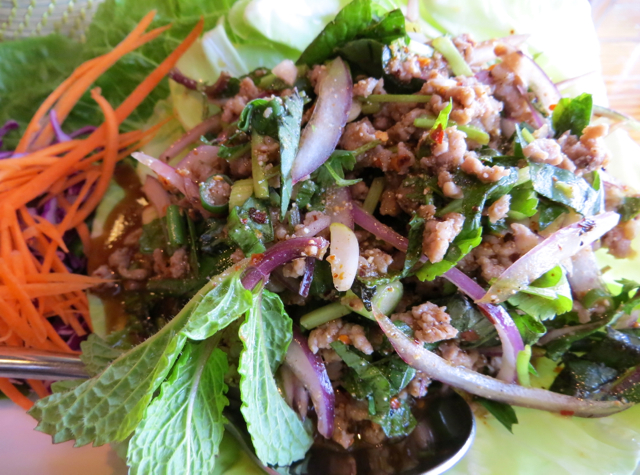 To sate the munchkin's appetite, we ordered a half portion of Gai Yaang barbeque chicken ($8). While you might be skeptical of ordering barbeque dishes at a Thai restaurant, let me assure you that these are very popular Isan dishes and deliciously different from any barbeque you might do at home (unless you're Thai). Ignore the generic sweet chili dipping sauce and go right for the jaeo, the more traditional garlic chili lime Isan dipping sauce. Yum! Again, we got so carried away by the food that I only remembered to take a photo midway through, so note that the original half portion was actually larger than pictured: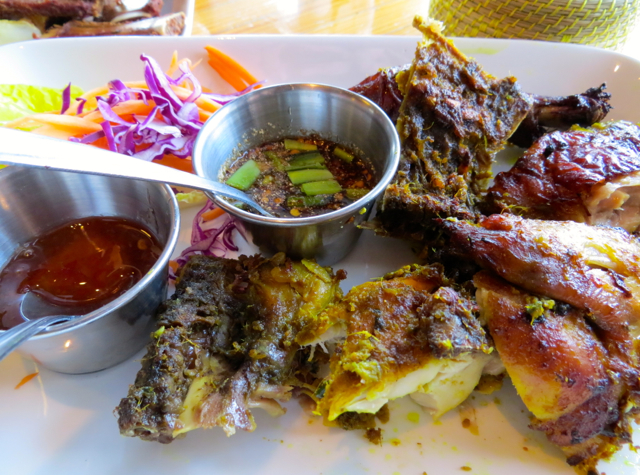 The Verdict: If you enjoy Thai or Laotian food and are in the Seattle area, Pestle Rock is a must-try. Its preparations, at least the ones we tried, are authentic and use locally sourced ingredients whenever possible. The setting is of course not fancy, but is handsome nonetheless, with its wooden interior punctuated with bright sprays of carnations. Prices are entirely reasonable given the quality and setting. Naturally, we paid with the Chase Freedom, since it earns 5X Ultimate Rewards points on Restaurants in Q2 2013
Have you visited Pestle Rock or have another Thai food favorite in the Seattle area?
Related Posts
Zabb Elee NYC Restaurant Review: Best Isan Thai Food in Manhattan
Activate Chase Freedom 5X for Q2 2013 for Restaurants, Lowe's and Movie Theaters
Earn Miles and Points for Dining
Four Seasons Seattle Hotel Review
Need Award Booking Help? Our fee is as low as $75 per ticket if you book your hotel through us.
If you enjoyed this, join 90,000+ readers: please follow TravelSort on Twitter or  like us on Facebook to be alerted to new posts. 
Become a TravelSort Client and Book 5-Star Hotels with Virtuoso or Four Seasons Preferred Partner Amenities!