My whole family loves pancakes for breakfast, so when we were recently in Hawaii we were on a mission to find the best pancakes in Honolulu. We have a few criteria for great pancakes:
1. Freshly made and hot
2. Big enough portions (especially for my husband, a hungry 6'5 guy)
3. Real maple syrup (although I usually bring a small bottle with me just in case)
4. Reasonably priced
5. No line
6. Ideally allows us to customize/order a pancake not actually on the menu
7. Great coffee a plus (nice to have)
8. Place with great views (nice to have, not essential)
Not that we're exacting or anything 🙂 Anyway, with that in mind, here are our picks for the best pancakes in Honolulu, 3 of them sampled this trip and 1 from a prior trip to Hawaii:
1. Queen's Surf Cafe & Lanai (2701 Kalakaua Ave)
This place was just a 5 minute walk from the Aqua Lotus (see our Aqua Lotus Hotel Review) and a true hidden gem. It's right by the beach, so wonderful ocean views while you dine, but also very casual–a few tables under the roof, with more on the lanai with illy Coffee Umbrellas.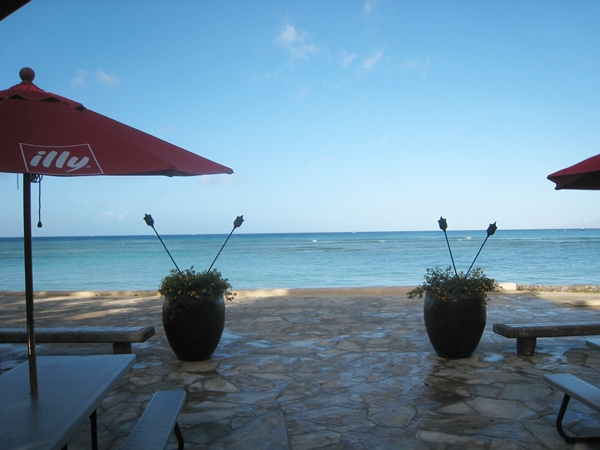 There was no line at all when we got there around 8am on a Tuesday. Pancakes were around $7, and I asked if they would mind putting some dried cherries and dark chocolate chunks in them, as I'd brought these with me. They were happy to oblige, so we were able to get exactly the kind of pancakes we wanted! I wouldn't say the regular pancake batter was amazing (not as good as, say, Wall & Water at the Andaz Wall Street in NYC), but with our additions they were delicious.
And portions were so generous (we got two orders of pancakes and one bagel with lox) that we couldn't even finish them. They only supplied artificial pancake syrup, so we did have to use our own real maple syrup, but on the plus side, they serve illy espresso drinks and I had a great latte–a definite step up from most pancake places.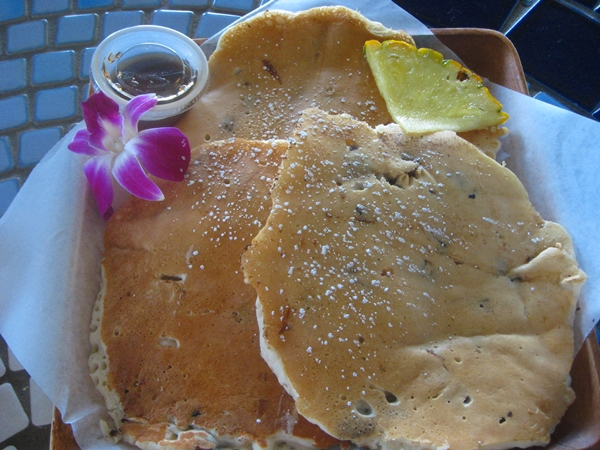 2. The Original Pancake House (1221 Kapiolani Blvd, Ste. 103)
Ok, so this is a national chain and not a local place, with no views, no reservations, and is usually so popular that there's a line and waiting list, but their oven baked apple pancake remains one of my favorite pancakes  anywhere.
We went on President's Day, with my relatives, so that definitely exacerbated the wait, but once seated it was a good experience. Given the time needed to bake the apple pancake and Dutch Baby, make sure you request it as soon as you put your name on the wait list, if you want either of these specialty pancakes.
Another nice thing is that they were willing to accommodate our off-the-menu request for chocolate chip pecan pancakes (they offer chocolate chip pancakes and pecan pancakes separately, so not a huge request, but still nicely handled). They also serve real maple syrup, so no need to break out our own. And portions are huge–count on splitting the apple pancake (about $11) since it's big enough for 2 people. Sliced apples are sauteed in butter, brown sugar and cinnamon, then the pancake batter is poured atop and the whole thing is oven baked until brown and puffy. There must be a ton of eggs and butter in this, so not exactly for the cholesterol conscious–or bring your Lipitor 🙂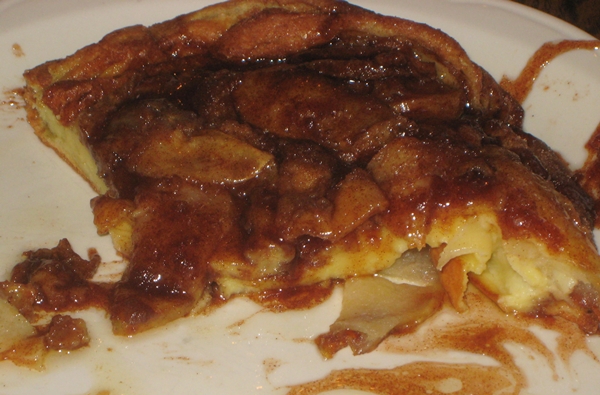 The chocolate chip pecan pancakes we got to share with our son came with 5 good-sized pancakes, so again huge.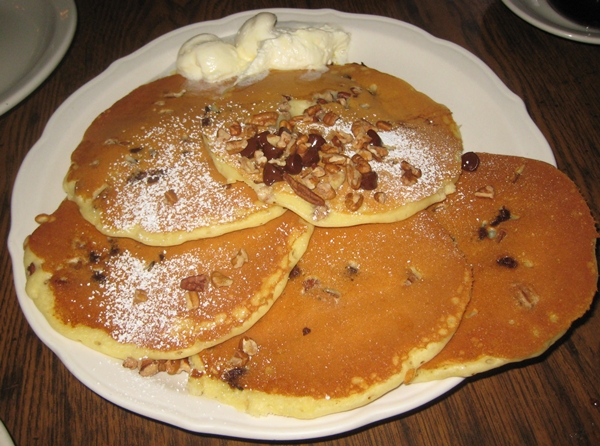 Coffee is mediocre, so I brought my own instant espresso powder and asked for hot water. We also never got the papaya half we ordered, but that was the only mixup for our party of 6. Recommended, especially if you can get there early and *not* on a holiday weekend. They do validate parking for the adjacent parking garage, so don't forget to have them do this so that parking is free.
3. Boots & Kimo's (151 Hekili St, Kailua)
Boots & Kimos is actually in Kailua, so best if you're staying in Kailua anyway (I wouldn't make the drive from Waikiki for this) but they do serve delicious banana macadamia nut pancakes with a creamy macnut sauce. The batter again is nothing that special, but the macadamia nuts in the pancake and sauce really elevate it. Be prepared to go early on a weekday, due to the crowds (even tour groups sometimes stop here now)–you may even want to call ahead and try to do take out, so that you don't have to wait (and so you can take it somewhere with a view, since it's just a hole in the wall place).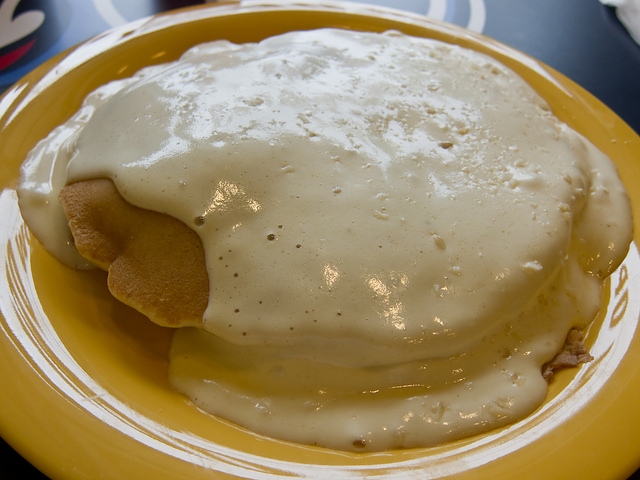 4. Orchid's at The Halekulani
Orchid's is best known for its lavish Sunday buffet brunch, but they also serve a la carte breakfast Monday-Saturday. There's no question that Orchid's has a lovely view, and it's also convenient to be able to reserve via OpenTable, so no wait. I'd read a good review for the banana macadamia pancakes, so we decided to give it a try.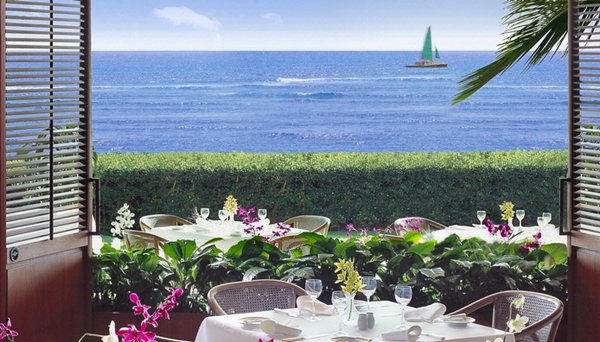 What we loved: the view (although it seems they reserve the best tables for hotel guests, so we were in the "second row") and that although it's upscale, it's still kid-friendly: they immediately brought crayons, coloring placemat and kid's cup with straw for our son.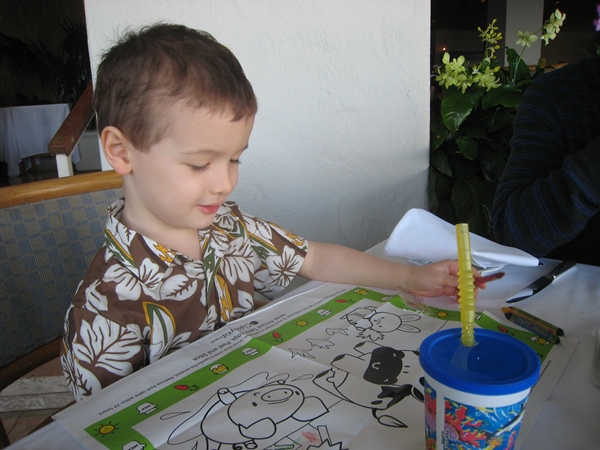 The pancakes, and service though, were a bit disappointing. We had asked for our son's pancakes to be banana only, without the macadamia nuts, and this basically held up our order for an inordinate amount of time–other tables that were seated after us got their food and had practically finished their breakfast before we got our food. Probably because they had been holding my husband's and my order's back, my pancakes weren't as fresh or hot as I was expecting, and there were scarcely any bananas or nuts inside the pancake–there were some mac nuts on top. I expressed my disappointment and they brought some bananas on the side. And it wasn't a huge serving, for $13 (not to mention drinks are a bit pricey–my small glass of guava juice was $8 and coffee is $5).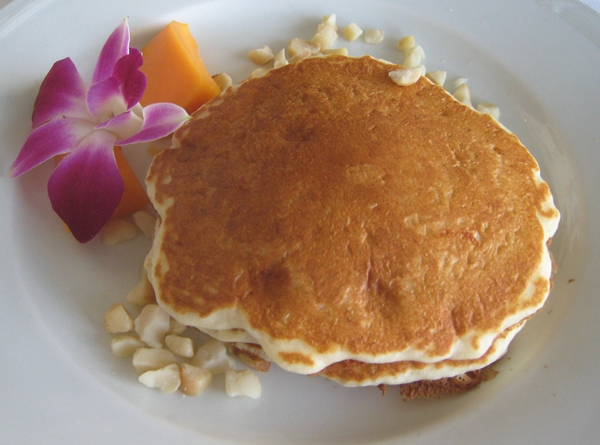 That said, my son's banana pancakes were a lot better though, with more bananas inside. So you can get good (albeit pricey) pancakes here if you're willing to special order and wait awhile. And of course real maple syrup is provided, and Orchid's has the advantage of its view and being close to most hotels in the heart of Waikiki, whereas Queen's Surf Cafe & Lanai is at the Diamond end side of Waikiki and a bit more of a walk unless you're staying at the Aqua Lotus or one of the hotels near to it.
Other popular Hawaii posts:
10 Things You Shouldn't Miss in Honolulu, Oahu
Fun in the Sun: Exploring Honolulu, Hawaii with Kids
Luxury for Less: The Top 5-Star Honolulu Hotels
Tips for Booking Award Flights to Hawaii
How to Book a Business Class Award Ticket to Hawaii
How to Fly Hawaiian from NYC to Hawaii with AAdvantage Miles
Need Award Booking Help? Our fee is as low as $75 per ticket if you book your hotel through us.
If you enjoyed this, join 100,000+ readers: please follow TravelSort on Twitter or  like us on Facebook to be alerted to new posts. 
Become a TravelSort Client and Book Your Hotel with Virtuoso or Four Seasons Preferred VIP Amenities!