I often get asked about the best NYC midtown lunch spots. My first piece of advice would be to steer clear of midtown (and especially the touristy Times Square area) for lunch, since you'll often get mediocre, overpriced food or have to settle for boring sandwich places such as Pret a Manger if you're on the run. But obviously if you're working or have meetings in midtown, sometimes it can't be avoided. Here are my top midtown lunch picks, including both cheap hole in the wall places and fine dining.
1. Num Pang
Num Pang has become my go-to sandwich place whenever I'm in NYC Midtown or in the Union Square area, where the original shop is. Unfortunately the midtown location doesn't have seating, so it's best if you either don't mind standing up to eat (there's a small bar along one wall), are bringing the sandwich back to your desk, or, in nicer weather, don't mind eating it outside in one of the outside office courtyards or a nearby park.
What to Eat: My current favorite is the Coconut Tiger Shrimp Banh Mi, but I've also enjoyed the Ginger Barbecue Beef Brisket. Grilled Corn on the Cob with Chili Mayo, Coconut Flakes and Chili Powder is delish as well.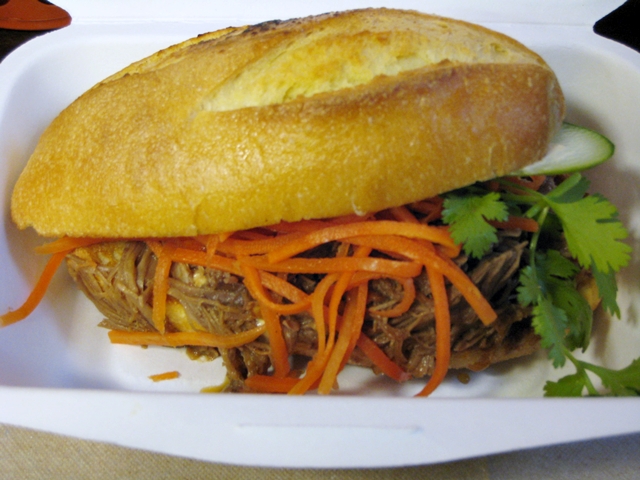 2. Tsushima
There's a mini Japan town on East 47th Street, and while Tsushima is a tiny store front that's easy to miss, it's worth dropping in to get your sushi fix.
What to Eat: My husband always gets one of the special roll combos, and I get either the regular two roll combo or three roll combo depending on how hungry I am. I recommend the yellowtail scallion, unagi avocado and spicy tuna shrimp tempura rolls. While I haven't been yet for dinner, if I went I'd be sure to order the Hamachikama Shioyaki (grilled yellowtail collar).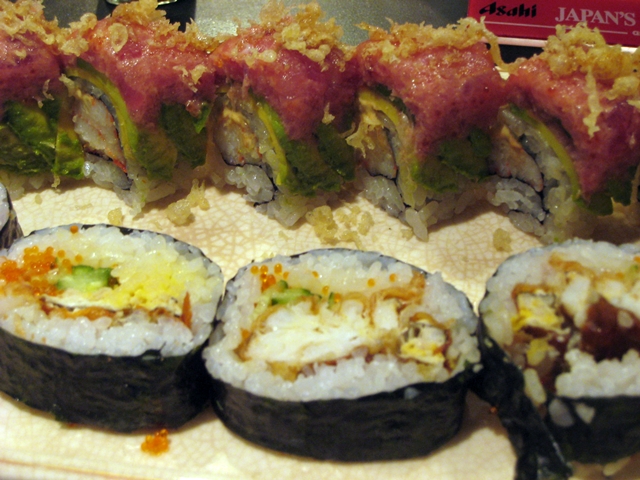 3. Korea Palace
In NYC I definitely miss the cheap and cheerful Korean places in Hawaii such as Pearl's Korean BBQ which offers a hearty Korean plate lunch that's big enough for two for around $11. But, while it's not as cheap, Korea Palace fits the bill nicely for a sit down lunch that includes a nice assortment of complimentary ban chan (kim chi and other Korean appetizers) to start you off.
What to Eat: We always go with the Dol Sot Bi Bim Bap, which comes in a sizzling hot stone bowl and is mixed tableside with hot sauce to taste, and have also ordered the seafood pancake to share. Although for some reason a lot of Yelpers slam this place, I've been around 10 times over the past few years and never had a bad experience.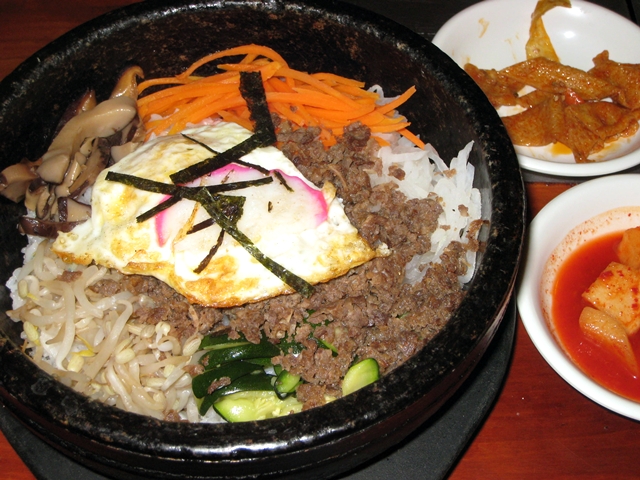 4. Nougatine at Jean-Georges
Even though NYC Restaurant Week is over, Nougatine's $32 prix fixe lunch menu is still a decent deal if you need a nice place for a client lunch without breaking the bank.
What to Eat: The Tuna Tartare is always a good appetizer pick, and for Entree try either whichever fish entree strikes your fancy, the Crunch Baked Organic Chicken, or the Cheeseburger. Finish with the Jean-Georges Warm Chocolate Cake and Vanilla Bean Ice Cream.
See our Nougatine at Jean-Georges NYC Restaurant Review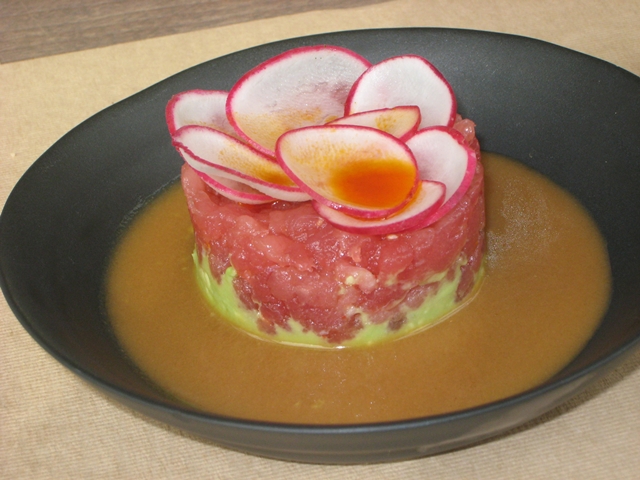 5. Seasonal
I recently reviewed this as an NYC Restaurant Week alternative, mentioning that it reminds me a bit of Lufthansa's First Class Lounge restaurant in Munich. It's perfect if you need a quieter place for an upscale lunch or haven't already made a reservation, since it's easier to get into than Nougatine if you haven't reserved in advance.
What to Eat: From the $29 prix fixe menu I'd go with the Pochiertes Ei (lobster, soft poached egg, hen of the woods mushrooms, pumpernickel crumbs) for appetizer, then whichever entree takes your fancy and end with the Apfelstrudel (although the Sacher Torte was also a good rendition).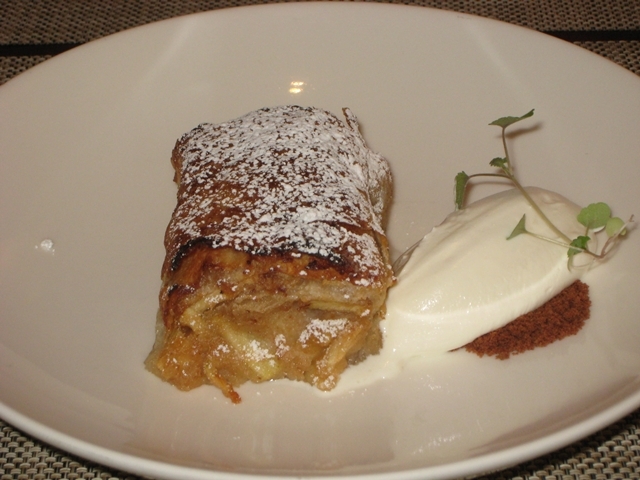 6. Taam Tov
Taam Tov takes me back to places I used to eat at in Moscow and Bishkek, Kyrgyzstan, but I realize not everyone is into Central Asian cuisine or venturing up several flight of stairs in the heart of the jewelry district, so I've put it last. Right now during NYC's cold spell it's a great place to head though, for hearty lagman soup, fresh baked lepeshka bread and plump samsa.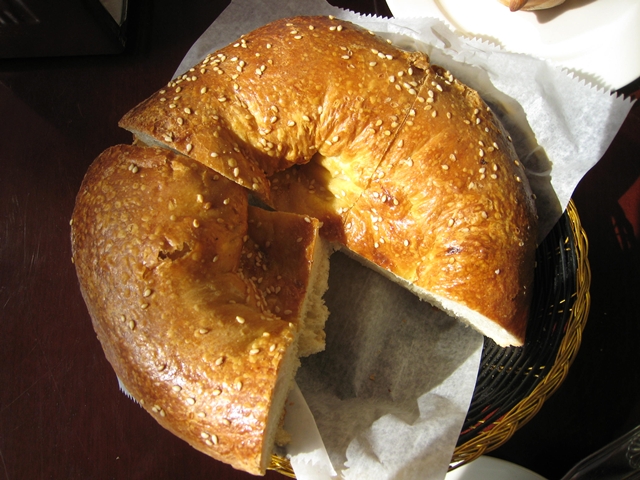 What are your favorite NYC Midtown lunch restaurants?
Related Posts
Nougatine at Jean-Georges NYC Restaurant Review
Baan Korean NYC Restaurant Week Review
Need Award Booking Help? Our fee is as low as $75 per ticket if you book your hotel through us.
If you enjoyed this, please follow TravelSort on Twitter or like us on Facebook to be alerted to new posts.
Become a Member to find your perfect luxury or boutique hotel at up to 50% off: TravelSort Hotels