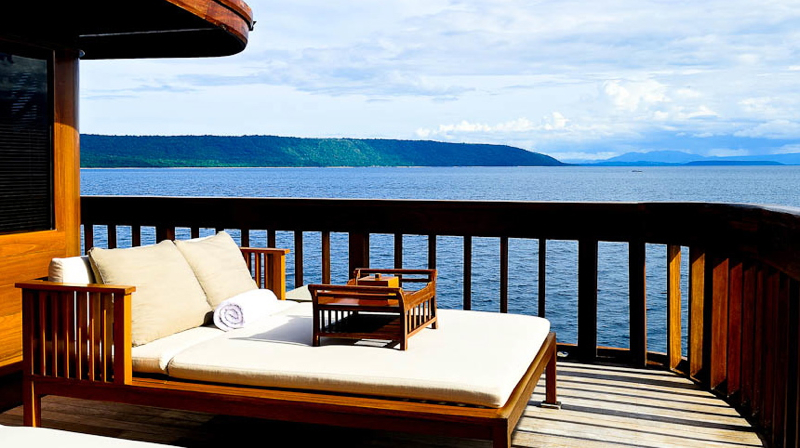 What are the best luxury liveaboards in Indonesia and the Maldives? A TravelSort client writes:
"I'm an avid diver, but my wife doesn't dive. She's been willing for many of our trips to be in places that offer great diving, and she enjoys snorkeling, but it wouldn't make sense to take her on any kind of standard liveaboard where the entire focus is diving, and accommodations are very basic.
What do you recommend for luxury liveaboard options that are great for divers as well as a spouse who doesn't dive?"
I have two top recommendations for a luxury liveaboard: the Four Seasons Explorer in the Maldives and Amanikan in Indonesia. Here are the details:
Amanikan – Raja Ampat, Indonesia
The Diving
The northeast seas surrounding the Raja Ampat Islands (Four Kings, in Indonesian) of the Indonesian archipelago offer some of the finest diving in the world, with magnificent coral reefs and marine life, and is the number one place in the world for underwater biodiversity. Scuba diving in Raja Ampat offers the chance to see over 1300 species of fish.
For the Non Diver
Several of the stops made by Amanikan for diving can also be great for snorkelers. There's also the opportunity for kayaking and time on some of the beautiful pristine beaches on Day 3, as well as hiking and a speedboat tour on Day 4.
For a couple or family with non-divers, I also recommend several days at another Aman Resort, for example Amanjiwo near Borobudur, Amankila in East Bali, or Amandari near Ubud (Bali's center of arts and culture).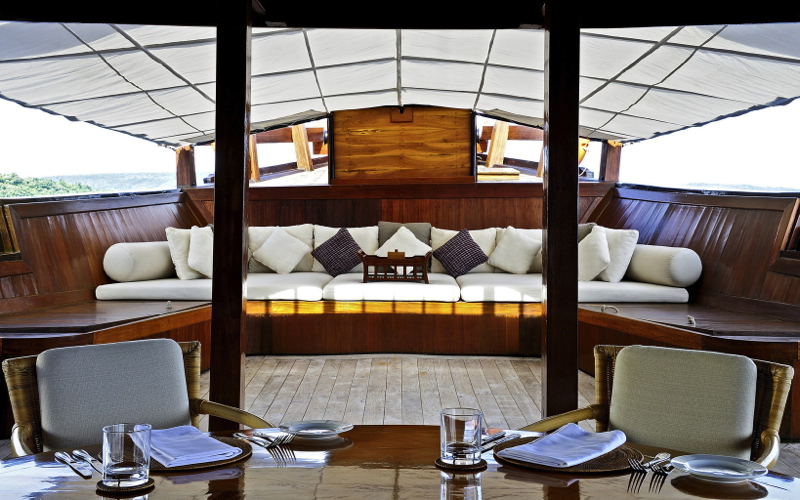 Vessel and Cabin Features
Amanikan is a 105 foot custom built luxury cruise vessel that features three above deck cabins for guests:
Master cabin located at the stern of the upper deck, with sweeping 270 degree views both from the interior wraparound windows and from the large private sundeck. It offers a King bed, en-suite bathroom with dual vanities, double wardrobes, shower with separate toilet and air-conditioning.
Second cabin is on the main deck, with the same stunning views as the main cabin from both inside the cabin and from a private balcony with daybed. It offers a Queen bed with en-suite bathroom with double vanities, double wardrobes, shower with separate toilet and air-conditioning.
Third cabin is also on the main deck and offers a semi private sun deck. The Queen bed can be converted to two single beds on request. This cabin likewise includes air conditioning and an en-suite bathroom with double vanities, shower and separate toilet.
A private chef ensures gourmet dining even in the remote areas Amanikan cruises to.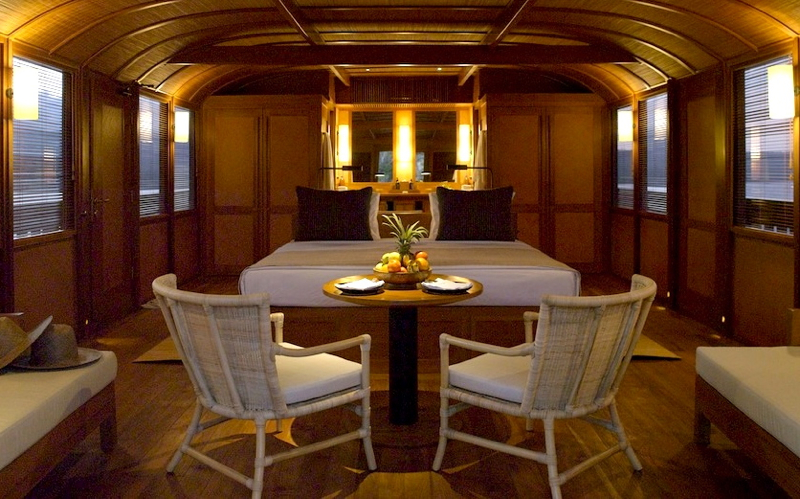 Itineraries
Raja Ampat
5 Night Cruise
Day 1: Arrive at Sorong Airport and set sail for Gam Island in the early afternoon. Enjoy a relaxing afternoon watching islands pass by.
Day 2: After breakfast, dive Miskon Island, with its beautiful sloping reef. Look for wobbegong sharks and pygmy seahorses.
After lunch, explore Blue Magic, an underwater sea mound rising from the deep. Large schools of barracuda, trevallies and fusiliers can be seen in the eye of the current. Keep a lookout for manga rays and eagle rays. This two-hour cruise ends at Yangello Island, where Amanikan anchors for the night
Day 3: At sunrise, dive Mayhem, an action-packed dive site with sharks, barracuda and napoleons. The ascent offers a variety of soft corals and colorful anthias. After the dive, guests can kayak through the mangroves to one of the many pristine beaches.
The afternoon dive takes place at Citrus Ridge. This sloping reef offers a particularly colorful wall bedecked in orange and yellow soft corals. The reef is also home to schools of bumphead parrot fish.
As the sun sets, Amanikan begins its overnight cruise to Wayag.
Day 4: Spend the day in Wayag's beautiful bay. Guests can trek up Mount Pindito, enjoy a speedboat tour of the many rock islands, and enjoy diving at Ridge Rock.
Around sunset, Amanikan heads south, back down to Yangello.
Day 5: After breakfast, dive at Arborek for a chance to spot manta rays. These graceful giants can grow up to 20 feet from wing tip to wing tip.
During the day, Amanikan cruises back to Sorong to anchor for the night. Departure the next day, from Sorong Airport.
If opting for the 7 day cruise, the two additional days add:
A dive at Cape Kri, which holds the world record for the largest number of fish recorded during one dive. Plentiful schools of surgeon fish and barracuda, and wahoos (also known by their Hawaiian name, Ono) can often be spotted in the shallows. Amanikan anchors close the village of Besir
Early morning trek (about 30 minutes) up to the top of the island of Besir, for panoramic views
Dive at Sardine Reef, a great drift dive with an abundance of fusiliers, and reef sharks
December 14-19, 2014 (5 nights)
January 4-11 (7 nights)
January 13-18 (5 nights)
February 24-March 3 (7 nights
Rates and How to Book
Contact concierge [at] travelsort.com for rate information and to book.
Become a TravelSort client
to enjoy Virtuoso amenities for additional add-on nights at any Aman or Virtuoso property pre or post cruise.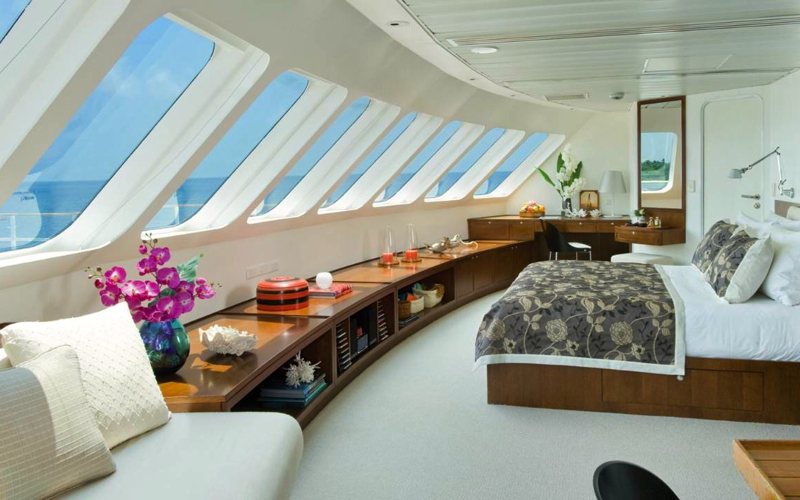 Four Seasons Explorer – Maldives
The Diving
The Maldives enjoys spectacular diving and snorkeling, with superb visibility in December to April to view the over 1000 species of fish, and from May to November, larger pelagics such as whale sharks, hammerheads, eagle rays and manta rays. Wreck diving adds further excitment, from the 310 foot Maldives Victory freighter to the double wrecks at the Shipyard site.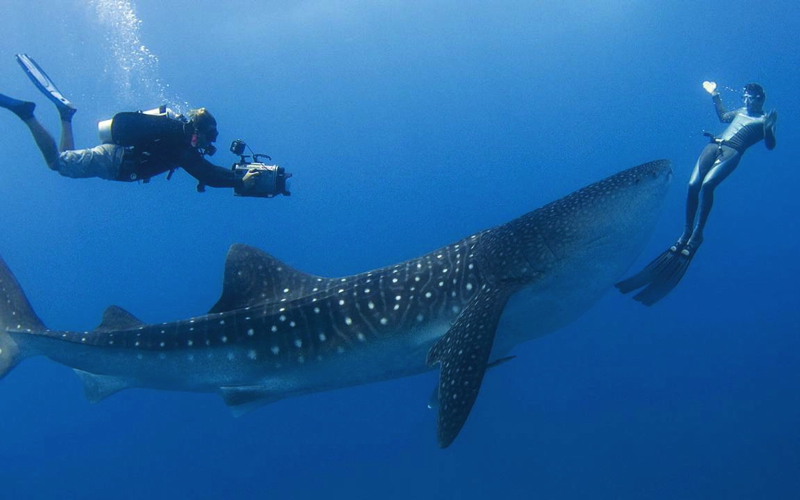 For the Non Diver
In addition to superb diving, the Four Seasons Explorer offers great snorkelling for non-divers, as well as water sports such as kayaking, waterskiing, windsurfing and fun tubes. Fans of fishing can fish off the back of the Four Seasons Explorer itself at sunset, or take a dhoni out for some bottom-line fishing. The onboard chef is happy to prepare your catch.
Other activities include a private picnic on an uninhabited island, visiting remote Maldivian villages, or indulging in a massage, either in the private spa treatment aboard the vessel or on one of the secluded beaches visited during the cruise.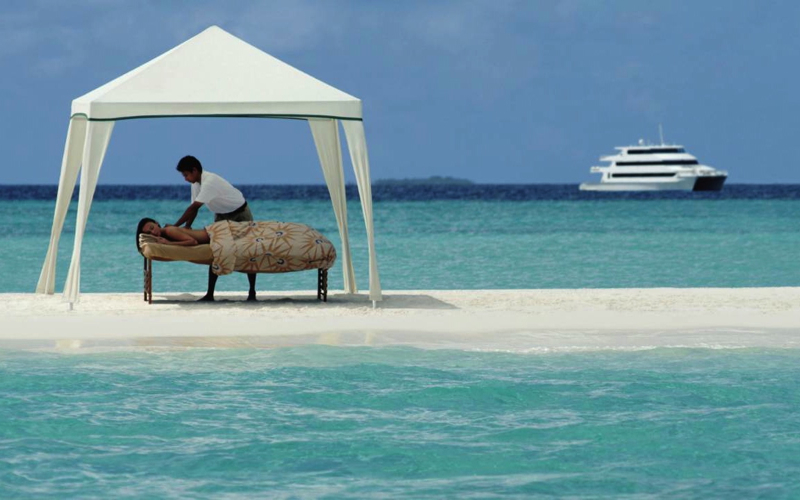 Vessel and Cabin Features
The Four Seasons Explorer is 128 feet long, with 3 decks and 10 staterooms and a suite that accommodate a total of 22 guests.
Dive and water sports deck
Sundeck with massage area
Lounge / Library
Alfresco dining deck with bar
Explorer Suite on Deck 2: Panoramic windows, King bed, air-conditioning, walk-in wardrobe, ensuite bathroom with full bathtub and separate shower.
State Room on Deck 1: One King bed or 2 twin beds + 1 sofa bed (maximum 3 adults), air-conditioning, writing desk, refrigerated private bar, full bathroom, view of Indian Ocean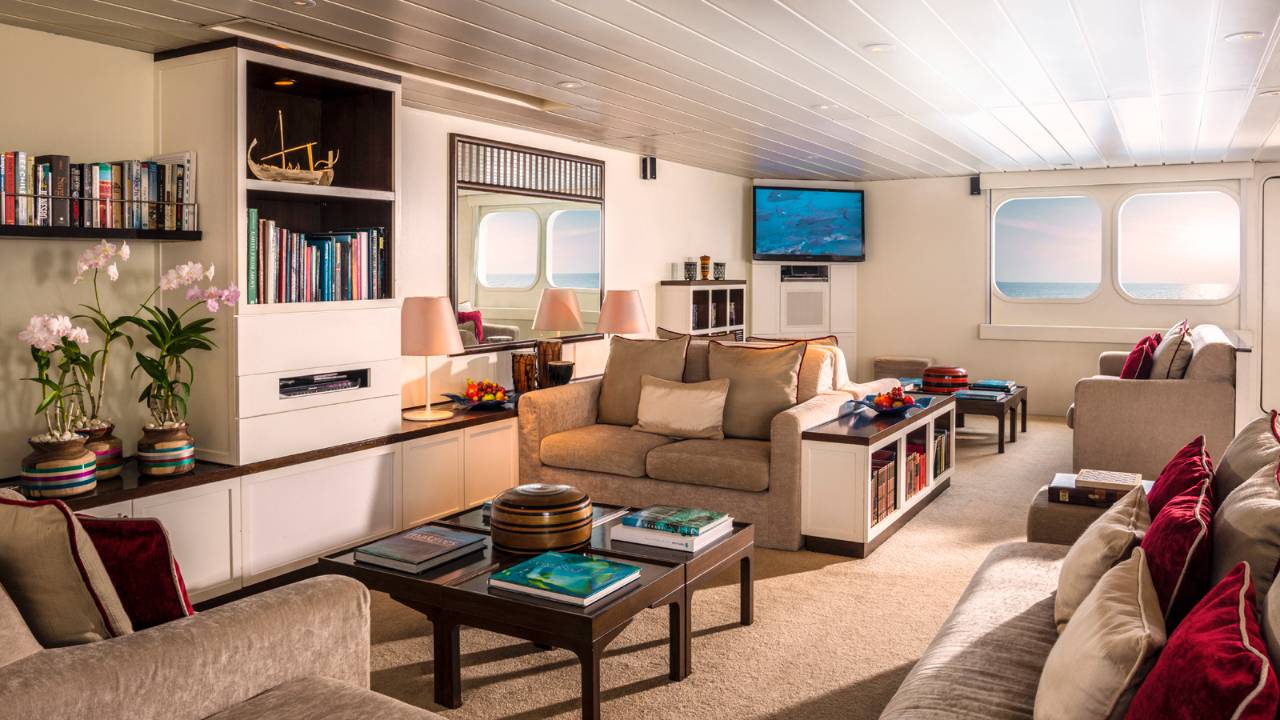 Itineraries
Cruises range from a 3-day Northward Cruise from Four Seasons Kuda Huraa to Landaa Giraavaru via the Male and Baa atolls, to a 7-day Circuit Cruise that visits five atolls on the ultimate dive cruise.
Rates and How to Book
Contact concierge [at] travelsort.com for rate information and to book.
Become a TravelSort client
to enjoy
Four Seasons Preferred Partner
amenities for additional add-on nights at Four Seasons Maldives at Kuda Huraa and/or Four Seasons Maldives at Landaa Giraavaru pre or post cruise.
If you've experienced Amanikan or the Four Seasons Explorer, what was your experience like?
Related Posts