While service, food, and entertainment are important to me, on a redeye there's one thing I value the most when flying business class – a comfortable seat that allows me to get a good night of sleep and arrive well rested. Now, there's no one right answer as far as what the most comfortable seat is, as it really is a matter of personal preference. So to start, it probably makes sense to cover the basics of the six most common types of business class seats out there today:
Recliner: These are the traditional business class seats, which typically recline about 150-170 degrees. They're much like a comfortable recliner seat at home, so if you sleep well in a cushioned seat that isn't a flat bed, you'll love this type of seat. This product can be found on Delta's 767-300s, Continental's 767-200s and 767-400s, and on many of United's 777s.
Angled flat: After the recliner seat many airlines started rolling out angled flat business class seats. The surface is fully flat, though at an angle to the floor. Some people love these seats, while some hate them. Since the seats are at an angle, many report sliding down, making it near impossible to get any sleep. This product can be found on Air France, American, Lufthansa, ANA, Asiana and Thai Airways.
Herringbone: In the evolution of business class products, herringbone seats came next. These were the first widespread fully flat business class seats. There are typically three to four seats abreast on most widebodies equipped with herringbone seats, and they're pretty popular given that each seat has direct aisle access. The only issue is that some people report them being a bit claustrophobic, since there are walls on both sides of the seat that go higher than on most aircraft. As a result these seats are also not ideal when traveling with a companion. These seats can be found on Air Canada, Air New Zealand, and Virgin Atlantic.
Fully Flat: The most "traditional" type of flat bed seat is just a forward or rear facing business class seat with six to eight seats abreast. This is what's found on British Airways and many of United's 767-300s and 747-400s.
Suite: This is the newest and generally most well regarded new business class configuration. Actually, it makes a lot of people ask "what's the point of first class anymore?" There are typically four fully flat seats abreast, all with direct aisle access. The seats typically face either the window or the interior of the aircraft at an angle, so they're very similar to traditional first class suites. The major difference between these and herringbone seats is that they have a lot more personal and shoulder space. These types of seats can be found on US Airways' A330-200 aircraft and many of Cathay Pacific's 777-300ER aircraft.
Staggered: Along with the suites, this configuration is definitely proving to be the future of business class. They're fully flat and staggered in alternating rows so that you have a lot of personal space and privacy. These types of seats can be found on Alitalia's A330-300s, Delta's 767-400s, some of Asiana's 777-200s, and some of ANA's 777-300ERs.
With the general descriptions out of the way, let's go through the various major airlines and compare them on their business class products as far as a good night of sleep goes.
American
American is a bit behind the times in that all of their longhaul aircraft are equipped with angled flat seats. I flew American recently to India and back and definitely got some decent rest in business class, though it was definitely "airplane sleep" and not "real" sleep, like I'll often get in international first class. Fortunately their bedding is fairly good, which makes up a bit for the angled flat seat.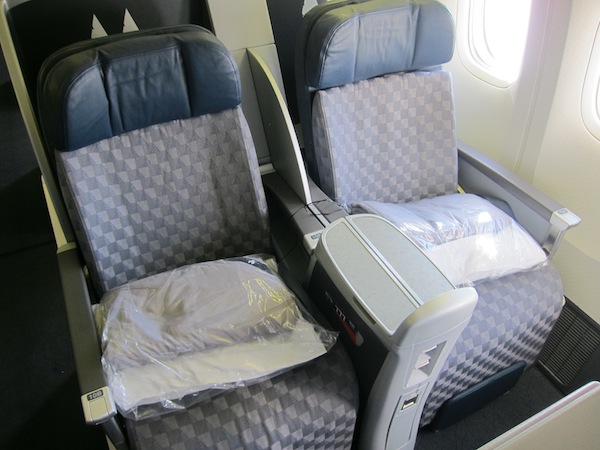 Next year they'll be rolling out a new business class product on their 777-300ERs, though I suspect it will be a long time before they're found fleet-wide.
United
United is all over the place as far as its business class product goes. United's 767-300s, 747-400s, and select 777-200s, as well as the former Continental's 777-200s and 757-200s are equipped with fully flat beds. Of those seats, generally Continental's are considered to be slightly better, since there aren't quite as many seats per row. For example, Continental has six business class seats abreast on their 777s, while United has eight. So that's worth factoring in if you value personal space. Overall this product is great for sleeping, and one of the better options available on transatlantic flights.
However, on many of United's 777s, and Continental's 767-200s and 767-400s, they still have recliner seats. So when looking at seatmaps for your flight, be sure to check Seat Guru to see if your seatmap matches that of a 777 with fully flat beds or not. Keep in mind that aircraft type are subject to change. United should eventually finish reconfiguring the 777s and 767-400s, while the 767-200s will most likely be retired fairly soon.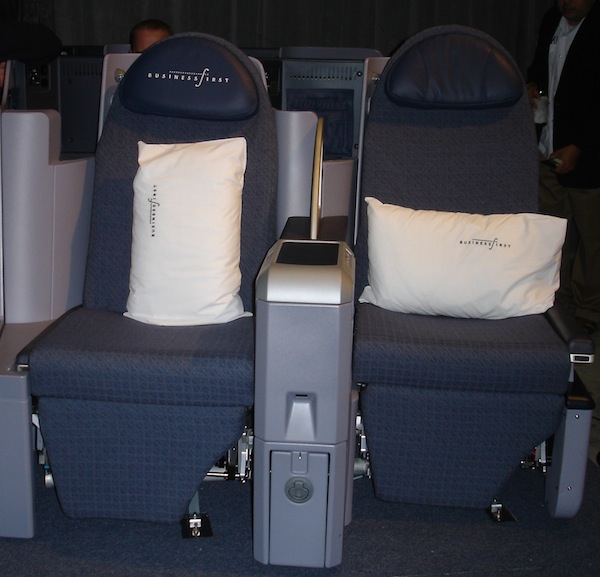 Delta
April 2014 Update: Delta has finally finished installing BusinessElite flat bed seats with direct aisle access in all of its international widebody planes, including all Delta A330-200 / 300, 767-300ER / 400-ER, 747-400 and 777-200ER aircraft.
—-Original text—–
Delta really is all over the place as far as business class seats go, and seemingly by design.
Their 767-300s and Airbus 330s feature recliner seats in business class, which aren't especially comfortable for sleeping.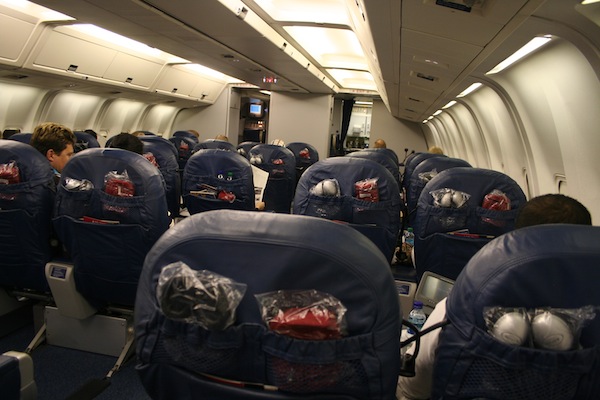 Their 777s feature herringbone seats, as these aircraft are usually used for their longhaul flying to Beijing, Dubai, Johannesburg, Shanghai, etc. These seats are fairly good for sleeping, and one of the better options out there.
Then their 767-400s, which are used primarily to Europe, featured the staggered business class product. Much like the herringbone seats they're great, with the added benefit of more personal space and also being able to sit next to someone (if you have a traveling companion), since traditional herringbone seats aren't great in that regard. All of Delta's routes to London are operated with this configuration, and it's definitely one of the best products out there if you're trying to get a good night of sleep.
The herringbone and staggered business class products with flat bed seating currently comprise only 30% of their transoceanic aircraft.
US Airways
US Airways has recliner seats on their Airbus 330-300s and 767-200s. The seats and entertainment aren't especially good, though it's worth noting that on the Airbus 330-300 they have Envoy Sleeper Class, which is the first row of business class. While the service is the same as the rest of the cabin, the seats are fully flat and can be purchased for an additional fee.
US Airways' A330-200 aircraft have fully flat suites. While US Airways isn't typically known for their innovation, this is one area where they deserve a lot of credit, since they were the first major airline to roll these seats out. They can be found mostly on routes to London, Paris, and Munich, and are truly one of the best products out there. They're planning on reconfiguring the rest of their Airbus 330-300 fleet shortly with these as well.
Air France
Air France really is embarrassingly bad in the seat department. They have angled flat business class seats fleet-wide, so they're not great for sleeping. Even worse, they haven't announced plans to introduce a new business class product yet.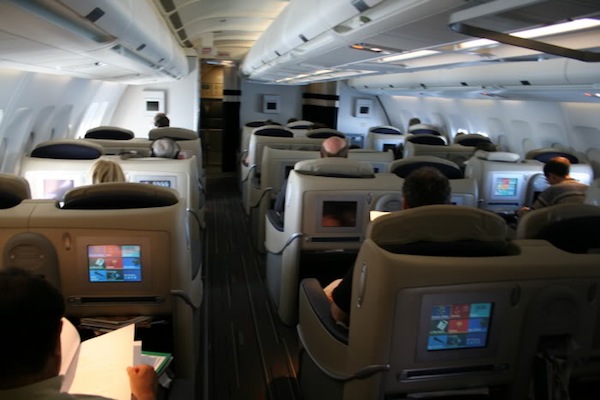 All Nippon Airways
ANA's 777-200 aircraft and most of their 777-300ER aircraft are configured with angled flat business class seats. They're not especially comfortable for sleeping, especially on a 12+ hour flight to Japan. However, some of their 777-300ER aircraft (coded as 77W aircraft) are equipped with a new fully flat staggered business class product that's spectacular. They fly it on several routes out of Europe, as well as the flight from Los Angeles to Tokyo Narita.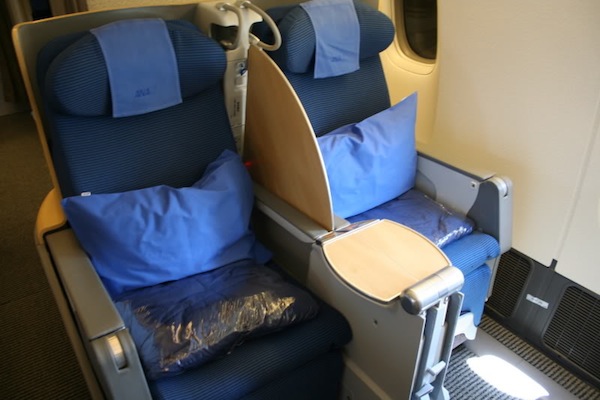 Asiana
Asiana has angled flat business class seats on a majority of their 777s and all of their 747s. These seats aren't great, especially for flights to Europe. However, for the remainder of their 777 fleet they have a staggered business class product, which is great. They fly this on their routes out of Los Angeles, and select other routes.
British Airways
British Airways has a very consistent business class product across their fleet, consisting of fully flat seats, some forward facing and some rear facing. These seats are very private and great for sleeping. I actually prefer sitting backwards. Not only is it fun during takeoff, but keep in mind that the aircraft's nose is always higher than the tail at cruise, so sitting backwards allows your head to be a bit higher than your feet.
Cathay Pacific
Cathay Pacific presently has two types of longhaul business class products: herringbone and suites. Herringbone seats can be found on the 747s, and select A330s and 777-300ERs, while the remaining A330s and 777-300ERs feature suites (see Cathay Business Class Review 777-300ER). Both products are great, though I'd say the suites would be the preferred option between the two. While they feature these aircraft primarily on their routes to Australia, Los Angeles, Chicago, and New York, I don't believe there's a way to tell which type of aircraft you'll have if you book far in advance.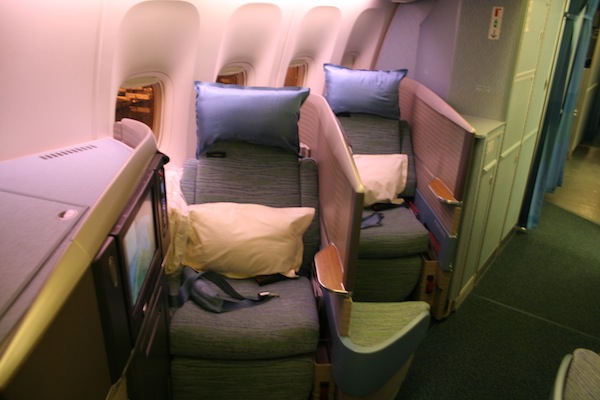 Here's a video of Cathay Pacific's new business class suites:
Lufthansa
Much like Air France, Lufthansa is behind the times when it comes to their business class product. They have angled business class seats fleet wide. They're planning on unveiling a new business class product when they take delivery of their
Also see: Which Lufthansa Flights Have New First Class and New Business Class?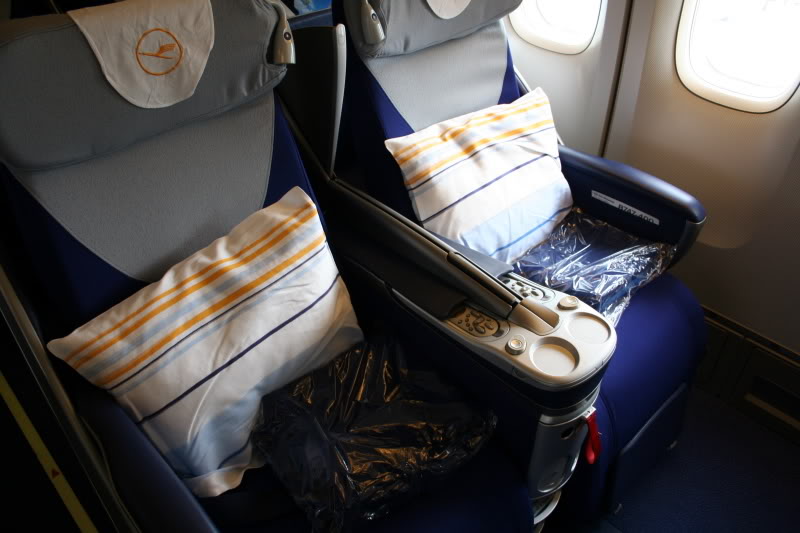 Singapore
Singapore is the only airline to have their type of business class product, which is one of the widest business class seats in the industry. They have it on all of their 777-300ER and Airbus 380 aircraft (which at this point is 95% of their longhaul fleet). The seats are incredibly wide, though only have a fairly small cutout to place your feet in to sleep. So while the seats are great, if you prefer a lot of room for your legs it's probably not the best product. That being said, if you snag the first row of business class you don't have that problem, since you have all the space for your feet you could possibly want.
Note that if you need to fly Singapore First Class or Singapore Suites on the A380, you should build up some AMEX Membership Rewards points and transfer them to KrisFlyer so you can gain access to coveted KrisFlyer First Class award inventory.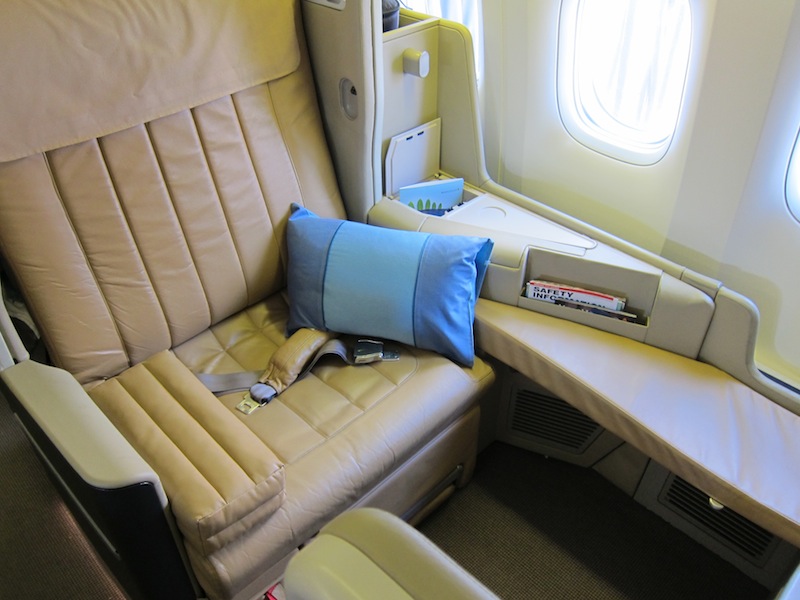 Swiss
The new Swiss business class is fleet wide now, and it's a great staggered business class product.
Thai Airways
Thai has angled flat business class seats for a majority of their longhaul fleet. The only exceptions are their leased 777-300ER aircraft from Jet Airways, which feature fully flat herringbone style seats, and fully flat beds on the new A380s. The only routes on which these aircraft are consistently found is Paris and Tokyo, though they can sometimes be found on the Frankfurt and Munich routes too.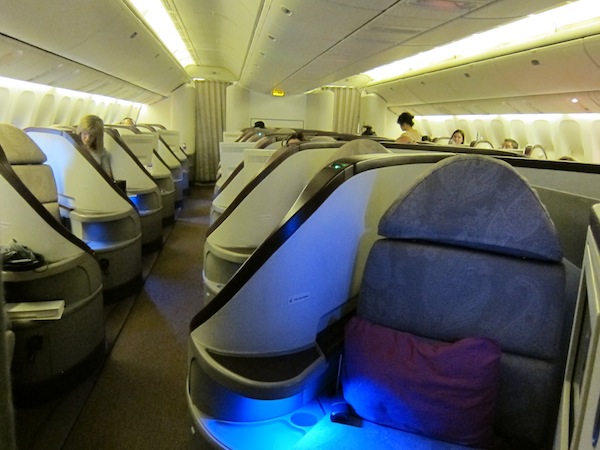 Hopefully that's a useful rundown of the best business class seats. Nowadays for a redeye I'd say a comfortable seat trumps service, food, and entertainment. It amazes me that world class airlines like Lufthansa have been so slow to improve their business class products, despite taking delivery of new aircraft like the Airbus 380.
Related Posts
10 Best International First Class Seats for Award Travel
Singapore Airlines Business Class Review
Cathay Pacific Business Class Review 777-300ER
Tips for Staying Healthy When Flying on Long Plane Flights
If you enjoyed this, join 200,000+ readers: follow TravelSort on Twitter or like us on Facebook to be alerted to new posts.
Subscribe to TravelSort on YouTube and TravelSort on Instagram for travel inspiration.
Become a TravelSort Client and Book 5-Star Hotels with Virtuoso or Four Seasons Preferred Partner Benefits