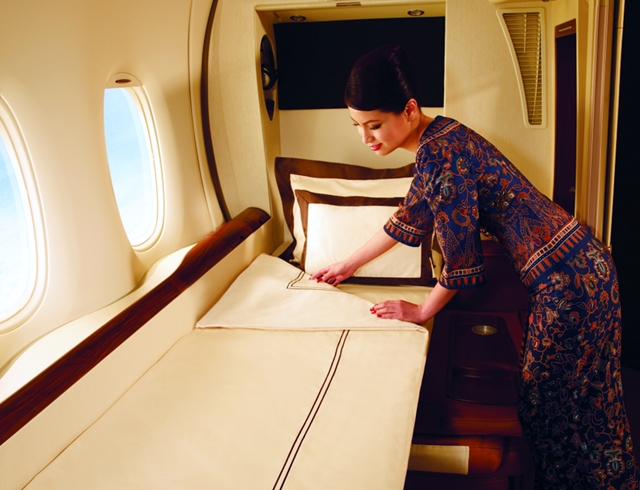 What are the best First Class airline beds to get a great night's sleep? While there's plenty of buzz and discussion around which airline serves which champagne and which type of caviar; the showers aboard Emirates First Class and Etihad First Apartments on the A380; the bars aboard Emirates, Etihad, Virgin Atlantic, Korean; which airlines you can pre-order your meal; the best first class amenity kits and the best first class airline pajamas, I think all of this is beside the point for those long 12-16 hour flights when you NEED above all to get a good night's sleep.
Double or triple that for those of you who, as I do, often travel with your kid(s). And just as it amazes me that more luxury and boutique hotels don't pay more attention to the comfort of their beds, it confounds me that more airlines don't lavish more attention on the quality of the bed, particularly for first class. After all, many of the paying customers have likely spent significant amounts on premium mattresses for their residence(s), and even many of us flying first class via award tickets have long ago moved on from the IKEA futons we may have had in college to more comfortable bedding at home.
These are my picks for comfortable first class airline beds that I've slept incredibly well on:
1. Singapore Suites on the A380
Singapore Suites remains my favorite first class bed, thanks to the fact that the bed was specifically designed to be a bed; it's not just a seat reclined into a bed. While some folks dislike this fact, since it means you will need to ask a flight attendant to make it up for you as a bed, I think the slight inconvenience is more than worth it given the added comfort. Seat pitch is 81 inches, with the bed length 78 inches, so moderately tall people (but not basketball players) will be comfortable.
A nice thick memory foam-like mattress is placed atop and swathed in Givenchy linens, and since it is an enclosed suite, it's private as well. This is absolutely my top choice for flying to Southeast Asia, and even to Europe, if you can find award availability (which has gotten tougher, at the saver level).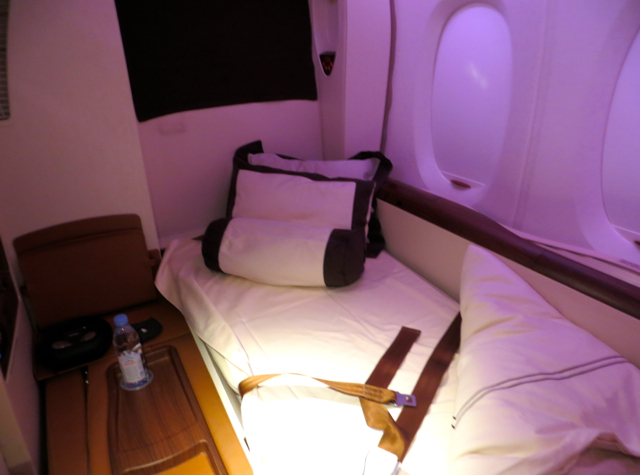 2. Japan Airlines First Class
I was already very impressed with Japan Airlines JAL Sky Suite Business Class which my son and I flew back to NYC last year, after an amazing stay at Amanpulo. JAL and Air New Zealand are the only airlines I know that offer such a thick mattress in Business Class, and I find the mattress really does make a difference in terms of comfort and sleep quality. JAL's airweave sleep mattress was used by a number of Olympians traveling to Sochi for the 2014 Winter Olympics, and it's used for JAL First Class as well.
More recently I got to fly JAL First Class, and loved it. JAL's First Class mattress even offers a firm and soft side, so you're asked at turndown if you would prefer a firm or soft mattress. That's quite unique in general for hospitality companies–Four Seasons made headlines when it started rolling out its new Four Seasons bed last year, with the option to customize your mattress topper three ways: Signature, Signature Plush, or Signature Firm (see New Four Seasons Bed: Customized to Your Sleep Preference) and as far as I'm aware, is unique among airlines. While I do still find the Singapore Suites bed the most comfortable, and like the privacy of an enclosed suite, JAL First Class is close behind. Do note though that it's not the best product for tall people who want to sleep stretched out, since the bed is 73 inches long.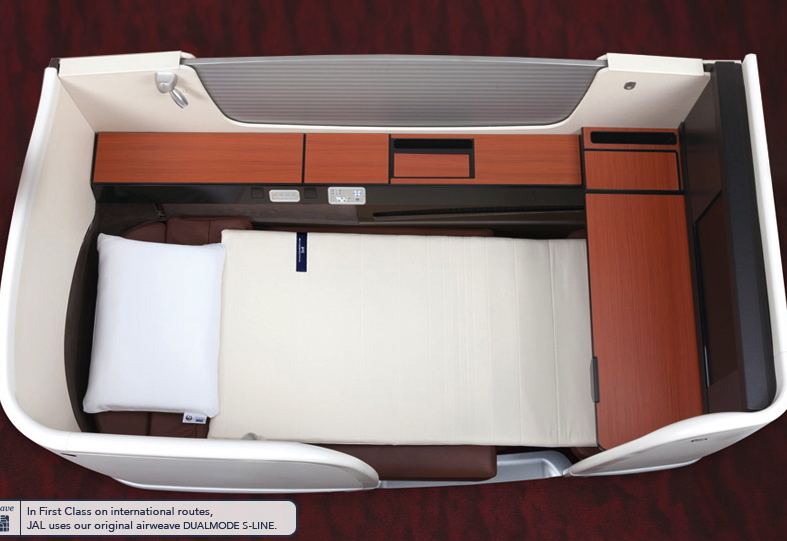 3. Cathay Pacific First Class
Cathay Pacific First Class is many people's favorite for its extra wide seats and beds, and I do love this aspect as well, which is why it's in third place, even without a thick mattress. The mattress pad was quite thin, although fortunately Cathay Pacific seats are decently padded and Cathay's New First Class is to offer a slightly thicker mattress. I do think Cathay Pacific is great for couples, friends, or a parent/child traveling together, thanks to the roomy table and the ottoman allowing you to enjoy a meal together; the extra wide seat that allows a parent to read a bedtime story to a child, and the generally peaceful cabin, since there are only 6 first class open suites.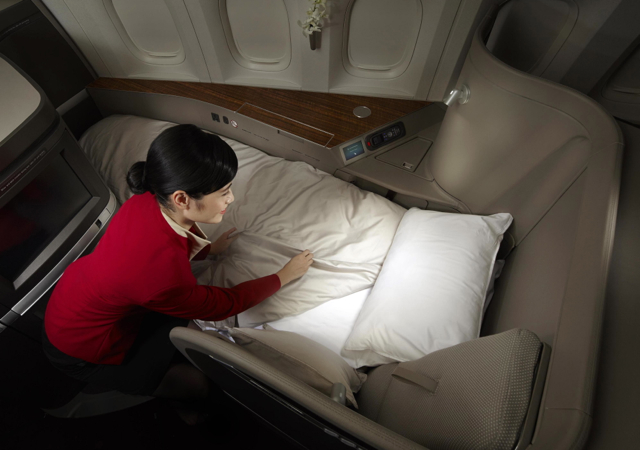 4. Air France La Premiere First Class
I was able to see Air France's new La Premiere First Class suite during the NYC Expo last year, with just 4 first class suites aboard each 777-300. What's most interesting from the bed perspective is the Sofitel My Bed bedding. The mattress is quite thick, although not the memory foam-like material that Singapore Suites uses, nor does it offer a choice of firm and soft as JAL First Class does.
While I'm all for innovation in the suite concept and initially liked the curtains that close the suite, I was less enamored of them once I saw them at the Expo, as they were very flimsy and see-through, when light is on. Hopefully Air France will ultimately replace them with a thicker and more opaque material to provide greater privacy. Of course, this is all a moot point for most of us, since you can't redeem for La Premiere as an award unless you're a Flying Blue frequent flyer elite member.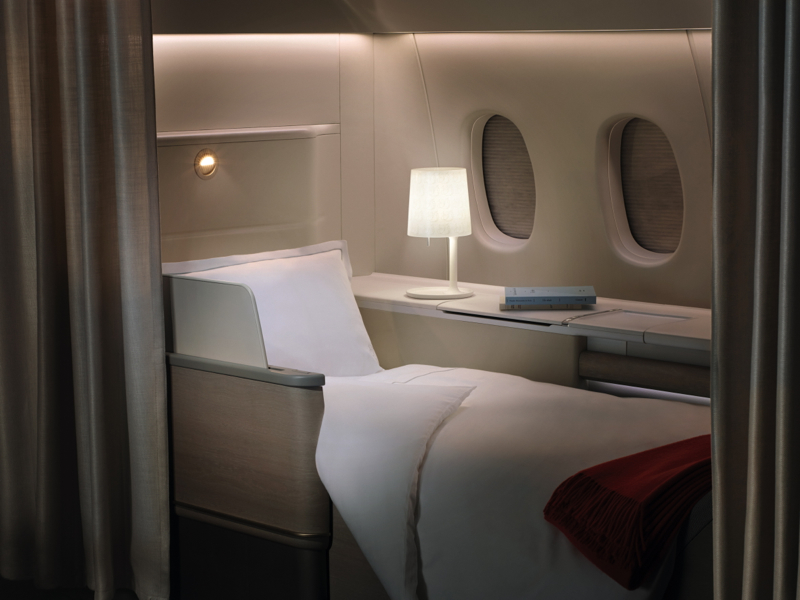 5. Etihad First Class
I always enjoy flying Etihad First Class, and the bed is good, but lacks the thick mattress of the higher ranked products above. That said, it's often warm enough in the cabins that I use the duvet as additional padding, and that makes the bed more comfortable. The privacy of the suite gives it a slight edge, and I also like the storage space and flat surfaces around the suite, making it convenient to have a snack without having to have your table set, or to store and easily access your phone.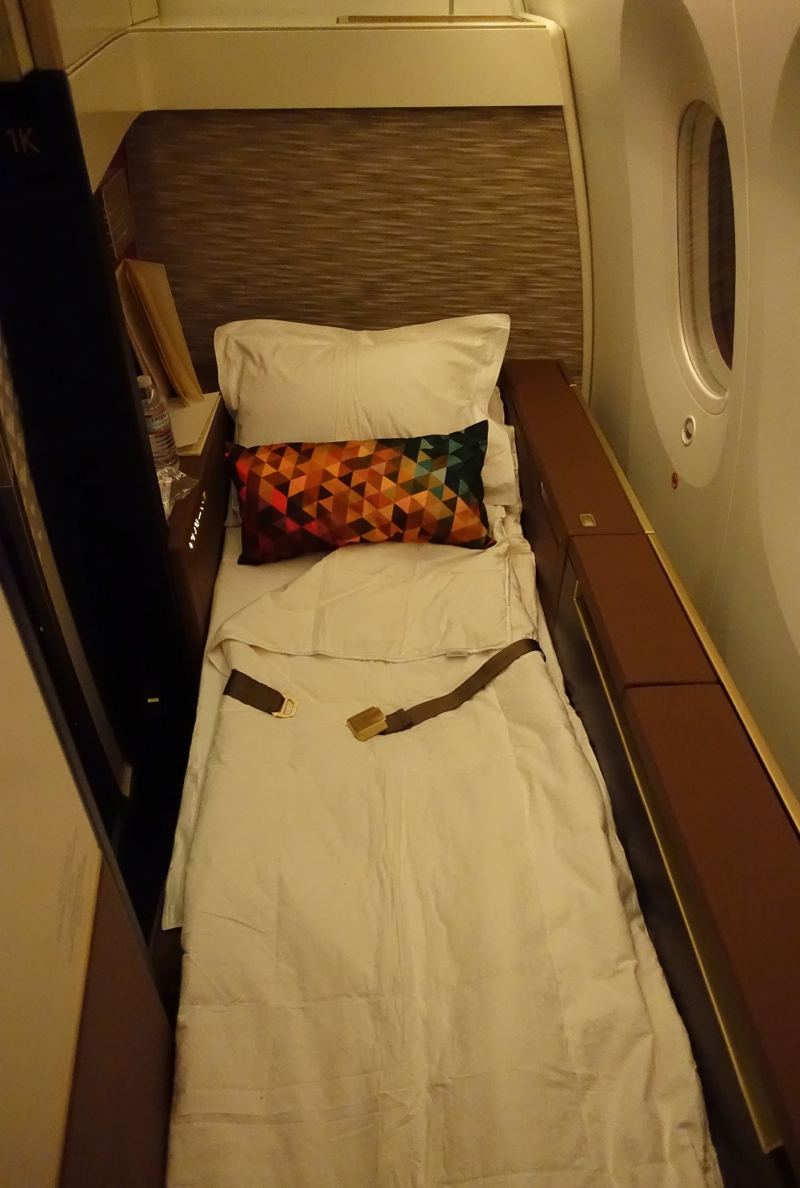 My husband will be flying Etihad First Apartment later this year, so I'm looking forward to hearing about the comparative comfort of Etihad First Apartment beds vs. competitors.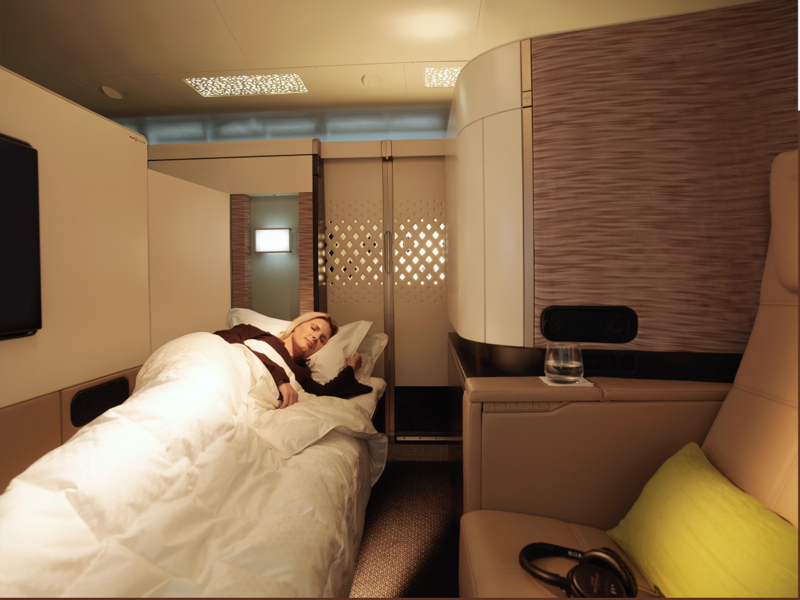 What are your favorite airlines for first class, in terms of bed comfort?
Related Posts
Best First Class Airline Seats for Couples
Airlines with the Best First Class Food
Best First Class Airline Amenity Kits
Need Award Booking Help? Our fee is as low as $75 per ticket if you book your hotel through us.
If you enjoyed this, join 180,000+ readers: please follow TravelSort on Twitter or like us on Facebook to be alerted to new posts.
Become a TravelSort Client and Book 5-Star Hotels with Virtuoso or Four Seasons Preferred Partner Amenities!