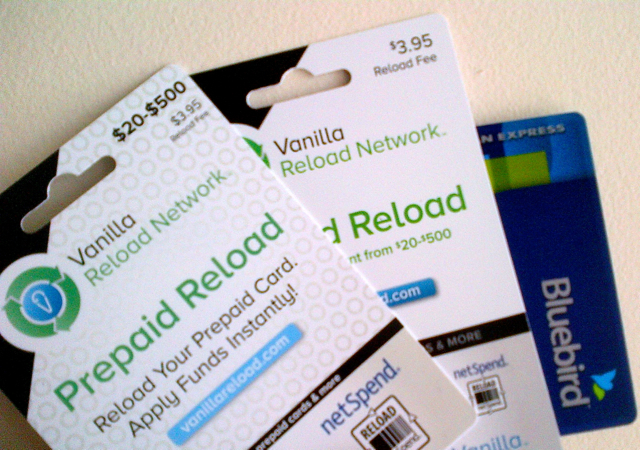 What are the best credit cards to buy Vanilla reload cards at CVS? This is assuming, of course, that you have CVS or other stores near you that sell Vanilla reload cards and also allow you to pay with a credit card. As I tweeted yesterday, Vanilla reload cards are pretty scarce in NYC since there are only a few that arrive at each store each week, and of course plenty of miles and points addicts competing for them! But with any luck, you live in an area where the competition isn't quite as fierce.
By way of background, buying $500 Vanilla reload cards, even with the $3.95 fee per card, can be a good way of earning miles and points for a few reasons:
Reload a Permanent AMEX Bluebird Card so that you can use it to pay bills or write checks on expenses that normally do not earn points, such as rent, mortgage, tuition, and other payees who accept checks but not credit cards. Don't forget AMEX Bluebird offers free checks until May 21.
Meet Minimum Spend: Front loading your spend on Vanilla Reloads can help you meet minimum spend for credit card signup bonuses
Take Advantage of Category Bonuses: The best deal was when it was possible to buy Vanilla Reloads at Office Depot using your Ink Bold for 5X, but that ended some months ago. The Chase Freedom offered 5X for drugstores in Q1 2013, so it was possible to buy $1500 worth of reloads per Freedom card then. The other favorite credit cards used for its drugstore bonus category was American Express Hilton HHonors and the Hilton HHonors Surpass cards, which until May 1, 2013 earned 6 HHonors points per dollar at drugstores. Currently, the best drugstore category bonus I'm aware of is the Citi ThankYou Preferred card, which for has an offer for new applicants that enables you to earn 5 ThankYou points per dollar spent at drugstores (as well as gas stations and supermarkets) for the first 12 months.
Ok, so now on to the best credit cards to buy Vanilla Reload cards with:
1. Credit Card Minimum Spend for Bonuses
This will give you the highest return. For example, let's say you signed up for the Ink Bold and met half of the $5000 minimum spend through regular business expenses, and the other $2500 by buying 5 Vanilla Reload cards. You would have paid $19.75 in fees for the 5 Vanilla Reload cards, and with the combined business and Vanilla Reload spend of $5000 would receive about 55,000 points (the 50,000 bonus points plus points from your actual spend). So the $19.75 is responsible for half the bonus, 25,000 points, plus your spend of ~$2500, giving you a cost per point of 0.14 cents per point. I would caution you not to go overboard, however, in using Vanilla Reloads to make up all of your minimum spend. Be reasonable and mix up your spend.
2. Credit Card Incentive and Retention Offers
Although usually the best deal is meeting minimum spend for signup bonuses, the next best (and sometimes even the best return) is to buy Vanilla Reload cards with credit cards that you'll receive an incentive or retention bonus for, after meeting certain minimum spend. These are more targeted, but here are some examples that are active for me right now (and feel free to share yours in the comments).
US Airways Dividend Miles
15,000 Dividend Miles after spending $750 per month for three consecutive months. If you bought 2 Vanilla Reload cards per month for 3 months, that would be $23.70 in fees, and you'd earn 3023 + 15,000 points, so the equivalent of buying miles at 0.13 cent per mile–that's even slightly better than meeting minimum spend to earn the Ink Bold signup bonus! See
US Air Card 15,000 Bonus for $750 Monthly Spend March-May (Targeted)
.
AMEX Premier Rewards Gold
Taking into account the $3.95 per Vanilla Reload card fee, that equates to buying AMEX points at 0.22 cents per AMEX point, since you get the bonus points plus points from your actual spend. While not as good as buying Vanilla Reloads in order to get sign up bonuses, still good in its own right.
Hyatt Visa
My current targeted offer is 5000 bonus Gold Passport points after spending $3000 April-June. Taking into account the Vanilla Reload card fees and the Hyatt points you get from the spend plus the 5000 bonus points yields a cost of 0.3 cents per Hyatt point.
3. Cash Back Credit Cards
If you don't travel internationally or in first class or business class, your best bet may be a cash back card. There's the 2% Fidelity Investment Rewards AMEX, and there are some interesting niche cards such as this
Marukai Premium JCB Card
for California residents that gives 3% cash back. Fees are waived the first year, then a $15 annual fee and $10 Marukai annual fee apply starting the second year. Feel free to add your favorite cash back cards in the comments.
4. Citi ThankYou Preferred Card for New Cardholders
Personally I can't get excited about the Citi ThankYou Preferred Card even with the 12 month 5X offer, because Citi ThankYou points aren't transferrable to any airline programs–so your ROI is very limited. Sure, if you have the Citi ThankYour Premier card you can use each point for 1.33 cents off travel, but still not impressive–and remember that you have to go to the trouble of using the ThankYou program's travel booking system, where everything is a bit more expensive. Still, if you're really counting your pennies, this may be for you.
Have another favorite credit card you use when buying Vanilla Reload cards for your AMEX Bluebird?
Related Posts