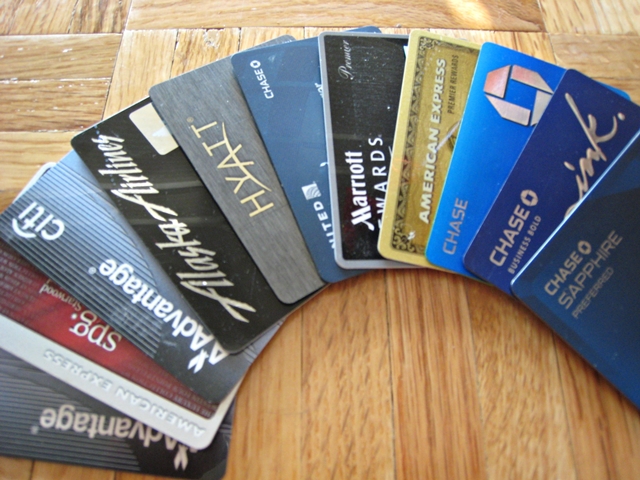 Which credit card for which spend category? How do you maxmize your miles and points for each purchase? Here are my current recommendations, listed by type of expense:
Airline Tickets (U.S. Dollar Ticket Purchases): 3X with American Express Premier Rewards Gold
If you're buying airline tickets that are denominated in dollars and the transaction is processed in the U.S., you can earn anywhere from 3X (simply using the AMEX Premier Rewards Gold card or AMEX Business Gold Rewards Card) to 5X, if you can accept some risk and click through Travelocity in the Ultimate Rewards Mall. See Maximize Frequent Flyer Miles When Booking Flights
Airline Tickets (Foreign): 2X with Sapphire Preferred or 3X with Chase Sapphire Reserve
If you're buying a foreign airline ticket, such as a low cost carrier flight in Europe or Asia, or booking a one way award flight that originates internationally such that the taxes and fees are in a foreign currency, *don't* put it on your AMEX Premier Rewards Gold card, as you'll get hit with a foreign transaction fee.
Instead, use your Sapphire Preferred to earn 2X points or Chase Sapphire Reserve to earn 3X, with no foreign transaction fees.
Amazon: 5X Using Gift Cards Bought with Ink Bold or Ink Plus
If your family is anything like mine, a considerable amount is spent per year on Amazon purchases, on everything from household supplies to clothing to presents to the occasional downloaded film. The good news is that it's easy to earn 5X on this spend, by first buying Amazon gift cards at an office supply store with an Ink card, then loading all of these cards into your Amazon account. See 5X Points for All Amazon Spend
Groceries: 5X at Whole Foods Using Gift Cards Bought with Ink Bold or Ink Plus
See 5X for Whole Foods Groceries via Staples and Ink Cards. Alternatively, if shopping at a non-Whole Foods store or if you don't have an Ink card, use the AMEX Premier Rewards Gold card for 2X.
Gas: 5X Using Gift Cards Bought with Ink Bold or Ink Plus
While you earn 2X on gas with the Ink Bold and Ink Plus directly, as well as other cards such as the AMEX Premier Rewards Gold card, a better bet is buying gas gift cards at an office supply store with an Ink Bold or Ink Plus to earn 5X, then using that card to pay for gas.
Restaurants: 5X by Stocking Up on Restaurant Gift Certificates with Chase Freedom
While the Chase Freedom 5X 2014 Calendar is Disappointing, one of the only bright spots, in my view, is the Q2 5X for restaurant spend. Be sure to stock up on restaurant gift certificates during April, May and June, so you can earn an effective 5X for dining at other times of the year, with the benefit of front loading the points earning. This beats the 2.14X for the Chase Sapphire Preferred, or even the Sapphire Preferred Triple Points on First Fridays.
Car Rentals: 2.14X with Sapphire Preferred
You'll earn 2.14X with the Sapphire Preferred, but also consider whether you would prefer to use a Credit Card with Primary Car Rental Insurance Coverage.
Internet and Phone: 5X with Ink Bold or Ink Plus
You'll want to put these bills on autopay using your Ink Plus or Ink Bold, since they earn 5X points per dollar for Internet, cable TV, cell phones and landline phones.
Non Bonus Category Transactions
Frankly your best bet for transactions that you can pay by credit card and don't fall into one of the bonus categories above is to use a card that you're working on meeting minimum spend for.
New Credit Cards: Work on Minimum Spend
Assuming you applied for a card with a lucrative signup bonus, this should be your first choice for non bonus category spend. Of course you can supplement with other ideas from our
tips on meeting minimum spend
but it's good to ensure some real (not just manufactured) spend goes on the card.
Which other spend categories do you earn significant category bonuses from, using credit cards?
Related Posts