Food stores don't open on Sundays in Berlin, and when there's no milk left in the fridge, voila! You have the perfect excuse to treat yourself to brunch at one of Berlin's charming cafes or restaurants. From flaky pastries to huge continental buffets, Russian blinis to the finest Bavarian jams, here's our pick of the best brunch places in Berlin. Most of our picks are in leafy Prenzlauer Berg; an area full of charming restaurants, renovated townhouses and lively Sunday markets.
We have also added a few Sunday brunch places outside Prenzlauer Berg so that you can enjoy the freshest breads and finest coffee in town no matter where you are. If you fancy exploring a new part of Berlin, look no further than the American-style diner breakfasts in Wedding, or the most famous fixed-priced buffet in Kreuzberg.
Brunch in Berlin is huge. You'll need to reserve for a weekend spot at most of these places, but don't worry if you don't know your kaffee from your coffee. English is widely spoken in Berlin and a 'Sprechen Sie Englisch?' will get you far.
This bohemian cafe bar in Charlottenburg serves up golden croissants, fresh fruit and flaky apple strudels 24 hours a day. Schwarzes Cafe is full of crumbling beauty with a little balcony and garden area for summer, and this is the perfect spot for people watching. The cafe serves everyone from Charlottenburg princesses to glittery eyed revelers who fancy something a little more wholesome than a doner kebab at 10 in the morning.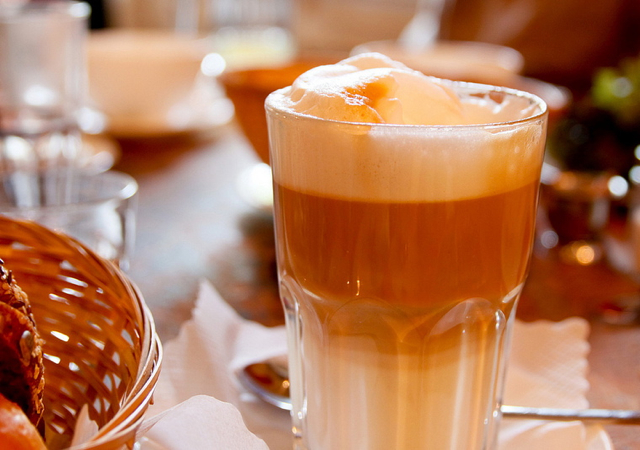 If you don't have a German grandma to bake you exquisite cakes and pastries, just head to Cafe Buchswald near Tiergarten. Established in 1852, Cafe Konditorei Buchwald used to serve the court and specializes in Baumkuchen; Germany's famous sweet, layered cake. If you're lucky you'll be able to grab a chair in the lovely little garden overlooking the River Spree, where you can enjoy a coffee and rich chocolate tart while watching the world go by.
The indoors section of Cafe Buchwald is sweetly old-fashioned with polished parquet floors and vintage curtains, just like grandma's living room.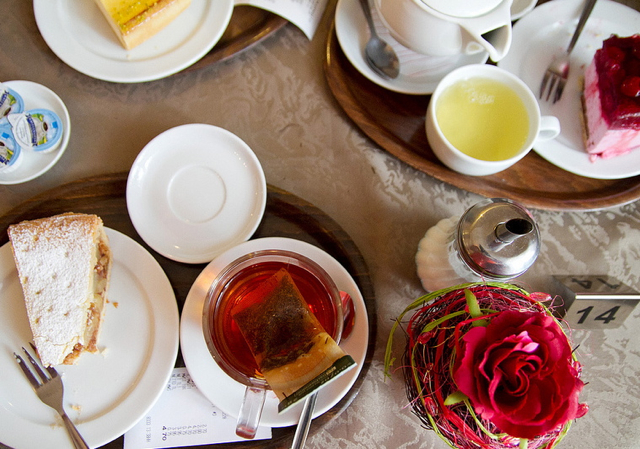 3. Pasternak
On the leafiest street in lovely Prenzlauer Berg, Pasternak serves the most decadent fixed menu bunch in the city. Caviar, blinis, quail eggs and poached salmon are all on the menu at this elegant Russian restaurant. Save some room for dessert though, which includes poached pears, berry tarts and sophisticated cakes. Warm service and a lovely outdoor terrace makes Pasternak the perfect place to start your Sunday, and the popular Sunday brunch menu costs 12.90.
After brunch, head to the lively Sunday flea market at Mauerpark for a singalong with Berlin's hippest characters at the open-air karaoke.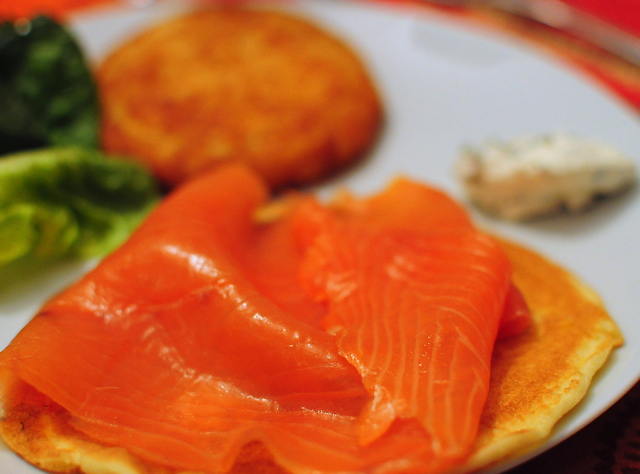 4. Cafe Hilde
If you fancy a full Irish breakfast replete with bacon, sausages, eggs, mushrooms, grilled tomatoes and black and white pudding, look no further than Cafe Hilde in Prenzlauer Berg. Owned by a pair of visual artists, it's a place where charmingly mis-matched furniture, comfy couches and second-hand books jostle for space. Cafe Hilde also hosts sporadic poetry readings and sweet little jazz nights, so it's well worth checking out in the evening. The Irish breakfast is available on Saturdays and Sundays.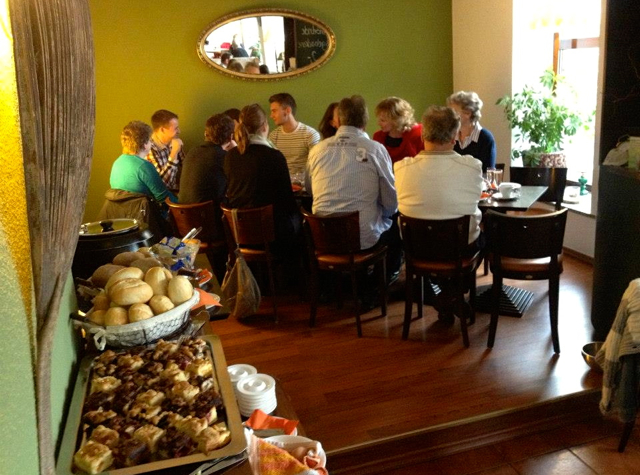 5. Cafe Wintergarten im Literarturhaus
The serene winter garden at Cafe im Literarturhaus in Charlottenburg is the perfect little hideaway. Relax with a good book and enjoy a 3-course breakfast in a grand 19th-century villa, with your choice of eggs brought freshly to your table. Also try the apfel strudel or any of the pastries. Guten appetit!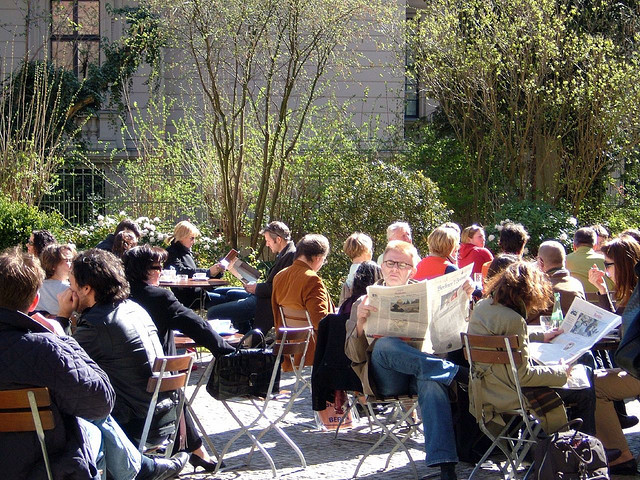 On the coolest street in Berlin, at Skalitzer Straße 34, Cafe Morgenland in Kreuzberg serves one of the most famous fixed-price brunches in the city. The EUR 9.50 buffet serves up sunny Mediterranean fare with plenty of fresh baked goods, warms flatbreads, homemade dips, salads and pancakes to dip into.
The cozy cafe gets busy quickly though, so it's a good idea to make reservations a week ahead. Afterwards, take a sunny Sunday stroll through Gorlitzer Park.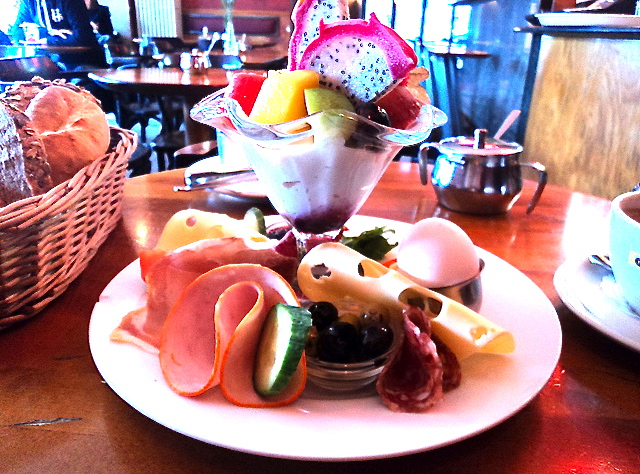 Sip a glass of prosecco at Zwölf Apostel's lovely Italian buffet brunch in Charlottenburg. For EUR 18, the fixed menu includes hot and cold buffets and a hot drink, and this is a lovely spot for dining al fresco. If you would prefer a smaller breakfast, you can't go wrong with Zwölf Apostel's fresh omelets.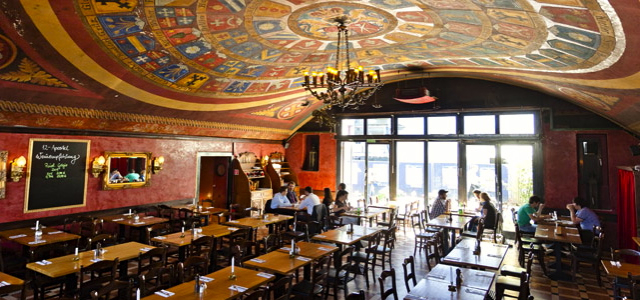 8. Alpenstueck
Serving up South German home cooking in the Mitte district, Alpenstueck bakery and restaurant does delightful things with pastries and breads. Alpenstueck doesn't serve the cheapest breakfast in town; EUR 12 gets you the continental plate with cheese, salami, ham and fresh bread, but this restaurant is a serene little place that might be just what you need after a few days in the Big City.
Also, if you can't stand to leave Berlin without tasting a genuine schnitzel, Alpenstueck is the place to go in the evening.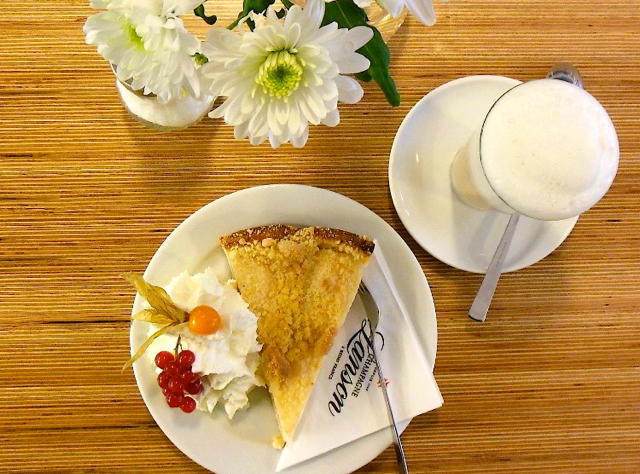 9. Chicago Breakfast Slam
Set on a lonely street in the Wedding district, Chicago Breakfast Slam is a bright little hipster haven that serves American classics like Eggs Benedict and fluffy pancakes with berries. Everything on the menu is moreish and costs around EUR 8, and the GDR-style decor is a touch of retro fun in a district that lacks the charm of some of Berlin's more famous neighborhoods. Please note that they are moving from their recent location and haven't reopened yet; stay tuned to their Facebook page for updates.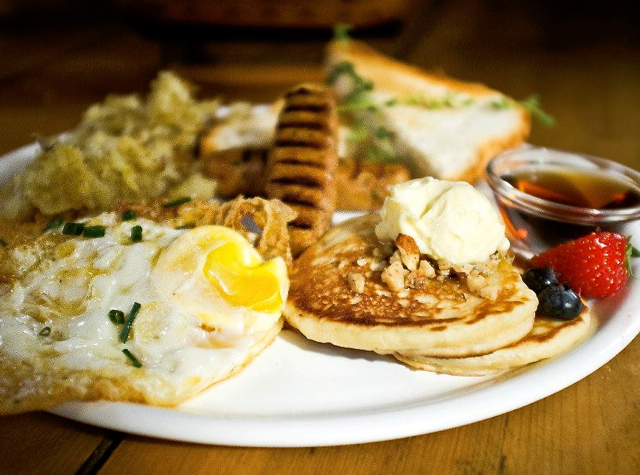 10. Pappa E Ciccia
The organic spread of antipasti at the Italian-owned Pappa E Ciccia in Prenzlauer Berg is heavenly; their organic eggs with fresh herbs and bacon just about the sunniest dish you could order on a lazy Sunday morning. Pappa E Ciccia also boasts a tiny deli so that you can relive those Sunday brunch dreams of olives and bruscetta when you get home. Reserve ahead though, as Pappa E Ciccia is as small as it is popular.
Don't forget when paying to use a credit card with no foreign transaction fee.
What's your favorite Berlin brunch spot?
Related Posts
How to Select Air Berlin Business Class Seats Online
Berlin Travel Guide: Cozy Cafes, Architectural Gems and Bohemian Parties
What Are the Best Berlin Cafes for Coffee and Cake (Kaffee und Kuchen)?
What Are the Best Gay Clubs in Berlin?
Need Award Booking Help? Our fee is as low as $75 per ticket if you book your hotel through us.
If you enjoyed this, join 200,000+ readers: please follow TravelSort on Twitter or like us on Facebook to be alerted to new posts.
Become a TravelSort Client and Book 5-Star Hotels with Virtuoso or Four Seasons Preferred Partner Amenities!
Photo credit: Enric Archivell, roboppy, fred_v j@ck, restaurant Web sites