Update: Please see Best Travel Credit Cards for the most current Citi AAdvantage card offers. 
TravelSort reader Jamie asked what the best current bonus offers are for American AAdvantage miles are. American AAdvantage  miles are especially valuable in redeeming for Cathay Pacific first class and business class, but unlike the Best United Miles Bonus Offers Available Now, it can be harder to earn lots of them through credit card spend, for a few reasons:
Not as many different credit card products earn AA miles
Membership Rewards points and Ultimate Rewards points don't transfer to AA miles
As neither Membership Rewards nor Ultimate Rewards points transfer to AA miles, it also means no spend category bonuses, except for 2x AA miles for spend on American Airlines
Few partner transfer bonuses
All that notwithstanding, here are our picks for the best American AAdvantage bonus offers available now. If you take advantage of all of them (not counting churning or hotel points transfers) that's 207,500 American AAdvantage miles (counting miles received from minimum spend required for the bonuses). Get your spouse or partner to take advantage of all of them, and that's a total of 415,000 AA miles, enough for a family of 3 to fly first class roundtrip to Asia on Cathay Pacific, and almost enough (you'll need a total of 440 AA miles) for a family of 4 to fly business class roundtrip to Asia on Cathay Pacific.
We've prioritized the offers in terms of the greatest number of AA miles with the least required spend and effort. We don't receive a referral for any of the Citi cards or Fidelity offer, only for the SPG and Hyatt cards, and are grateful if you use our links to apply! For the overall best current offers, check out Best Travel Credit Cards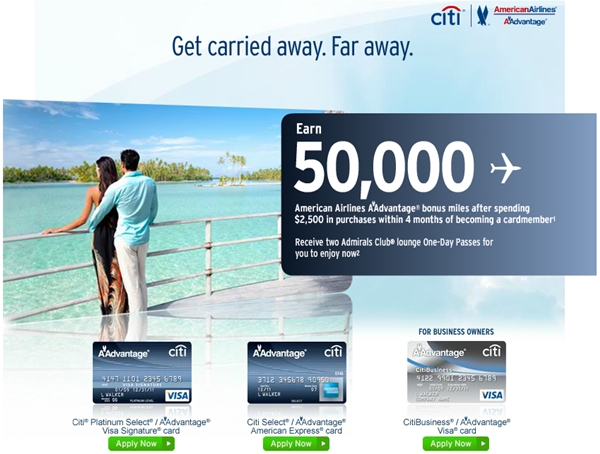 1. Citi Platinum Select AAdvantage Signature Visa and Citi Select AAdvantage AMEX (50K AA miles)
50,000 AAdvantage miles after $3000 spend within the first 4 months for the Citi Platinum Select AAdvantage Visa
$150 statement credit after the first eligible AA purchase
2 Admirals Club Lounge One-Day Passes
2 AAdvantage miles per $1 spent on American Airlines within first 12 months, 1 AAdvantage mile for all other spend
$85 annual fee waived the first year
Note that the Citi AAdvantage 2 Browser Trick is Dead; if you apply for 2 Citi cards at the same time, you will only get approved for one of them
2. Citi Gold AAdvantage World MasterCard (30K AA miles)
3. CitiBusiness AAdvantage Card (50K AA miles)
You need to wait 65 days between Citi card applications, so on Day 66 (if you applied for the Citi AAdvantage Gold card on Day 2) or Day 67 (if you applied on Day 3) apply for the 

CitiBusiness AAdvantage card
50,000 AA miles after $3000 in spend within the first 4 months
$150 statement credit after the first eligible AA purchase
2 Admirals Club passes
4. Churn Citi AAdvantage cards
You can churn Citi AAdvantage cards, meaning you potentially can receive the bonus again.
You should wait at least 18 months after reapplying for a Citi personal credit card; better if you wait 20 or more months
Note there are no guarantees; offers are supposed to be for "first time cardholders only" and people have been refused additional bonus points on these grounds when reapplying, so your mileage may vary
50,000 American Airlines AAdvantage miles after you open a Fidelity nonretirement brokerage account and deposit $100K, or add $100K to an existing Fidelity nonretirement brokerage account
Note that if you or anyone in your family/household is employed at a securities/brokerage firm, you won't be eligible.
Yes, $100K is a lot, but it's not actual spend–you can withdraw it after you get your miles. Plus, if you're keeping this in cash or checking/savings accounts, you may as well get a greater ROI than the <1% interest banks are currently paying
Earlier, some folks reported being able to "cycle" money into the account through a series of deposits and withdrawals, in order to get to the $100K deposit. More recently, people have not had success with this, so be prepared to fully fund and keep the funds there for 6 months in order to receive the bonus.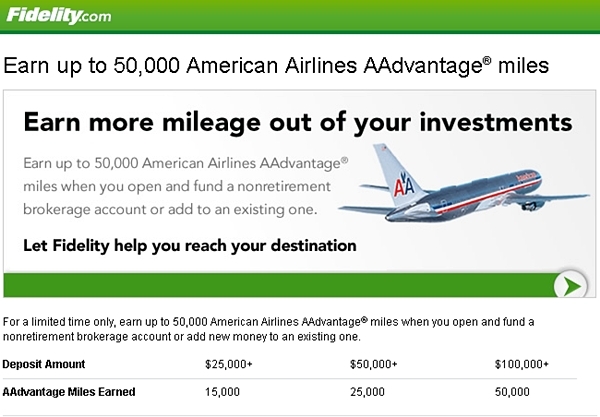 5. Transfer 20,000 SPG points for 25,000 AA miles
If you have the Starwood Preferred Guest (SPG) AMEX  You receive 5x SPG points per dollar spent at Starwood Hotels if you are a Gold or Platinum SPG member; otherwise, 4 points per dollar spent at Starwood properties
This is the best transfer ratio for hotel points: 1:1, with the standard SPG 5000 bonus for each increment of 20,000 SPG points that you transfer
Note that SPG points transfers to AA can take anywhere from 1-4 weeks
6. Transfer Hyatt, Wyndham, Priority Club, Hilton Points to AA miles
While SPG point transfers are the best option if you have loads of SPG points, since you receive a 5000 mile bonus when transferring increments of 20,000 SPG points, you can transfer other hotel points to AA miles, which may be worthwhile if you have a ton of these points or just need to slightly top up your AAdvantage account to redeem for an award. For example:
If you have the Hyatt Visa, you receive 3 Hyatt points for every $1 spent at Hyatt properties. You can transfer at the ratio of 2.5 Hyatt points to 1 AA mile, but if you transfer 50,000 Hyatt points you receive a 5000 mile bonus, for a total of 25,000 AA miles: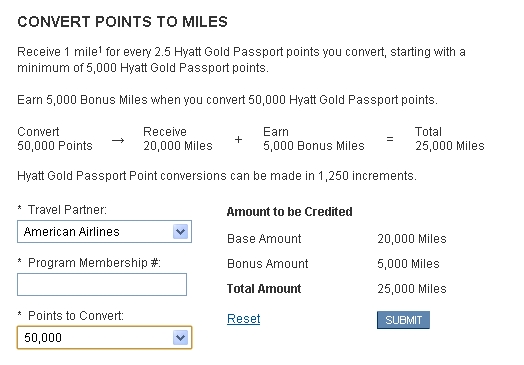 Wyndham points transfer at the ratio of 2.5 Wyndham points to 1 AA mile. You may transfer in 3 increments: 8000 Wyndham points for 3200 AA miles; 17,500 Wyndham points for 7000 AA miles, or 30,000 Wyndham points for 12,000 AA miles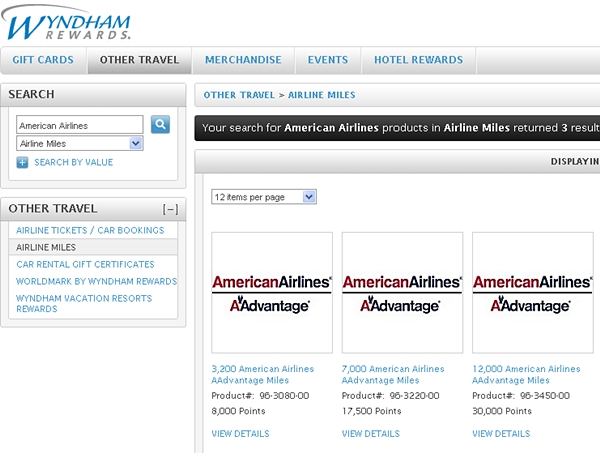 Priority Club points transfer at a worse ratio than Wyndham, so not recommended: 10,000 Hilton points for 2000 AA miles
Hilton Honors points transfer at an even worse ratio than Priority Club, so *really* not recommended: 10,000 Hilton points for 1500 AA miles

Note that you cannot transfer Marriott points to AA miles
Know of any great American AAdvantage Miles bonus offers we haven't mentioned? Tell us in the comments!