What are the best airline pajamas? (Post warning: #firstworldproblems). I look forward to airline pajamas more than the amenity kit, as I usually find them more useful. For one thing, it means one less thing to pack, at least if you receive a pair of pajamas on the outbound flight of your trip.
And thanks to our first class and business class flights, I doubt my husband and I will ever have to buy pajamas for ourselves again. But that doesn't mean we just rotate our collected airline pajamas equally: we definitely have our favorites.
1. Etihad First Class Pajamas: Most Stylish Pajamas for Women
Most airline pajamas are identical for men and women, but not on Etihad. While my photo doesn't really do these justice, these stylish black pajamas are silky soft and the top has satin trim around the neck and sleeves and a zippered opening with rhinestones. That might sound gaudy, but it's actually quite classy in appearance, with a slight flare to the pajama bottoms. You could wear this to a dinner party in NYC and not be out of place.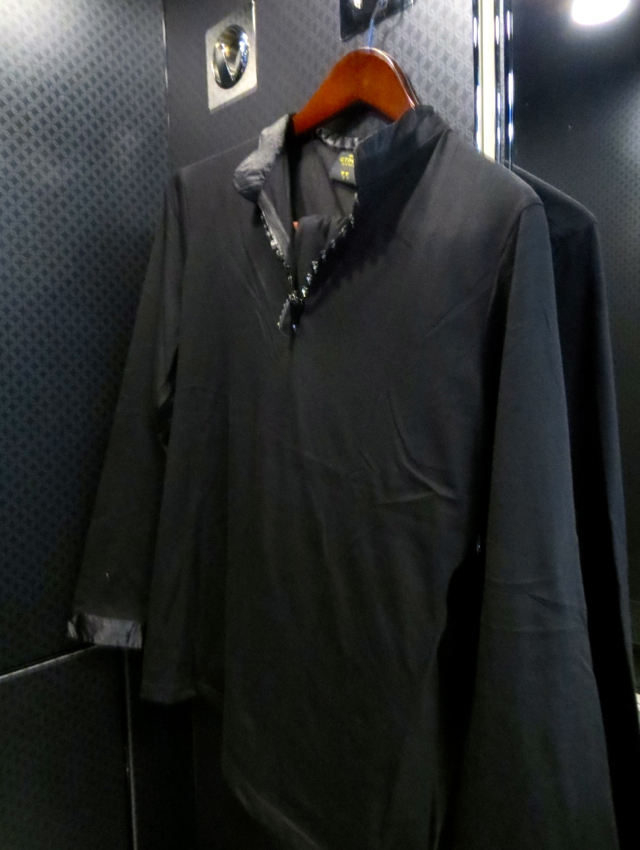 2. British Airways First Class Pajamas: Best Low-Key Pajamas That Don't Look Like Pajamas
While you may or may not like the "First" logo on the shirt, the British Airways black pajama top is essentially a long sleeved t-shirt, so you could wear it with your favorite jeans or cargo shorts without most people noticing it's part of a pajama outfit. And the small British Airways pajama top worked pretty well as an oversize nightshirt for the munchkin that he would actually wear.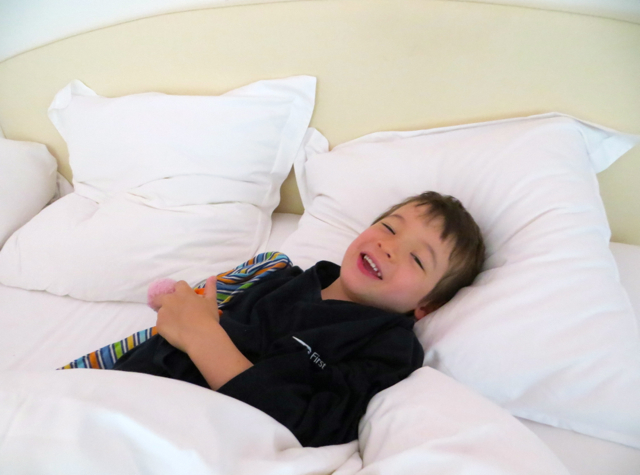 3. Cathay Pacific First Class Pajamas: Soft, If You Don't Mind the Asian Pajama Look
I love the softness of the Shanghai Tang pajamas, although not necessarily the super Asian styling of these, since there's no way to disguise the fact that these are pajamas. Apparently Cathay Pacific will be discontinuing Shanghai Tang as its pajamas supplier in the process of introducing the new Cathay Pacific First Class, so if you covet the Shanghai Tang ones, better collect those soon.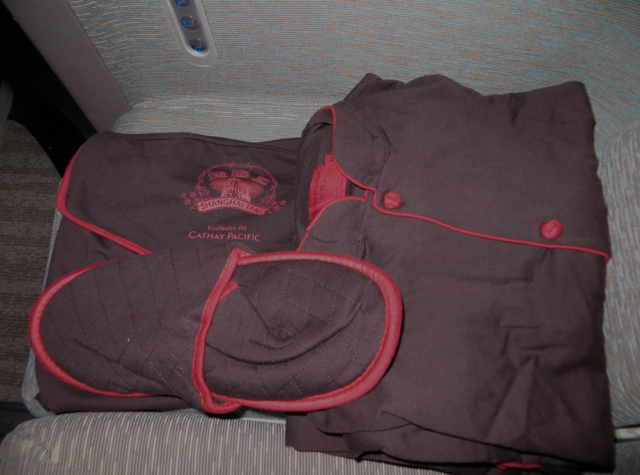 4. Qatar Business Class: Lightweight
While the Qatar Business Class pajamas aren't my favorite, they are quite soft and lightweight, and my husband wears his quite a bit, so they earn a place on this list.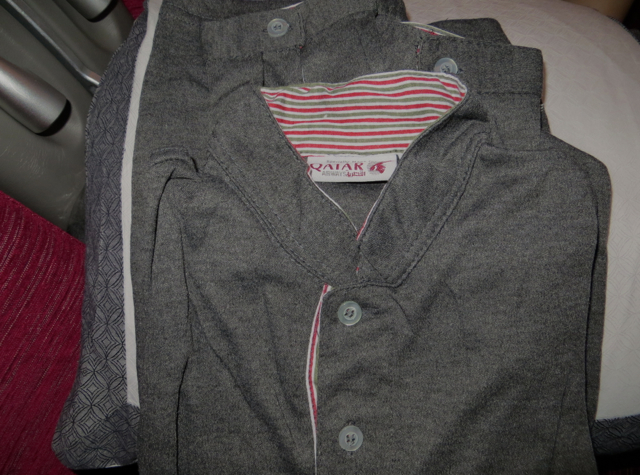 Least Favorite Airline Pajamas
1. Lufthansa First Class: Just Not Comfortable
Ironically, for such a revered first class product, I found Lufthansa's first class pajamas, at least for women, abysmal. They were the least soft of all the pajamas I've tried, almost a bit scratchy, and relied on the drawstring to stay put. I wished I hadn't even bothered with them, and these are the only ones I've actually left on the plane and not bothered to take with me.
That said, my husband liked the blue van Laack Lufthansa shirt he got in Lufthansa First Class, which was quite nicely tailored and has held up well in the wash. All I can say is–they really need to work on their women's pajamas, if they're going to bother offering them (maybe that says something about how many women fly Lufthansa First Class).
2. Singapore First Class and Singapore Suites: Thick and Too Short in the Legs
Just as puzzling as the Lufthansa pajama #Fail are the Givenchy pajamas offered in Singapore Suites and Singapore First Class. The ones I experienced were like a black track suit, but not as soft as Cathay Pacific's Shanghai Tang pajamas, and too short in the legs. The same problem occurred with my husband's XL pajamas–too short in the legs, although the top was long enough.
What are your favorite airline pajamas?
Related Posts
Best First Class Airline Seats for Couples
British Airways New First Class Review
Cathay Pacific First Class Review
Need Award Booking Help? Our fee is as low as $75 per ticket if you book your hotel through us.
If you enjoyed this, join 90,000+ readers: please follow TravelSort on Twitter or like us on Facebook to be alerted to new posts.
Become a TravelSort Client and Book 5-Star Hotels with Virtuoso or Four Seasons Preferred Partner Amenities!